Export & Transfer Tidal Playlist
To Tidal's credit, people love its excellent HiFi and Master sound quality performance. Moreover, Tidal Music is customizable and has smart algorithms to better detect what people might like and discover new top of that. Hence, there is a demand for Tidal playlist exportation to mix the music for personal use. And we have to admit that, the price of Tidal subscription is a little higher than the competitors. Tidal subscribers, some of them, will turn their back to other streaming services out of the budget consideration. Given the circumstances, people would like to export playlists from Tidal and then get them downloaded to take good advantage of Tidal Music. So here in this article, we will tell you how to export Tidal playlists to your local place on computer and mobile phone. We also add 3 methods on how to transfer playlist from Tidal to another streaming service when you find a greater playlist on Tidal and want to make a flawless migration!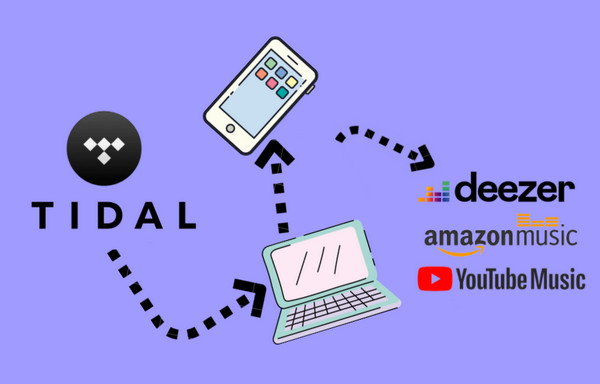 ---
If you are afraid of losing your playlist when your Tidal subscription is about to expire, you can export your playlist to your computer or mobile phone's local memory before the subscription is due. Perhaps, you want an offline playing Tidal Music on your phones with or without the Tidal app installed. Alright, if you are in these cases, Tidabie Tidal Music Converter can help you out by downloading the music to your computer and mobile phone local place. By doing so, the Tidal music playlist will be saved as common audio files, able to edit and remix, permanently playable all the time. Significantly, the original HiFi/High and Master/Max sound quality and the ID3 tags will be integrally exported along with the audio files.
Tips: Tidal official offers different free subscriptions for new users. Sign up and try out the Tidal Music service, you will easily see free access to 100 million high sound quality audio tracks. Refer to this article to learn How to Get Tidal Free Trial.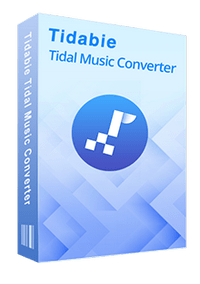 Tidabie Tidal Music Converter
Download Tidal songs, albums, playlists, and podcasts to local computers.

Convert Tidal tracks to MP3, AAC, WAV, FLAC, ALAC, and AIFF formats.

Keep Tidal Hi-Res/CD audio quality & up to 10x download speed.

Retain full ID3 tags of downloaded songs like title and artist.

Offer handy tools of Format Converter, Tag Edit, etc. & save lyrics.

Enable the permanent offline listening to Tidal tracks.

Archive downloaded Tidal songs by album, playlist, or artist.

Batch convert Tidal playlist or album under Tidal free or paid account.
Now let's learn how to use Tidabie Tidal Music Converter to export Tidal playlist and albums step by step.
STEP 1 Access Tidal Music with Tidabie
Run Tidabie Tidal Music Converter on your computer. And then tap on a download mode on the program front page. Simply put, the app mode requires the TIDAL app and saves Tidal Hi-res and CD quality music at 1x to 5x the speed, while the web player mode works by accessing the Tidal web player and saves Tidal CD quality songs at 10x fast speed. Then you are required to log into your Tidal account, thus you will be able to visit the Tidal contents as normal.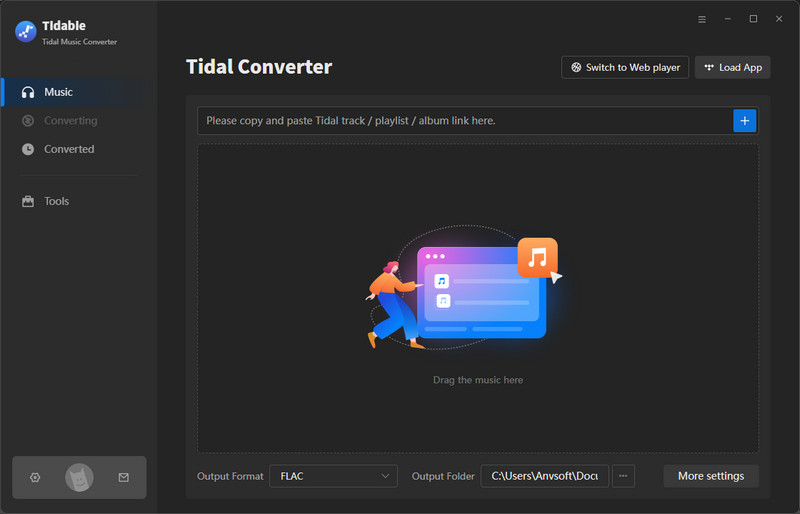 STEP 2 Set up Output Parameters
To export the Tidal playlist and keep them playable even if you end the subscription later, you are supposed to convert the playlist tracks to the common audio files. Thus the key step is to set up the output parameters. Navigate to the 'Settings' part in the left bar to take a look at output formats, output sound quality and more.
Conversion Mode: Intelligent Mode, Tidal Record/Web Download, YouTube Download
Output Format: Auto, MP3, AAC, WAV, FLAC, AIFF, ALAC
Bit Rate: 320kbps, 256kbps, 192kbps, 128kbps
Sample Rate: 44.1KHz, 48KHz, 96KHz, 192KHz
Output File Name: Track Number, Title, Artist, Album, Playlist Index, Year
Output Organized (way): None, Playlist, Artist, Album, Artist/Album, Album/Artist, Playlist/Artist, Playlist/Album
Note: If the output format is set to be 'Auto' option and you select the 'Tidal Record'/'Web Download' as conversion mode, output sound quality will come out with HiFi/High or Master/Max level by default.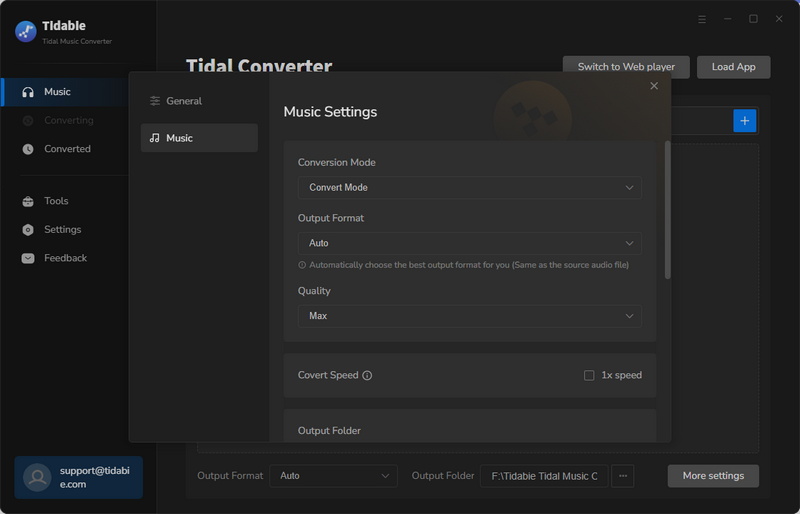 STEP 3 Add Tidal Music to Tidabie
Following the settings, you can now freely go to any playlist or album that you want to export from Tidal. If you use the web player download mode, enter into one playlist and the 'Click to add' button will be initiated. Tap on the button and Tidabie will read and display the current playlist on a popup. You then can choose the songs in batch or individually.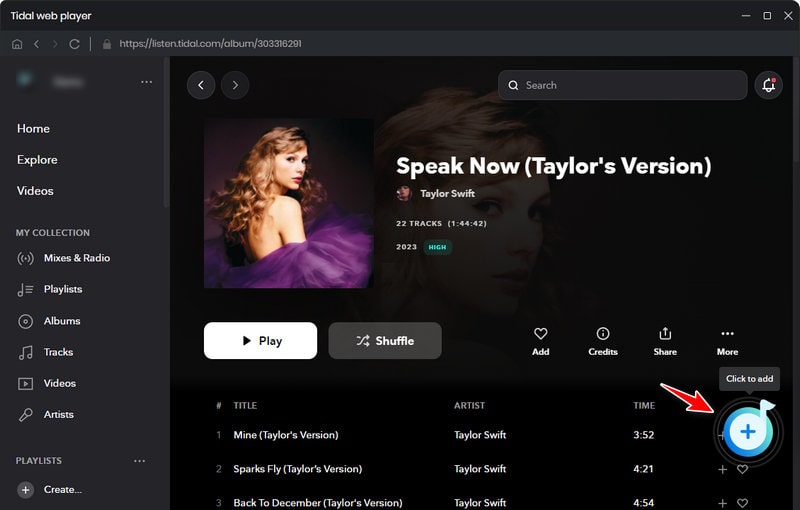 But if you are accessing Tidal library by the TIDAL app, go to your target song, playlist, or album, click and hold on to the title, then drag and drop it to Tidabie. You can also copy the link from Tidal and paste it into Tidabie. The converter will parse the link and load the songs on a popup.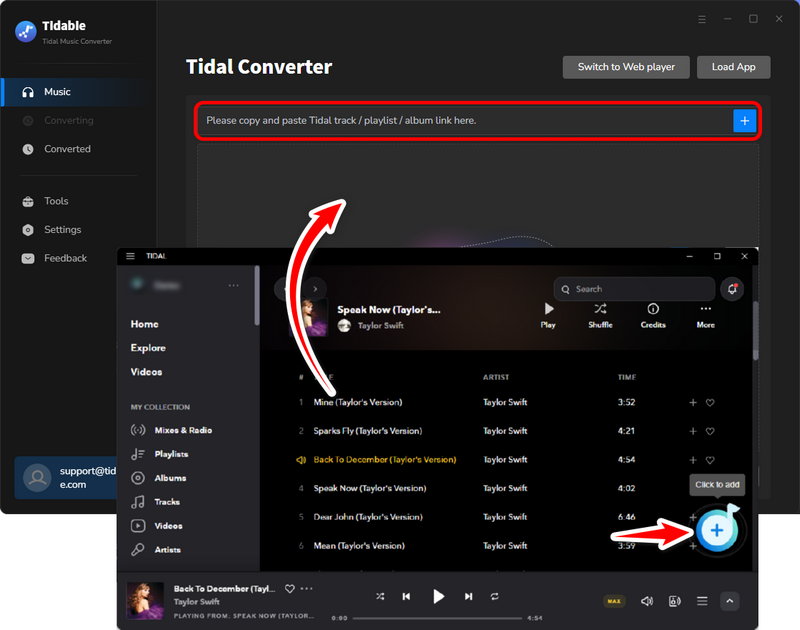 Next, pick you songs on the pop-up window and click on 'Add' to add them to Tidabie.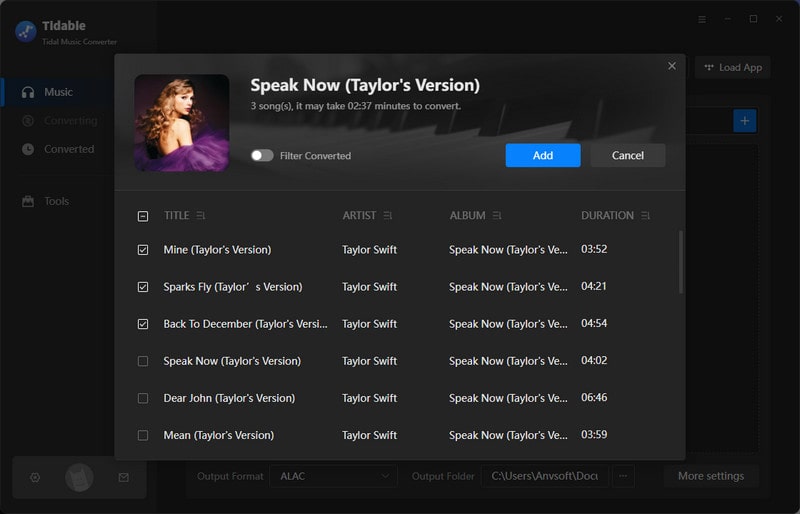 STEP 4 Export Tidal Music to the Computer
At last, tap the 'Convert' function to proceed. Time taking to wait for the completion depends on how many songs you put into the process. But take it easy, Tidabie boasts a faster conversion speed, and you won't wait too long until it worked out.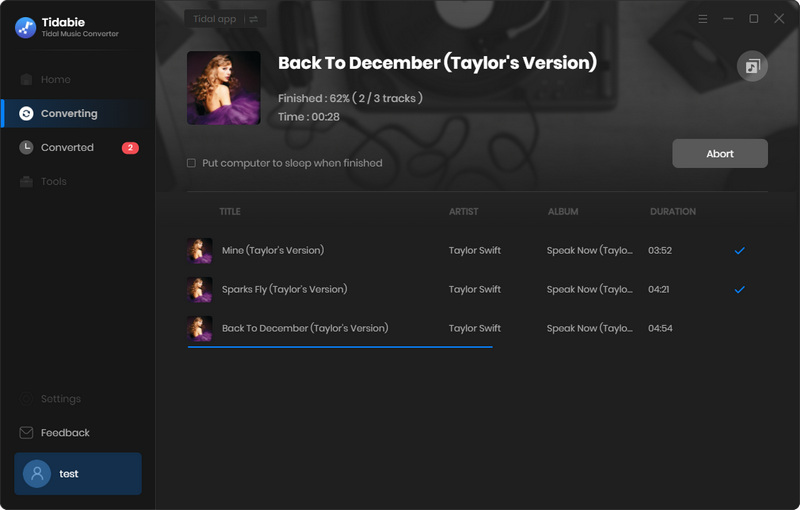 STEP 5 Check out Tidal Playlists on Your Computer
All converted Tidal playlists will be saved to the output folder where you have set up in Step 2. Or you can guide yourself to the program 'Converted' tab in the left bar. You will find out all the downloaded Tidal songs within it. And by tapping the file icon after the songs, you can fast reach out to your computer local place that saves the downloaded Tidal playlists.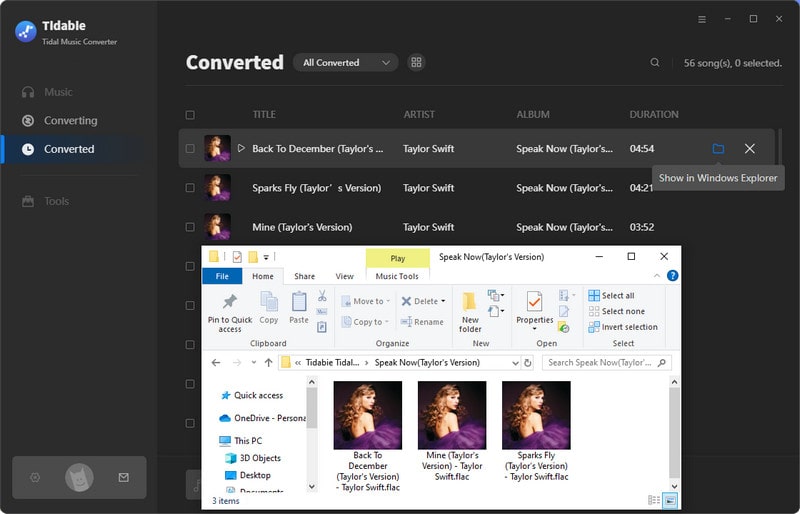 ---
Other cases are when you decide to switch your Tidal subscription to another streaming service, and want to keep the Tidal playlist flawless on the new platforms. You could export the Tidal playlist directly to the target platforms. Or if you happen to find a nicer playlist from Tidal, you can go with these ways to make a copy of the Tidal playlist to your current music service.
TuneMyMusic is devoted to copying the playlist from one platform to another. And Tidal is included. The steps to export playlists from Tidal to another could be easy.
Step 1. Select one source platform from the panel. Here you should choose the Tidal platform. It will then ask you to log in with your Tidal account to further access your Tidal playlist.
Step 2. Then you can select the playlist that comes from your Tidal account. You can also previously created a playlist in your Tidal platform that gets it ready for the transfer.
Step 3. Next is to select the receiving platform that is given the links on the panel. Here you can choose Spotify as the example.
Step 4. And you will see the playlist start moving to Spotify. You then just wait until the process is completed.
Soundiiz first starts by grabbing all your library information from the account that you connect to it. Whether you use Spotify, Tidal, Deezer, Napster, Youtube or many more, your Soundiiz integrates with them all and manages them. That means playlists, albums, artists even just saved songs are all listed in one consolidated panel.
Step 1. On the homepage, click "Transfer" under tools to bring up the Transfer menu. In the Transfer window, you can see all the different streaming platforms and the connected accounts, shown by a green dot. To transfer Tidal to Spotify, for example, choose the 'Spotify' option here.
Step 2. All playlists from your Tidal account will be listed in the coming page. Choose one of the playlists that you want to transfer.
Step 3. Configure the playlist. This is to complete the playlist about its artist, album, composer, length, or quality.
Step 4. Select specific tracks that you want to export from the Tidal playlist and transfer to the target Spotify platform.
Step 5. In the final step, select a streaming destination from the given list. Here just tick of the box besides Spotify. It will then start to connect the transfer.
If you are on a mobile phone, then you can also export the Tidal playlist as you want. If Soundiiz or TuneYourMusic is for the computer user, then FreeYourMusic is the mobile version instead. More than what Soundiiz can do for users, FreeMyMusic, it is an app available on iOS and Android devices that can transfer your playlists between a host of different music services.
Step 1. Open the FreeYourMusic app on your phone. And then tap into the Tidal source platform. As a routine, log into your Tidal account.
Step 2. Tap CONTINUE to select another platform that you want to export your Tidal playlist. Choose Spotify for example.
Step 3. Locate the playlists, albums, or tracks you want to export from Tidal service to Spotify and select all the music you want to move.
Step 4. As the transfer is done, your Tidal playlist will make a copy to Spotify. You then log into your Spotify to find them out easily.

---
Summary
Well, all methods that we tell in part 2 are applicable when you want to export playlists from other music platforms to Tidal since Tidal will stream a better sound quality with the same playlist. But if you plan to export playlists to your computer and play them without hidden restrictions, you can go with Tidabie Tidal Music Converter that promises you a smooth Tidal Music downloading without sound quality loss.