Download Tidal MQA & HiFi Music
---
People are impressed with Tidal Master quality audio which is the only format that pledged to maintain the original master recording – exactly as the artist intended the track to sound. And Tidal's MQA technology delivers studio-quality music without compressing the audio file or requiring huge data transfers. The Tidal HiFi sound is the second-highest which is a popular potential destination for CD quality. In comparison, Spotify's 'superb' quality streams at 320 kbps, and Apple Music's AAC plays at 256kbps. Tidal MQA is app-dependent while Tidal HiFi Music is both app and web player-compatible. When listening to a mobile application, like iHeart Radio, for example, you can listen to music anytime, anywhere for free. Once you step outside the realm of an internet connection, however, you are now listening to free music on your limited mobile data. But if you have run out of data on your mobile device, you will not be able to use any mobile application offline. So how to truly download Tidal MQA and HiFi Music for stable offline playing?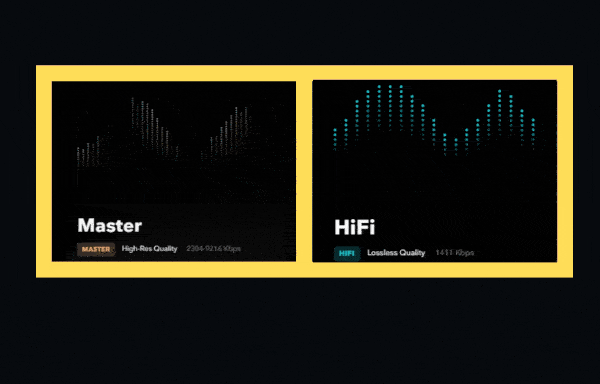 1. Download Tidal Master Quality Audio and HiFi Music for offline playing
On your iOS or Android Tidal app, you can toggle the Download button at the top of the page for those tracks to download your desired album or playlist.
1. Select My Collection on the bottom right of the screen.
2. Select Playlists or Albums.
3. Tap on the 3 dots to the right of the title.
4. Scroll down and choose download.
And to play the downloaded tracks, put Tidal in Offline mode using the Settings page.
1. Tap on My Collection.
2. Tap on the cogwheel in the upper right corner of the screen to access Settings.
3. Tap on the white toggle to the left of Offline Mode to enable it.
2. What is the limitation of offline mode?
There are a few limitations to downloading in Tidal, though. First, you can only download Tidal tracks using a mobile app on your phone. Unlike Apple Music to iTunes, you find no way to download Tidal Music to your computer for offline playing. Furthermore, you can only download the whole albums or playlists, not individual tracks. Also, the offline mode doesn't perform well if you are in a situation to play Tidal Master Music with a low-configuration player.
3. Give up MQA for HiFi sound quality?
How does Tidal talk about the difference between HiFi quality and Master Quality Audio? Well, HiFi sound quality is a good option to enjoy high quality, which is equivalent to CD quality, portable, easy to reach out the sound quality. And sometimes, you will need some advanced types of equipment to better balance out the Tidal Master Audio effects. While Tidal HiFi level is a pleasant solution to fit for the high audio needs. And it is convenient for you to play Tidal HiFi Music on the Web Player which requires no apps to be installed.
4. Download Tidal HiFi Music for permanently playing
Tidal Music is now only available on your desktop or mobile platforms. While if you want to get TIDAL Music downloaded, you can only do so on your mobile devices. What if you want to transfer your Tidal playlist to a player that is currently unauthorized by Tidal official yet? So to use your Tidal Music subscription to its fullest, we will show you a reliable way to download your Tidal HiFi Music to a computer for permanent storage, which is also a wise operation in the long run.
Tidabie Tidal Music Converter makes a great difference in music downloading that all Tidal Music will be converted to a certain plain yet unencrypted audio format and saved to your personal computer. Tidal HiFi Music can be losslessly downloaded with principal ID3 tags intact. With it, you can selectively choose tracks to convert instead of downloading songs only by playlist or albums in Tidal apps. More nice surprises you will find out if you start to work out with a Tidabie Tidal Music Converter. To know how it exactly works for you, go for the steps from below: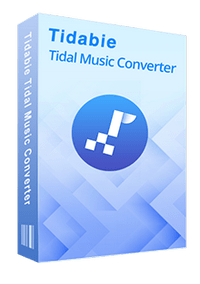 Tidabie Tidal Music Converter
Support Tidal Free and Tidal HiFi users.

Download Tidal Music to the computer.

Convert Tidal Music to MP3/AAC/WAV/FLAC/AIFF/ALAC.

Keep up to Hi-Fi audio quality.

10X faster speed; Retain ID3 tags after conversion.

Free updates & technical support.
STEP 1

Install Tidabie Tidal Music Converter onto Computer

We provide you a free download link to get Tidabie installed on your computer. Take it easy, this program is safe to use. And if you encounter any issue the first time, feel free to ask for technical support. If everything is in order, launch the program to get started.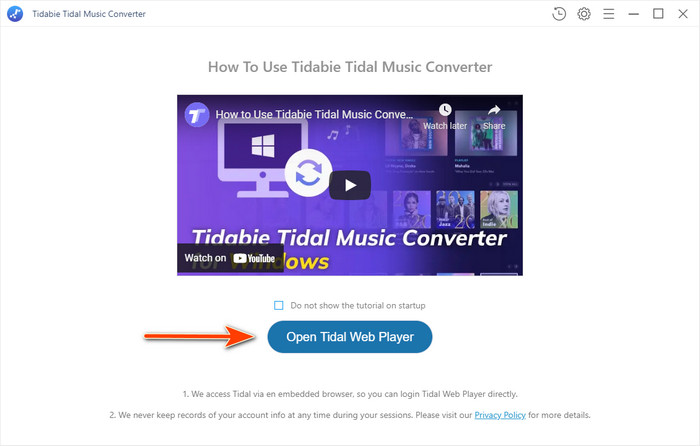 STEP 2

Access Tidal Web Player on Tidabie

Click 'Open Tidal Web Player' on the front page. And log in with your Tidal account to smoothly visit Tidal contents.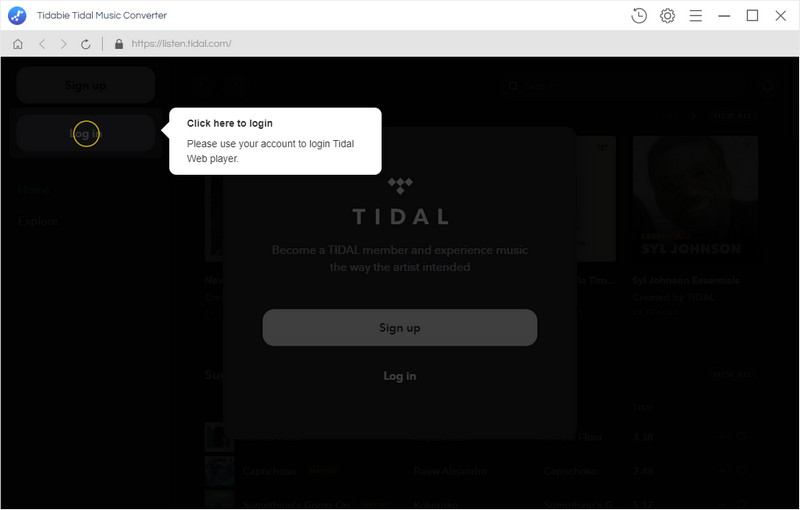 STEP 3

Choose Tidal Music Output Format

Go to Tidabie's Settings part where you are supposed to customize the basic setups involving the output formats, output sound quality, output folder, and output file name.

Output Format: MP3, AAC, FLAC, WAV, ALAC and AIFF

Output Quality: 128kbps, 192kbps, 256kbps, 320kbps, HiFi level

Output Folder: C:\Users\User Name\Documents\Tidabie Tidal Music Converter

Output File Name: Track Number/Title/Artist/Album/Playlist Index

Output Organized: Artist, Album, Artist/Album, Album/Artist

Note: If the output format is set to be 'Auto' or FLAC option, output sound quality will come out with HiFi level by default.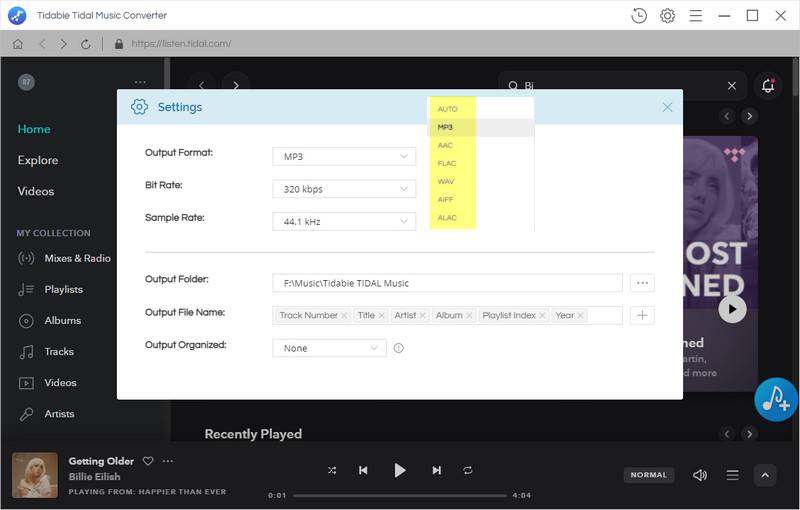 STEP 4

Extract Tidal Playlist to Tidabie Conversion Panel

Go next, you can browse to any playlist or album playlist that you want to get downloaded. By clicking the 'Add to list' function, Tidabie will read the playlist contents and put the playlist to a new panel ready for conversion. You then just tick off the box next to the song to select it and finally tap 'Convert Now' to commence with the task.

If you want more playlists to convert at one time, you can tap on 'Save to list' after you selected the songs in the current playlist. The selected songs will enter a wait state for conversion. You then turn back to another playlist. Go with similar clicks to choose the songs you want. And finally, open the waiting list at the top right corner and tap the 'Convert' button to proceed.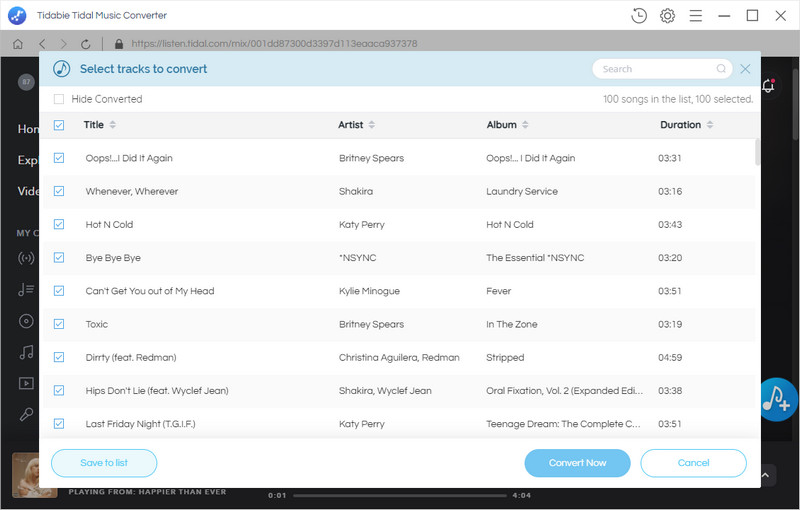 STEP 5

Checked Converted Tidal Music on Computer Output Folder

Thanks to the brilliant 10X conversion speed, you won't wait too long for the completion. As all is done, you can navigate to the History section, represented by a clock icon in the program's top right corner. To reach out to the Tidal downloads on the computer, you can tap into the Folder icon and you can view all Tidal Music in the output folder on your computer.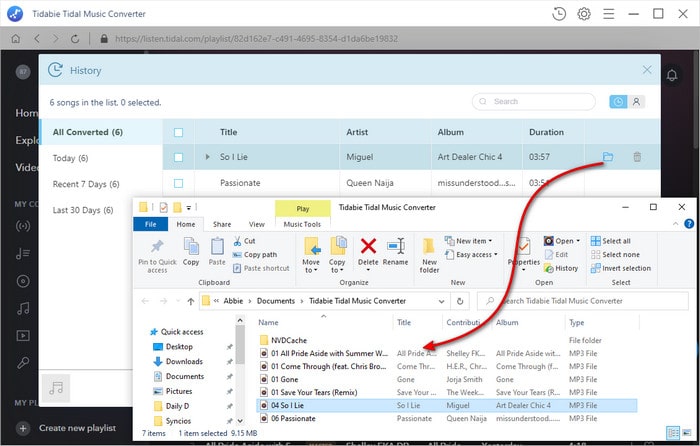 End Words
Whatever Tidal MQA or HiFi music, you can listen to both with a Tidal HiFi subscription. You can simply enable the offline mode to download Tidal MQA and play without internet access. But for HiFi Music, we suggest you use Tidabie Tidal Music Converter to flawlessly download Tidal Music to your device, keeping all your preferred audios offline playing in the long run. And Tidabie is giving new users a free trial as well, give you a shot right now!