Play Tidal Music on Xbox One
---
There is a list of game consoles you can pick up from. While the hottest maybe Sony Nintendo Switch and Microsoft Xbox One family. But there is much to love about the Xbox One. Microsoft has done a pretty outstanding job making games from the Xbox 360 and even the original Xbox backward compatible on the Xbox One. Some of these games have higher resolutions and better framerates than the original version of the game. There is also a success in playing music on the Xbox with some streaming music services built in the program. As long as you get the streaming service login, you can maximize your music and game enjoyment. And this will well balance the music audio and game audio, so you aren't missing out on any important in-game sounds.
But if you are a Tidal Music subscriber, you are currently not able to follow this way to play music on Xbox One, for Xbox One has not yet partnered with Tidal service. So we'd recommend looking for a second helper to let Xbox One gain Tidal Music unlimited access. You can convert your desired Tidal Music to offline playable formats like MP3, FLAC. Then you will manage to import the converted Tidal Music to Xbox One with ease. If you are not very clear about the ways out, check out the specific steps below: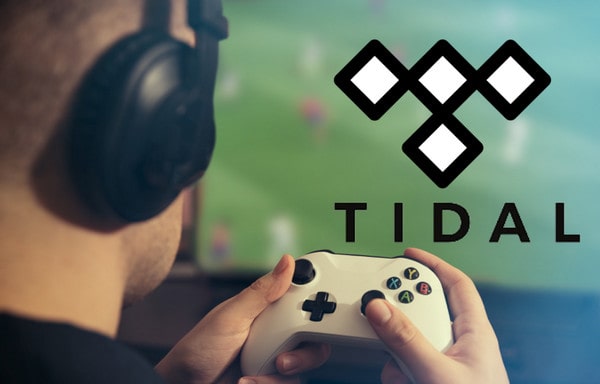 Part 1. Get Tidal Music Downloaded to Computer
Tidabie Tidal Music Converter is working hard at downloading Tidal Music to computer, striving to convert the encrypted Tidal Music to some accessible audio files as MP3, AAC, FLAC, WAV, ALAC, AIFF format. It is no denial that you will finally get the Tidal Music without protecting encryption, thus you can freely transfer the Tidal Music to another platform, like Xbox One, as we talk about in this article. There are still more adorable features listed below when you work with a Tidabie Tidal Music Converter. So firstly, let's learn to change the Tidal Music audio formats: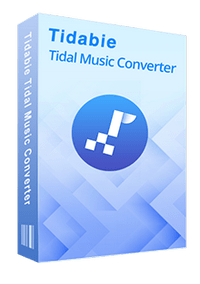 Tidabie Tidal Music Converter
Support Tidal Free and Tidal HiFi users.

Download Tidal music to the computer.

Convert Tidal music to MP3/AAC/WAV/FLAC/AIFF/ALAC.

Keep up to Hi-Fi audio quality.

10X faster speed; Retain ID3 tags after conversion.

Free updates & technical support.
STEP 1

Install Tidabie Tidal Music Converter on a Computer

You will discover that there is a Windows version displayed in the figure below. However, Tidabie is available for both Windows and Mac systems. But here, click on the download button labeled by the Windows icon and safely install it on your computer.
STEP 2

Open Tidal Web Player on Tidabie

As you launch the Tidabie converter, there is a Tidal Web Player entrance embedded in the program. Click on the note 'Open Tidal Web Player' when you can visit the Tidal Music contents with your Tidal passport information.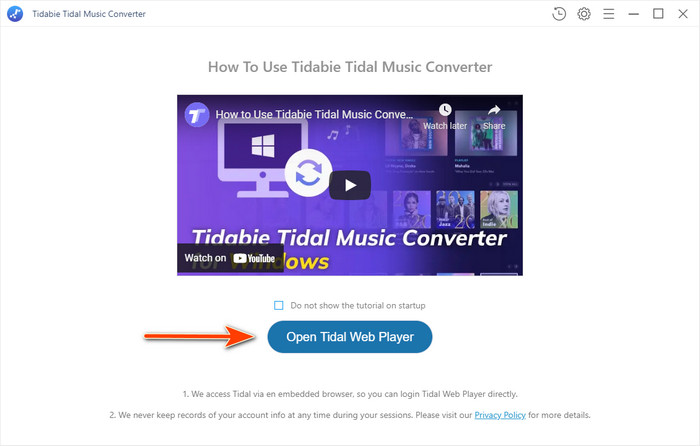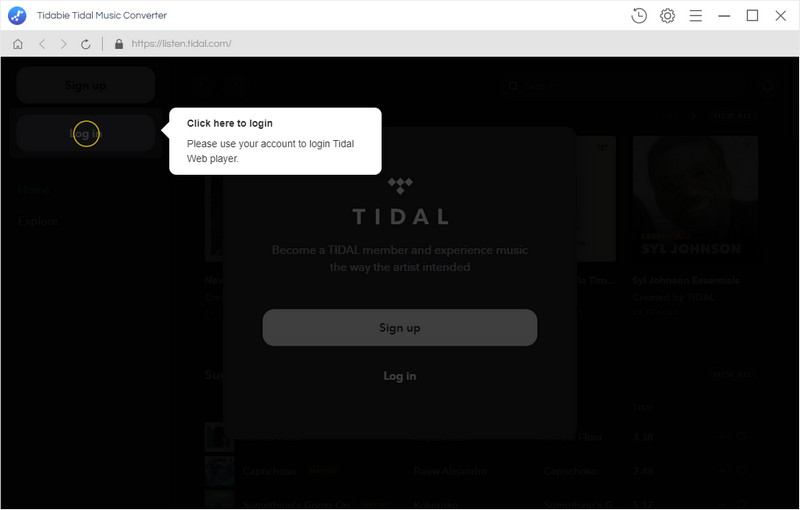 STEP 3

Set up Output Format

The setup process allows you to configure the Tidal Music output type and convert parameters. Under the 'Settings' panel, output information will be displayed by the column that may have additional configuration parameters. Here, you can freely set up the output format, output quality, output file name as you want.

Output Format: MP3, AAC, FLAC, WAV, ALAC and AIFF

Output Quality: 128kbps, 192kbps, 256kbps, 320kbps

Output Folder: A manual output operation. Select a path on your computer to save the Tidal Music after conversion.

Output File Name: Track Number/Title/Artist/Album/Playlist Index

Output Organized: Artist, Album, Artist/Album, Album/Artist

Note: If the output format is set to be 'Auto' option, output sound quality will come out with HiFi level by default.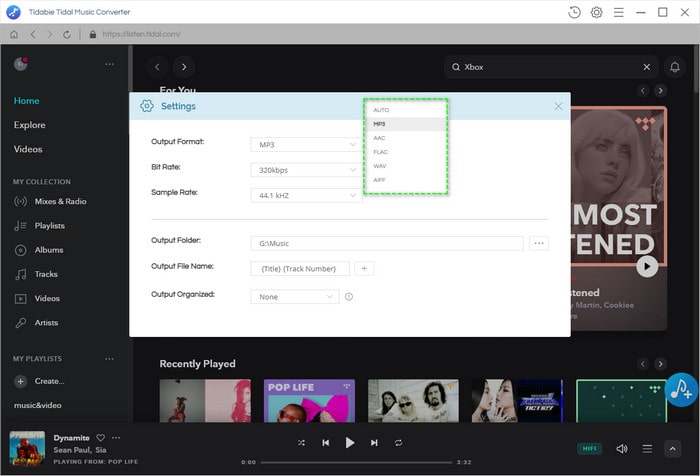 STEP 4

Choose Desired Tidal Playlist to Convert and Download

And now, simply go to any playlist that you want to get downloaded. Click on the 'Add to list' button, Tidabie converter will read the playlist and show up a window with the playlist songs. You can tick off the whole playlist and then press the 'Convert Now' function to proceed.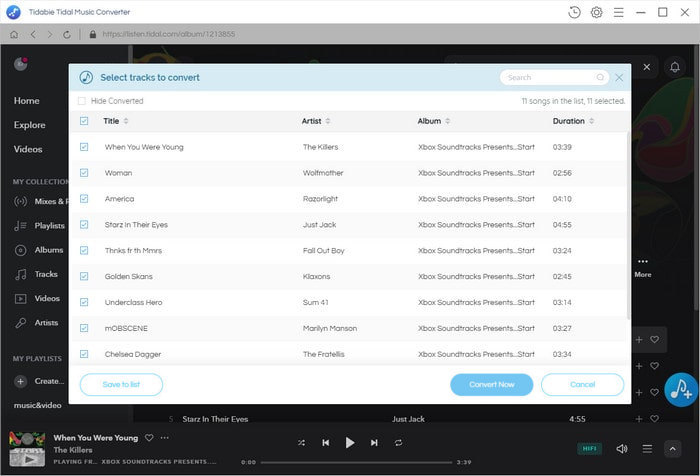 Tidabie's 10X conversion speed will save your waiting time a lot. When the task is finished, you can go with the same steps to put another playlist for conversion. And there is a significant 'Hide Converted' feature, helping skip the duplicated converted songs.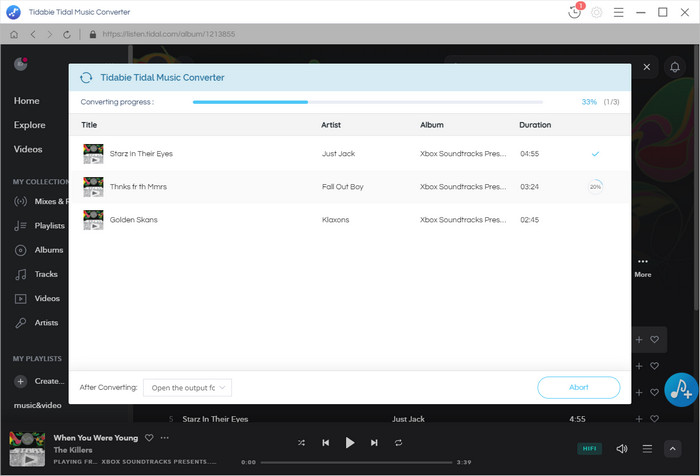 STEP 5

View Converted Tidal Music on Computer

To view the converted songs, you can navigate to the menu area. And click on the 'Clock' icon, you will see all the downloaded Tidal Music. By tapping the folder icon, you can keep track of the music on your computer location.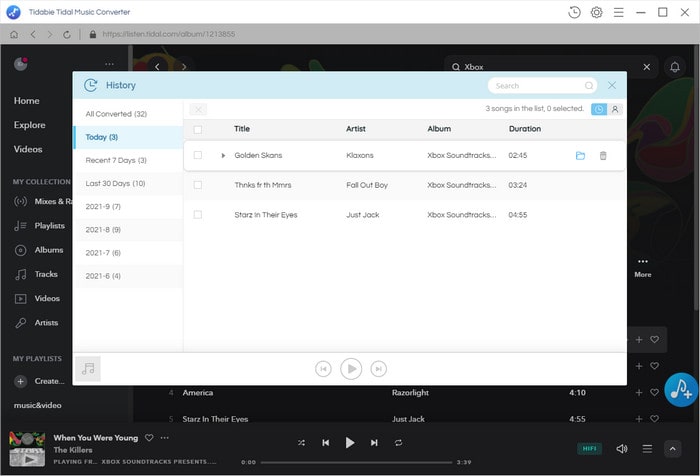 ---
Part 2. Play Tidal Music on Xbox One via USB Drive/ OneDrive
As long as you get Tidal Music downloaded, all of them will be changed to plain audio files on your computer. From now on, you can play Tidal Music when you are gaming on Xbox One. There are several ways you can achieve an audio balance of Tidal Music and game sound.
① Via Computer:
You can listen to Tidal Music with the music app housed on your computer while you are gaming on your Xbox One at the same time. On Windows, the Groove app is the default music player to make this way out.
Locate to the folder that you set up to save the downloaded Tidal Music in Part 1. And then hit the songs to play via the Groove app. At the bottom of the screen, you'll see 'Cast To Device'. Use this to select your Xbox One console from a list of devices that you can stream music to over DLNA.
② Via USB Drive:
Some gamers will use a USB Drive to play Tidal Music. This way won't cause a slow network that can adversely impact the gaming performance.
Connect the USB flash drive to your computer, then make a copy of the DRM-free Tidal songs and playlists to it. Following, plug USB drive including Tidal tracks to Xbox One, and then you can play local Tidal Music on Xbox One offline via media players like VLC Media Player.
③ Via OneDrive:
Well, you can also choose to upload your music library to OneDrive. And then use the Groove app on the Xbox One to play the stored music at any time, even when your PC isn't online.
---
End Words
When you find no way to build an online Tidal to Xbox One connection, offline audio will come in handy. In this article, we share with you a quick way to download Tidal Music for offline playing on Xbox One. With Tidabie Tidal Music Converter, you can download Tidal Music for listening at any time. And Tidabie is giving new users a free trial, give you a shot right now!