Transfer Tidal Music to iPod Touch Devices
---
"As a Tidal subscriber, I thought that I can simply stream Tidal Music on my iPod Touch. But it didn't work out when I tried to download Tidal Music to my iTunes. All downloaded Tidal Music is limited to the Tidal app playing. Does anyone have ideas about it? "
As we know that, iPod Touch series is naturally connected to iTunes and its music service-Apple Music. But when it comes to audio quality, Apple Music won't significantly improve your music listening experience. Even though Apple has planned for the lossless audio launches in 2021, but not all of you are interested in that. Anyway, for iPod Touch user, they can only stream Apple Music with 256kbps AAC files across the board. If you are audiophiles with an iPod Touch in your hand, the audio quality of the songs is relatively important for you. Nonetheless, Tidal has promised the users a superior sound HiFi losslessly streaming audio, with the highest possible resolution to 44.1 kHz / 16 bit. But to streaming Tidal Music in iPod Touch, it is not quite easy to integrate both. And if you want to work without Tidal app on your iPod Touch, go with this way in this article. We will tell how you can simply transfer the Tidal Music playlist to your iPod Touch for offline listening, without needing the Tidal app to be installed, nor using up your cellular data. Briefly, we are working to download Tidal Music to your computer storage and use an internet-free way to import the Tidal Music to your iPod Touch.
1. Download Tidal Music Offline of Tidal Web Player
The key to success is to download Tidal Music offline of the platform, whatever from the Tidal app or Tidal web player. We have chosen Tidabie Tidal Music Converter to simply download streaming music from the Tidal web player, involving the format conversion to plain audio format like MP3/AAC/WAV/FLAC/AIFF/ALAC. A distinctive change will take place on where we put the downloaded file to. Yes, all downloaded Tidal Music is truly saved to your computer's local storage. 10X faster conversion speed is another recommendation. In addition, Tidabie won't affect the HiFi audio quality after conversion. All ID3 tags along with the Tidal Music will retain as the original. A clear list of Tidabie features is here: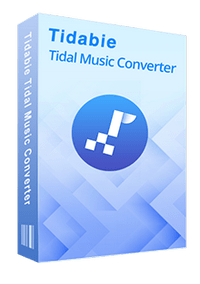 Tidabie Tidal Music Converter
Support Tidal Free and Tidal HiFi users.

Download Tidal Music to the computer.

Convert Tidal Music to MP3/AAC/WAV/FLAC/AIFF.

Keep up to Hi-Fi audio quality.

10X faster speed; Retain ID3 tags after conversion.

Free updates & technical support.
STEP 1

Launch Tidabie Tidal Music Converter on A Computer

If you haven't installed a Tidabie Tidal Music Converter on your computer, then you can get one by clicking the download button provided above. Now, run it to start. On Tidabie's homepage, click on 'Open Tidal Web Player' presentation.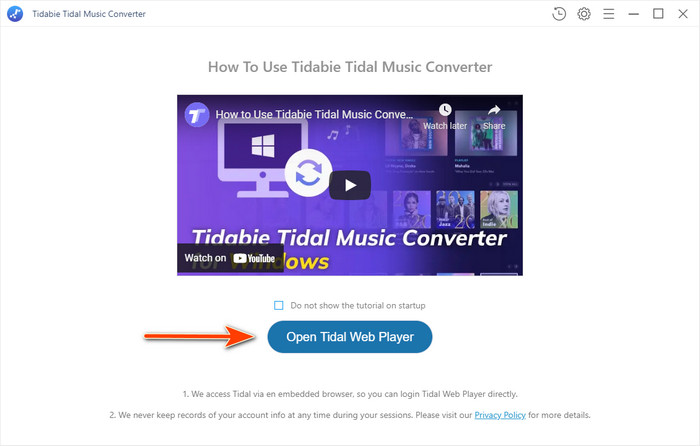 STEP 2

Log in Tidal Account in Tidabie Tidal Music Converter

Then you enter into the Tidal web player interface. To access to Tidal library, you need to log in with your Tidal account and password. A favorable internet circumstance can help to work out the whole process faster.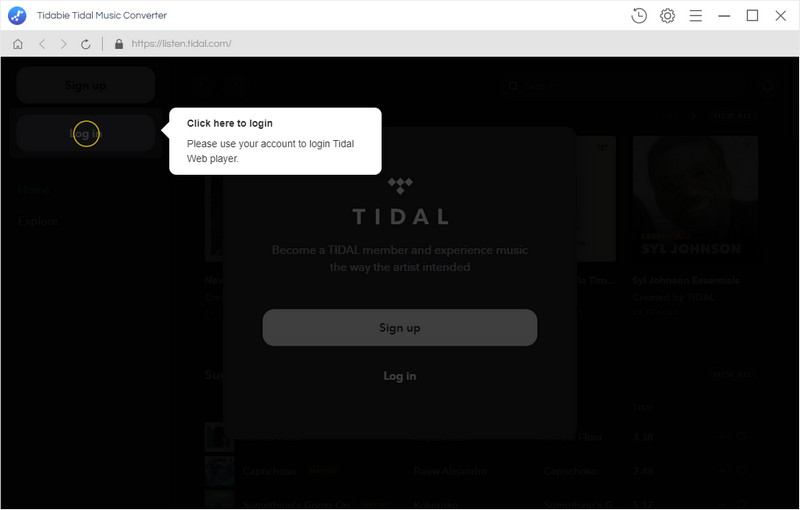 STEP 3

Pick up Tidal Music output format and output folder

Go ahead, it is necessary to do some settings affecting the output file. Go to the Settings part at the top right corner. Then it will pop up a smaller window for your settings. Below parameters can be set up on your own needs.

Output Format: MP3, AAC, FLAC, WAV and AIFF

Output Quality: 128kbps, 192kbps, 256kbps, 320kbps (FLAC/WAV/AFF is default set as HiFi quality)

Output Folder: Create a path on the computer to store the audio file after conversion

Output File Name: Track Number/Title/Artist/Album/Playlist Index

Output Organized: Artist, Album, Artist/Album, Album/Artist

As AAC format generally achieves higher sound quality than MP3. And AAC is a standard format fully compatible with Apple devices including iPod Touch. In this case, you can choose AAC in the settings.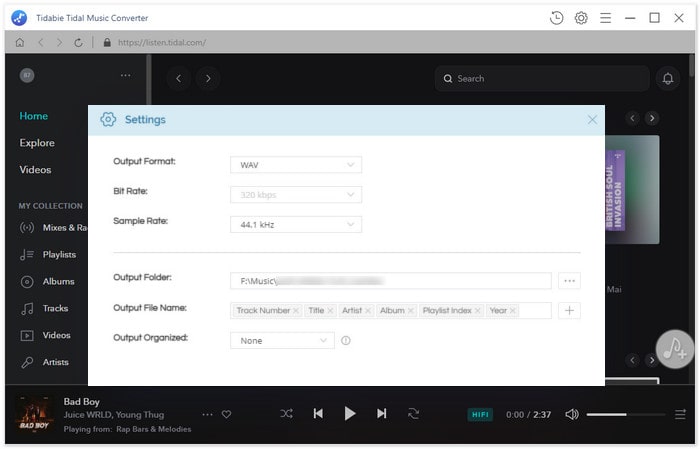 STEP 4

Add Tidal Playlist to Convert

Next, navigate to any playlist you want and then enter into the playlist contents. At the right corner is a 'Add to list' button, click it. It will show you a window of the playlist songs for you to select. You can choose the songs you want by ticking off the box in front of the file. And at last, click on the 'Convert' button to instruct to start the process.

Support for multiple playlists convert simultaneously ? Yes!
STEP 5

Check Downloaded Tidal Music at PC Local

As long as songs are all converted as expected, you can go to the 'History' column and you can view all the download history. To view them on your computer at local, tap the folder icon beside the song and reach out the file at the computer local path. From now on, you can play all these wonderful music offline, even with no Tidal app bundled!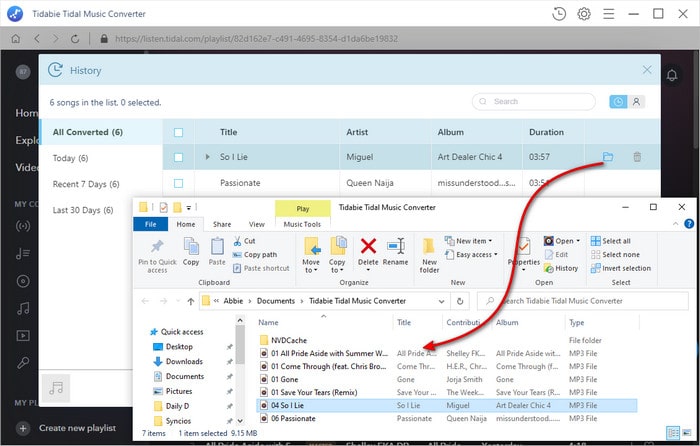 Part 2. Sync Tidal Music to iPod Touch via iTunes
After steps in Part 1, you can get your desired Tidal songs at computer local. Now it becomes easier to sync the Tidal Music to your iPod Touch. We will go through this part with iTunes.
STEP 1

Import Tidal Music on Computer to iTunes Libray

Just open iTunes on your computer and then go to the Music content interface. At the same time, open the Tidal Music folder on your computer. Simply drag all the Tidal Music and drop them into iTunes. And the music will be successfully copied to your iTunes library.
STEP 2

Connect iPod Touch to iTunes and Sync Music (iTunes for Window for example)

Now, connect your iPod Touch to iTunes via the USB cable. You can manage your iPod Touch information by clicking on the phone icon in the upper-left corner of the iTunes window. From the list under Settings on the left side of the iTunes window, click on Music type. On the right panel, you will be given with Sync Music option, enable it. And then select the checkbox next to each item that you want to sync. Finally, click on Apply button in the lower-right corner of the window.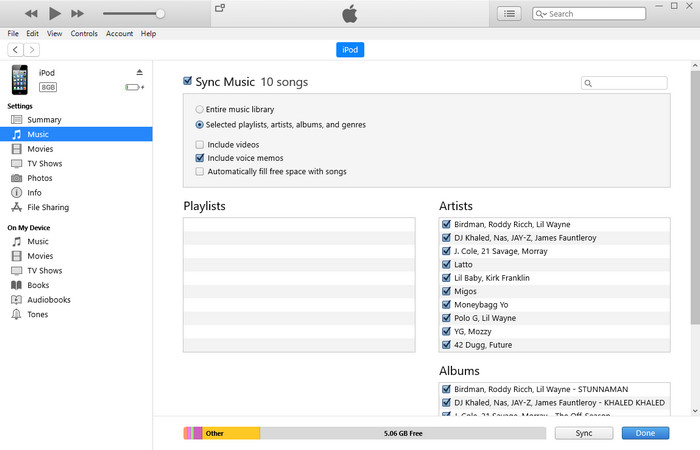 Conclusion
To that end, we praise Tidabie Tidal Music Converter for its reliable and powerful features to get Tidal Music downloaded to your own pocket. Moreover, you can apply this way to other platforms like mp3 players, USB, car vehicles, and more.