How to Play Tidal Music on Bluesound Node 2i
---
If you prioritize sound quality when listening to music, you would enjoy Tidal HiFi Music, which allows for lossless high fidelity audio. And to find out a reliable streamer that can play all the high-resolution formats from Tidal HiFi, Bluetooth Node 2i (Wireless Multi-Room Hi-Res Music Streamer) could be your first consideration. Packed with a powerful BluOS Controller app, Bluetooth Node 2i brings audiophiles an innovative wireless software platform, giving the most true-to-life music experience possible. Thanks for the chances, Bluetooth Node 2i comes with native support for Tidal, and people can easily access to Tidal Music library. But there is still some complaint about the official way to play Tidal Music on Bluetooth Node 2i, like Tidal service missing on BluOS app, a failure to build a stable channel between Tidal and Bluesound, or a poor internet connection. So here in this article, we would give you the best and reliable way to play Tidal Music on your Bluetooth Node 2i. To learn that, read on to find out.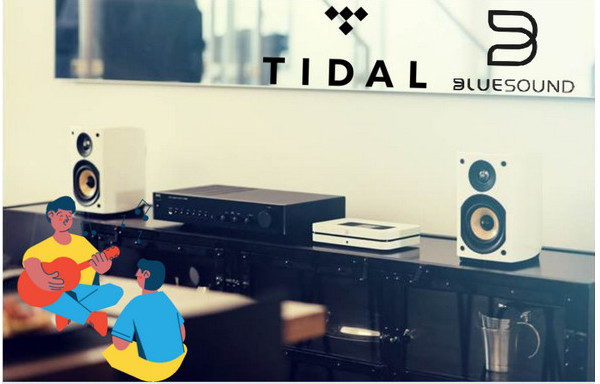 Method 1. Use 'Tidal Connect' to Play Music on Bluesound Node 2i
Tidal Connect is a feature developed to stream Tidal Music seamlessly from the cloud straight to your connected devices. It won't affect the quality when you cast Tidal Music on Bluesound Node 2i. And this way is highly dependent on a stable internet connection.
Step 1: Install a Tidal App for iOS, Android, Kindle Fire, Mac or PC. And then run the Tidal app to start.
Step 2: Open the Now Playing' Screen when playing a song.
Step 3: Go to the device selector on the bottom left.
Step 4: Choose your Tidal Connect-enabled device to play. Here you are supposed to choose Bluesound Node 2i.
Step 5: Enjoy your favorite music seamlessly.
Method 2. Enable Tidal Music Service on BluOS Controller App
To get Tidal service connectivity, you'll need a BluOS, a good control app based on Bluesound.
Step 1: Download the latest update of the Bluesound Controller Apps for iOS or Android.
Step 2: Open the left-hand Navigation Drawer of the Bluesound Controller App. Scroll to the bottom and tap Configure Player then Configure Music Services.
Step 3: Select TIDAL from the list of supported music services. When prompted, enter your account ID and password, and tap Update.
Step 4: Close the Configure Player Menu and select the Home Menu Icon. Open the Navigation Drawer and find Tidal listed under music sources.
Step 5: Select TIDAL and start browsing your cloud-based account and add music to your Bluesound playlists.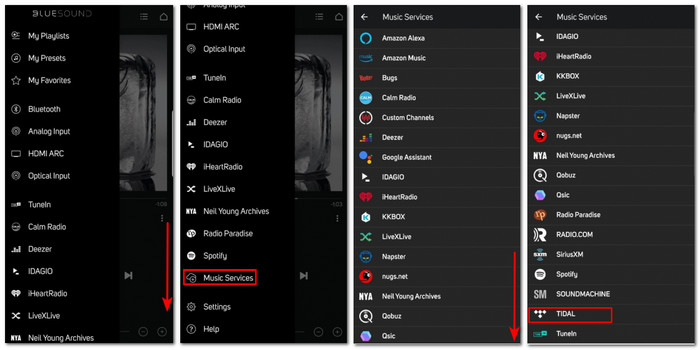 Method 3. Download Tidal Music to Local Bluesound Node 2i
Besides online streaming Tidal Music, Bluesound Node 2i is supported to read local storage of songs and play them offline. This might be a nicer solution when you are in a poor internet connection to stream Tidal music on Bluesound Node 2i. The truth is that Tidal's API does not allow for offline playback on Bluesound Node 2i. But you can download and store Tidal songs onto a local USB device or Hard Disk Drive (HDD) attached to Bluesound. Now, the difficulty is how to download Tidal Music to a local storage or save Tidal Music to a USB or HDD. Take it easy, here we are going to tell you how you can make this happen naturally!
We will need a professional tool named Tidabie Tidal Music Converter (Windows Version / Mac Version ) to get Tidal Music downloaded from the Web player. All the music will be converted to a plain lossless format, with no effect on the HiFi sound quality at all. And the completed Tidal Music will be saved to computer local storage, making it easier to transfer to USB or HDD and play on Bluesound Node 2i. Tidabie Tidal Music Converter will require no additional software installations even a Tidal app. Follow these steps to simply get Tidal Music downloaded to USB local storage. And you can stream Tidal Music on Bluesound offline mode as expected.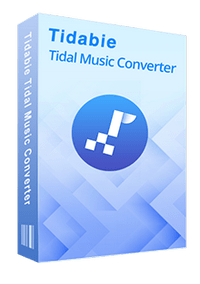 Tidabie Tidal Music Converter
Support Tidal Free and Tidal HiFi users.

Download Tidal music to the computer.

Convert Tidal music to MP3/AAC/WAV/FLAC/AIFF/ALAC.

Keep up to Hi-Fi audio quality.

10X faster speed; Retain ID3 tags after conversion.

Free updates & technical support.
STEP 1

Startup with Tidabie Tidal Music Converter

Simply get one Tidabie Tidal Music Converter by downloading it from the button provided below. Windows or Mac version is up to your real need. When you run it to start, you can notice the guidance noting 'Open Tidal Web Player' , click it.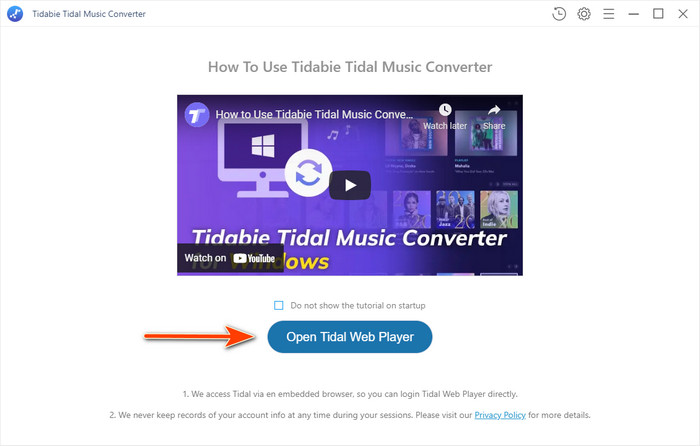 STEP 2

Log in to Tidal Web Player

As instructed, follow the 'Log In' tip to enter your Tidal account and password, thus accessing to Tidal Music Library. It is suggested that you log in to Tidal with your Tidal account instead of using it with Facebook or Apple or Twitter account.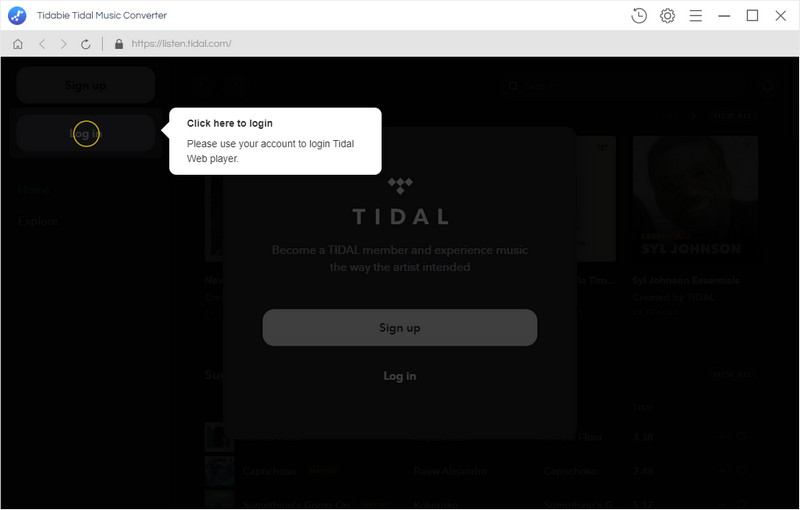 STEP 3

Setup Output Settings on Your Own

You will need to set up some audio Settings which will apply to the Tidal Music to the converter, like Output Format, Output Quality, Output Folder, Output File Name, etc.

Output Format: MP3, AAC, FLAC, WAV, ALAC and AIFF

Output Quality: 128kbps, 192kbps, 256kbps, 320kbps

Output Folder: C:\Users\User Name\Documents\Tidabie Tidal Music Converter

Output File Name: Track Number/Title/Artist/Album/Playlist Index

Output Organized: Artist, Album, Artist/Album, Album/Artist

Note:
1. Output Folder means to local storage from the computer which is to store all downloaded Tidal songs after conversion. You can customize a new path as you need.
2. When you choose output format to a lossless format like 'Auto' or 'FLAC', output sound quality will come out with HiFi level by default.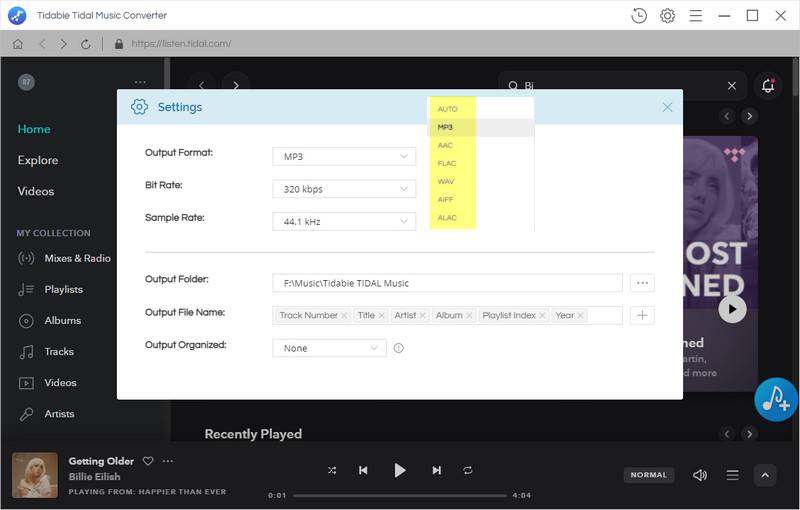 STEP 4

Convert Your Desired Tidal Songs and Playlists

Alright, browse any playlist or song you want to download to your local storage. Choose one playlist you want and click on the button noting Add to list at the right corner. It will pop up a window of the playlist songs for a specific selection. Tick off the box besides the song to choose it to convert.

Support for multiple playlists convert simultaneously ? Yes!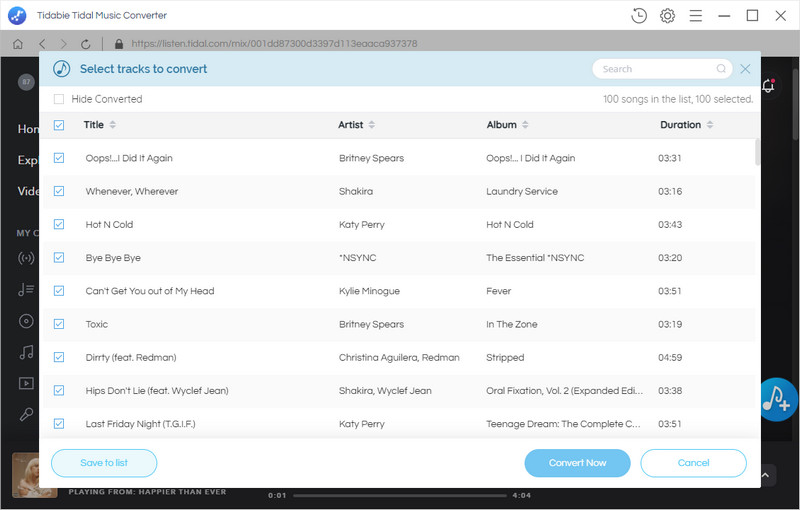 Click on the Convert Now button to start converting the Tidal Music to the output format you selected.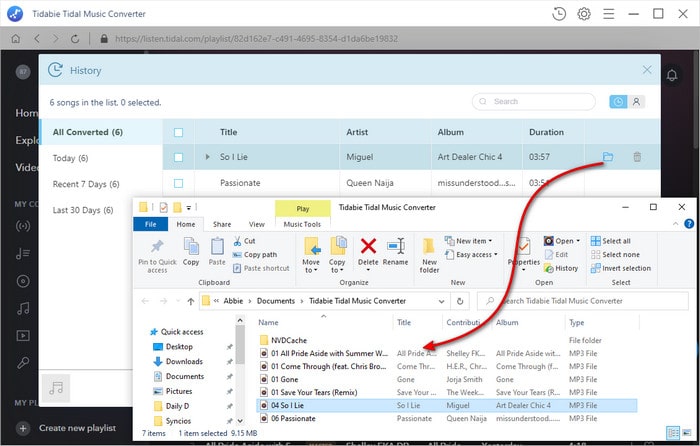 STEP 5

Transfer Downloaded Tidal Music to A USB/HDD

Well, there are still 2 options for you to add the Tidal Music to Bluesound Node 2i for playing. Referred to official's Use the Local Shares Wizard for Windows, we don't think this is a user-friend way to make it. Instead, put all Tidal Music to an external USB Drive or Hard Disk Drive that is attached to your Bluesound Node 2i comes easier.

So, simply plug a USB Drive into the computer and copy all downloaded Tidal Music to the driver. After that, insert it to your Bluesound Node 2i, you are right now succeeding offline playing Tidal Music on Bluesound Node 2i, 100% uninterrupted!

Conclusion: There is no denial that Bluesound Node 2i is a perfect choice to play Tidal HiFi Lossless Music. In this article, we are devoted to sharing a reliable way to play Tidal Music on Bluesound Node 2i, with fewer limitations and gain you a brilliant Tidal Music listening experience. Thanks to Tidabie Tidal Music Converter, you can download Tidal Music as local audio files for offline listening, making Tidal Music possibly playable on Bluesound Node 2i at your convenience.