How to Get Student Discount from Tidal Music?
---
TIDAL's popularity has soared in recent years due to its extensive music library and premium audio quality. As a music enthusiast, if you want to enjoy TIDAL's services, you can choose from TIDAL Free, TIDAL HiFi, and TIDAL HiFi Plus, varying in price and benefits. Nevertheless, being a modern music streaming platform, TIDAL provides societal benefits as well. Are students entitled to any perks? Well, fortunately, TIDAL offers a student plan with discounted prices, granting access to all of TIDAL's features. In this guide, we'll teach you how to avail the TIDAL Music student discount and download TIDAL tracks to your local computer.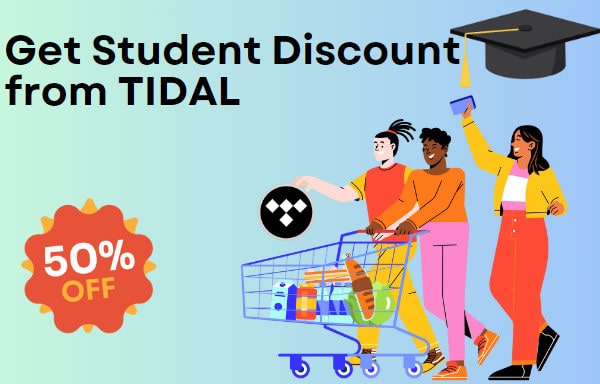 ---
Part 1. What Is the Tidal Music Student Discount?
The Tidal Music Student Discount offers eligible college students in some countries or regions, as well as high school students who are 16 years or older, a 50% discount to subscribe to Tidal HiFi or HiFi Plus plans.
When you take advantage of the student discount from Tidal Music, you only need to pay $4.99 for the Tidal HiFi plan or $9.99 for the Tidal HiFi Plus plan each month. Despite the discounted price, you can enjoy the same benefits as the plans that are sold at regular prices. These benefits include ad-free listening, offline mode, on-demand playback, and top-quality CD/Hi-res sound.
But please note that you cannot receive the student discount by subscribing to the Tidal Student plan directly on its plan page. Instead, to enjoy the student discount from Tidal, you must provide the relevant credentials and pass the verification process. Once you are verified, you can enjoy the Tidal Student Discount.
---
Part 2. How to Get Tidal Music Student Discount?
To take advantage of the student discount offered by Tidal, there are a few requirements you must fulfill to verify your student qualification. You will need to prepare your official enrollment letter, class schedule for the current term, registration or tuition receipt, and transcript. Once you have these materials gathered, you can follow the below steps to get the student discount from Tidal Music.
Step 1 Sign Up for a Tidal Account
Before you can receive the student discount from Tidal Music, you must first create a Tidal account. To do so, visit TIDAL's sign-up page, where you can use any available email address or continue with your Google, Apple, or Twitter account.
Step 2 Select Your Tidal Music Subscription
After successfully creating a Tidal account, you will be prompted to choose a subscription plan that suits your needs. Decide on the Tidal subscription you prefer, either Tidal HiFi or Tidal HiFi Plus, and then scroll down to the Student Subscription and fill in your basic information. Each new student account is eligible for a 30-day free trial before the discounted rate is applied, so there will be no charge at this time.
Step 3 Verify Your Student Status
To confirm that you are a student, you must proceed with the verification process. Tidal verifies your student status through a third-party verification service called SheerID. SheerID validates your student status by checking your enrollment status with your school.
You will need to submit your school's name, your first and last names, email address, and other basic information to be prompted to click the "Continue" button. Afterward, click on the "Choose File" button to attach your student qualification documents, such as your official enrollment letter and class schedule for the current term. Confirm that your discount name matches the name on your submitted documents, then wait for the confirmation email to complete the verification process. If you cannot get the page, simply go to the SheerID page to verify your student qualification.
Upon successful verification, you will be billed only $4.99 or $9.99 for the Tidal HiFi or HiFi Plus plan, respectively. This is how to get the Tidal Music student discount.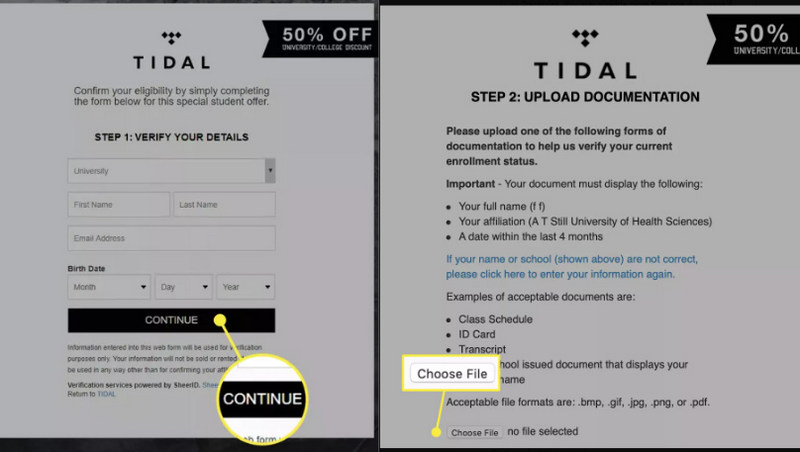 ---
Part 3. How to Download Tidal Music as MP3 with A Student Account?
As most of us are aware, Tidal only allows music to be streamed in AAC, FLAC, or MQA format. Streaming music means that you're only authorized to play the music and save the songs as cache files for offline playback while having a valid subscription. Your downloads will be rendered useless if you discontinue your Tidal subscription. So, the question is - what can you do if you wish to download your favorite Tidal songs with your student discount to your local Windows or Mac computer for permanent playback?
In this section, we'd like to introduce you to the popular program - Tidabie Tidal Music Converter. It's a meticulously engineered program designed for all Tidal music users, which enables them to download and convert Tidal music. Therefore, even if you are no longer entitled to the Tidal Music Student Discount due to graduation from college, you can still listen to Tidal songs for free offline playback. Moreover, Tidabie can convert Tidal songs to MP3, AAC, WAC, AIFF, ALAC, and FLAC plain audio formats. You can effortlessly choose the output format of your choice for your Tidal playlists and transfer the songs to your mobile devices, MP3 player, or any software or hardware products.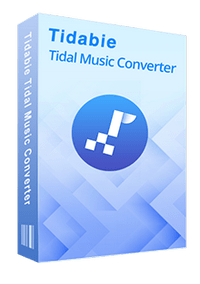 Tidabie Tidal Music Converter
Downloaded Tidal songs, albums, playlists and podcasts.

Convert Tidal tracks to MP3, AAC, WAV, FLAC, AIFF, and ALAC formats.

10x download speed & Batch download multiple playlists.

Preserve HiFi audio quality and ID3 tags.

Enjoy the downloaded Tidal music on MusicBee and other music players.

Keep Tidal downloads forever after the subscription ends.
Step 1 Launch Tidabie Tidal Music Converter
To begin, open the Tidabie program on your computer. If you haven't installed it yet, click on the download button above. Next, click on "Open Tidal Web Player" to access Tidabie and follow the instructions to log in to your Tidal Student account.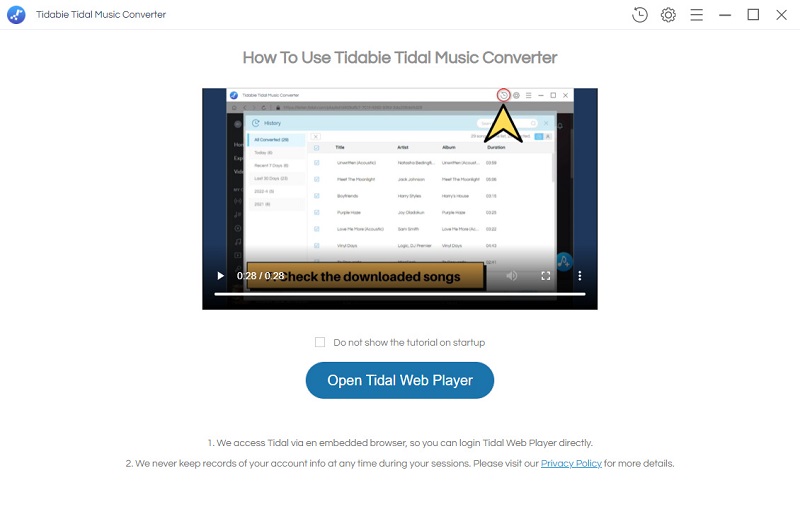 Step 2 Customize Output Settings
Tidabie offers a range of customizable output settings to suit your preferences. Click on the "Settings" icon to open the panel, select MP3 as the output format, adjust the output quality and output folder location as desired, name your output files, and organize them as per your preference. Close the window to apply the chosen settings.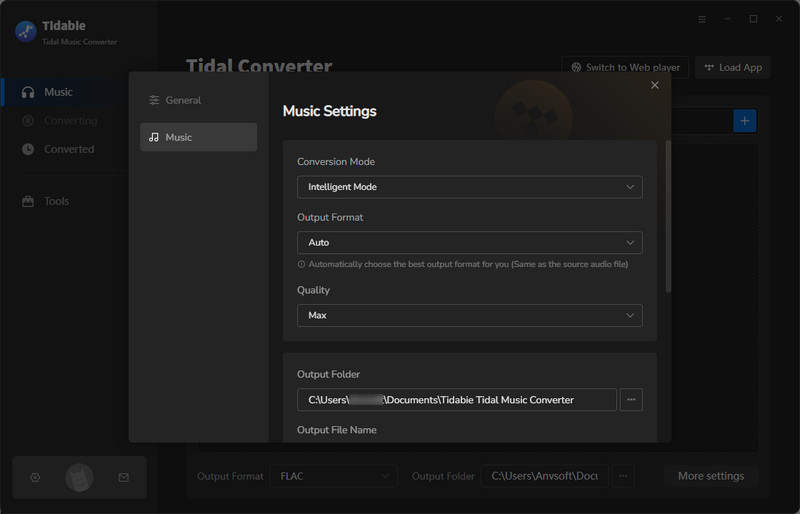 Step 3 Add Target Tidal Songs to Download
Navigate to the songs, playlists, albums, or podcasts you want to download on the embedded Tidal web player. Open the playlist or album if required. And click on the "Add to list" button. A window will pop up allowing you to select your preferred songs. Tidal Music account with a Student discount has access to the full catalog and benefits of a normal account, so you can select any Tidal songs you like.
At this stage, Tidabie offers two options, "Convert Now" or "Save to list". If you click "Convert Now", your selected songs will be converted and downloaded immediately. Alternatively, you can choose "Save to list" to add songs to the task list. Then you are allowed to add more songs to the task list. After that, hit on the "Task list" icon and select "Convert" to start downloading Tidal songs in a batch.
Step 4 Check Downloaded Tidal Songs
The conversion process doesn't take long, and after completion, the output folder window will pop up showing all the downloaded Tidal music files. You can also access your output folder by clicking on the "History" icon and the folder icon within the item.
At this point, all of your favorite Tidal songs, playlists, albums, and podcasts have been downloaded to your local computer. You may play these Tidal songs anytime and even without a Tidal subscription, so you can still enjoy them even if your Tidal student account expires.
---
Summary
Tidal Music Student Discount is a special offer from Tidal for eligible students, allowing them to receive a 50% discount on their subscriptions. With just three steps, students can easily verify their eligibility and enjoy the discount. However, even with a Tidal Student account, it is not possible to download Tidal songs or convert them to MP3s outside of the app.
Therefore, Tidabie Tidal Music Converter can provide further assistance. This sophisticated program is designed for all Tidal users and allows them to download Tidal music onto their local computer and convert songs to MP3 and other audio formats with the Tidal Student account. If you are in need of such a tool, you can download Tidabie by clicking the button now.