Download Tidal Music to MP3 Players
---
"I have a MP3 player, and I want to download MP3 from Tidal Music and put them into it. But, it seems like that this request is no-no by Tidal. Do you know how to make this possible or some easier steps for reference? "
🙇‍♂️ Why People Choose MP3 Players to Play Music?
Even though streaming music is popular in today's trend, MP3 media players still have a remarkable impact on the way the world listens to music. It's portable, durable and can hold a music lover's entire collection. An example is Apple iPod Touch. MP3 player supports more than the MP3 file format, also Windows Media Audio (WMA), Advanced Audio Coding (AAC), Vorbis, FLAC, Speex and OGG. The attractive part of MP3 player is that it allows you to leave the house without internet or your phone, but still access all of your favorite tunes. In addition, they are good for people who like to listen to music while they exercise, as MP3 players don't need to be on a stable surface. MP3 players have no skipping or jumping on playback. Also, MP3 players do a better job at storing your music library as local files, letting you forever play the music offline, travel the tunes with you whenever you go.
🙇‍♂️ Why Pick Up Tidal Music Among All Streaming Music Platforms
Tidal Music offers various music discovery features and a large music catalog. And if you're looking for HiFi audio, Tidal is your friend. The Tidal HiFi membership offers four settings for streaming quality: Normal, High, HiFi, and Master Quality Authenticated (MQA). As we all know that Tidal Music is an online streaming service, with both and only Apps and Web player options to play your favorite songs. And if you want to have MP3 files saved to your computer from the old days and want to be able to listen to them in the MP3 player as your streaming music, Tidal doesn't allow any local file playback, which is a shame for listeners with vast libraries. Yeah, you now know that you can only download Tidal Music to play offline within the app. No more additional supports are given to play or transfer the Tidal Music to other platform.
🚩How to Download Tidal Music to Local Path
So, we came to the most crucial part of this article. You will need a significant helper on the way to download Tidal Music from online to offline and save in local path. That is Tidabie Tidal Music Converter. Being able to selectively convert Tidal Music to MP3/AAC/WAV/FLAC/AIFF/ALAC audio format and permanently save them locally on computer. Not only just that, the whole process will be greatly shortened since Tidabie is able to convert the songs at 10* speed. You may learn into other valuable features including: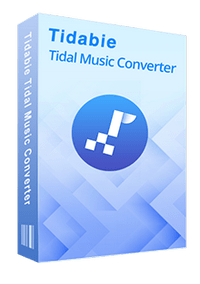 Tidabie Tidal Music Converter
Support Tidal Free and Tidal HiFi users.

Download Tidal music to the computer.

Convert Tidal to MP3/AAC/WAV/FLAC/AIFF/ALAC.

Keep up to Hi-Fi audio quality.

10X faster speed; Retain ID3 tags after conversion.

Free updates & technical support.
STEP 1

Run up with Tidabie Tidal Music Converter

Run into Tidabie program and you can see a video tutorial on the homepage. You can learn how to use with the tool in that video. Or you can now go with me in this article steps to learn the conversion job. Following, you are supposed to click into the 'Open Tidal Web Player' to move to next step.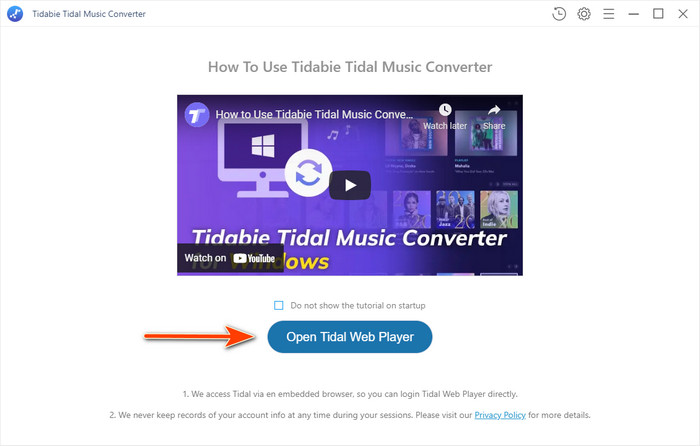 STEP 2

Log in Tidal Account in Tidabie Tidal Music Converter

Regularly, you need to log in your Tidal account to reach out the Tidal Music library. Click on the 'Log In' notice and enter all information that it asks for. Do take it easy, Tidabie won't collect your information at all. Tidabie Tidal Music Converter is devotedly working to convert Tidal Music songs to a certain format, keep music the same quality as original or higher, and indeed save Tidal Music to your local storage.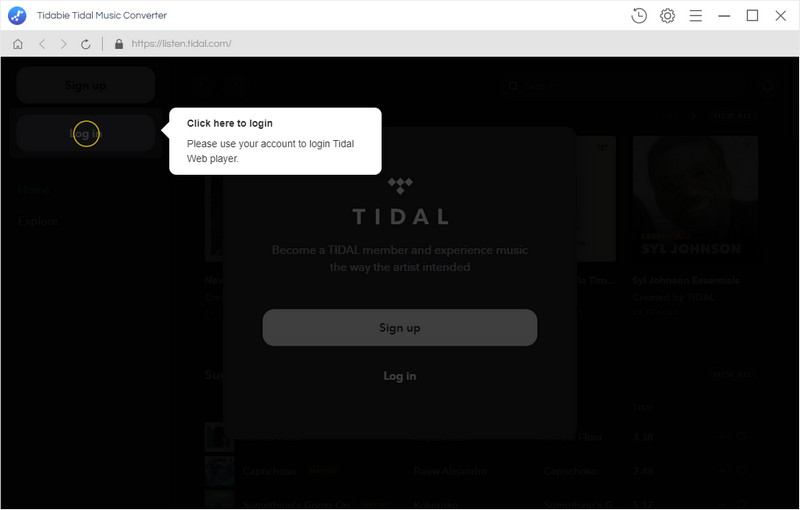 STEP 3

Setup Output Settings on Your Own

To make Tidal Music possible for an independent audio file out of the official service, the Output Settings is where you can decide what you want the music finally convert to. Go to 'Settings' part on the right corner, here you can set up the Output settings including:

Output Format: MP3, AAC, FLAC, WAV, ALAC and AIFF

Output Quality: 128kbps, 192kbps, 256kbps, 320kbps

Output Folder: Set up a local path to store the audio file after conversion

Output File Name: Track Number/Title/Artist/Album/Playlist Index

Output Organized: Artist, Album, Artist/Album, Album/Artist

Tip: MP3 players are compatible with various audio formats, not limited to MP3. So you can pick up your desired format based on your real need.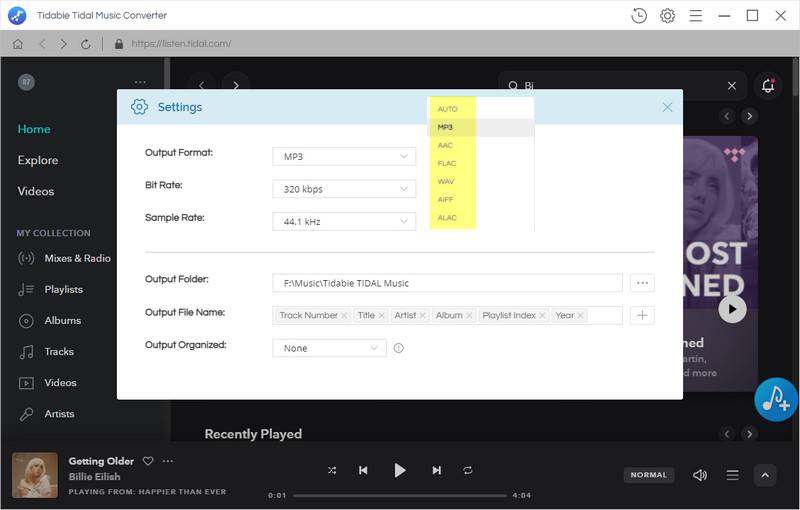 STEP 4

Choose Desired Tidal Music to Convert

Now, freely navigate to your desired Tidal Music playlists or songs, and then click the blue 'Add to list' icon to add tracks to Tidabie Converter. If you want to download all of them in certain playlist, then tick the box in front of the Title box. Further tick the certain tracks you want, then click on 'Convert Now' to download. Tidabie Tidal Music Converter will start to download the selected songs at a 10X conversion speed, which takes less time to wait for the completion.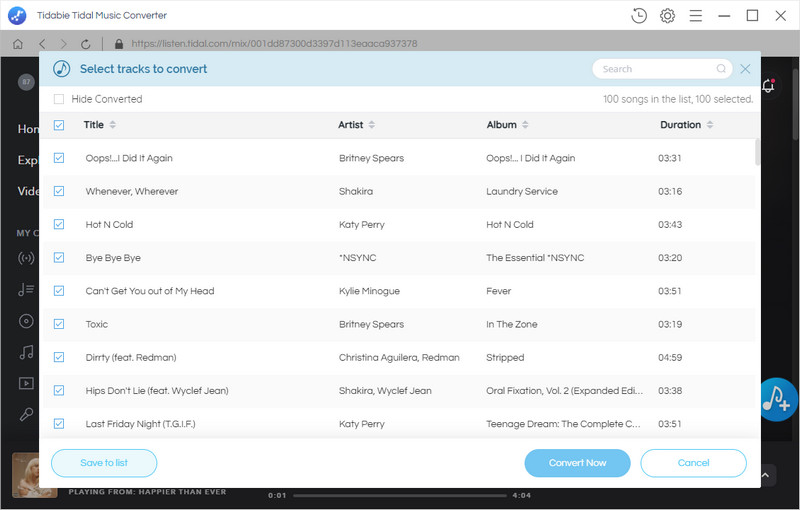 STEP 5

Check Downloaded Tidal Music at PC Local

As long as songs are all converted as expected, you can go to the 'History' column and you can view all the download history. To view them on your computer at local, tap the folder icon beside the song and reach out the file at computer local path. From now on, you can play all these wonderful music offline, even with no Tidal app bundled!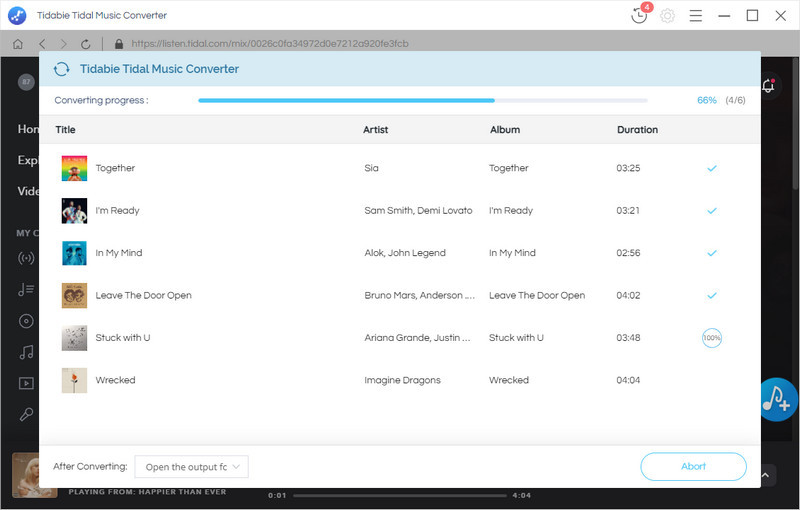 🚩 Import Downloaded Tidal Music to MP3 Player
All Tidal Music will be saved to computer at local. You can organize these audio files as you do with other files on computer. You can play Tidal Music via Windows Media Player. Or if you are on Mac computer, open the Tidal Music to play with the Music app. To import the downloaded Tidal Music to MP3, you then plug the MP3 player into your computer and copy the music over. Time taking to complete the transfer will rest on the number of the files, this usually takes just a few minutes at the most.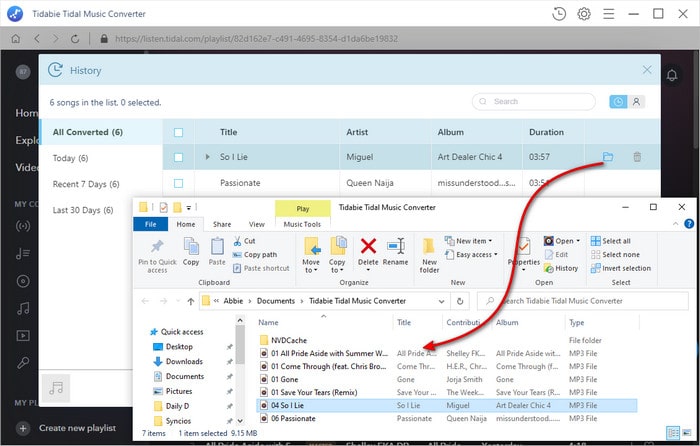 Conclusion
Exactly, it is Tidabie Tidal Music Converter that works to get you simply save the online Tidal Music to an offline MP3 player. From now on, you don't have to access to the internet or your Tidal account, but you still enjoy Tidal Music on any MP3 player.