How to Play TIDAL Music on Plex
---
Plex is a global streaming media service and a client–server media player platform, which is famous for total control of personal media library on any device. It allows users to organize video, audio from collections and online services, and stream it to the players. The Plex media player app has expanded to include more than just the downloaded movies and music you own. It now offers the ability to stream music from the TIDAL subscription service. In this article, we will introduce 2 easy ways to add TIDAL music to Plex. Read on to find which one is suitable for you.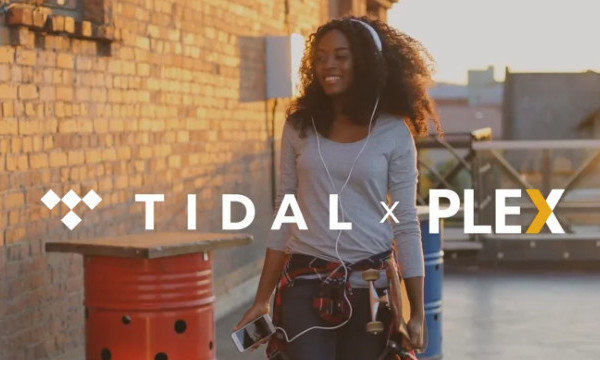 ---
Part 1: Features of TIDAL that Plex Supports
All Plex users can add TIDAL to Plex, and Plex PASS subscribers enjoy a number of additional music features, some of which are also available for TIDAL user who signs up through Plex, even free users. You can check from below:
TIDAL HiFi Bundle
TIDAL HiFi + Plex Pass Bundle

Specific music-related hifi features:

Free activation of Android and iOS mobile apps
Automatic lyrics from LyricFind
Sweet Fades
Loudness Leveling
Visualizers
Advanced audio features (like silence compression)

All Plex Pass features!

That includes all features mentioned on the TIDAL HiFi side as well as other premium features, such as:

Mobile Sync (for your Plex library content, not TIDAL content)
Plex Home
Live TV & DVR with compatible hardware
Premium Photo Libraries
Early Access & Betas
Plex Pass Perks
and much more!
---
Part 2: Get TIDAL on Plex Directly
If you are already a TIDAL subscriber, then you can directly play TIDAL music on Plex. And if you are not, you can also follow the tips below and get TIDAL on Plex directly.
#1. Transfer an Existing TIDAL Subscription to Plex
Users who are already a TIDAL subscriber can add and manage TIDAL subscription through Plex, and play TIDAL music on Plex with ease. Check the steps below.
Step 1. Open the TIDAL transfer page on the Plex site.
Step 2. Choose the TIDAL plan you have - "Tidal Free" or "Tidal HiFi".
Step 3. When you are navigated to the TIDAL site, login your TIDAL account. Then it will transfer your subscription to be billed and managed through Plex.
Notice: If your TIDAL account currently has an extended trial offer, you may lose some trial time when transferring.
#2. Start a New TIDAL Subscription
For users that are new to TIDAL, you can start a subscription (including a free trial) right through Plex.
Step 1. Visit the main TIDAL page on the Plex site.
Step 2. Choose "TIDAL Free" or "TIDAL HiFi" on the bottom page.
Step 3. After being redirected to the TIDAL site, create an account there and link/authorize your TIDAL account to Plex.
You are now allowed to organize your TIDAL media contents on Plex freely. However, there are also some TIDAL features that are not available through Plex:
While the HiFi plan does have access to lossless quality music in Plex, it does not have access to "master-quality" (MQA) music when played through Plex.
You cannot download TIDAL music to Plex mobile apps for TIDAL's "Offline Mode".
You cannot purchase music from TIDAL through Plex.
So if you want to listen TIDAL music offline on Plex and enjoy more freedom, we highly recommend you download and import music from TIDAL to Plex as Part 3 below.
---
Part 3: Best Way to Transfer TIDAL Songs to Plex
To solve the problems above, we highly recommend Tidabie Tidal Music Converter to you, which allows you to save music tracks from TIDAL with 100% original quality preserved. Tidabie Tidal Music Converter keeps the original ID3 tags and metadata of TIDAL songs, including title, cover, artist, album, track number, etc. It also helps you to covert downloaded songs to MP3/AAC/WAV/FLAC/AIFF/ALAC, so you can play TIDAL music on Plex, mobile phone or MP3 player.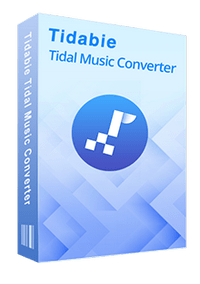 Tidabie Tidal Music Converter
Download Tidal songs/albums/playlists/podcasts locally.

Convert Tidal tracks to MP3/AAC/WAV/FLAC/AIFF/ALAC.

Preserve Tidal Hi-Res/CD audio quality and full ID3 tags.

Run at 10x speed & batch download Tidal playlists.

Sort Tidal music files by playlist, album, artist, etc.

Offer tools of Format Converter, Tag Edit, etc. & save lyrics.

Enjoy Tidal music offline on devices and programs.
STEP 1 Please download and install Tidabie Tidal Music Converter to your computer. When you start Tidabie Tidal Music Converter on computer, you can see two options - app mode and web player mode, on the main interface. The former aims to use the TIDAL app to save Tidal Master/Max music at 1x to 5x the speed, while the latter focuses on Tidal HiFi music download through the embedded Tidal web player at 10x fast speed. Click on one of them. Then it will redirect you to enter the program. Then you need to login your TIDAL account, sign up and begin 30-days trial if you don't have an TIDAL account yet.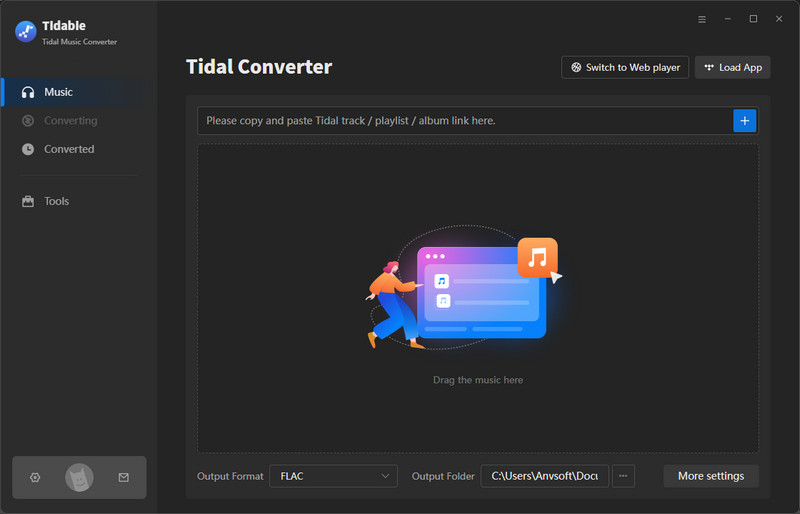 STEP 2 After logging into your account and before selecting music tracks to download, you can go to "Settings" to setup the output format and quality.
Output formats available are MP3, AAC, FLAC, WAV, ALAC, and AIFF. And you can choose output quality from 128kbps, 192kbps, 256kbps or 320kbps. If needed, you can also change the output path, output file name and more.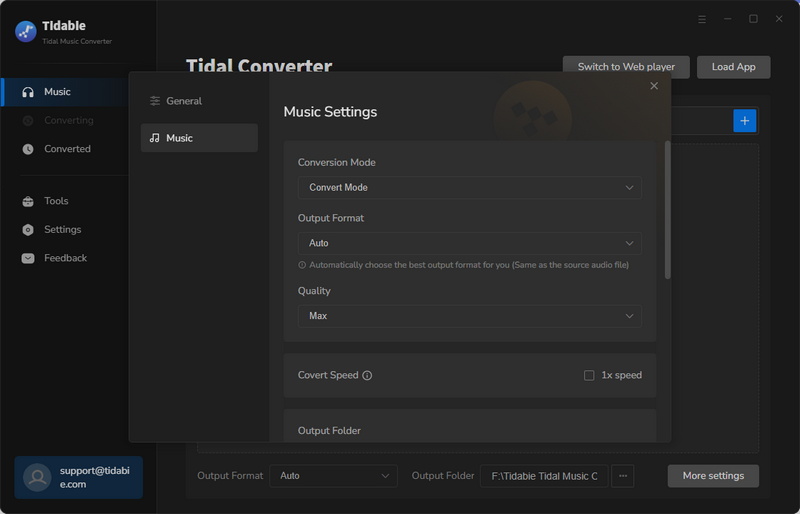 STEP 3 Now navigate to the favorite playlist on Tidal. When use the web player mode, open the playlist/album, you can see the blue "Click to add" button. Once you tap on it, the program will automatically identify and list all songs on this playlist.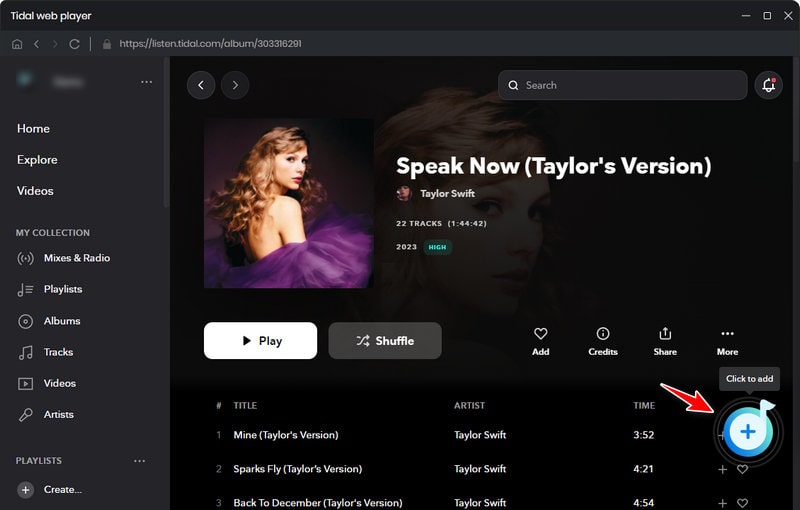 Under the app download mode, you need to operate different. Head to your target playlist, album, or track on the TIDAL app, then drag and drop it to Tidabie. Alternatively, you can copy and paste the link to Tidabie for parsing.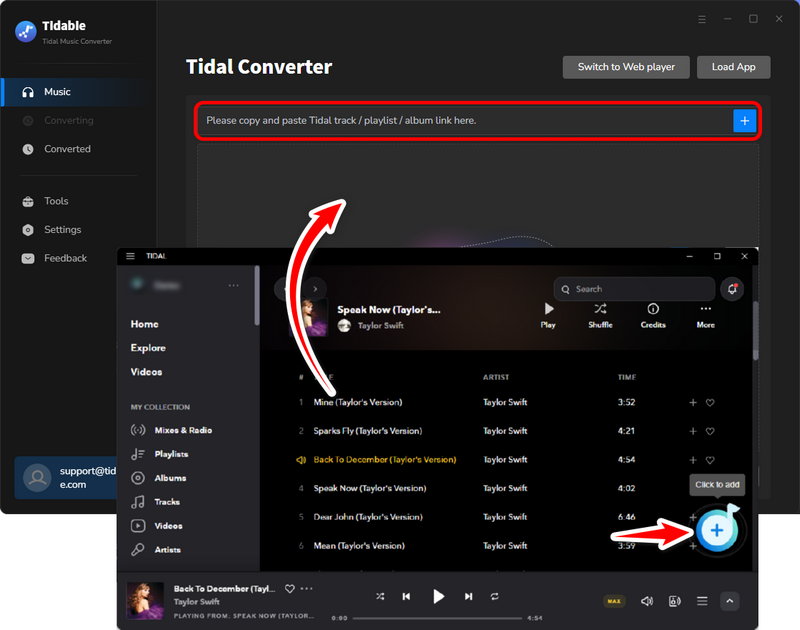 Whichever you use, the songs will then be loaded and displayed on a pop-up window. On the list, all tracks are selected by default. If needed, you can uncheck the box beside TITLE, then tick off the songs you wish to download one by one. Next, click on the "Add" button.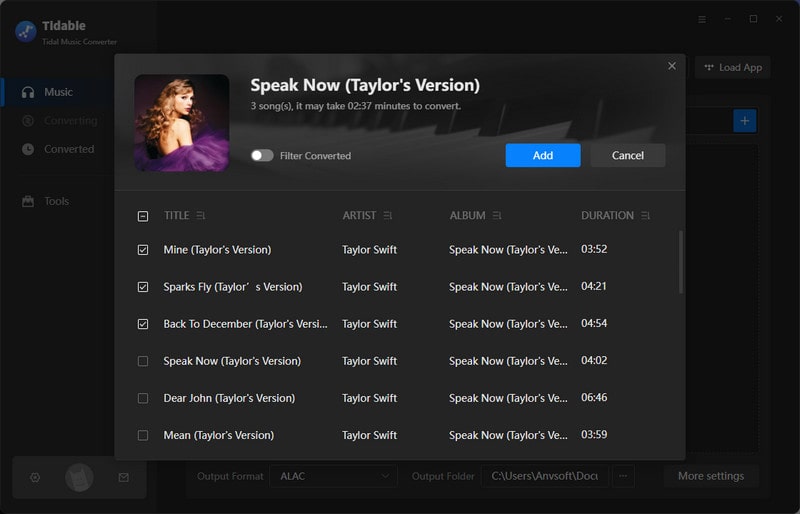 STEP 4 The songs will then be added to the Tidabie conversion panel. If you are going to add more songs, hit on "Add More" for further action. Otherwise, tap the "Convert" button, and wait patiently until it complete.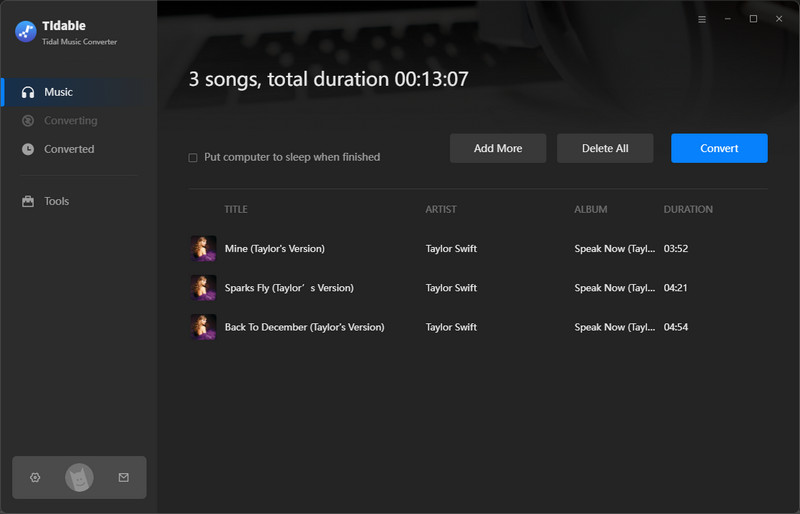 STEP 5 The conversion progress goes fast and smooth. When it is finished, you can check the downloaded songs under "Converted" tab. You can move your mouse to certain item, click on the file icon to browse the files on local disk.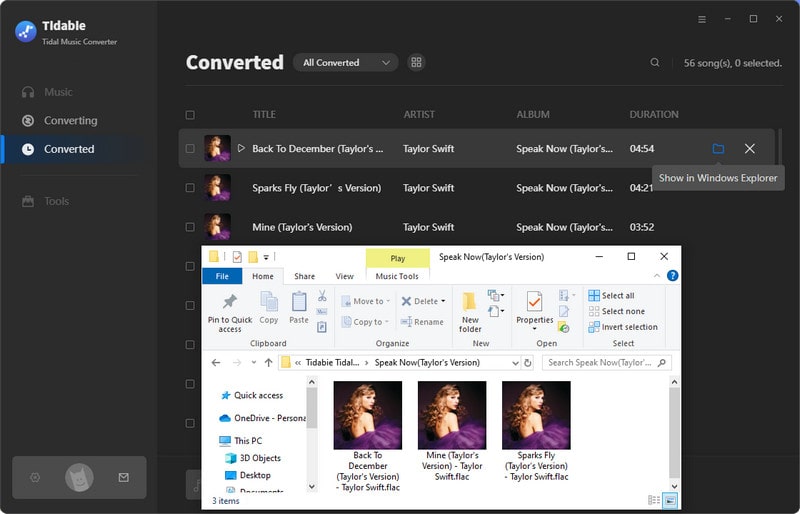 STEP 6 Now you have saved all of the Tidal songs on your computer. Launch Plex Media Server app on your computer and log into your account. Press on the "Add Library" menu > "Music" option. Choose the converted Tidal songs to load them. Now you have successfully add your TIDAL music to Plex.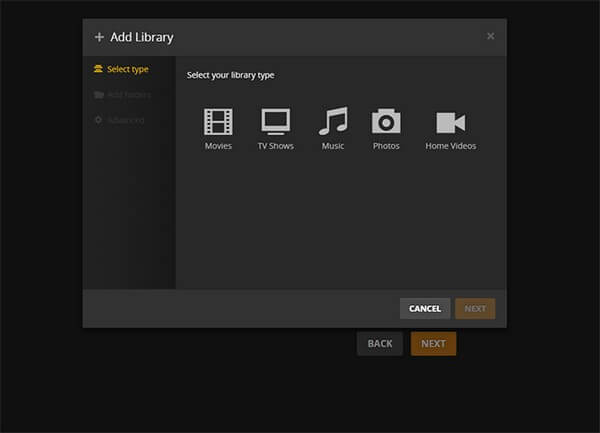 ---
Summary
This article introduces two clear ways to add and play TIDAL music to Plex. You can directly play TIDAL music on Plex if you have a bundle subscribtion. However, if you want to enjoy offline play feature, Tidabie Tidal Media Downloader can help you download original quality TIDAL songs and add them to Plex for offline listening for better experience.