How to Download Tidal Hi-Res Music: A Step-by-Step Guide
---
In recent years, there has been a surge in popularity for high-resolution (Hi-Res) music, thanks to its superior audio quality. Tidal, one of the leading music streaming platforms, offers a vast library of Hi-Res music to its subscribers. However, sometimes we may want to download our favorite tracks or albums from Tidal to listen to offline or on devices without a stable internet connection. In this article, we will guide you through the process of downloading Tidal Hi-Res music so that you can have a seamless offline listening experience.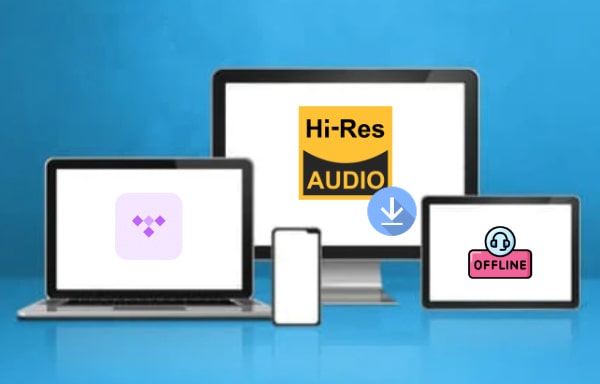 ---
Part 1. What is Hi-Res Music?
Hi-Res music, also known as high-resolution music or high-definition audio, refers to music recordings that provide a higher resolution and sample rate than standard CD audio quality. Standard CD audio has a resolution of 16-bit/44.1kHz, while Hi-Res music typically offers higher bit depth (24-bit or higher) and sample rates ranging from 48kHz to 192kHz or even higher.
The increased bit depth and sample rate of Hi-Res music allow for more precise and accurate reproduction of sound, capturing more detail and nuances in the music. This results in a more realistic and immersive listening experience, particularly noticeable when using high-quality audio equipment or headphones.
Hi-Res music files are usually available in various formats, such as FLAC (Free Lossless Audio Codec), WAV (Waveform Audio File Format), ALAC (Apple Lossless Audio Codec), or DSD (Direct Stream Digital). These formats ensure that the music is preserved in a lossless or near-lossless quality, retaining the original audio data without compression.
However, it's important to note that to fully leverage the benefits of HiRes music, a compatible playback system, including audio players, digital-to-analog converters (DACs), and speakers/headphones, capable of handling the higher resolution is required.
Tidal, on the other hand, not only provides its users with CD-quality music but also Hi-Res music up to 24-bit/192kHz encoded in FLAC. It offers a collection of HiRes music with over 70 million tracks that can be streamed, allowing listeners to enjoy music with enhanced clarity, depth, and accuracy, and attracting audiophiles worldwide a lot.
---
Part 2. What is Needed to Download Tidal Hi-Res Music?
Before we dive into the step-by-step guide, there are a few things to note.
First, downloading Tidal Hi-Res music requires a Tidal Hi-Fi Plus subscription. The Tidal Free or HiFi subscription does not have this feature. The former is allowed to enjoy only 160kbps audio, while the HiFi subscribers can enjoy 16-bit/44.1kHz CD quality audio. The Tidal HiFi Plus costs from $9.99 to $29.99 a month, people with special qualifications can enjoy discounts of up to 50% from the Tidal HiFi Plus plan.
Secondly, streaming and downloading Tidal Hi-Res music needs a high-speed network connection. Since Tidal Hi-Res music losslessly retains the details of the original recordings and even proceed them higher than the originals, the file size is generally bigger than standard or HiFi music, 24-Bit Hi-Res streaming is admittedly more demanding bandwidth than other qualities, and we would recommend a connection in 5G or WiFi with speed higher than 10 Mbps. You can test your internet speed on the site www.fast.com if needed.
Thirdly, downloading Tidal music is only available through the Tidal app, so make sure you have it installed on your device. After subscribing to Tidal HiFi Plus, open the Hi-Res playlist or album on your smartphone, and simply click on the download button to download Tidal Hi-Res music. How about Tidal desktop users? Under years of development, you can download Tidal Hi-Res music on your desktop computer for offline listening now. Please move to the next part.
---
Part 3. How to Download Tidal Hi-Res Music for Offline Listening?
To download Tidal Hi-Res music on a desktop for offline listening, you are required to use the tool - Tidabie Tidal Music Converter, the best converter specially tailored for downloading Tidal Hi-Res music to local Windows and Mac computers. With leading decryption and preservation technology applied, Tidabie performs standout in downloading and converting Tidal tracks to FLAC, WAV, ALAC, and other formats, keeping full ID3 tags of Tidal songs, and more importantly, preserving high-resolution quality for Tidal music. Unlike most Tidal music converters that support lossy output or up to only CD quality output, Tidabie, on the other hand, is capable of preserving both HiFi or CD quality (16-bit/44.1kHz) and Hi-Res Tidal audio up to 24-bit/192kHz.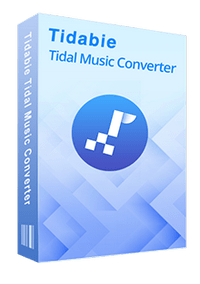 Tidabie Tidal Music Converter
Download Tidal songs/albums/playlists/podcasts locally.

Convert Tidal tracks to MP3/AAC/WAV/FLAC/AIFF/ALAC.

Preserve High/Max audio quality and ID3 tags.

10x download speed & batch download multiple playlists.

Offer tools of Format Converter, Tag Edit, etc.

Enjoy Tidal music on WMP and other music players.

Keep Tidal downloads forever after the subscription ends.
Step 1 Download Tidabie and Log in to Tidal
Download and install the Tidabie program on your computer, and then run it. You will see that two download modes are offered on the main interface - app mode and web player mode. To download Tidal Hi-Res music, the app mode is recommended, since the web player is mainly for saving HiFi-quality Tidal songs to computers. The pre-install TIDAL app on your computer will then automatically launch, you need to log in to your Tidal HiFi Plus account to access the Tidal Hi-Res library.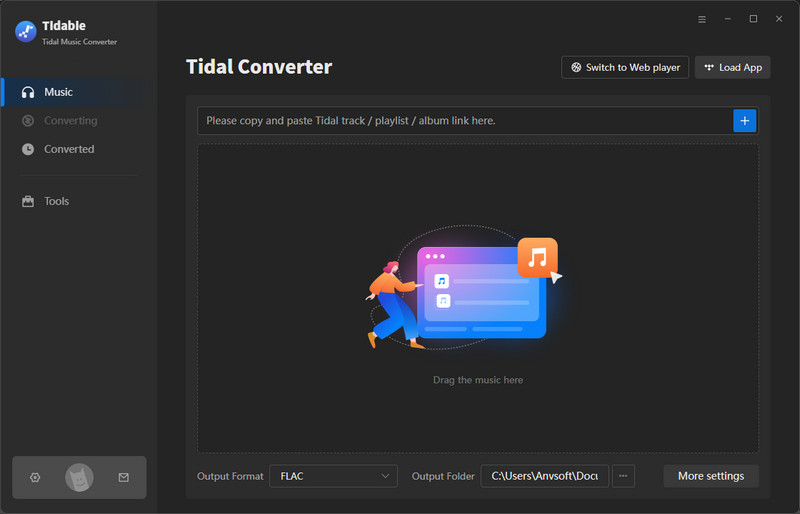 Step 2 Set Output Parameter for Hi-Res Tidal Music Output
To use Tidabie to download Tidal Hi-Res music, it is important to adjust output settings. Go to the "Settings" panel, where you are allowed to select an output format and output quality. Simply select 'Tidal Record' from Conversion Mode; FLAC/WAV/ALAC is available for Hi-Res music output, and 'Auto' is recommended too as it will inform Tidabie to output Tidal Hi-Res in the source format and quality; and select sample rate as needed. To better manage the output files, you may designate an output path, name the output file, and organize the files with the provided options.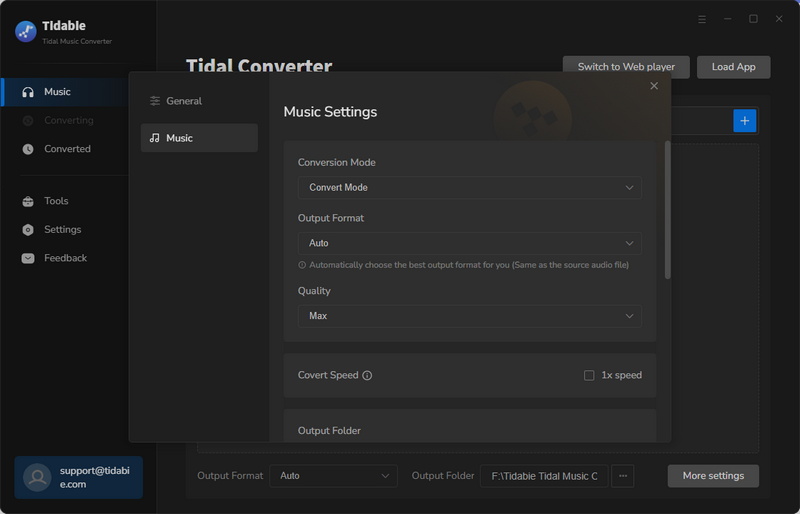 Step 3 Add Tidal Hi-Res Music to Download
Move your cursor to the TIDAL app, and navigate to the Hi-Res track, playlist, or album, which is generally marked with a Max icon. Make sure you've selected Max from the streaming quality of Settings on the TIDAL app. Then simply drag and drop the track title right into Tidabie. You can also copy and paste the track/playlist/album link. Tidabie will then parse the link and list the songs on a pop-up window. Select the concrete tracks and click on "Add".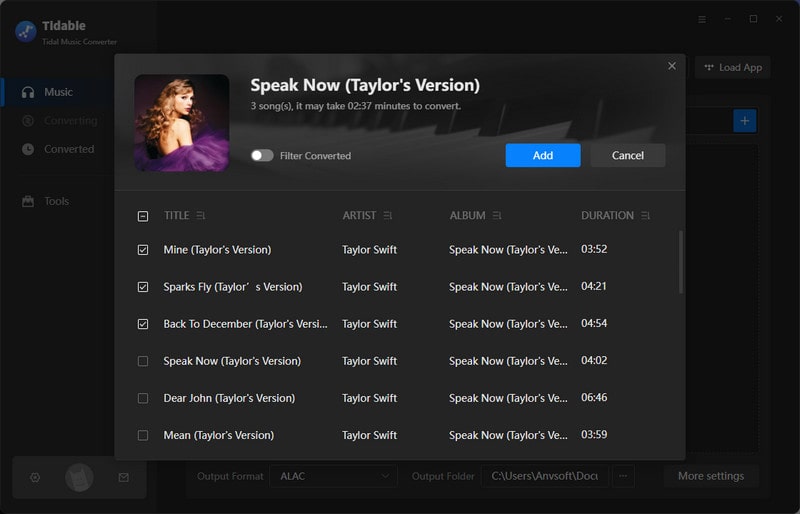 Step 4 Start Downloading Tidal Hi-Res Music
If you would like to add more Tidal songs to this batch, just repeat the previous step. Then simply click on "Convert" to start downloading Tidal Hi-Res music to your desktop computers.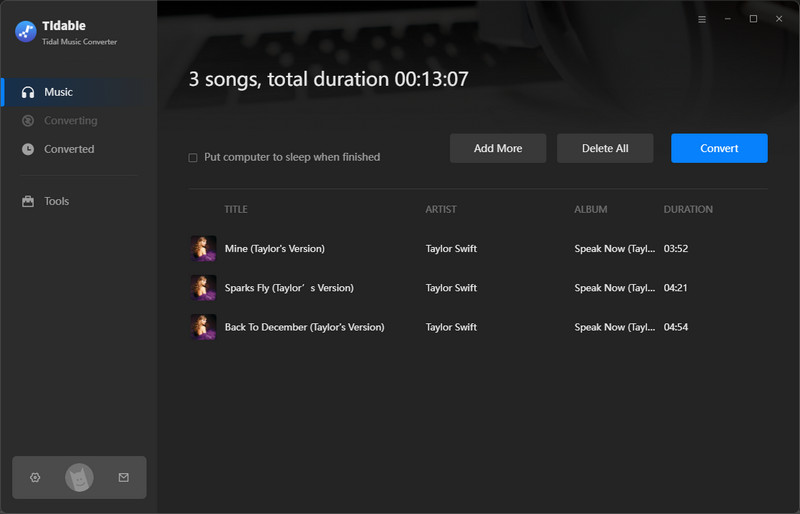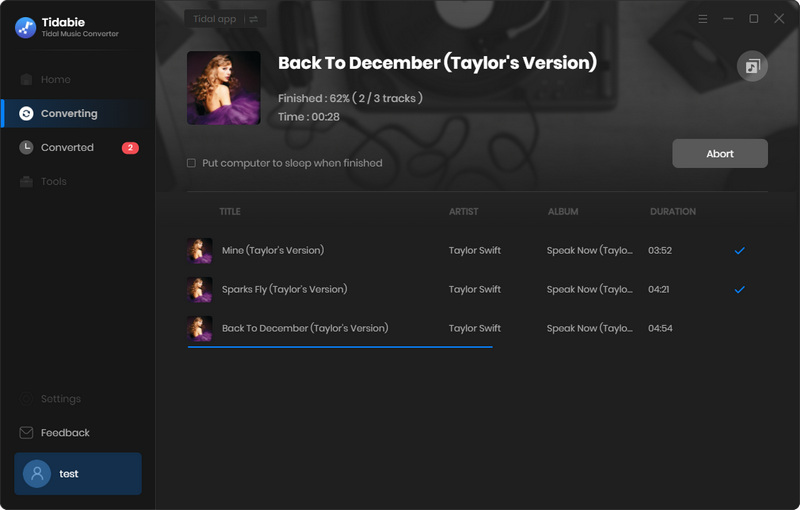 Step 5 Play Tidal Hi-Res Music for Offline Listening
Tidabie proceeds with Tidal songs at a fast speed, and the conversion is complete very soon. You can go to the "Converted" tab to check your Tidal download history. Click on the file icon within the item, and you are directed to the output folder. In this case, you can freely play your favorite Tidal Hi-Res music at any time, with or without a network connection.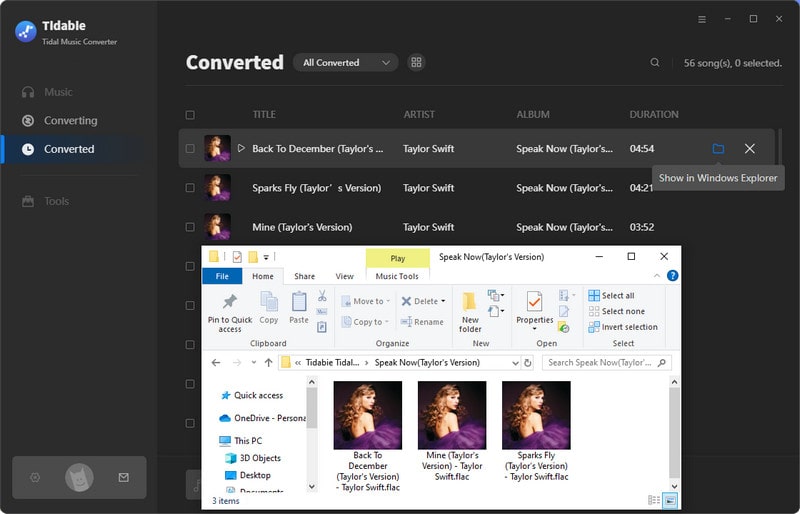 ---
Summary
Tidal is known for its vast high-resolution music library, offering up to 24-bit/192kHz audio and files and allowing its users to enjoy the original recordings. To download Tidal Hi-Res music, you should make three preparations, a Tidal HiFi Plus subscription, a high-speed network, and a TIAL app. By following the step-by-step guide provided above, you can easily download and offline play Tidal Hi-Res music on your computers and preferred devices with the help of Tidabie Tidal Music Converter. Take advantage of this capability to create personal offline playlists and enhance your listening experience with Tidal's vast Hi-Res music library. Happy listening!