Best Music Streamers for Tidal 2023
---
Currently, we have various choices for music streaming services. If you pursue high-quality music, you might have already become one of the members of Tidal Music. When it comes to Tidal Hi-Fi, you have to be concerned about finding out a top-quality music streamer, since it is the best way of adding radio to a hi-fi system and then enjoy them at any time.
The best music streamer can make your every listening session much more enjoyable, no matter you wish to play the locally stored lossless files or want to get access to the music tracks from Tidal. So here we summarize the top 10 best music streamers for Tidal and will tell you how to play Tidal music on the streams without connecting to the internet.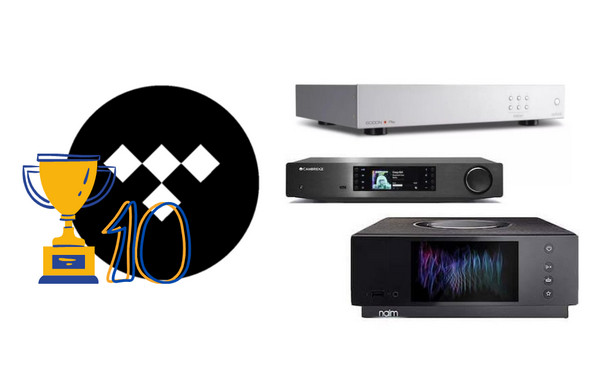 Part 1: Top 10 Best Music Streamers for Tidal
Let's see these music streamers together.
1 Audiolab 6000N Play
The Audiolab 6000N Play is a wireless audio streaming player, which borrows tech and features from both the 6000A integrated amplifier and the 6000CDT CD transport. To provide the users a great-sounding Wi-Fi streaming solution, it is featured with the latest technology. And you can easy to get access to many internet music services, including Tidal, Spotify, Amazon Music, Deezer and so on.

2 Naim Uniti Atom
Naim Uniti Atom is a good stream for the reason that its operating system is virtually flawless. It can support playing music tracks from almost all sources. With the excellent sound quality and the good-looking design, you can access to your favorite radio stations, streaming services, playlists, and explore artist discographies and biographies with the Naim App conveniently.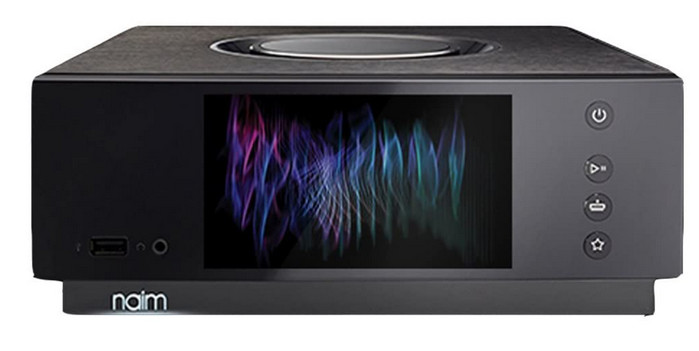 3 Cambridge Audio Evo 75
The Evo 75 is one-half of Cambridge's new two-strong Evo system offering, which includes a more extensively featured, 150W-per-channel model. Owning a well-established streaming platform, Cambridge has a rich experience in stereo amplification. The device enables streaming from many music streaming services, like the new Tidal Connect and Spotify Connect.

4 Cambridge Audio CXN (V2)
If you've suffered from a looming budget shortfall to buy a Naim Uniti Atom, the Cambridge Audio CXN (V2) might be your top choice, which is under $1000. Then you can easily get one good music stream with a brushed metal finish and intuitive menus. And as you can see, its design is also more concise than others on this list.

5 NAD Masters M33
The M33 is the successor to the NAD Masters M10, featuring the model's skills with 200-watt per channel amplification and Purifi's Ultra-Quiet Amplification Technology. What's more, it is built on Dirac Live Room Correction, which can adjust the audio to fit our room and then give us an outstanding whole-home audio system.

6 NAD C 658
As one of the most fully furnished music streamers, NAD C 658 is a new type of stereo component. It uses not only Bluesound's BluOS streaming platform but also others music mainstream services like Tidal Spotify, Amazon Music, Qobuz, HDTracks and etc. The highest audio quality it can support is 32-bit/192kHz.

7 Naim ND 555
Naim ND 555 is an amazing music stream equipped with a 40-bit SHARC processor and advanced signal processing capabilities. Its streaming media part uses the latest Naim network card, and the higher speed can decode all high-definition audio formats which can up to 32 bits/384 kHz. You can enjoy a clear audio quality with it.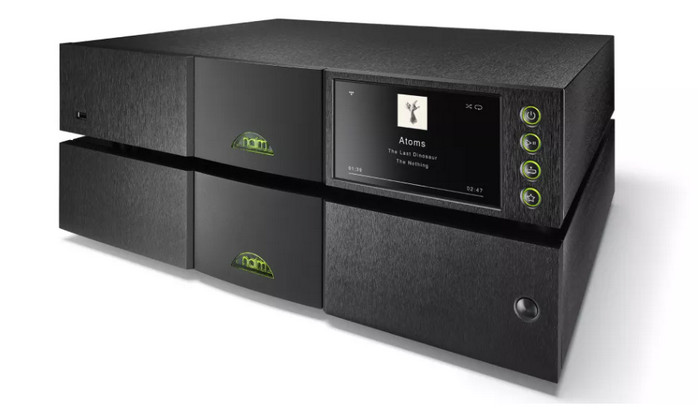 8 Bluesound Node 2i
Bluesound Node 2i a highly cost-effective music streamer that easily connects to any existing stereo system or your own digital music library. And to promise to playback music tracks without any interruption, Node 2i has Dual-band Wi-Fi and support for 2-way Bluetooth aptX HD. Also, it uses the BluOS Controller app to control music wirelessly and simply.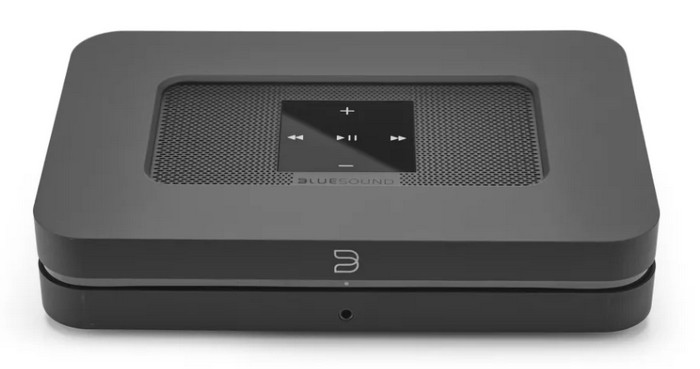 9 Melco N100
The Melco N100 is definitely a good choice if you're looking for a streamer with a convenient and compact Hi-Fi system and high storage built-in. When you use N100 to play music, it can show you a complete music library and offer users Album, Artist, Data format, Composer and etc. It can support up to 32bit 384kHz audio quality.

10 Sonos Amp
Sonos Amp deserves to be here for you can build a relatively custom home audio system very simply with it. And its target consumers are not casual music listeners but those who want to blend the music-streaming convenience and multi-room audio capabilities. In a simpler word, it is more suitable for audio enthusiasts. It is worth mentioning that you can expand your Sonos system to the backyard if needed.
Related Article: How to Play Tidal Music on Sonos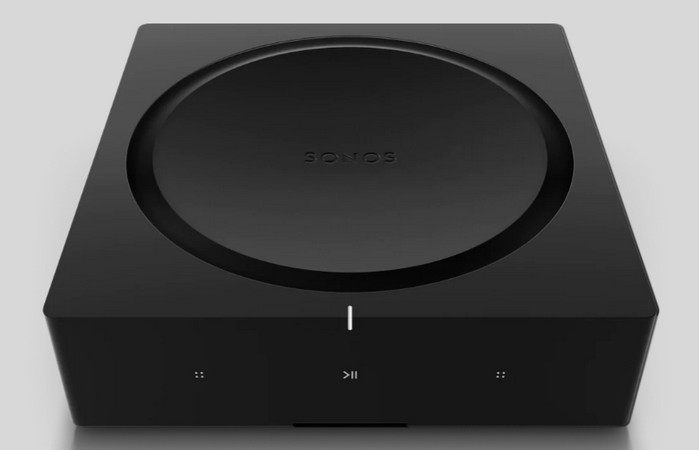 Part 2: Download Tidal Music for All Music Streamers
Read this and you should have the answer in your mind. No matter you prefer an expensive but excellent music streamer or a cost-effective yet good one, you should be in accordance with some requirements if you would like to connect it with Tidal Music. The most basic one is that your account should be within a valid period. And if you can't connect to the Wi-Fi or don't want to use the Tidal app, playback Tidal music tracks on these 3rd party music streamers is impossible.
But here we're going to give you the best answer to work out the issue above. How to play Tidal music on the music streamers without the internet connected or the app installed? You should convert the protected Tidal music into plain audio music at first, and then you're free to transfer the songs to other devices, like the music streamers. And we highly recommend you to try Tidabie Tidal Music Converter.
Magic Tool - Tidabie Tidal Music Converter
Tidabie Tidal Music Converter is a professional music recorder that is designed specifically for all Tidal users. It allows users to download songs, playlists, albums and others from Tidal to local disk in MP3, AAC, WAV, FLAC, ALAC or AIFF format. As you know, MP3 is the most widely-used audio format and highly compatible with types of computers, portable devices and etc. The newly supported AIFF is popular among professional DJ software. So the supported output formats can meet your different requirements.
Furthermore, for a better user experience, the converter enables you to keep HiFi/Master quality of music. And the important ID3 tags, like the title, artist, album and so on, will be perfectly preserved, Tidabie will convert Tidal music to your design output format at up to 10X faster conversion speed than the traditional way.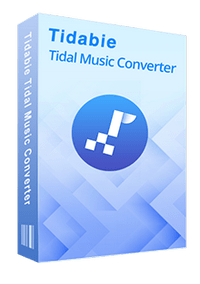 Tidabie Tidal Music Converter
Download Tidal songs/albums/playlists/podcasts locally.

Convert Tidal tracks to MP3/AAC/WAV/FLAC/AIFF/ALAC.

Preserve HiFi/Master audio quality and ID3 tags.

10x download speed & batch download multiple playlists.

Offer tools of Format Converter, Tag Edit, etc.

Enjoy Tidal music on WMP and other music players.

Keep Tidal downloads forever after the subscription ends.
The first thing you should do is to get one Tidabie Tidal Music Converter and install it onto your computer if you haven't. Then follow the step-by-step guide below.
STEP 1

Sign in to Your Tidal Music Account

To begin with, run the Tidal Music Converter on your computer. On the homepage, you can see there two options - app mode and web player mode. The former needs the TIDAL app and is capable of downloading up to Master quality at 1x (for Mac) or 5x (for Windows) the speed, while the latter works with the built-in Tidal web player and can save HiFi quality at up to 10x fast speed. Simply click on the mode you prefer. Then you will be guided to log in to your Tidal account before converting music. Click to type into your account information.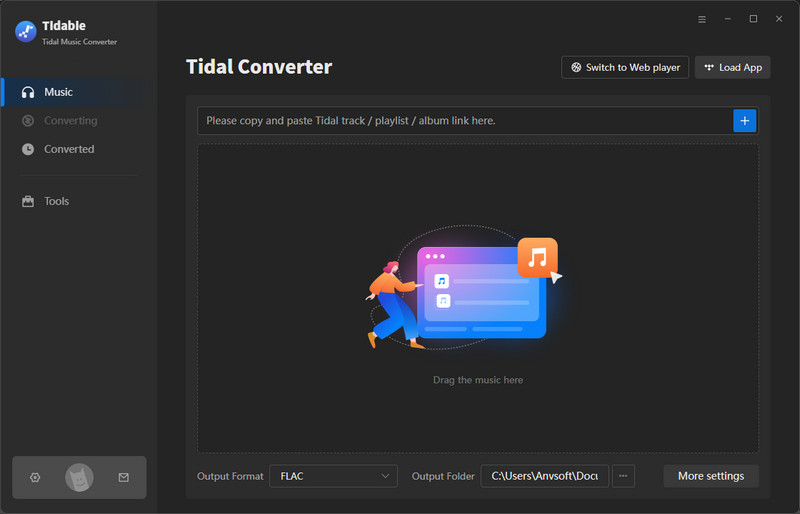 STEP 2

Finish the Output Settings

After a successful login, go ahead to the Settings page by tapping the Settings icon on the left bar. Here you're allowed to change the output settings as you like. When finished the settings, just close the pop-up to apply the changes. The detailed settings options are as follows.
Conversion Mode: Intelligent Mode, Tidal Record/Web Download, YouTube Download
Output Format: Auto, MP3, AAC, WAV, FLAC, AIFF, ALAC
Bit Rate: 320kbps, 256kbps, 192kbps, 128kbps
Sample Rate: 44.1KHz, 48KHz, 96KHz, 192KHz
Output File Name: Track Number, Title, Artist, Album, Playlist Index, Year
Output Organized (way): None, Playlist, Artist, Album, Artist/Album, Album/Artist, Playlist/Artist, Playlist/Album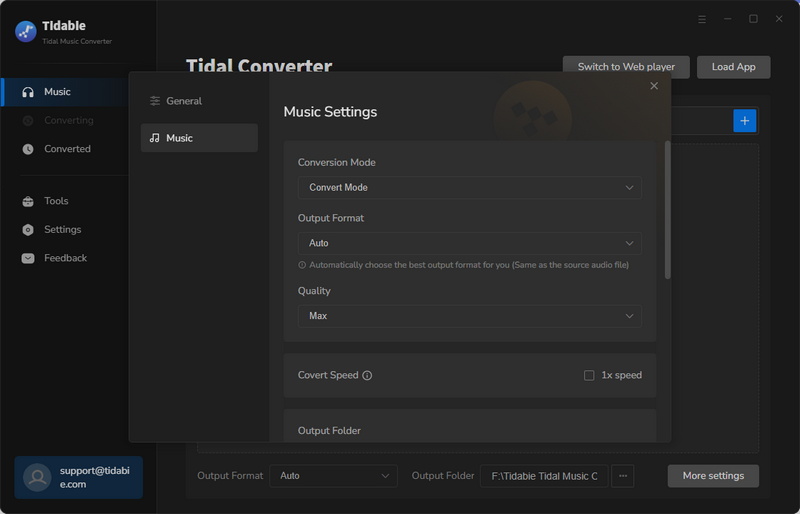 STEP 3

Select What You Want to Download

Now find the target mix, radio, playlist, song or album. If you select the app mode, click and hold on to the title, then drag and drop it to Tidabie. If you choose the web player mode, click the Click to add button. Then a smaller window will pop up. All the songs will be loaded and listed here. You can manually check the item(s) you wish to convert. Tick off them and click on the Add button.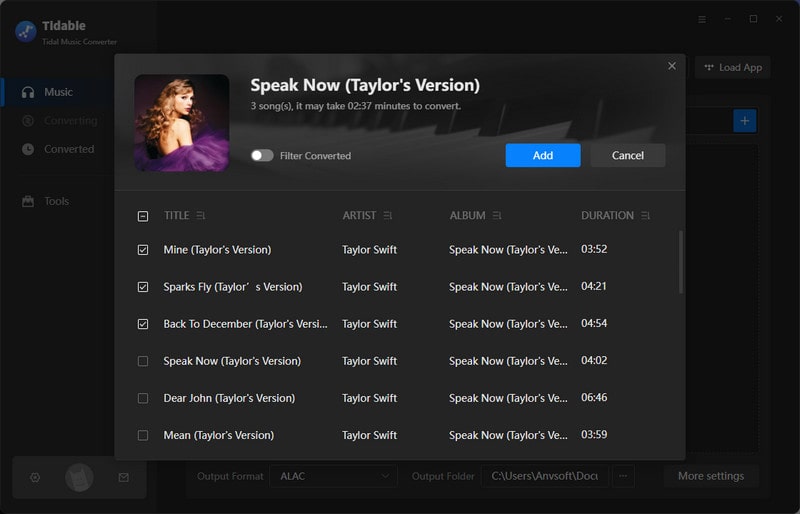 STEP 4

Start Converting Tidal Songs

Click on the Convert button. Then patiently wait till complete.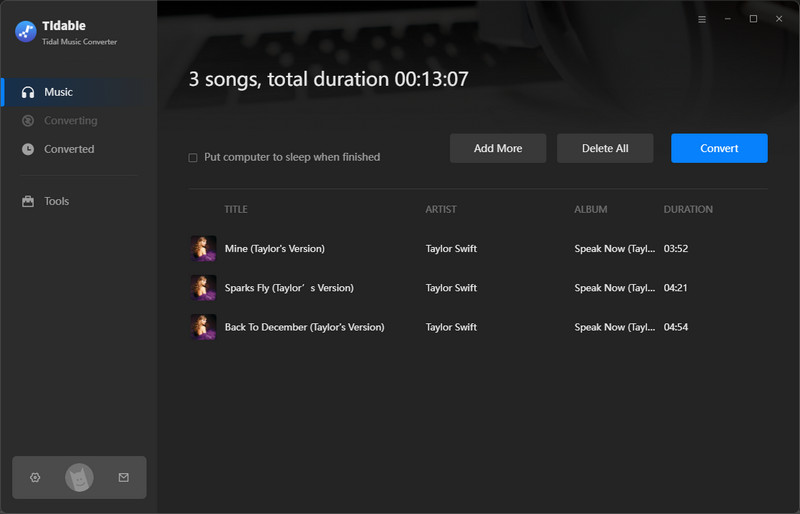 STEP 4

Check the Converted Songs on Computer

You can tap on Converted module to check the converted songs or go to the relative save path. Now you're free to move these songs to USB and then play them on any music streamers without using the Tidal app.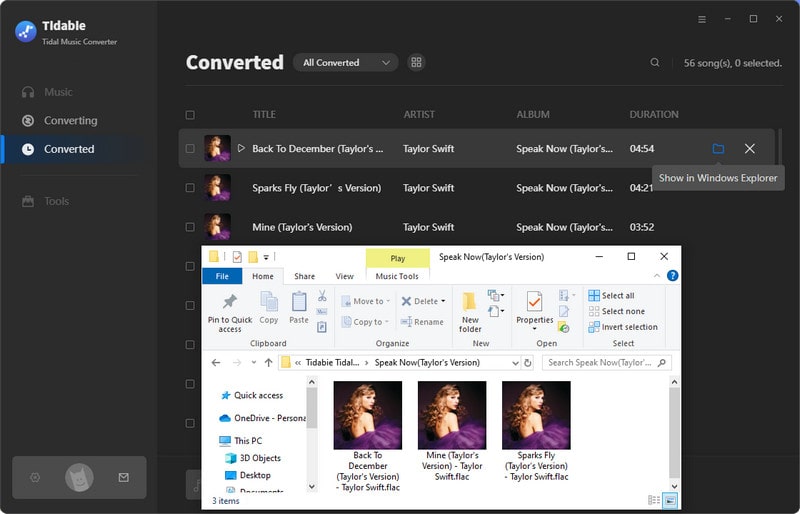 Summary
This article has covered the top 10 best music streamers for music lovers. The most suitable one for you is also the best one. Get one music streamer and one Tidabie Tidal Converter to start enjoying the songs right now! With the tool, you can convert Tidal songs into common formats with ease.
Tips You May Want to Know