How to Convert Tidal Music to ALAC
What Is ALAC?
The ALAC format is short for Apple Lossless Audio Codec (or simply Apple Lossless). This excellent audio format does not compress your music to the extent that sound quality is impacted. The ALAC audio is still compressed like AAC, but the big difference is that the sound quality remains identical to the source. This lossless audio format is similar to other formats you may have heard about, such as Free Lossless Audio Codec (FLAC).
Why ALAC instead of FLAC?
TIDAL HiFi relies on FLAC (16bit/44.1kHz), a more robust and crisp streaming format. Lossless codecs like FLAC and ALAC compress by removing parts of the data that are identical. The two formats employ a similar compression/decompression technique to create smaller audio files without compromising on sound quality. The main advantage of using ALAC over competing for lossless formats is that ALAC is supported by all of Apple's iPods and iOS devices. The format had already been reverse engineered before its official release, but this opens the door to even more products supporting both ALAC creation and playback. There are still more benefits to carrying out ALAC audio files. However, it's especially a matter of concern for Tidal listeners that there is no ALAC option provided in the Tidal Music downloading. But never give up too early, here you are in the right place. In this article, we will introduce you to an effectively workable way to convert your Tidal playlists and songs to ALAC format with ease. Let's continue the reading.
---
Tidal HiFi subscribers enjoy the right to download Tidal Music for offline playing on their mobile Tidal app. Nevertheless, all the downloaded Tidal tracks are temporarily stored as cached data in a computing environment. To convert Tidal Music as real ALAC audio files, you should go with a different way. Tidabie Tidal Music Converter has been notably mentioned in the Tidal Music conversion. The programming logic is to extract and convert Tidal Music to a certain plain audio format which can be MP3, AAC, WAV, FLAC, AIFF, and ALAC. And the converted Tidal Music will be downloaded as a physical audio file and saved to your computer for permanently offline playing. To its credit, Tidabie won't sacrifice the original HiFi sound quality and it will keep the original ID3 tags after the conversion. If you are to convert multiple Tidal songs, Tidabie's 10X conversion speed will save time a lot. In short, to convert Tidal Music to a different audio format, like ALAC in this article, Tidabie will be your top priority to make your dream come true!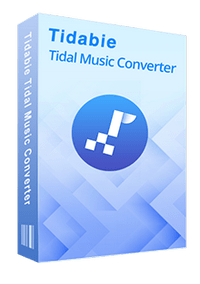 Tidabie Tidal Music Converter
Download Tidal Music songs, playlists, and albums.

Download Tidal music to the computer.

Convert Tidal tracks to MP3/AAC/WAV/FLAC/ALAC/AIFF format.

Keep Hi-Fi audio quality.

Retain ID3 tags after conversion.
STEP 1 Download Tidabie Tidal Music Converter onto your computer then run it. On the front page, click on the Open Tidal Web Player to get access to the web version of Tidal Music. As usual, you need to log in with your Tidal account to view the music content.
It is good that you can log in with your Tidal Free account. Of course, Tidal HiFi or HiFi Plus accounts are fully supported. And it should be noted that the output sound quality will be in consistent with the original quality on the web player.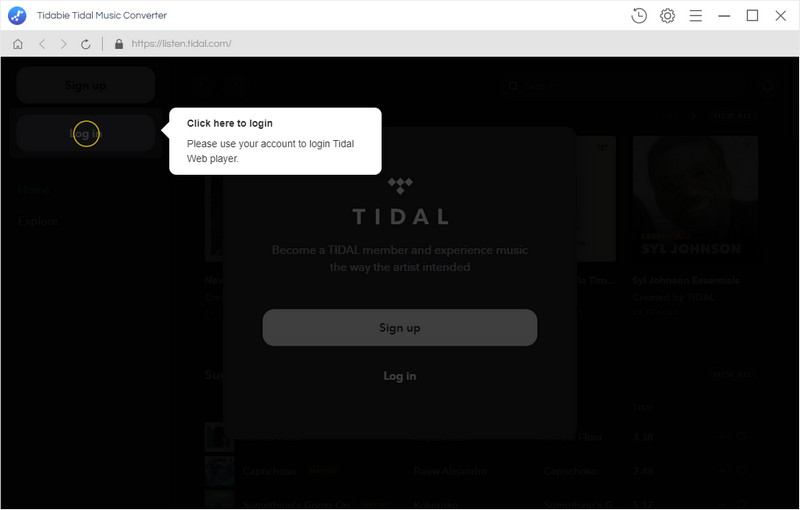 STEP 2 Following, you need to set up the Tidal Music output parameters. We are going to set up the output format to ALAC. So you can go to the Settings part at the top-right menu bar, and click on the gear icon to open the setting window. You can orderly change the settings in your favor.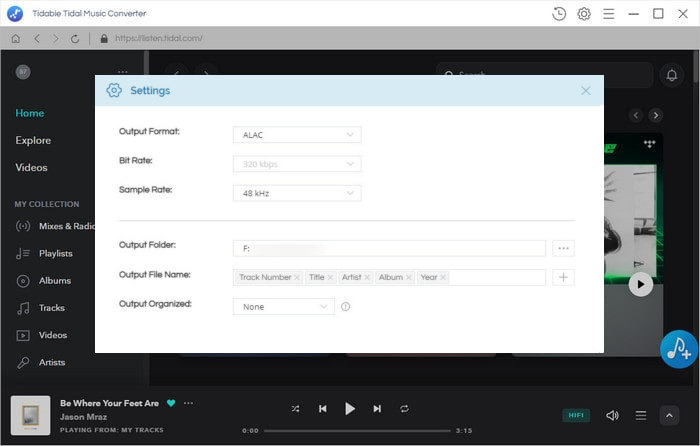 STEP 3 Now, you can view the playlist that you would like to convert it to ALAC format. The Add to list button at the bottom right corner is getting ready. So open the playlist, or album and click on the button when Tidabie will put the whole playlist into the conversion panel. Songs in the playlist will be selectable. You then just select the songs that you need and tap the Convert Now button to proceed.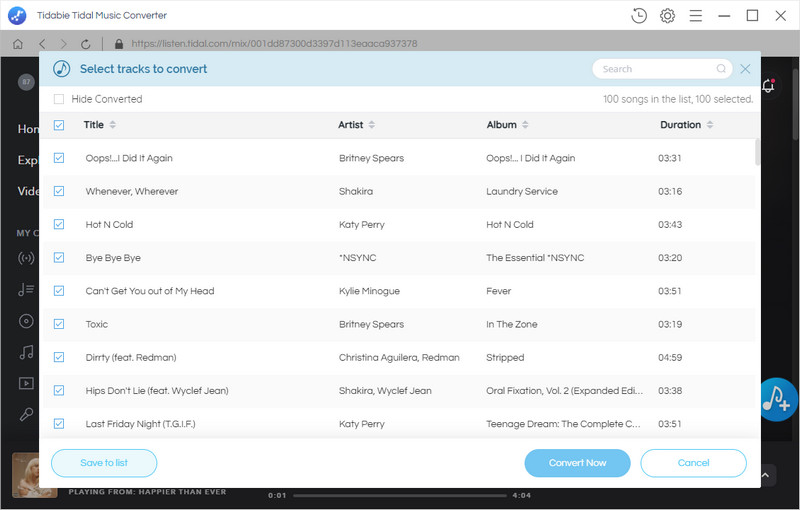 Tips: Tidabie supports to convert playlists in batch. If you want to convert Tidal playlists in one go, you can click on the Save to list button after you select the songs in the conversion panel. Then you turn back to the music library to find the next playlist that you want, again operate the selection and save them to the task list. Not until you put all your needed playlists on the task list, you can click on the notebook to view all your selected songs. In the final, click the Convert button to start the task.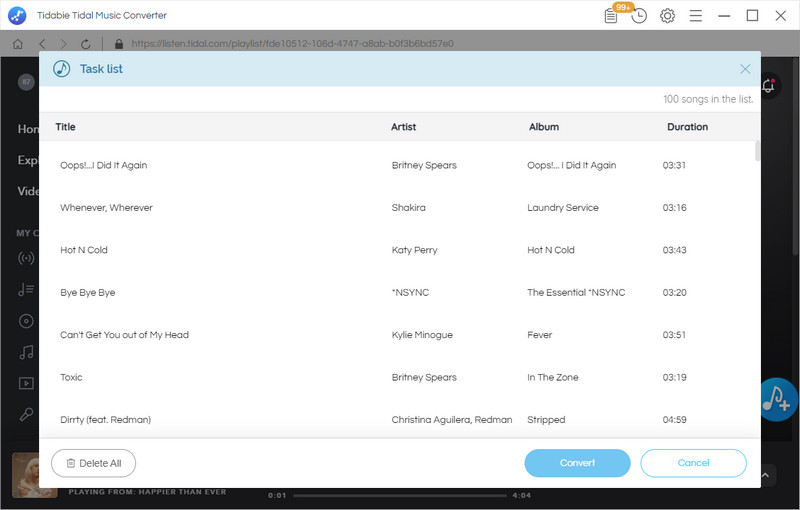 STEP 4 It entails some time to complete a conversion task if you put a large number of songs to convert at a time. Don't be frightened. Tidabie Tidal Music Converter will process the mission at a 10X faster conversion speed.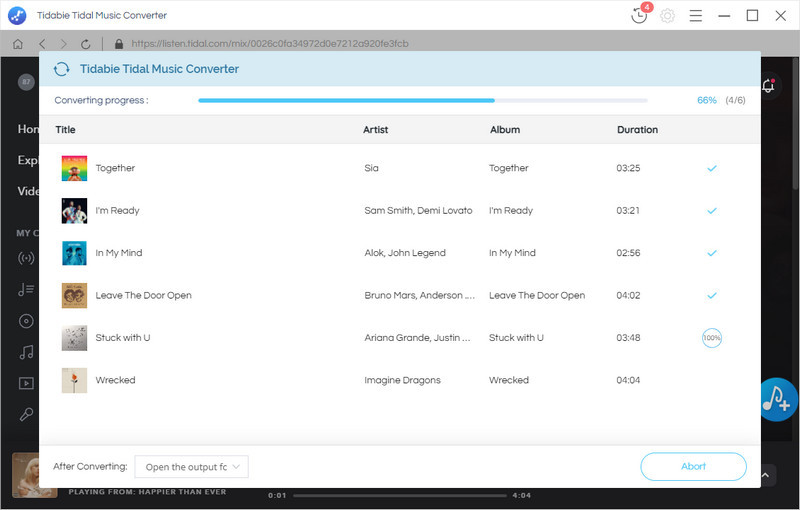 STEP 5 As long as the conversion is finished, you can check out the output Tidal Music on the output folder on your computer. Go directly to the History module and tap the folder icon after the songs, you will reach out to the locally stored Tidal Music with ease. All converted Tidal Music will be fully open to the devices that are supported to ALAC audio files like your iTunes, iPhone, iPad, iPod, Apple Watch, and more portable players.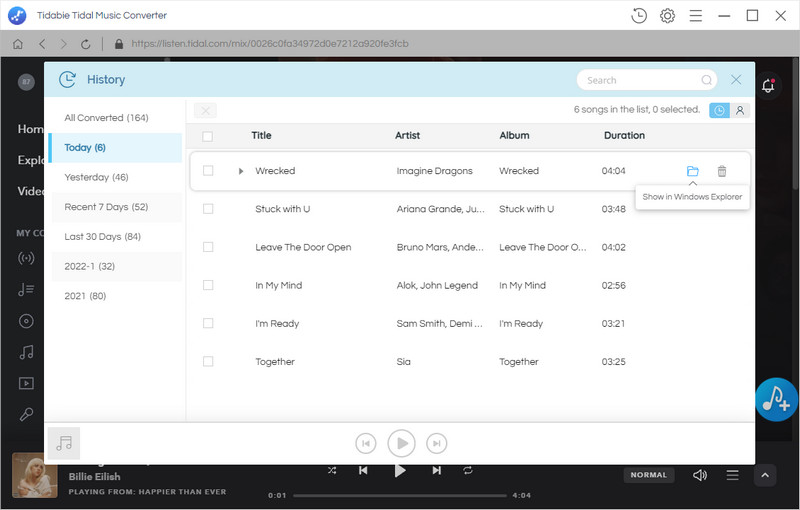 Note: It's recommended to download the free trial version of Tidabie to test whether it meets your need and then decide whether you'd like to get it or not.
Conclusion
To sum up, Tidal ALAC Music will be better supported in the Apple ecosystem, especially when you want to have your iPhone or iPod for the card or think about getting an airport extreme for some outdoor speaker. And Tidabie Tidal Music Converter brings your this possibility to convert Tidal Music to ALAC. And of course, Tidal HiFi sound quality will be kept as the original after the conversion. Tidabie is now providing users free trial. You can download it and get your ideal music downloaded for to all your devices.