How to Play Tidal Music on Multiple Devices Simultaneously
---
When it comes to music with lossless audio quality, the majority of the people will choose Tidal. However, we discover that they are facing a dilemma. That is they can only play Tidal music on a single device, which cannot meet their demand at all. Then how to play Tidal Music on multiple devices simultaneously? Playing Tidal music on multiple devices simultaneously allows you to enjoy high-quality audio throughout your home or on multiple devices at the same time. Whether you want to create a seamless audio experience during a party or simply listen to your favorite tunes in different rooms, this article makes it easy to synchronize your music across multiple devices. If it's exactly what you want to know, read the detailed methods of the article.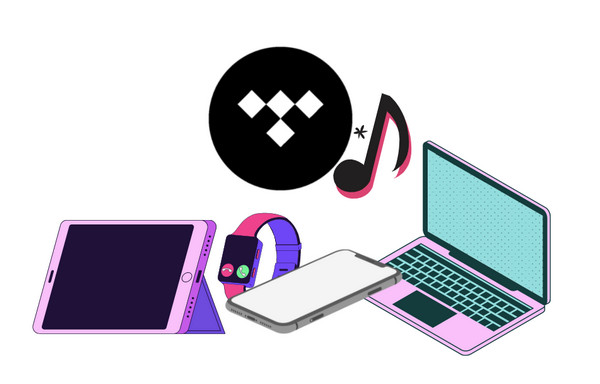 ---
Part 1: Use Tidal on Multiple Devices Simultaneously with Family Plan
As you know, the subscription types of Tidal Music include Free, HiFi, HiFi Plus, Family HiFi and Family HiFi Plus. To playback Tidal music on more than one device simultaneously, you should choose the Family plan. The Family HiFi is $16.99 one month and the Family HiFi Plus is a bit more expensive at $29.99. And then totaling 6 members are allowed to this account. Here is how to add members to a family account.
Run your Tidal app or go to my.tidal.com on your computer. Tap on the button beside your account and select the Manage Subscription option from the drop-down menu. Then you will see the Tidal plan. Choose the Tidal Family plan for HiFi or HiFi Plus as your need.
Here is how to add family members to your Tidal Family account:
STEP 1 Navigate to the Tidal website and then sign in to your Tidal account. Go to the Edit your Family Subscription page.
STEP 2 Click on the Add family member button. And you will be required to submit an email address for them. Then your families can check the email that notifys you about the account creation and their ability to log in box of the email from Tidal. If needed, you can also preset a password for them.
STEP 3 Now you can get access to the 100M songs. Just enjoy them!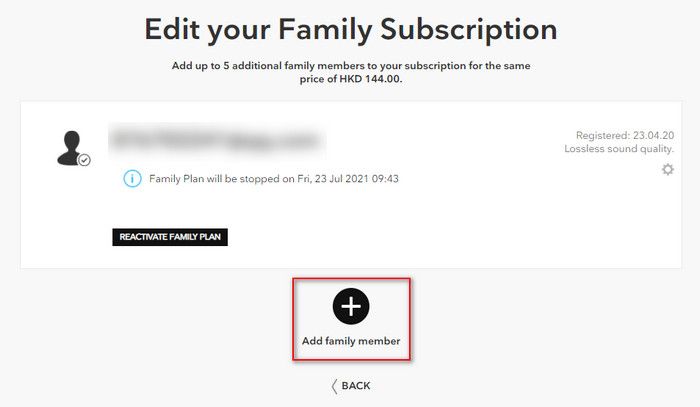 ---
Part 2: Stream Tidal on Different Devices Simultaneously via Offline Mode
If you don't want to upgrade to a family account, you can also choose another way that can support using Tidal on up to 5 devices at the same time. That's to use its offline mode. Offline listening is definitely an important feature of music streaming services, then you can listen to music as usual under circumstances that can't connect to the internet. You're allowed to save your favorite music tracks, playlists, albums, shows and more.
Note: It can only be supported on the Tidal app on mobile phones.
How to Download Music for Listening on Offline Mode?
STEP 1 Open the Tidal app on your smartphone.
STEP 2 Hit on the My collection button at the bottom of the bar.
STEP 3 Find the song, playlist or album that you would like to download.
STEP 4 Tap on the three dots icon to the right of the title and choose the download option.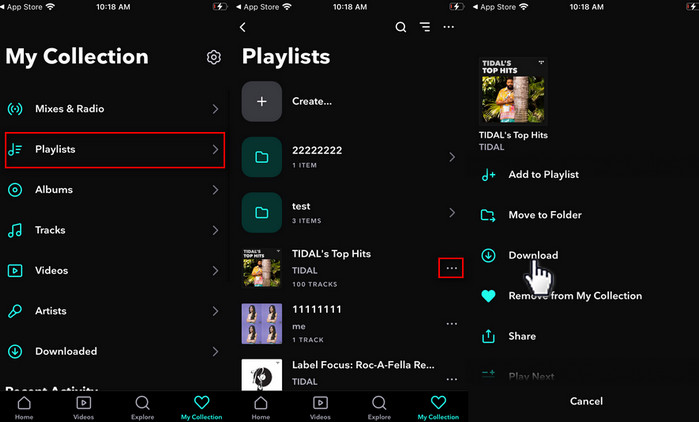 How to Enable Offline Mode on your Device?
STEP 1 Open the Tidal app on your phone and enter to My Collection page.
STEP 2 Here you will find a Settings button on the upper-right corner.
STEP 3 Enter it and tap on the white toggle to the left of the Offline Mode option.
STEP 4 And now you have opened the Offline Mode on your device.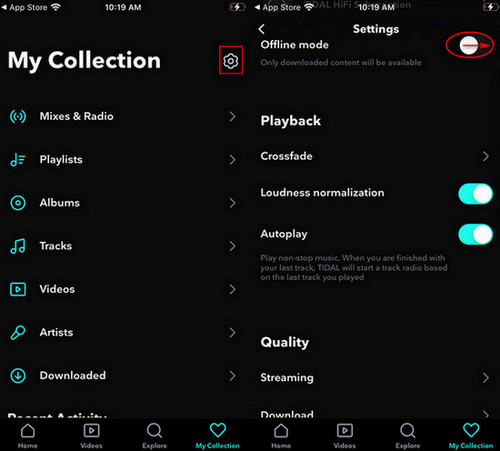 ---
Part 3: Play Tidal on Different Devices Simultaneously with Powerful Tool
The offline mode can't be supported on the desktop side, but it doesn't mean you can't download the Tidal music onto your computer and then freely transfer the songs to different devices. You should take the powerful Tidabie Tidal Music Converter to finish the task. If you have only one Tidal account, Tidabie can help you realize your dream of sharing the playlist you like with your friends, families, colleagues or other people and also enjoy the songs on multiple devices at the same time.
This converter is particularly designed for every Tidal user. With the tool, you can easily get wanted radios, songs, playlists, albums and more as MP3, AAC, FLAC, WAV, ALAC or AIFF files. These formats are widely used and can be fully supported by different devices, like laptops, tablets, MP3 players, PSP, cars, smart TVs and so on. Tidabie can download Tidal Hi-Fi music with lossless CD quality and metadata kept, and Tidal Hi-Fi Plus music with high-resolution Max quality (up to 24-bit/192kHz) saved. The program is 100% clean and secure. You can finish the whole conversion process with only a few steps.
Furthermore, Tidabie has the most advanced technology so that the songs can be converted at up to 10X faster speed than traditional audio converters. Let's take a look together.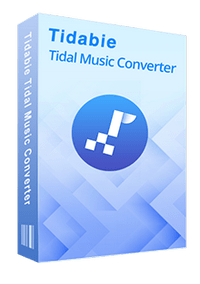 Tidabie Tidal Music Converter
Download Tidal songs/albums/playlists/podcasts locally.

Convert Tidal tracks to MP3/AAC/WAV/FLAC/AIFF/ALAC.

Preserve Tidal Hi-Res/CD audio quality and full ID3 tags.

Run at 10x speed & batch download Tidal playlists.

Sort Tidal music files by playlist, album, artist, etc.

Offer tools of Format Converter, Tag Edit, etc. & save lyrics.

Enjoy Tidal music offline on devices and programs.
STEP 1 To begin with, install the Tidabie Tidal Music Converter onto your computer if you haven't. When you launch the program, you will see the primary interface with two options. Tidabie supports two download modes - app mode and web player mode. The former requires the TIDAL app and saves up to Max quality (up to 24-bit/192kHz), and the latter works by accessing the Tidal web player and keeps High quality (CD quality) at 10x faster speed. Pick a mode as you like. Then you will be guided to log in to your account to get access to the Tidal library.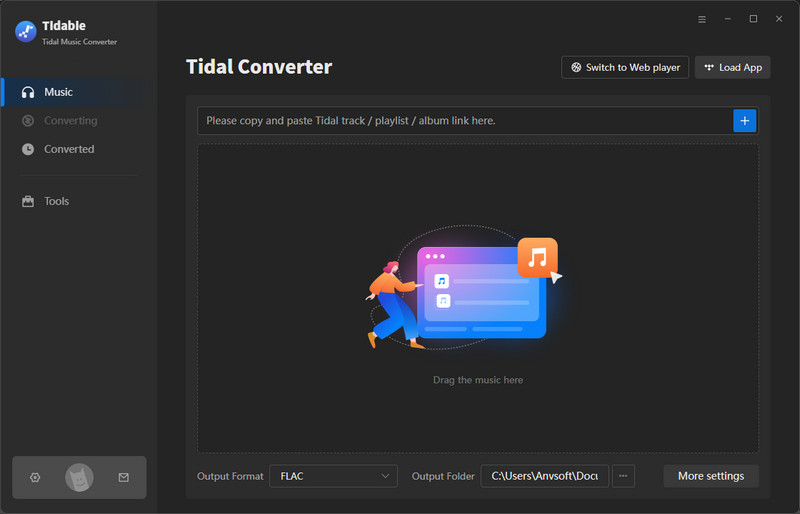 STEP 2 After a successful login and before choosing songs to convert, you should remember to go to the "Settings" page to customize the output parameters. You can choose the desired output format, output quality, output folder, output file name and etc. If you wish to get the audio files with high quality, you can choose the output format as FLAC or Auto. FLAC is a great format for high-quality output, while Auto can inform Tidabie to output Tidal songs with the source format and audio quality.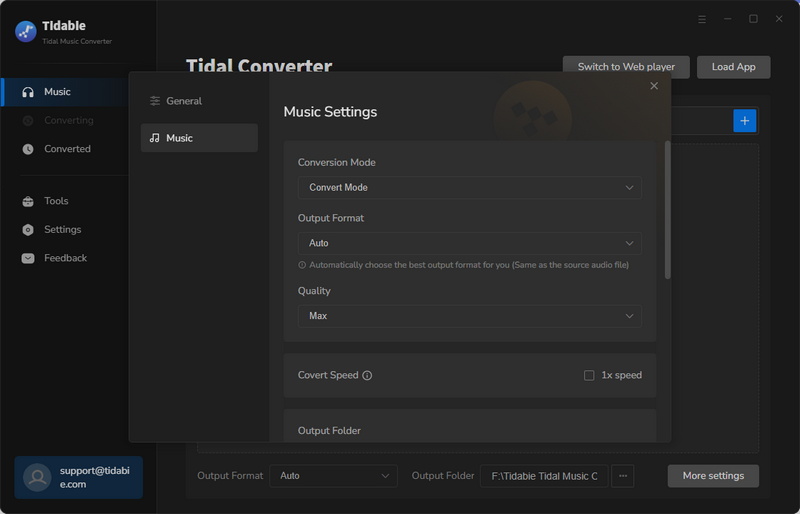 STEP 3 Go ahead to the target tracks that you're going to convert as the format you have chosen. If you use the web player mode, open the playlist/album and hit on "Click to add".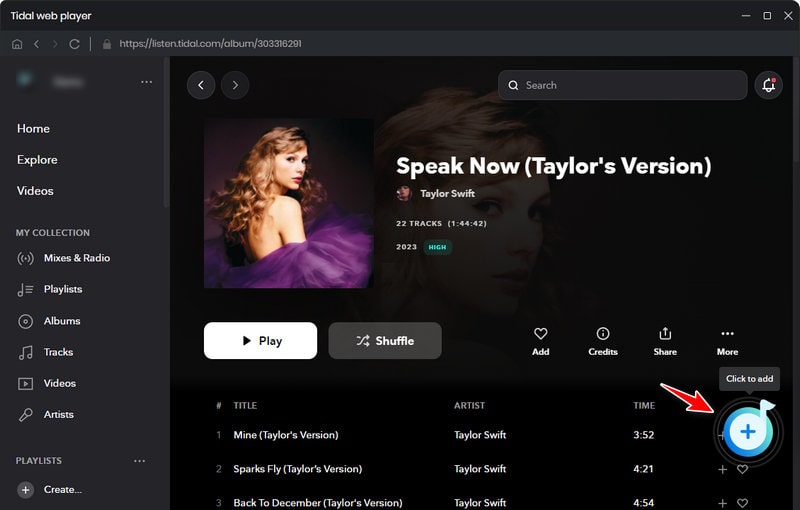 If you are using the app mode, simply drag and drop the track/playlist/album into Tidabie, or click on the three dots and copy and paste the link into Tidabie for parsing.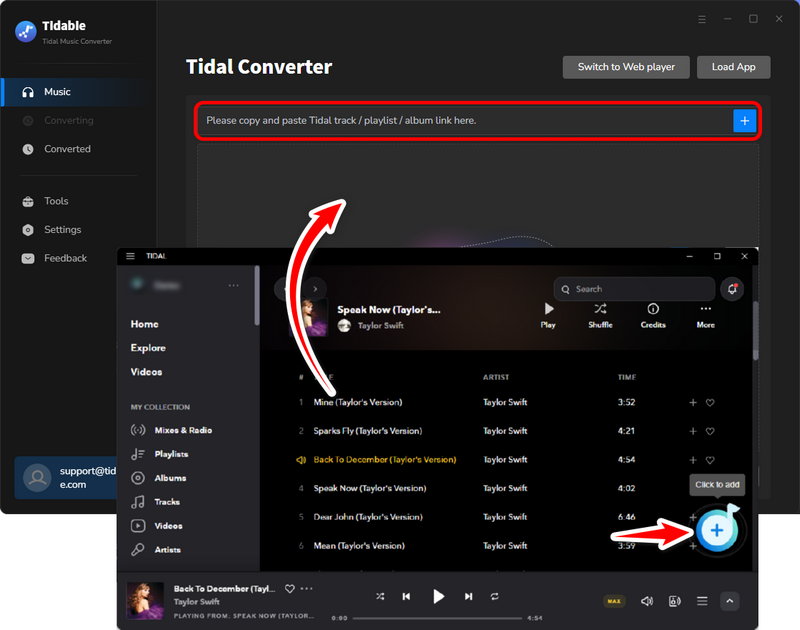 Tidabie will then automatically load the songs. Check your songs and click on "Add".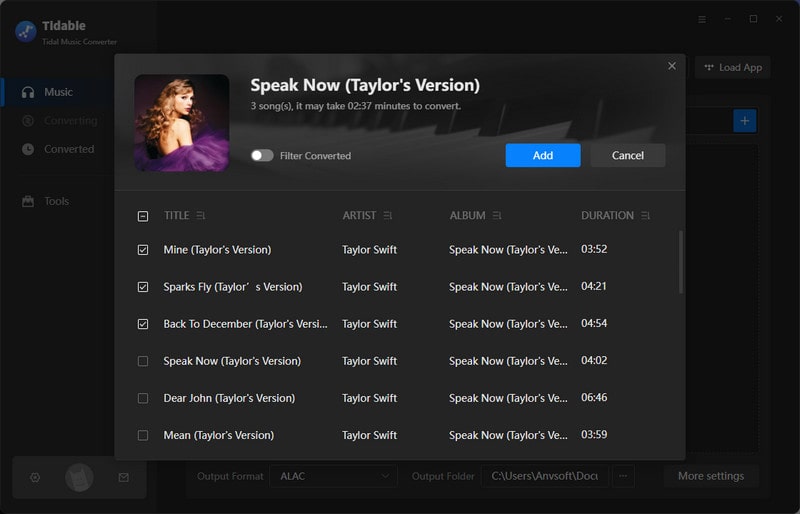 After adding, all the songs will be displayed in a list. If you want to add more songs, repeat the previous action. To convert all the items on the list, click on the "Convert" button directly.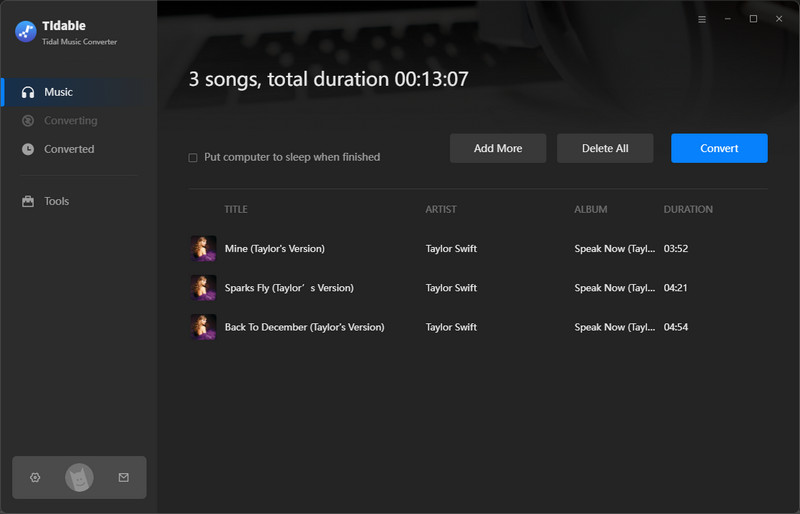 STEP 4 There will be a progress bar to keep you updated on the conversion. And the time of conversion will depend on how many songs you selected and the sizes of these music tracks. Usually, it takes very little time to convert several songs for its innovative encoding technology. After the conversion, you can then check the converted songs on the "Converted" module or local disk by clicking the file icon right to the songs.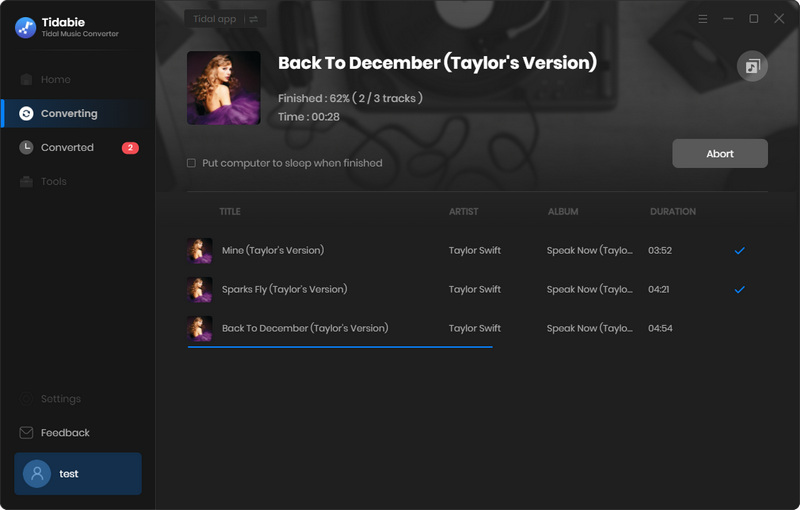 That's it! Now you can transfer the music files to any device you want. Playing the songs on all the devices simultaneously can also be achieved with ease.
---
Summary
This article provides 3 methods to play Tidal on multiple devices simultaneously. One is to upgrade your Tidal account to a Family plan for HiFi or HiFi Plus. You can also download Tidal songs to mobile phones and then enable the offline mode on that phone. However, the once-and-for-all solution to this issue is to get one Tidabie Tidal Music Converter - convert the songs to the format you want and then share the music among unlimited devices.
Tips You May Want to Know