Is Qobuz Better Than Tidal? [Comprehensive]
---
Qobuz is a French music service that was founded in 2007. It offers users the option to rent or purchase music and has gained popularity in recent years due to its superior audio quality and improving service. On the other hand, Tidal is also a music streaming service that focuses on large music library size and lossless audio quality. Then, with similar services, Qobuz vs. TIDAL, which is better? In this article, we will compare Qobuz with Tidal in a comprehensive review to determine which service is better.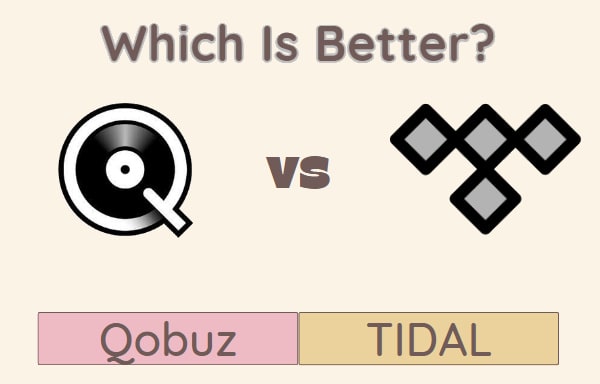 Part 1. Music Catalogue and Exclusive Content
Both Qobuz and Tidal offer similar catalogs of high-quality music. However, there are slight differences between the two.
As of 2023, Qobuz claims to have over 100 million tracks available, with all tracks having the best quality. Additionally, 42,000 of the 100 million songs feature Hi-Res audio quality. Qobuz also offers a variety of songs, playlists, albums, podcasts, and interviews.
Tidal, on the other hand, boasts more than 100 million licensed tracks across all music genres. Additionally, it offers over 650 thousand music videos, radio stations, and interviews. All of the songs in Tidal's library have HiFi quality and more than 70 million tracks stream at MQA quality. Moreover, Tidal not only has music tracks in its library but also offers other audio and visual content that Qobuz does not yet have in its library.
In terms of exclusive content, both Qobuz and Tidal have their unique features.
Qobuz has an up-to-date, frequently updated exclusive content basis that is not fixed. In the past, Qobuz has offered some rare and unreleased albums, hi-res audio files and remastered tracks, classical music collections, concerts, events, early access to new releases, original interviews, and exclusive videos. These offers vary depending on different periods, geographic locations, and subscription plans.
Tidal is known for releasing albums early from artists such as Beyoncé, Kanye West, and Rihanna. It also has video content, including concerts, documentaries, and music videos, hi-fi streaming quality of lossless music, exclusive Tidal X concerts and events featuring popular artists, original podcasts, and editorial content, as well as new music discovery features, including curated playlists, and editorial content.
---
Part 2. Audio Quality
Both Qobuz and Tidal are high-resolution music streaming platforms that offer lossless audio quality up to 24-bit/192kHz, which is currently the highest quality that can be achieved with current technologies.
Tidal offers over 70 million songs in 24-bit/192kHz (9,216 kbps) or MQA (Master Quality Authenticated), while also streaming music at different qualities ranging from 96 kbps to 9,216 kbps based on the network connection, with four tiers: Normal, High, HiFi, and Master. The Normal quality is 96 kbps, the High is 320 kbps, the HiFi is lossless CD quality at 1,411 kbps, and the Master is for authenticated files from impeccable mastering processes ranging from 2,304 to 9,216 kbps.
Similarly, Qobuz provides all its tracks with at least lossless CD quality (16-bit/44.1kHz, or 1,411 kbps), and more than 80 million tracks with Hi-res quality. Qobuz's app also streams music at four tiers: MP3 with 320 kbps, CD-quality (16-bit/44.1kHz or 1,411 kbps), 24-bit Hi-Res with up to 96kHz (4,608 kbps), and 24-bit Hi-Res with up to 192kHz (9,216 kbps).
---
Part 3. Prices, Plans & Benefits
In this part, we collect some information for you about the plans, prices, and benefits of Qobuz and Tidal. Both services offer subscription options at different price points. You can get details from the information below.
Qobuz >>
| | Solo | Duo | Family |
| --- | --- | --- | --- |
| Studio | $10.83/month | $14.99/month | $17.99/month |
| Sublime+ | $15/month | $22.49/month | $29.17/month |
*Note: The prices are for an annual single payment subscription counted in the month. If you subscribe to Qobuz for a month, the price will be higher, for example, that will be $12.99 for a monthly Studio Solo subscription. For more details, check Qobuz's price. Besides, the Studio plans offer one month free trial period, allowing you to test its functionality before committing to a plan.
When it comes to the benefits, all the Qobuz plans provide users with the benefits of streaming and downloading more than 100 million tracks, enjoying CD/Hi-Res quality (up to 24-bit/192 kHz, or 9,216 kbps), playing original editorial content, which is some interactive articles, exclusive content, and expert playlists that Qobuz publishes to widen your musical knowledge. If you get the Sublime plan, you not only can enjoy the previously mentioned benefits but also get discounts on Hi-res purchases. But Qobuz has not offered free, Student, or other plans yet.
Qobuz not only streams but also sells music. If you want to purchase music from Qobuz, you need to go to its digital store, then you will get DRM-free music to download to your local devices.
Tidal Music >>
| | Individual | Family | Student | Military | First Responders |
| --- | --- | --- | --- | --- | --- |
| Tidal Free | Free | Free | Free | Free | Free |
| Tidal HiFi | $9.99/month | $14.99/month | $4.99/month | $5.99/month | $5.99/month |
| Tidal HiFi Plus | $19.99/month | $29.99/month | $9.99/month | $11.99/month | $11.99/month |
Compared to Qobuz, Tidal offers a wider range of plans and discounts. Tidal provides three main subscription options, each with a discount available for specific credentials. High school and college students are eligible for a 50% discount, and military and first responders can also receive other discounts. Besides, all the Tidal paying plans allow users to try 30 days for free.
Tidal's benefits vary depending on your account type. With a Tidal free account, you can access 100 million tracks and sound quality of up to 160 kbps for free, albeit with ad interruptions. However, upgrading to a paid HiFi or HiFi Plus account grants you access to numerous benefits such as ad-free play, offline listening, live listening, the ability to connect to other platforms, tracking and sharing your listening habits, expert-curated playlists, and most importantly, higher sound quality. With the HiFi plan, you can experience sound quality of up to 1,411 kbps, while the HiFi Plus account allows for an even higher sound quality of up to 9,216 kbps.
In sum, Tidal is more friendly to people who have student, military, or other credentials. But if you individually want to enjoy songs and high quality only, then you can try Qobuz. But you have to tolerate fewer connections and shares since Tidal gives more features.
---
Part 4. Music Discovery & Recommendation
One of the primary goals of music streaming services is to help users discover new and exciting music that is both popular and matches their specific tastes within the vast music library available. By recommending personalized tracks, users can spend more time enjoying the music, rather than searching for it. Music discovery and recommendation features typically work by analyzing a user's listening behavior and suggesting similar or related artists, albums, or songs based on this data.
To provide its users better listening experience, Qobuz does apply such an algorithm. Qobuz will display personalized playlists, recommendations based on genres or moods, or new releases from artists the user has shown interest in. In addition, Qobuz gives you recommendation with 30 songs that it is tailored as a playlist based on your tastes and updates every Friday, named My Weekly Q. When you open the app, you can see some recommendations from Qobuz. There is a Discover section where you are shown curated playlists and albums based on your preferred genres. If you navigate to the Search section, you can also see the listening trends.
Tidal, according to the company's claims, its music discovery and recommendation feature is powered by a sophisticated algorithm that learns from listening habits and preferences. Based on this, the algorithm tailors recommendations to each user's unique musical taste. Tidal also offers curated playlists and categories to help users discover new music, such as "New Releases," "Rising," and "Moods." When you open the Tidal desktop app, you can also find the homepage shows curated playlists under the For you and Mixes for you parts. Additionally, Tidal editors give you some recommendations. You are also shown new tracks and albums. Besides, Tidal uses algorithms to gather big data from all its servers worldwide to show you some popular playlists, and some raising trends. There is a Tidal Rising section that highlights emerging artists worldwide and allows users to discover new music.
Overall, Tidal's music discovery and recommendation feature provides a comprehensive and personalized experience, offering users new music based on their tastes and the latest releases and popular trends within their country or region. Compared to Qobuz, Tidal's advanced algorithms give it an edge in music discovery and recommendation.
---
Part 5. Cross-Platform Compatibility
If a music streaming service boasts strong cross-platform compatibility, it can be accessed across a range of devices, including smartphones, tablets, laptops, and desktop computers, with different operating systems like Android, iOS, Windows, and MacOS. Many music streaming platforms offer web-based versions accessible through any browser, without requiring specific software installation. Furthermore, some streaming services have dedicated apps for smart TVs, gaming consoles, and other devices to further expand their cross-platform compatibility. Consequently, how well a streaming service integrates with various platforms becomes a crucial factor in choosing between Qobuz and Tidal.
Qobuz offers compatibility with numerous systems and devices, including Windows and Mac computers, and Android and iOS systems. Users can readily download the app for free from the App Store, Google Play Store, or the company's official website. Notably, the Qobuz app is compatible with Google Cast/Chromecast built-in. Besides, it offers a web player, meaning that you can play its songs with any browser without all installation.
On the other hand, Tidal outperforms Qobuz in terms of cross-platform compatibility. In addition to compatibility with Windows, Mac, Android, and iOS devices and web browsers, Tidal is accessible across a range of other devices, such as Apple TV, Roku, CarPlay, Android TV, and Amazon Fire TV. Also, if you are a DJ, you can find Tidal as an entrance within some DJ software such as Rekordbox DJ. In essence, Tidal offers seamless and universal access to its content across all platforms, clearly surpassing Qobuz in terms of cross-platform compatibility.
---
Part 6. User Interface and Features
In this part, we will review and compare the user interface and features of the Qobuz and Tidal mobile apps to provide you with a clear understanding of their similarities and differences.
Qobuz >>
The Qobuz mobile app provides a traditional user interface, featuring a predominantly black color scheme that is user-friendly and intuitive. The bottom navigation bar is divided into five tabs, including Discover, Magazine, My Qobuz, Offline Library, and Search, with each of the tabs displaying some re-directory and genres for further classification and search.
Discover: showcases new tracks, artists, trends, and curated playlists by Qobuz experts.
Magazine: aims to enrich your music education, not found on other platforms.
My Qobuz: allows users to easily access their favorite tracks, playlists, albums, and more.
Offline Library: provides a straightforward approach to accessing downloaded content.
Search: focuses on the search feature and presents relevant hits.
Tidal Music >>
The Tidal app features a sleek design, with five tabs on the bottom navigation bar, including Home, Videos, Explore, My Activities, and Profile. However, the tabs only include icons and no words, making it slightly more difficult to use than Qobuz. Here are the details of each tab.
Home: offers personalized recommendations, popular songs, and playlists.
Videos: features Tidal's vast library of 650K+ videos.
Explore: provides exclusive videos, podcasts, and curated music playlists by Tidal editors.
My Activities: lists a user's top artists and what they are contributing to.
Profile: displays account information.
Despite attempting to make the user interface as simple and intuitive as possible, Tidal has faced criticism for not showing the user's library. But from its official website, it can be seen that Tidal is undergoing recent updates to improve its functionality and adjusting the tabs into Home, Videos, Explore, and My Collection.
Overall, the user interface (UI) of the Qobuz app is generally considered to be more intuitive and user-friendly than Tidal's. Qobuz's UI is praised for its simplicity and elegance, allowing users to easily navigate through the app and find what they are looking for. Additionally, Qobuz offers a variety of useful features such as customizable playlists, high-quality audio streaming options, and an extensive music library. In contrast, Tidal's UI has been criticized for being cluttered, overwhelming.
---
Part 7. Social Feature
Although music is often used as a means of relaxation, it is also a powerful tool for building connections and making friends, as nobody is an island.
To enhance their offerings and make them more accessible to modern audiences, both Qobuz and Tidal have incorporated social features into their services. These features enable users to share music and playlists with their loved ones. When you plan to share some song or playlist, you can simply click on the three dots and select Share to show it on Facebook and Twitter. And both Qobuz and Tidal allow you to follow your favorite artists and friends to see their activity on the platforms. You can leave comments on tracks, albums, and playlists that have been shared by other users on both Qobuz and Tidal. Collaborative playlists are also supported by both services. Users can create a playlist, name and describe it, and choose if it's private or public. If the playlist is set to public and collaboration is enabled, others can listen to it and even modify this playlist.
Qobuz of course offers more social features. Apart from those, Qobuz establishes a Qobuz Club, a community of music enthusiasts where audiophiles and music lovers come together to share their passion for music and discover new sounds and artists in a relaxed and welcoming environment. Tidal, on the other hand, allows its users to share music videos like sharing audio tracks. It has a Tidal X, which means Tidal hosts live events and concerts featuring top artists and allows users to attend and watch online. And to some extent, Tidal offers more social sharing and has more social features than Qobuz.
---
Part 8. Service Availability
In terms of service availability, both Tidal and Qobuz aren't as broadly available as Spotify or Apple Music. But Tidal covers more countries and regions than Qobuz. Tidal can be found in nearly 61 countries or regions, including Europe, the UK, North America, and other countries.
Qobuz, though it is launched in 2007, earlier than Tidal, is available in only 24 countries. If you are in the US or Europe, you can easily get Qobuz's service. You can check where Qobuz is available here.
---
Part 9. Conclusion: Qobuz vs. Tidal, Which Is Better?
After conducting a comprehensive review and comparison, it can be concluded that both Qobuz and Tidal own over 100 million licensed tracks, and have a large high-quality music library up to 24-bit/192kHz. Both services have their exclusive content, while Tidal focuses on comprehensive content including music, interviews, and videos and Qobuz aims to offer music.
In terms of music discovery and recommendation, cross-platform compatibility, social features, and service availability, Tidal is the superior choice. But Qobuz is ahead of Tidal in user interface design. When it comes to their prices and plans, though Tidal offers more plans and is more suitable for people who have college student and military credentials, Qobuz is cheaper for the 24-bit/192kHz sound quality, Qobuz needs $10.83 each month while Tidal requires $19.99.
What is the conclusion? Is Qobuz better than Tidal? When deciding between the two, it is important to consider your individual music streaming needs. If you have relevant credentials for discounts and desire more benefits, then Tidal may be the better option. But if you prioritize higher quality at a lower cost, you may try Qobuz. In essence, the best streaming service for you will depend on your specific preferences and requirements.
---
Part 10. Extra Tip: How to Download Tidal Music to Computers?
In the final part, we will provide you with an additional tip on how to download music from Tidal onto your local computer. Tidal predominantly streams lossless music, with most of the files being encoded audio files. Regardless of your subscription plan, it is not possible to download Tidal songs onto your local devices. Consequently, Tidabie Tidal Music Converter has been developed for users to save Tidal songs onto their local devices, allowing for permanent offline listening. This program works efficiently to extract Tidal music files and convert Tidal songs to various formats, such as MP3, AAC, WAV, AIFF, FLAC, and ALAC, at speeds of up to 10 times, with ID3 tags preserved.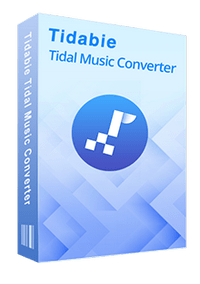 Tidabie Tidal Music Converter
Tidal Free, Tidal HiFi, and Tidal HiFi Plus are available.

Extract songs with Tidal Free without ads.

Downloaded Tidal songs, albums, and playlists are well-compatible with kinds of programs and devices.

10X faster speed to convert Tidal tracks to MP3, AAC, WAV, FLAC, AIFF, ALAC.

Batch download multiple Tidal Music playlists.

Download songs with HiFi audio quality and ID3 tags kept.

No need to install Tidal Music app.
Below are the steps on how to use Tidabie Tidal Music Converter to download songs from Tidal:
Step 1 Open Tidabie and Log In
To start, click the button above to download and install the Tidabie program onto your computer. Launch the program and click "Open Tidal Web Player", which will take you to the program's main page. Follow the prompts to log into your Tidal account.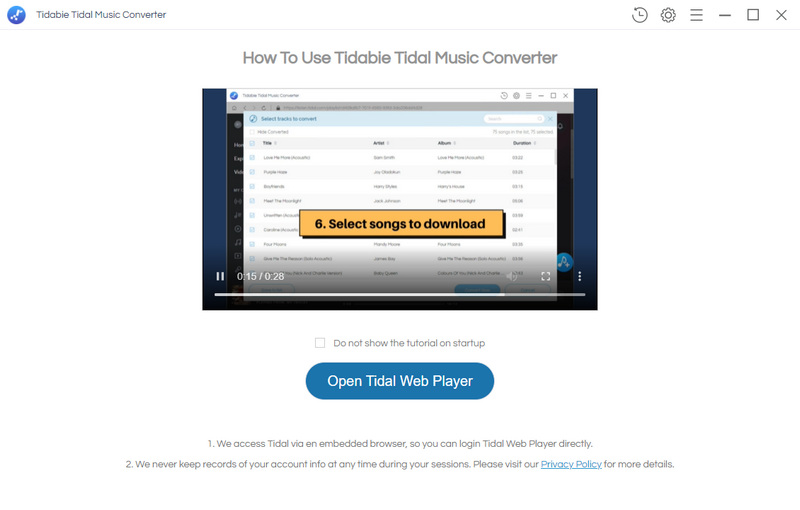 Step 2 Customize Output Settings
To customize Tidal song outputs to suit your preferences, click on the "Settings" icon located in the upper right corner of the program. On the pop-up panel, choose an output format and output folder. Additionally, modify the output quality to suit you, name the output file, and select a way to organize output files.
Step 3 Add Tidal Songs to Download
Browse through Tidal's songs, playlists, albums, and other content you want to save. Click the "Add to list" icon and choose the tracks on the popup. Then click the "Convert Now" button to start downloading Tidal tracks immediately. Wait for the progress to complete, and you can find the Tidal music files on your local computer.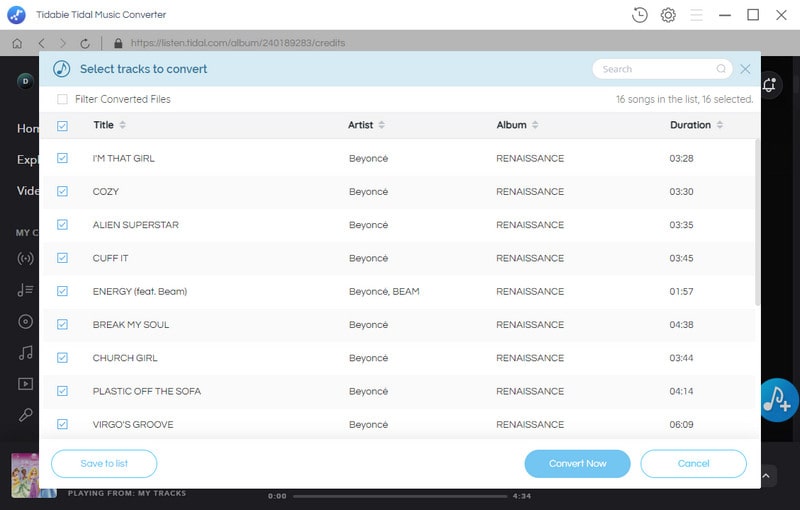 ---
The Closing Thoughts
After reading the preceding content, you are now capable of identifying the similarities and differences between Qobuz and Tidal in terms of their music library, exclusive content, sound quality, plans, prices and benefits, music discovery and recommendation feature, cross-platform compatibility, user interfaces, social feature, and service availability. It can be said that this article comprehensively reviews and compares Qobuz and Tidal. However, when it comes to the question of whether Qobuz is better than Tidal, the most neutral perspective would suggest that it depends on your actual needs. Ultimately, the best choice is the one that suits you best.
Last but not least, this guide also provides an extra tip on how to download music from Tidal onto your local computer. Tidabie Tidal Music Converter is a well-designed tool that offers the ultimate solution to save Tidal songs to your devices permanently for offline listening, while also converting Tidal music to multiple plain formats. If you are looking for such a program, then Tidabie is worth trying.
---