Tidal Music vs Apple Music, Which is Better?
---
The rapid development of audio technology stands diverse streaming music services out, along with the expensive CD players and DVDs experiencing a gradual decline. In the ever-changing modern world, before you know it, a whole bunch of streaming music services has mushroomed in the audio industry. By the time you notice their presence, a new era has dawned. This is a new era of streaming music.
Even if the starting line is the same, a leader will emerge gradually. Likewise, in any industry, you can see the rise of some companies over time, and their momentum is unstoppable. Spotify, Amazon Music, Apple Music, and Tidal Music have gathered superior momentum in recent years. They capture a large number of subscribers in a few years.
Running side by side is not only a companion but also a competitor. With the increasing competition in the music industry, the battle between Apple Music and Tidal Music becomes tight. Apple Music launched ALAC lossless audio whilst Tidal Music threw out MQA technology. Who will be the winner? Apple Music or Tidal Music? Still, have no idea? Go through this post you may draw a conclusion.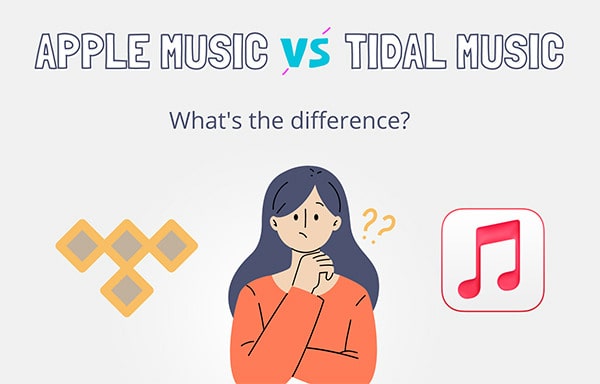 Before officially entering the topic, we sorted out some main features of Apple Music and Tidal Music. You can get an overview, and then follow us to learn more about how they differ.
Apple Music
Tidal Music
Pro:
High-quality streaming; ALAC lossless audio
Live internet radio can be used for free
Music discovery is a plus
Can upload your own personal music library to listen anywhere
Large music library
Pro:
Excellent sound quality; Hi-res Tidal Masters
Exclusive backstage content, live streams, and concerts
Long-form editorial pieces
Music-focused podcasts
Compatible with more devices
Offer Free tier
Con:
No Free tier
No collaborative playlists
UI can seem overcrowded
Limited Support for Non-Apple Devices
Con:
The top tier is pricey
Can not see what your friends are listening to
Can not download music on a PC
---
1. Subscriptions and Plans
Apple Music >>
Apple Music prices an individual tier at $10.99 per month in the United States. According to the local tax policy, the price will vary slightly in other countries and territories. Apple Music's catalog, new releases, exclusives, as well as a back catalog of shows broadcast on Apple's Beats 1 radio station are accessible to individual members. Moreover, you are entitled to get music and videos downloaded from Apple Music for offline playback.
Apple Music's Family Plan prices at $16.99 a month and caters to up to six members streaming music simultaneously by sharing a personal account. Except for catalog content, iTunes purchases are allowed to be shared between family members. However, when using the same credit card, the family member will be asked for verifying the family status.
Apple offers a discount for students on all Apple products, including Apple Music. You can get the best deal while you are a student. The Student Plan only costs $5.99 a month to access to Apple catalog. As long as you register for Apple Music using your educational institution credentials, you can get this preferential price.
Apple offers a 10% discount on all Apple products for military personnel and veterans, including Apple Music, Apple TV+, iPhone, iPad, etc. It requires information that identifies your military status when applying for a military Apple account.
| | Individual | Family Plan | Student | Military | First Responders |
| --- | --- | --- | --- | --- | --- |
| | $10.99/month;$109/year | $16.99/month | $5.99/month | 10% discount | 1-month free trial |
Tidal Music >>
Tidal also sells an individual plan at $10.99 per month in the United States, called Tidal HiFi, with price variation in other regions. Additionally, Tidal launched Tidal HiFi Plus for audiophiles at $19.99 per month. The HiFi Plus membership enables you to unlock the full experience of relishing 9216 Kbps music, supported by Master Quality Authenticated technology.
Tidal's Family Plan lets up to 6 members use one single account at the same time at $16.99 per month for HiFi service and $29.99 for HiFi Plus service.
Tidal recruits students at a lower price, $4.99 per month for HiFi service and $9.99 for HiFi Plus service. However, first, you need to meet the conditions. You will be required to verify your student information when you sign up for a Tidal account and re-verify every 12 months thereafter.
Tidal also offers discounts for a special group of military personnel and veterans, with $5.99 per month for Tidal HiFi and $11.99 for Tidal HiFi Plus. Note that you should select the current military status, denote what branch of service you're in, and provide an applicable email when signing up. And it is only available in US.
| | Individual | Family Plan | Student | Military | First Responders |
| --- | --- | --- | --- | --- | --- |
| Tidal Free | Free | Free | Free | Free | Free |
| Tidal HiFi | $10.99/month | $16.99/month | $4.99/month | $5.99/month | $5.99/month |
| Tidal HiFi Plus | $19.99/month | $29.99/month | $9.99/month | $11.99/month | $11.99/month |
Note:
Both student and military membership types are limited to certain geographies. And to own an active account, you are required to renew the subscription on a monthly basis.
---
2. Free Trials
Apple Music >>
Apple Music has no free plan. It only gives a 30-day free trial for each account before upgrading to its paid service.
Tidal Music >>
Tidal changed its strategy in early 2022. It's newly released a free tier serving as an incentive for more registered users. Anyone who gets a Tidal Free is allowed to listen to Tidal music with 160kbps in spite of being plagued by intermittent ads.
---
3. Audio Quality
Apple Music >>
Apple leads the mobile electronics market and drives a series of Apple products to prevail globally. To be creative, Apple always thinks of a different angle. It henceforth developed its exclusive lossless audio compression technology called Apple Lossless Audio Codec (ALAC). This unique encoding technology allows files not only to be compressed but also to achieve lossless sound quality. This is undoubtedly another innovation by Apple that breaks the rules.
Now, Apple Music files are partially encoded using ALAC in resolutions ranging from 16-bit/44.1 kHz (CD Quality) up to 24-bit/192 kHz (9216Kbps). The rest is encoded in AAC format. The available options for streaming sound quality vary according to the encoded formats. You can choose AAC at 256kbps, and Apple Lossless Audio Codec (ALAC) at 16-bit/44.1kHz, 24-bit/48kHz, and 24-bit/192kHz.
However, to genuinely avail yourself of the lossless audio quality, what device you choose to establish a connection is critical. AirPods, AirPods Pro, AirPods Max, AirPods (3rd generation), and Beats wireless headphones using Apple AAC Bluetooth Codec can guarantee optimal audio quality. Whereas simple Bluetooth connections could not support lossless music relishing.
Another thing that should be mentioned. It consumes more cellular data while playing lossless music. If you are listening to lossless audio via a Wi-Fi network, you should also check if you have enough local space for caching the songs.

Tidal Music >>
Supported by MQA(Master Quality Authenticated) technology, Tidal Music is highly sought after by audiophiles. Tidal Music formerly promoted CD-quality music and now progressing to Hi-Res music. MQA represents the original source of music. Tidal labels a song as MQA if it's authenticated by the artist. MQA is also a kind of lossy technology. It reduces in size of an audio file instead of in quality. How does it keep a song in authentic audio quality but meanwhile in a smaller size? The master-quality music is more likely 'folded' and then delivered in the most efficient and sustainable way. When equipped with devices or apps with MQA decoding capability, the high-quality music can be fully 'unfolded', which contributes to revealing the original master resolution.
MQA-encoded audio can be contained in file formats such as FLAC, ALAC, or CD-DA; therefore, it can be played on systems with or without an MQA decoder. According to Tidal, even without an MQA encoder, you can enjoy music better than CD quality.
Unlike Apple Music, Tidal Music releases three different tiers, Tidal Free, Tidal HiFi, and Tidal HiFi Plus, with different sound quality limitations respectively. The audio quality ranges from 160 kbps to 9216 kbps (24-bit/192kHz). Tidal Free users stream music in 160kbps sound quality and will be interrupted by ads every 10 to 15 minutes. Tidal HiFi offers lossless audio at 1411 Kbps (44.1 kHz), which is fairly brilliant for normal users.
Tidal is popular among audiophiles who usually own high-end audio equipment. In that case, they can tell how amazing the increased audio fidelity is. Nevertheless, without any high-end gear, there may be no overt difference between Hi-res music and regular MP3s or FLACs.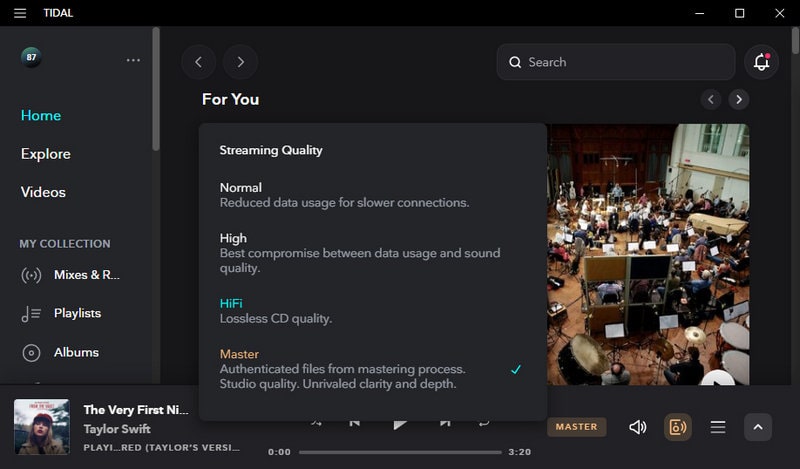 ---
4. Compatible Devices
Apple Music >>
Apple Music can run smoothly on all Apple products, including iPhone, iPad, Apple smartwatches, Apple TV, Mac, CarPlay, and HomePod. Besides, it's compatible with non-Apple devices, including Smart TVs(Samsung, LG), Gaming Consoles(PlayStation 5), Roku, Android(Download from Google Play), PC(Update to the latest iTunes), Amazon Echo, Sonos, and Google Nest.
If you want to play Apple Music on more devices, or transfer the downloaded Apple songs to MP3 players, SD cards, USB flash drives, or other devices for normal playback, you need to get help from TuneCable Apple Music Converter.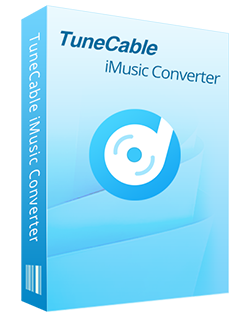 TuneCable Apple Music Converter
Download iTunes M4P music, podcasts, audiobooks, and Apple Music.

Convert Apple Music files to MP3/AAC/WAV/FLAC/AIFF/ALAC.

Convert iTunes audio at 10X faster speed with lossless quality.

Keep ID3 Tags information after conversion.

Batch download multiple Apple Music tracks.

Download songs with lossless audio quality and ID3 tags kept.

Achieve permanent playback after the conversion.

Can transfer the converted Apple tracks to any device for unlimited use.
Tidal Music >>
Tidal is not particularly designed for any device. It can be widely installed on a range of devices, such as Android phone, iPhone, Windows PC, and Mac. Actually, Tidal Music is supported to be run on a variety of audio gadgets, Smart TVs, Streamers, Auto, DJ, Mobile, Tablets, Desktop, Laptop, Wearables, and other devices. You can check the complete list on this page. It's much more flexible than Apple Music from this perspective.
However, similar to Apple Music, all audio files from these streaming music sources are limited to transfer. And you can only enjoy the music within the Tidal Music app or Apple Music app. If you want to extend the possibility, you need a special tool, Tidabie Tidal Music Converter, which is crafted for downloading songs from Tidal to local space in DRM-free formats.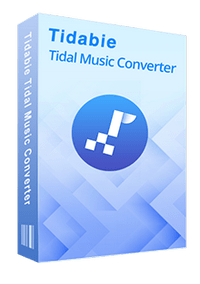 Tidabie Tidal Music Converter
Tidal Free, Tidal HiFi, and Tidal HiFi Plus are available.

Extract songs with Tidal Free without ads.

Downloaded Tidal songs, albums, and playlists are well-compatible with kinds of programs and devices.

10X faster speed to convert Tidal tracks to MP3, AAC, WAV, FLAC, AIFF, ALAC.

Batch download multiple Tidal Music playlists.

Download songs with Hi-Res audio quality and ID3 tags kept.

Tools: burn CD, iD3 tag editor, export to iTunes, audio converter.
---
5. Library and Catalog
Apple Music >>
Apple Music offers over 100 million songs and more than 30,000 playlists recently. But the data keeps updating every year. When subscribed to Apple Music, the door to millions of songs is open. Moreover, you can download 100,000 songs to your library for offline listening. On the start-up interface of Apple Music, you will see five modules: Library, For You, Browse, Radio, and Search.
Library: The library includes music from your private library combined with the songs you searched and saved. You can add your preferred songs, albums, or playlists by clicking the "+" icon when browsing the Apple Music catalog. As an outcome, the recently collected albums and songs will be displayed here with the cover art.
For You: This page is customized by Apple Music to algorithmically conclude the best recommendations that perfectly match your past listening habits. You will receive a series of recommendations regarding artists, songs, or curated playlists depending on what you were listening to frequently and what you might favor.
Browse: This module is not crafted for personal preferences. It's in actuality the main module of Apple Music. Here you can find the latest updated albums or hot hits classified by countries, regions, or other types, for instance, the Top 100 songs globally or the Top 100 songs in Uganda. All catalog content of Apple Music is included here. If you want to check out some of the latest releases, songs from different genres, or some Beats 1 interviews, navigate to this Browse page.
Radio: Ample Internet radio station resources are what Apple Music can boast about. The stations are all well categorized by genre. Plus, here you'll find tons of live DJ music.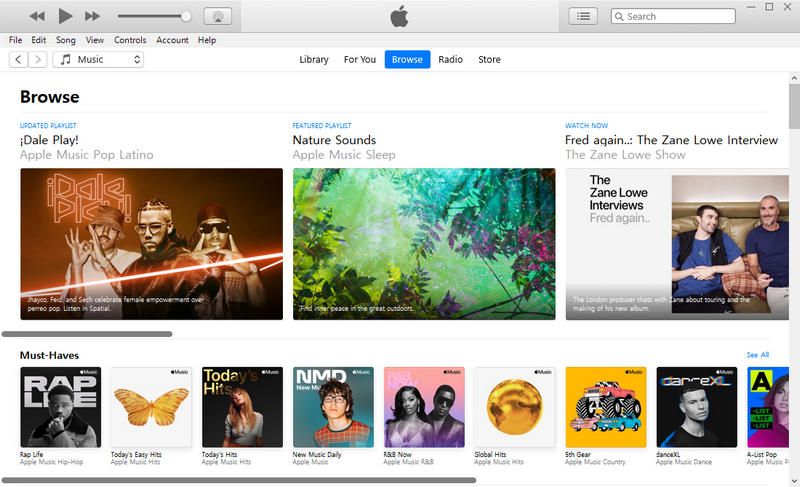 Tidal Music >>
With 90M+ songs and 450K+ videos, Tidal Music suffices to satisfy all music lovers. Millions of master-quality albums are included, capturing the attention of a large crowd of audiophiles. To stay up-to-date with the latest news, Tidal Rising is specially created to collect fresh and dynamic music from up-and-coming and celebrated artists like Alessia Cara, 21 Savage, A Boogie wit da Hoodie, Joy Oladokun, Dua Saleh, and many more.
Tidal Music cleverly combines articles and music. In the magazine section, you can find some articles with detailed profiles of the artists, allowing you to enjoy their music while getting to know them more deeply.
Tidal also put a lot of effort into the music video. Here you can find a wealth of music video resources including music video outtakes, sneak peeks, backstage concert footage, and Tidal-exclusive streaming concerts. And if you're likely to buy live concert tickets, it's possible with Tidal. Furthermore, Tidal even offers a rich selection of movie and video game soundtracks. With all this, how can you ever get bored?
Do you think you will be dizzy when you want to quickly locate the song you want in Tidal Music, which has millions of songs? No, it won't. Tidal is user-friendly and curates dozens of themed playlists, and you can find your favorite songs based on mood, time of day, and events (like holidays).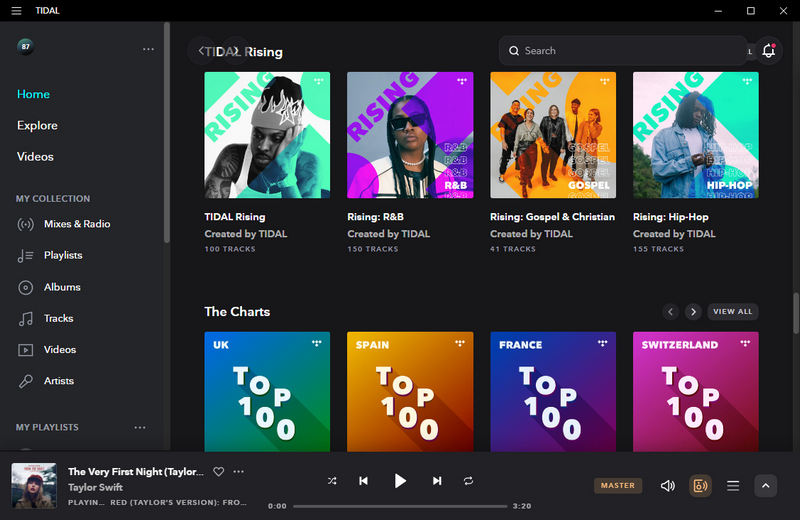 ---
6. Music Sharing
Apple Music >>
If you and your friends both subscribed to Apple Music, you are enabled to share playlists with them that you've personally created. And once you've connected to your friends, you can explore what your friends are listening to on the "For You" page. However, you are not allowed to create a collaborative playlist to let your friends also have control over it, which can be achieved on Spotify Music already. At the moment when listening to music that captures your heart, you can merely share this playlist with your friends.
Tidal Music >>
For Tidal Music, music sharing for social is absent. The only path is to connect to Facebook whenever you are tending to share your favorite playlists. Or you can share the songs you prefer by attaching the links.
---
The Closing Thoughts
Here is a sheet to help you make clear the basic differences between Tidal vs Apple Music.
Apple Music
Tidal Music
Free Trial Period
No Free tier;
1-month free trial
Offer a Free tier
Individual Plan
$10.99/month; $109/year for Individual
Tidal HiFi $10.99 / Tidal HiFi Plus $19.99
Family Plan
$16.99 for 6 members
HiFi $16.99 for 6 members;
HiFi Plus $29.99 for 6 members
Students Plan
Individual $5.99
HiFi $ 4.99;
HiFi Plus $9.99
Music library
over 100 million
over 100 million
Sound Quality
256 Kbps, AAC;
16-bit/44.1 kHz to 24-bit/192 kHz, ALAC for Apple Lossless
160 Kbps, AAC for Free;
1411 Kbps, FLAC for HiFi;
9216 Kbps, FLAC/MQA for HiFi Plus
Compatible Devices
iPhone, iPad, CarPlay, and other Apple and non-Apple devices
Phone, PC, Chromecast, Sonos, AirPlay, Android TV, and many more.
Practically speaking, in this Tidal vs Apple Music battle, there are no winners. After understanding the characteristics of Apple Music and Tidal Music in various aspects, you must have chosen the one that suits you the most.
The final decision rests with you. But you might have noticed that no matter what music platform, there are strict restrictions on its audio files. First, you can only play songs on the platform. Second, you cannot transfer downloaded songs to other devices as you like. Third, you just have to keep renewing your subscriptions to keep those music services in your hands.
Thus, to explore more possibilities of Tidal Music, you might need a Tidal Music Converter. Tidabie Tidal Music Converter is essentially functional downloading Tidal music, albums, and playlists to the local files in MP3/AAC/FLAC/WAV/AIFF/ALAC formats that are well compatible with types of apps. Start a free trial to find out what else you can do with Tidal Music.