How to Download Music from Tidal for Offline Listening [2023 Latest]
---
In today's era of digital streaming platforms, music enthusiasts have access to a vast library of songs and albums at their fingertips. Tidal, a popular music streaming service, offers an extensive collection of high-fidelity and high-resolution tracks, boasting unparalleled sound quality. While streaming Tidal music online is convenient, there are instances where it's preferable to have Tidal songs available offline. Fortunately, Tidal allows its users to download music so that it can be enjoyed offline, whether you're on a road trip or in an area with limited internet connectivity. In this article, we will provide a comprehensive guide on how to download music from Tidal for offline listening.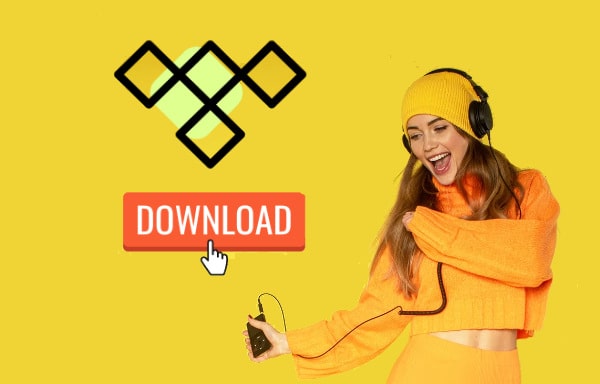 ---
To download music from Tidal for offline listening, you should make some preparations. Here are three materials you need for getting the download successfully.
#1. A Mobile Phone with Network Connected
Downloading music from Tidal is only available from a mobile device. A Tidal Music desktop app is not equipped with this download function. (Learn how to download Tidal music to desktop computer in Part 3.) The app is available for both iOS and Android platforms. But attention, your iPhone should have iOS 15.0 or later, and the other should have Android 5 or later. Besides, do not forget to connect your phone to the Internet.
#2. A Tidal App
To download music from Tidal, you then need to have the Tidal app installed on your device. Visit the respective app stores, search for 'Tidal', and click on the download or install button to get the app on your device. It is important to note that the Tidal web player does not support downloading Tidal music. And it is necessary to install the TIDAL app on your mobile phones.
#3. A Tidal Paying Subscription
If you don't have a Tidal account, you can create a new one directly from the app by following the provided instructions, or create one on Tidal Official. Then to avail of the download feature, you need a Tidal subscription. Although Tidal offers three options: Tidal Free, Tidal HiFi, and Tidal HiFi Plus, only the latter two plans are entitled to the download function and offline mode.
The HiFi subscription provides high-fidelity or lossless CD-quality (16-bit/44.1kHz) streaming and downloading in FLAC format at a monthly price of $10.99, while HiFi Plus offers high-resolution music up to 24-bit/192kHz MQA streaming and downloading at $19.99 a month. (Check how much is Tidal here for more plans and prices.) Choose the subscription that best suits your preferences and budget. If you have special credentials like College Student or First Responder, you can get a Tidal discount of up to 50%.
---
Officially downloading music from Tidal is a simple and convenient process that allows you to enjoy your favorite tracks offline. Whether you are using an iPhone or Android phone, Tidal offers an easy way to access and download songs. Follow the steps below to learn how to download playlists and albums from Tidal.
#1. Download A Playlist from Tidal
If you have no any Tidal playlist yet, you can freely create your playlist with your favorite Tidal songs added by following the below steps. If you already have a Tidal playlist, simply jump to the next section.
Step 1: Open Tidal and go to My Collection.
Step 2: Select Playlists under the section, and click on + Create New Playlist.
Step 3: Type to name your playlist as you like.
Step 4: Search for a track, then hold your finger down on the track and select Add to Playlist.
To download your playlist that is built with years of endeavor on Tidal, follow the below steps, and you will be able to access your favorite content when you cannot connect to the Internet.
Step 1: Open the TIDAL app on your mobile phone and log in to your paying account.
Step 2: Tap on My Collection from the bottom of the screen.
Step 3: Select a playlist to open it.
Step 4: Tap on the three dots on the right of the playlist title.
Step 5. Scroll down the option and tap on Download, and the playlist will be downloaded. Depending on your internet speed and the size of the music, the time it takes to download will vary.
#2. Download An Album from Tidal
If you would like to download an entire album from Tidal, you can make it easier with the below steps.
Step 1: Open Tidal and log in to your paying account.
Step 2: Tap on Explore on the bottom bar, and type to search your target album. If you have added it to your Collection, simply open it.
Step 3: Tap on the three dots and choose Download to save the album. The time this process takes depends on the size of the album and your internet connection speed.
#3. Enable Offline Mode for Tidal Music
With Tidal playlists and albums downloaded, how to listen to Tidal music without consuming mobile data? The answer is to enable the offline mode.
Step 1: Open the TIDAL app on your mobile or tablet.
Step 2: Tap on My Collection from the bottom bar.
Step 3: Hit on the gear icon in the upper right to open Settings.
Step 4: Toggle on the Offline mode button.
Step 5: Tap on the Downloaded section in the My Collection part and select the content you want to access. You will be able to listen to the downloaded Tidal music without mobile data consumed.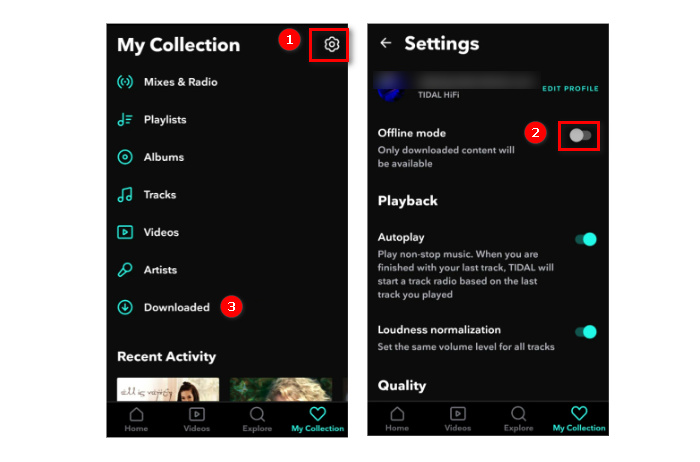 Downloading music from Tidal not only allows you to listen to your favorite tracks offline but also ensures a seamless listening experience without any buffering or internet connectivity issues. With these simple steps, you can enjoy your favorite tracks, albums, and playlists from Tidal even when you're offline. Whether you're on a long flight, in a remote location, or simply prefer a seamless experience, Tidal's download feature ensures you never miss a beat.
Additionally, keep in mind that downloaded music is subject to the restrictions imposed by Tidal's licensing agreements, requiring periodic online verification to ensure the validity of your subscription. And remember, to continue enjoying downloaded music from Tidal, make sure to renew or maintain an active subscription. But that is so expensive to pay $10.99 for Tidal HiFi or $19.99 for Tidal HiFi Plus a month if you want to continue offline listening all the time. Is there an alternative way that offline listening to Tidal high-quality music forever for free? Well, you are in luck to read this article. Simply move on, and you will get the best way to download Tidal music for offline listening.
---
Tidal is an excellent music streaming service for its high-quality audio and offline mode. However, it is not so satisfactory or acceptable that an expired subscription will close the entrance to downloaded music. What do you do if your Tidal subscription is unexpectedly invalid on your long trip? Fortunately, you can use Tidabie to solve the Tidal downloading issue once and for all.
Tidabie Tidal Music Converter is a software tool that allows users to convert and download music from Tidal onto local computers. With this converter, users can convert Tidal music to various formats such as MP3, AAC, WAV, or FLAC, making them playable on different devices offline. Users can also preserve the original audio quality up to Master/Max (up to 24-bit/192kHz) and all the ID3 tags of the songs during the conversion process. With the help of Tidabie, you can offline play Tidal music anytime anywhere for free, and you don't have to worry about Tidal subscription status.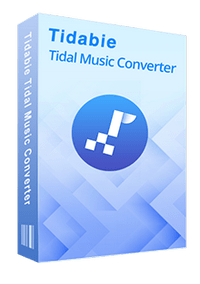 Tidabie Tidal Music Converter
Download Tidal songs/albums/playlists/podcasts locally.

Convert Tidal tracks to MP3/AAC/WAV/FLAC/AIFF/ALAC.

Preserve Tidal Hi-Res/CD audio quality and full ID3 tags.

Run at 10x speed & batch download Tidal playlists.

Sort Tidal music files by playlist, album, artist, etc.

Offer tools of Format Converter, Tag Edit, etc. & save lyrics.

Enjoy Tidal music offline on devices and programs.
STEP 1 Open Tidabie Tidal Music Converter
To begin, make sure you have the Tidabie program installed on your Windows or Mac computer. After opening, choose an audio source. The app mode requires the TIDAL app and saves up to high-resolution Master quality Tidal music, while the web player mode works by accessing the Tidal web player and retains high-fidelity FLAC Tidal music at up to 10x fast speed (the TIDAL app is not required). Just pick a source that suits your needs and sign in to your Tidal account. A US Free account is also feasible for Tidabie to download music from Tidal.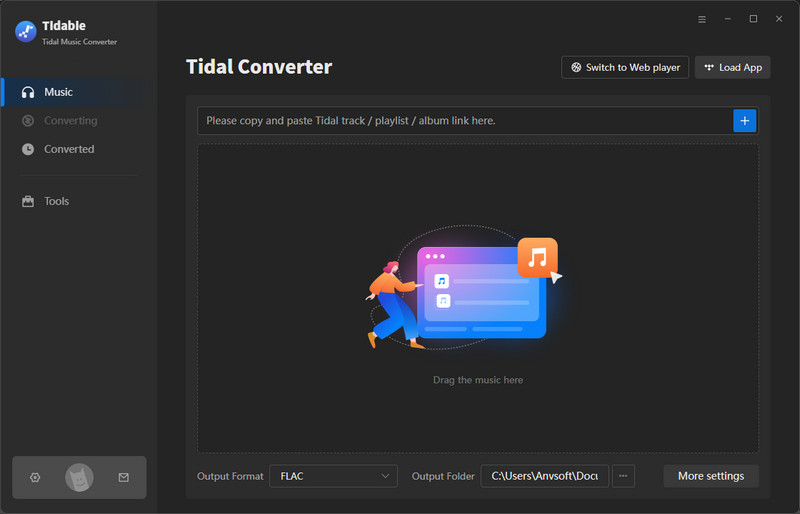 STEP 2 Customize Output Settings for Tidal Music
Different from the download within the TIDAL app that only saves Tidal music in encoded FLAC files, Tidabie commits to providing you with decrypted music and kinds of flexible settings. Go to the "Settings" part. You can alter the output format to MP3, WAV, ALAC, etc., adjust the bit rate and sample rate as needed, select an output folder on your local storage, name the output files, and sort Tidal music into folders by artist, album, and playlist, etc. Attention, up to only 160kbps audio is saved if you are using a free US Tidal account.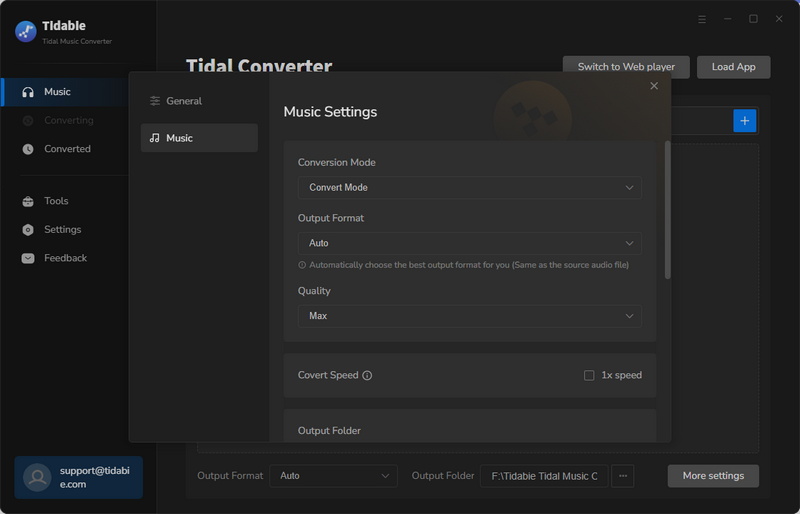 STEP 3 Add Tidal Songs/Playlists/Albums/Podcasts to Tidabie
Once the settings are done, browse through Tidal's music library, and recommended playlists, or use the search option to find the track, album, or playlist you wish to download. If you use the web player mode, you need to open the playlist or album, then hit on the blue "Click to add" button to let Tidabie read the tracks. But if you use the app download mode, simply drag and drop your target Tidal music right into Tidabie. Whichever you use, Tidal music will then be listed on a smaller window. Just pick your Tidal songs and click on "Add" to confirm your selection.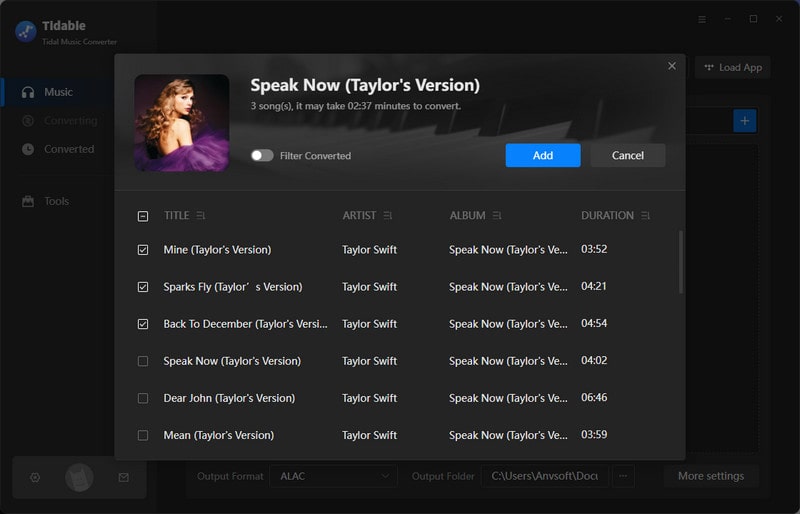 STEP 4 Download Music from Tidal to Computer Effortlessly
In case of have multiple Tidal playlists or albums to download, you can repeat the previous adding action. When you add all the Tidal songs, click on the "Convert" button to effortlessly convert and download Tidal music onto your local computers.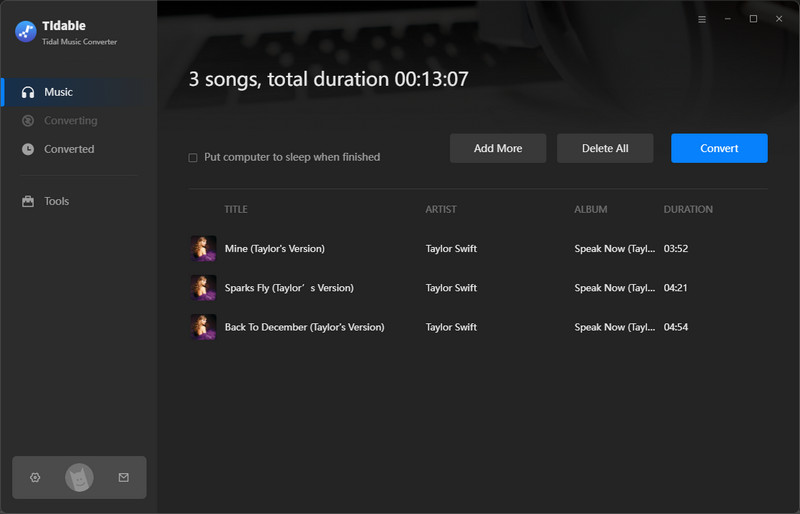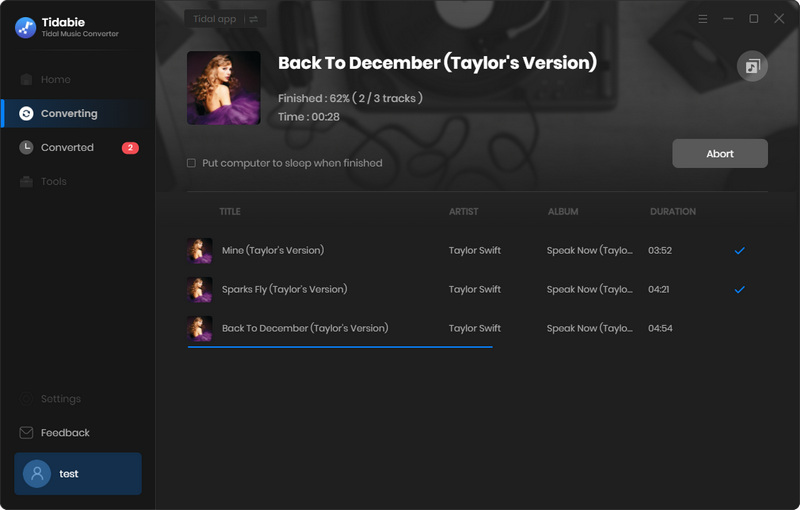 STEP 5 Offline Listening Tidal Music for Free
The conversion will be complete soon after. You can then go to the "Converted" section to check your download history. To play Tidal music within Tidabie, simply hit on the play icon. To open your output folder, click on the file icon at the end of the bar. Until this step, Tidal music is successfully downloaded to your local computers, and you can listen to Tidal songs offline anytime. Additionally, the downloaded Tidal music is not affected by your Tidal subscription, you can still access Tidal downloads even if your subscription expires.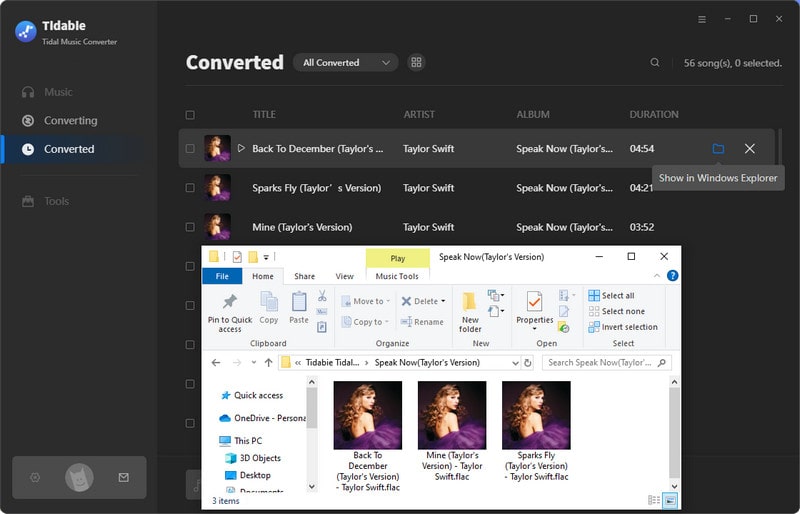 ---
Summary
Downloading music from Tidal is a fantastic way to enjoy your music anytime, anywhere. Whether you're a music enthusiast or just want to have your favorite songs readily available offline, Tidal provides a seamless and user-friendly experience for downloading and enjoying high-quality music. Rather than download music from Tidal within the app, we would suggest you use the Tidabie Tidal Music Converter.
With the most cutting-edge technology applied, Tidabie is the best Tidal music converter to download any music from Tidal onto local computers. Except for the free offline listening to Tidal music, you can even transfer Tidal music to mobile phones and MP3 players and even import Tidal songs to DJ software for mixing. So, get Tidabia now and start downloading your favorite Tidal music today. Enjoy your offline listening experience with high-quality audio from Tidal, right at your fingertips!