Tidal Music vs Deezer Music: Battle for Lossless Audio Quality
---
Deezer and Tidal are two of the best music streaming services. They have some similarities. Both Deezer and Tidal give you a lossless sound experience with their HiFi plans, streaming at 1,411kbps or 16-bit/44.1 kHz CD quality. While there is another big selling point for Tidal which is supported to play audio track with master-quality sound, an audio technology making hi-res audio streaming a reality. And this will allows audiophiles to listen to music without buying an expensive DAC. Anyhow, what is the strength if you choose Deezer instead?
In this article, we will list some brief features and differences if you want to choose between Tidal and Deezer. And for people with different purposes, they can pick up the right one for them. Still, we will introduce a workable way to download streaming music to computer to you, enabling people to listen to the music offline.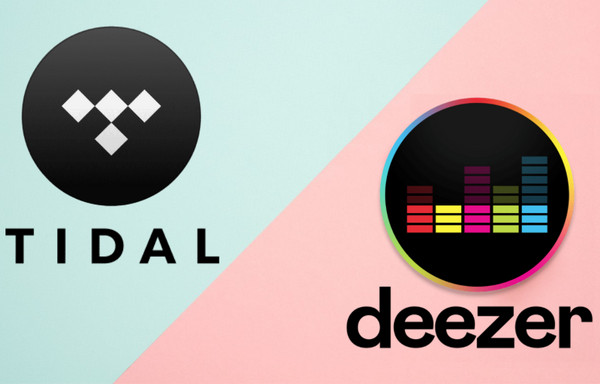 ---
💡 1. Free Trial
✅ Tidal gives every newcomer main 2 types of plans. One is for an ad-supported free trial that you can enjoy with the AAC 160kbps music. The other is HiFi or HiFi Plus trial that you can listen to higher sound quality with HiFi and Master level.
✅ Deezer, on the other hand, provides a free plan which allows user to stream music for only 30 seconds without paying money at all. This only requires you to sign up with email as a new user. But if you want to listen to the full-length music, you need to upgrade to a paying account.
💡 2. Subscription Plan
✅ Tidal's subscription starts at a monthly fee of $10.99. This is for the standard HiFi tier. If you have a college student qualification or other qualifications like first responders, you can enjoy a 40% to 50% discount from Tidal. And there is a family plan with 6 different accounts, which is charged $14.99 per month accordingly.
Another subscription is Tidal Hi-Fi Plus plan that would cost a standard fee of $19.99 a month. And $29.99 is required if you are going to pay for a Hi-Fi Plus family plan. Similar to the HiFi plan, this Plus plan also offers discount for people who have special qualifications.
If you want to cut down the cost, you can refer to this article How to Get Student Discount from Tidal Music?
✅ The budget at Deezer premium is $10.99 a month, just the same expenditure as Tidal's HiFi plan. For a Deezer family plan, it costs $14.99 with 6 different accounts.
It is important to note that both Tidal and Deezer paying plans offers subscribers the beneftis to stream their whole libraries, play music in HiFi and download music for offline listening, while the Tidal HiFi Plus plan additionally provides Hi-Res audio up to 24-bit/192kHz. (To understand more details of Tidal plans, refer to Tidal HiFi vs HiFi Plus: Which Should I Choose?)
💡 3. Audio Sound Quality
✅ Tidal is more expensive than Deezer but, obviously, Tidal Music wins in terms of sound quality. There are 3 types of sound quality Tidal services. They are the standard AAC quality at 160kbps/320kbps, lossless HiFi quality at 1,411 kbps, and mastered Hi-Res quality at 2,304-9,216kbps.
✅ Likewise, Deezer has a CD-quality HiFi setting as well, although Deezer free plan allows 128kbps MP3 streaming. Deezer premium users are entitled to streaming quality options based on their network connection, including 128kbps MP3, 320kbps MP3, and 1,411kbps FLAC
💡 4. Music Library
✅ Tidal currently has a vast music collection over 100 million songs with over 70 million tunes in Hi-Res. Additionally, you can watch artist shows, interviews, and music videos on the mobile and the desktop, as well as view lyrics for singing aloud.
✅ Deezer Music, on the other hand, offers a large music library over 90 millions. If you are just to listen to music, Deezer is more suitable for you. Still, you can play songs with lyrics in Deezer.
---
Both Tidal HiFi and HiFi Plus plans let you download tracks to your devices for offline listening. But if you want to download the music to computer, you will need a converter to help out.
Tidabie Tidal Music Converter is to download Tidal Music to some common audio file formats like MP3/AAC/WAV/FLAC/AIFF/ALAC. All the downloaded Tidal Music is saving to computer, keeping original sound quality up to 24-bit/192kHz. The great thing about Tidabie Tidal Music Converter is that it helps to downloaded Tidal Music to computer for permanently free enjoying, even if you cancel the Tidal subscription in the future.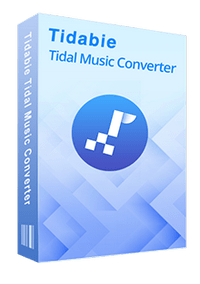 Tidabie Tidal Music Converter
Download Tidal songs/albums/playlists/podcasts locally.

Convert Tidal tracks to MP3/AAC/WAV/FLAC/AIFF/ALAC.

Preserve Tidal Hi-Res/CD audio quality and full ID3 tags.

Run at 10x speed & batch download Tidal playlists.

Sort Tidal music files by playlist, album, artist, etc.

Offer tools of Format Converter, Tag Edit, etc. & save lyrics.

Enjoy Tidal music offline on devices and programs.
STEP 1 Run Tidabie and Select an Audio Source
After running Tidabie on your Windows PC or Mac, you need to select an audio source. Tidabie supports the TIDAL app and the Tidal web player. If you choose to download music from the TIDAL app, you should have the app on your computer; when you select the Tidal web player, Tidabie works by accessing the built-in web player. Both of them can download Tidal HiFi music, but if you want Tidal Hi-Res music, the app source is suggested.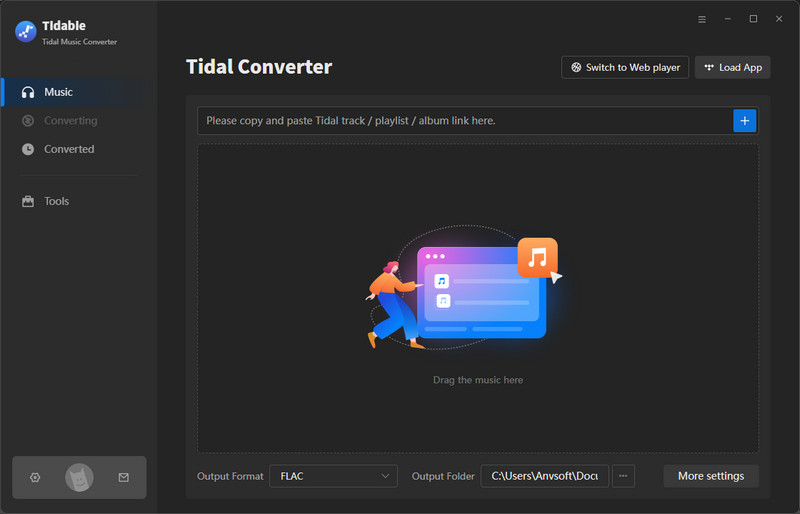 STEP 2 Add Tidal HiFi/Hi-Res Music to Tidabie
When you use the TIDAL app, browse your wanted music on its library, then drag and drop your wanted HiFi or HiRes music right into Tidabie. You can also open a song, playlist, or an album, click on the three dots, and select "Share > Copy link". Next, paste the link to Tidabie and hit on Enter.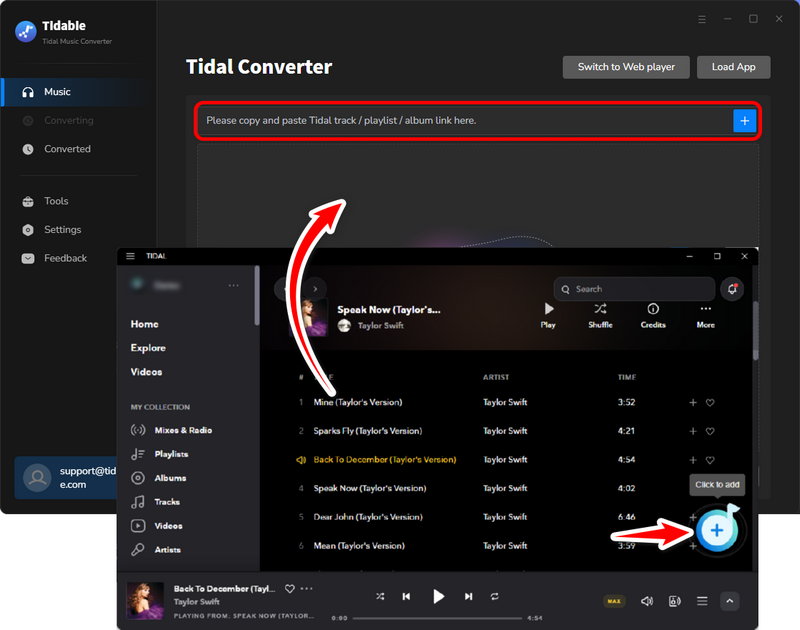 If you use the Tidal web player, after logging in, open your target playlist or album, and click on the blue "+" icon in the bottom right.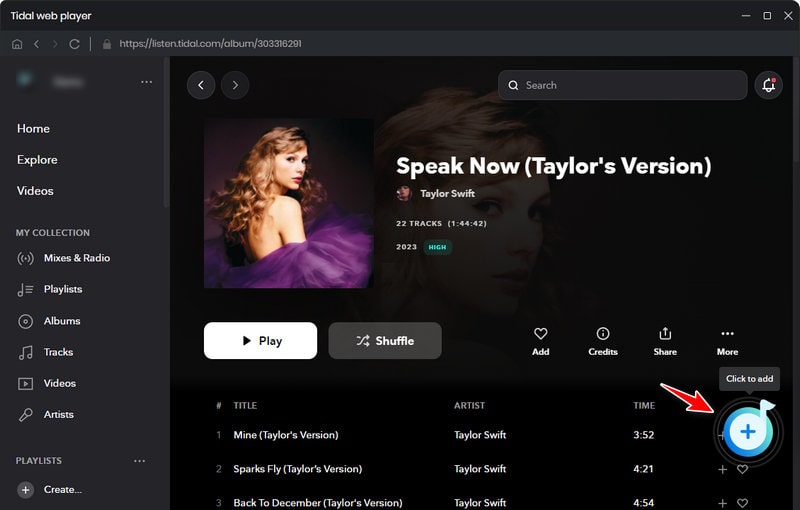 Whichever you use, Tidabie will the parse the songs and load them on a pop-up window. You can check your wanted items and add them to the task list by the "Add" button.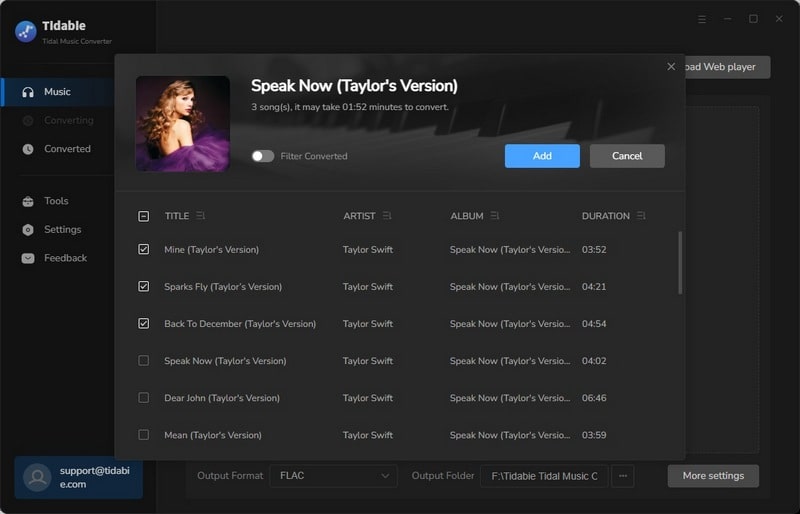 STEP 3 Modify Output Parameters for Tidal Music
If you want to get customized Tidal music files, this step is the one you can't miss. Go to the lower left corner of Tidabie and select "Settings". You will see lots of settings options there. Pick an output format, output quality, and output folder for Tidal music, name the output files, and sort them into folders. If you want to download HiFi or HiRes music, select 'Tidal Record' or 'Web Download' conversion mode, and 'Auto' or 'FLAC' output format. Check the box if you want to save Tidal lyrics.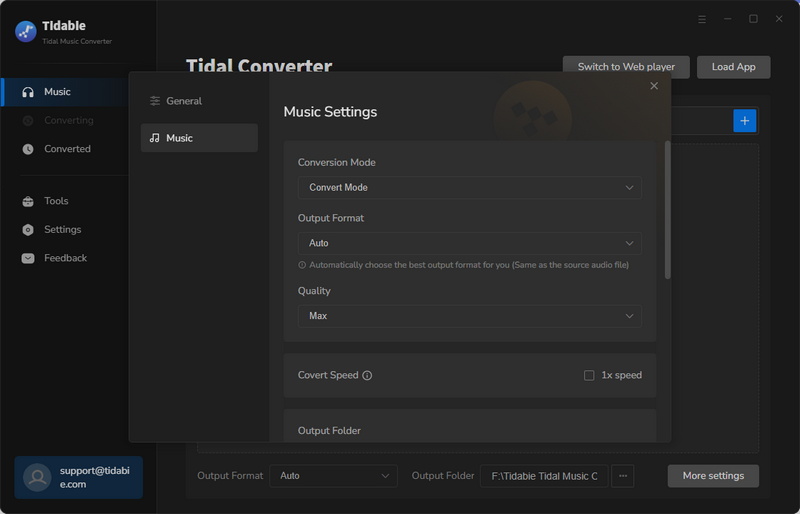 STEP 4 Download Tidal HiFi/HiRes Music to Local Folder
With all the preparation done, click on "Convert" under the Home tab to start downloading Tidal music to your local computer. Once complete, the output folder will pop up automatically, and you will see the downloaded Tidal music. Finally, you can offline play Tidal music anytime you want, and even transfer the files to other device like USB drive.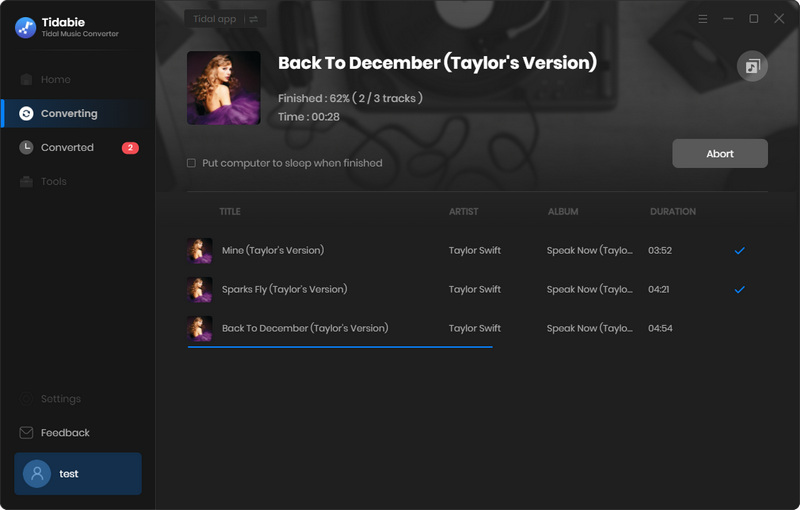 ---
But if you have become a Deezer subscriber, you can co-work with TunePat Music One to download the Deezer Music to offline listening. The best part of this tool is the widely supported feature to multiple music platforms, covering Spotify, Apple Music, Amazon Music, Tidal, Line, Deezer, YouTube, Pandora and etc.
STEP 1 Run TunePat and Choose the Deezer Entrance
After running TunePat Music One, you will see music platform options in the main interface. Choose Deezer and the Deezer web player will occur. Follow the tips to log into your Deezer premium account.
STEP 2 Add Deezer Music to TunePat
Browse Deezer library and open your target music. Click on the blue "+" icon floating in the bottom right. This will let TunePat parse Deezer music and display them on a smaller window. Next, pick your wanted items and confirm with the "Add" button.
STEP 3 Customize Output Settings for Deezer Music
Go to the "Settings" module in the left bar and change the output settings as you like. If you want to download Deezer HiFi music, select 'Web Download' conversion mode and 'FLAC' output format. When you want to save Deezer lyrics, do not forget to check the box.
STEP 4 Download Deezer HiFi Music to Computer
Go to the Home tab and click on "Convert" to start converting Deezer's music. Once complete, you can find Deezer music files on your designated output folder. And then you can enjoy Deezer music offline anytime you want.
---
Summary
There are more features awaiting to explore when you deep into one streaming service. Here we list you a set of considerations when you want to try on Tidal and Deezer. Price could be your top consideration when choosing for the service. However, the increase in sound quality was more than offset by higher pay costs. These 2 streaming platforms bring music listeners excellent music experience. And you can try some music converters like Tidabie Tidal Music Converter or TunePat Music One to download the music offline, keeping sound quality as original. And all the downloaded music can be permanently playable even you cancel the subscription in one day.
Related posts