How to Download Tidal Dolby Atmos for Immersive Listening
---
Tidal, a popular music streaming platform, offers a unique feature called Tidal Dolby Atmos. What is Dolby Atmos? Dolby Atmos is an advanced audio technology that provides an immersive and three-dimensional audio experience. It allows for sound to be precisely placed in a 3D space around the listener, creating a more realistic soundstage. Tidal has integrated Dolby Atmos support into its streaming platform, offering a growing library of songs and albums that have been mixed and mastered in Dolby Atmos, allowing users to experience a more immersive and lifelike listening experience. In this article, we will walk you through playing Tidal music in Dolby Atmos and downloading Tidal music for offline playback on devices so you can enjoy an exceptional audio experience.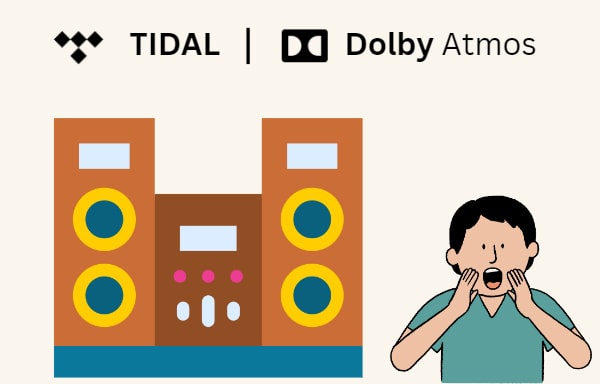 ---
Dolby Atmos plays an important role in enhancing the audio experience of TIDAL music. It not only enables immersive and three-dimensional sound but also allows listeners to hear music more spatially and realistically. Of course, the integration with Dolby Atmos brings much more benefits to Tidal Music. Let's look at the details.
💡 Immersive Audio Experience: Dolby Atmos provides a more immersive and three-dimensional audio experience. It creates a sense of depth and space and adds it to the traditional stereo or surround sound. When you listen to Tidal music with Dolby Atmos, you can hear the music as if you were in a live concert or a recording studio. The sound feels more spacious, detailed, and enveloping, enhancing the overall enjoyment and immersion of the music.
💡 Enhanced Clarity and Detail: Dolby Atmos improves the clarity and detail of the audio by allowing sound to be precisely placed and moved in a three-dimensional space. This creates a more realistic and accurate representation of the original recording and brings the listener closer to the artist's intention and the music itself.
💡 Greater Spatial Awareness: With Dolby Atmos, artists and producers have more control over where sounds are placed in the audio mix. This allows for creative spatial sound placement, making the music feel more dynamic and engaging. You can hear sounds coming from above, below, and all around you. This enhances the sense of space and directionality, making the listening experience more lifelike and engaging.
Overall, the integration of Tidal with Dolby Atmos offers a superior audio experience, enhancing the way you listen to music and bringing your favorite tracks to life in a whole new way. Meanwhile, Tidal is actively expanding its library of music available in Dolby Atmos format. This means you have access to a growing collection of tracks that are specifically mixed and optimized for Dolby Atmos.
---
Now that Tidal Dolby Atmos means a lot to Tidal music, how to find songs mixed with Dolby Atmos and listen to them on Tidal? Dolby Atmos is included as one of the benefits of Tidal HiFi Plus subscribers. Therefore, you have to pay and become a subscriber first. Different tiers cost you different amounts. If you have a special qualification like a college student, you can obtain discounts from Tidal.
STEP 1 Open the TIDAL app on your smartphone, tablet, or smart TV.
STEP 2 Enter your credentials to log in to your Tidal HiFi Plus account.
STEP 3 Navigate to the Explore tab within the TIDAL app.
STEP 4 Scroll down until you find the Dolby Atmos Music.
STEP 5 Tap on it and select a Dolby Atmos song to play, you will then get an immersive audio enjoyment.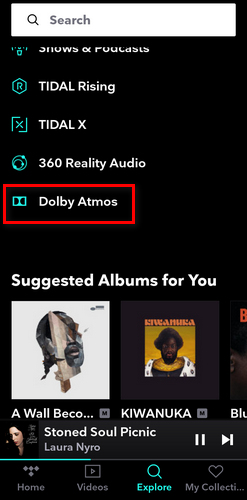 ❓ FAQ 1: How Do I Know If a Song is in Dolby Atmos?
✅ A: To recognize if a Tidal song has Dolby Atmos, play it on your smartphone. Then look at the Playing From panel, the Dolby Atmos badge will occur if it has. Additionally, songs or albums in Dolby Atmos are also shown with the double-D symbol logo.
❓ FAQ 2: Which Devices Support Tidal Dolby Atmos?
✅ A: Tidal's integration with Dolby Atmos allows you to enjoy this advanced audio technology on a wide range of devices, including smartphones, tablets, smart TVs, smart speakers, soundbars, and home theater systems, etc., as long as the device supports Dolby Atmos. You can experience the benefits of Dolby Atmos both on the go and at home.
---
Dolby Atmos creates an immersive sound experience, adding depth, dimension, and clarity to your favorite tracks. As we mentioned above, only Tidal HiFi Plus users can enjoy this immersive sound effect. That will cost a lot if you want to enjoy Tidal Dolby Atmos and hi-res music. Be at ease. This trouble can be resolved now.
Tidabie Tidal Music Converter comes for every Tidal user, including Tidal HiFi Plus members, to download music and podcasts onto local storage with up to hi-res quality and convert Tidal tunes to common audio for offline playback. Unlike the playback on Tidal application or web player, which requires a paying membership, the offline playback brought by Tidabie needs nothing but an audio player, either a Tidal membership or an internet connection is not necessary. In this way, you can enjoy lossless and hi-res Tidal music offline whenever you want.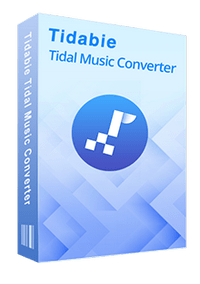 Tidabie Tidal Music Converter
Download Tidal songs/albums/playlists/podcasts locally.

Convert Tidal tracks to MP3/AAC/WAV/FLAC/AIFF/ALAC.

Preserve Tidal Hi-Res/CD audio quality and full ID3 tags.

Run at 10x speed & batch download Tidal playlists.

Sort Tidal music files by playlist, album, artist, etc.

Offer tools of Format Converter, Tag Edit, etc. & save lyrics.

Enjoy Tidal music offline on devices and programs.
STEP 1 Open Tidabie Tidal Music Converter
First things first. Download and install the Tidabie program on your Windows PC or Mac. Open it and select an audio source. The app mode gets audio from the Tidal app and saves up to hi-res quality, while the web player mode extracts music from the Tidal web player and retains up to hi-fi audio at 10x fast speed. Remember to log in to your Tidal account.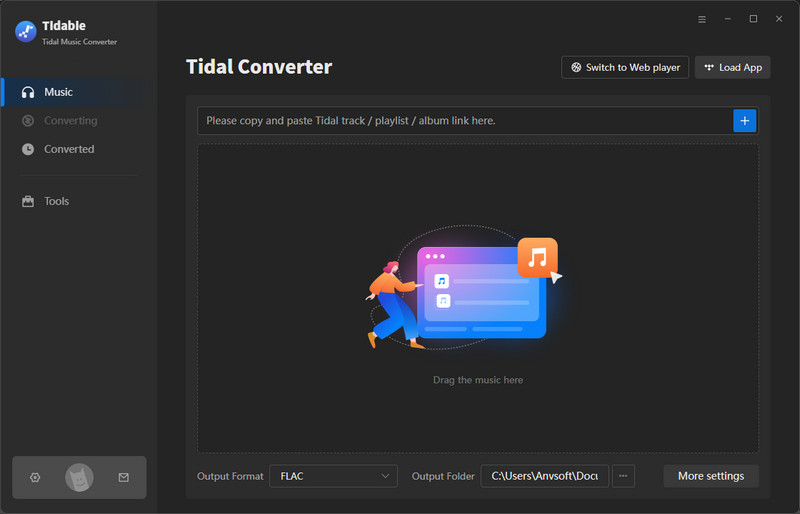 STEP 2 Choose Tidal Music to Download
Find your target Dolby Atmos music from Tidal library. If you are using the app mode, click on the three dots, select Share > Copy track link, and paste it to Tidabie; you can also drag and drop Tidal music. When the web player mode is applied, open your target Tidal playlist or album, and hit on the blue "Click to add" button. Pick your Tidal tunes on the popup and confirm by clicking on "Add".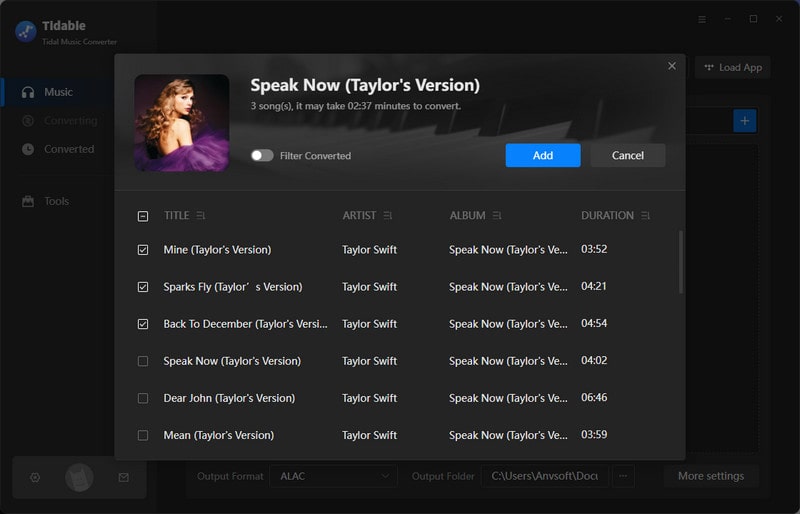 STEP 3 Alter Output Settings for Tidal Music
Move to the "Settings" module from the lower left corner. This panel allows you to customize output settings based on your needs. You can change the output format, path, and quality, name the output files, and archive Tidal files into different folders.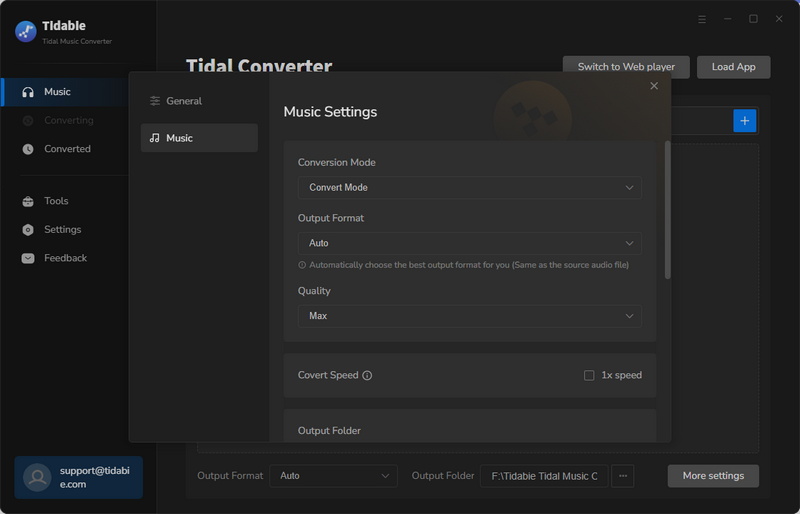 STEP 4 Click to Download Tidal Music
Next, on the Home tab, click on the "Convert" button to download Tidal music. If you have multiple playlists to download, hit on "Add More" and add other Tidal tunes to Tidabie before the conversion.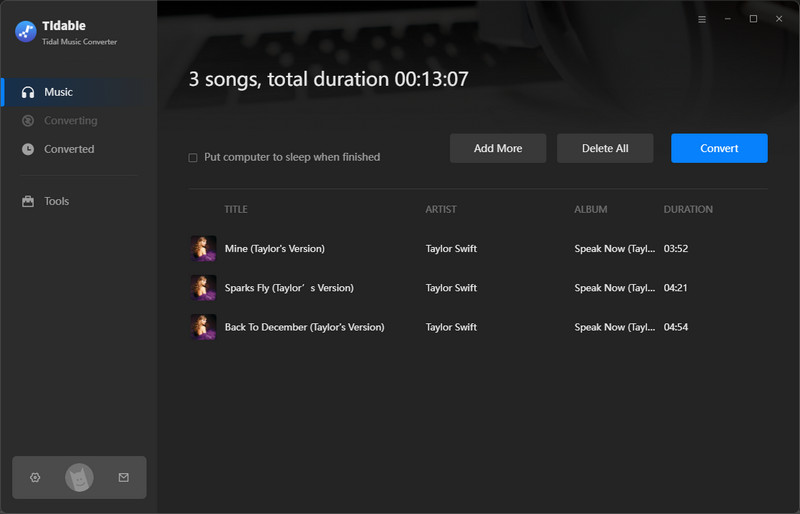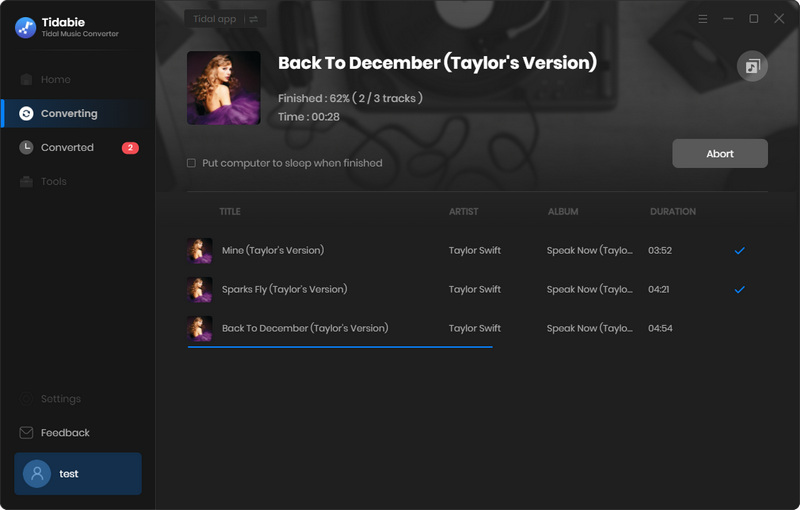 STEP 5 Enjoy Tidal Music Offline Playback
Wait for the conversion to be complete. When it is done, go to the "Converted" tab to view your download history and hit on the file icon to open the output folder. Since then, Tidal music has been saved forever on your local computer and you can enjoy unlimited offline playback anytime you want.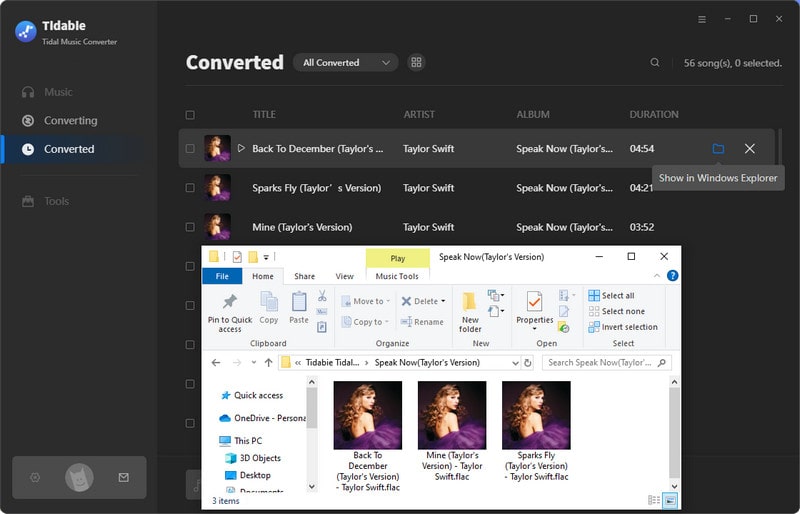 ---
Summary
Dolby Atmos is an advanced technology that brings an immersive 3D listening experience. With the integration of this unique technology, Tidal music sounds more realistic and spatial, as if the listeners are surrounded by musical sounds and are closer to the artists. While enjoying Tidal Dolby Atmos requires a Tidal HiFi Plus subscription, the Tidabie Tidal Music Converter provides convenient access to Tidal music without payment or subscription. Simply click on the download button and download hi-res Tidal music for unlimited offline playback right now.