How to See & Download Lyrics on Tidal
---
If you're looking to delve into the poetic world of your favorite songs and uncover the true meaning behind the melodies on Tidal, the popular music streaming platform, you're in luck! Tidal lets you access lyrics that accompany each track, providing you with an immersive and comprehensive music experience. Meanwhile, with the development of technology, you can even download Tidal lyrics to computers. Follow this guide, and you will be able to easily see Tidal lyrics for any song on Android/iOS mobile phone and Windows/Mac desktop computer and then enjoy singing along or analyzing the lyrical content.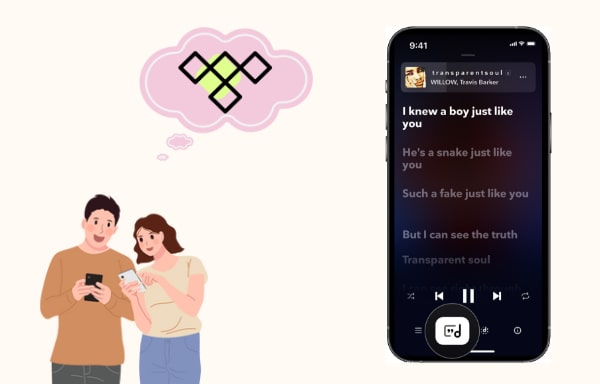 ---
If you're an avid music lover who enjoys singing along to your favorite tunes, you might be interested in learning how to see lyrics on the Tidal mobile app. Luckily, Tidal makes it easy for you to access lyrics on Android and iOS mobile phone while listening to your favorite songs. Here's a step-by-step section to help you get started.
STEP 1 Open the TIDAL app on your mobile phone and log in to your Tidal account.
STEP 2 Browse through the vast Tidal music catalog and play a song you'd like to listen to.
STEP 3 Tap on the album cover on the bottom Now Playing bar or swipe up the small arrow.
STEP 4 On the new screen, tap on the "Lyrics" tab from the bottom.
STEP 5 You will see the lyrics for the now playing Tidal song.
STEP 6 Scroll through the lyrics, and you can view all the lyrics and catch up with any missed lines.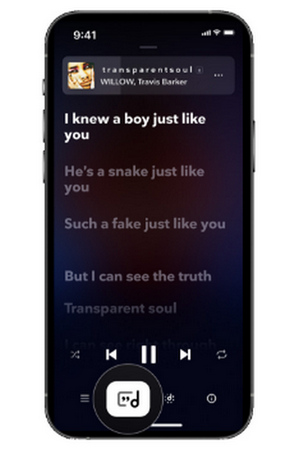 ---
Having known about how to view Tidal lyrics on the mobile app, you may have wondered how to see the Tidal lyrics on desktop. Fortunately, Tidal also allows you to access lyrics on computers. Let's look at the steps. This method is also feasible for the Tidal web player.
STEP 1 Open the Tidal app on your desktop or laptop and log into your Tidal account.
STEP 2 Play the song you want to see the lyrics on Tidal.
STEP 3 Move downward to the cover art within the Now Playing bar and click on the upward arrow.
STEP 4 Click on the "Lyrics" tab from the upper and you will then see the lyrics of the current song.
STEP 5 The lyrics is synced in real time. Now sing aloud your favorite Tidal songs!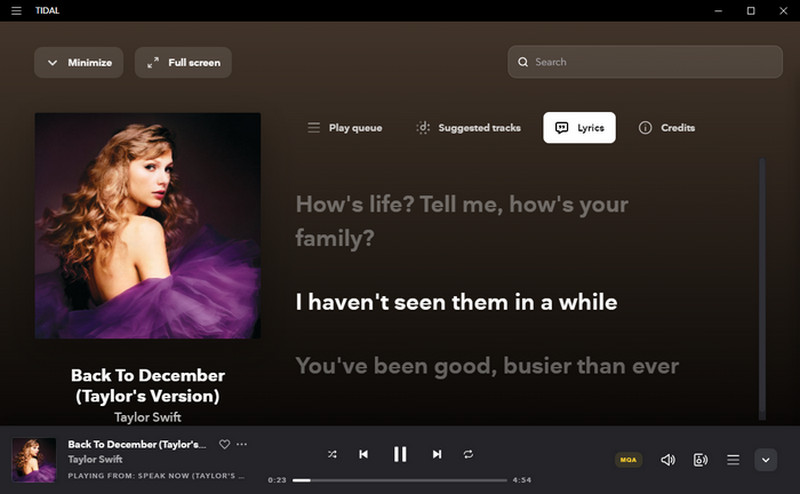 ---
Downloading lyrics from Tidal to your computer is a great way to have a complete listening experience. Whether you want to analyze the lyrics, sing along, or simply appreciate the artistry of the song, having the lyrics handy can enhance your music enjoyment. While Tidal does not provide an official option to download lyrics, there is a workaround that will allow you to achieve this.
Tidabie Tidal Music Converter works as a Tidal music downloader and converter, as well as a Tidal lyrics downloader. While downloading any Tidal songs, playlists, albums, and podcasts to local computers and converting Tidal music to plain MP3, FLAC, and other formats, Tidabie is strongly capable of downloading lyrics from Tidal to .lrc or .txt files. Additionally, Tidabie can losslessly retain Tidal CD and Hi-Res quality and ID3 tags. With this powerful Tidabie program, you can listen to Tidal music offline on any device, and even sing with the original lyrics. Here's a step-by-step guide on how to download lyrics from Tidal to your computer.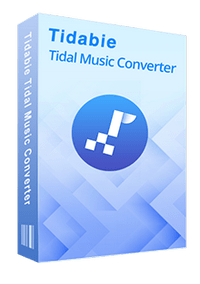 Tidabie Tidal Music Converter
Download Tidal songs/albums/playlists/podcasts locally.

Convert Tidal tracks to MP3/AAC/WAV/FLAC/AIFF/ALAC.

Preserve Tidal Hi-Res/CD audio quality and full ID3 tags.

Run at 10x speed & batch download Tidal playlists.

Sort Tidal music files by playlist, album, artist, etc.

Offer tools of Format Converter, Tag Edit, etc. & save lyrics.

Enjoy Tidal music offline on devices and programs.
STEP 1 Choose an Audio Source and Log In
First of all, please download and install the Tidabie program on your computer for free. Run it and choose an audio source from the main interface. The app source downloads Tidal music from the TIDAL app and retains Tidal HiFi and HiRes music, while the web player source downloads Tidal HiFi music from the Tidal web player. Pick the source you like, and whichever you choose, you can download and save Tidal lyrics. Do not forget to log in to your Tidal account.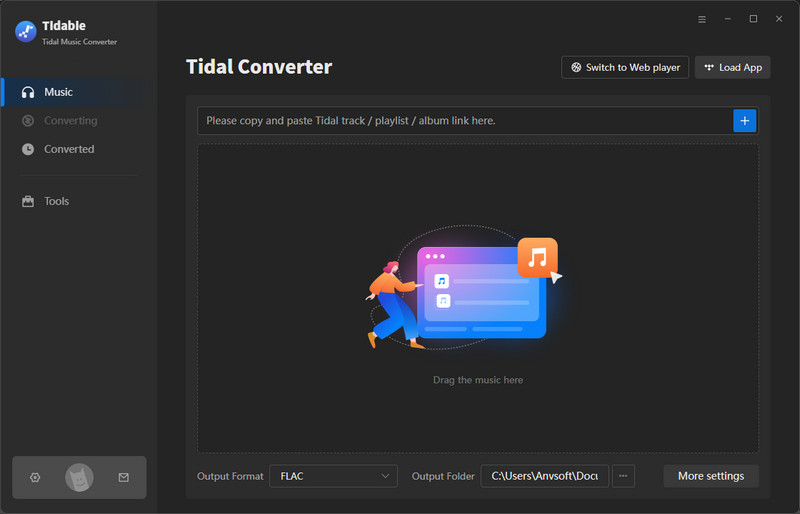 STEP 2 Add Tidal Music to Download
After logging in to Tidal, browse or search your target Tidal songs, playlists, and albums with your wanted Tidal lyrics. If you use the TIDAL app, you can directly drag and drop Tidal music right into Tidabie for parsing.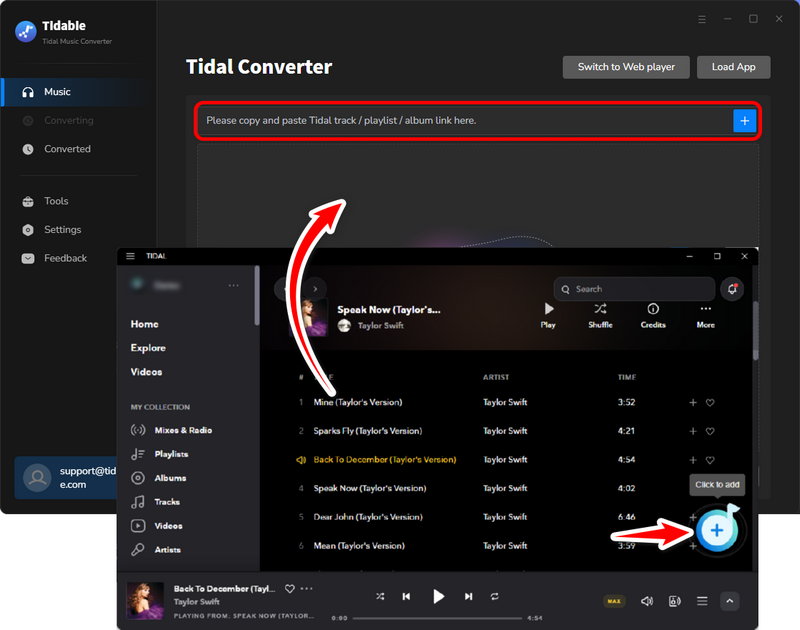 When you use the web player, open the playlist/album, and hit on the blue "Click to add" button in the lower right.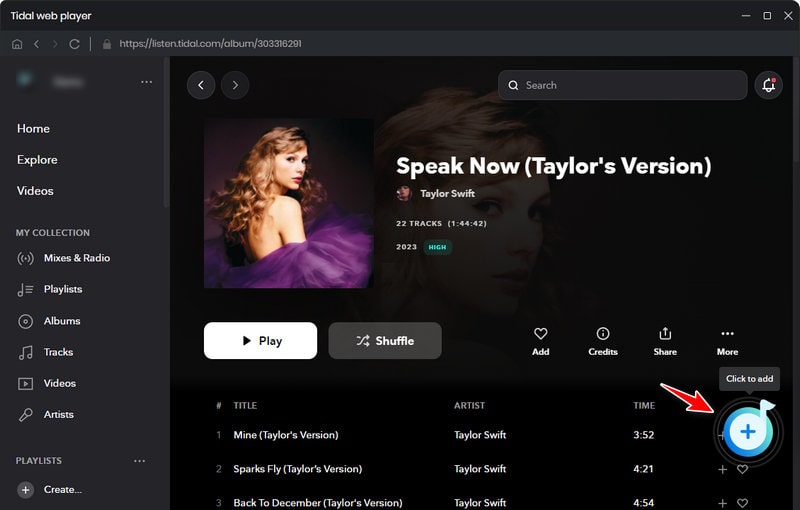 After that, Tidal music will be displayed on a smaller window. All the songs are checked by default. You are allowed to freely deselect your unwanted songs. Then click on the "Add" button to confirm your selection.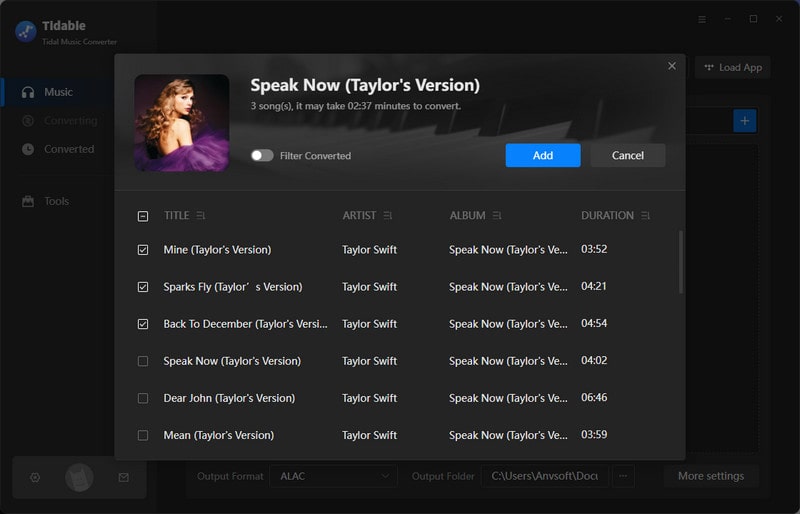 STEP 3 Adjust Settings to Save Tidal Lyrics
To download Tidal lyrics, you need to make some settings. Go to the "Settings" tab from the lower left, where you can select an output format, bit rate, sample rate, and output path, name output Tidal files, and even sort the files into folders via playlist, album, artist, etc. It is out of importance that check the box "Save lyrics (if provided)".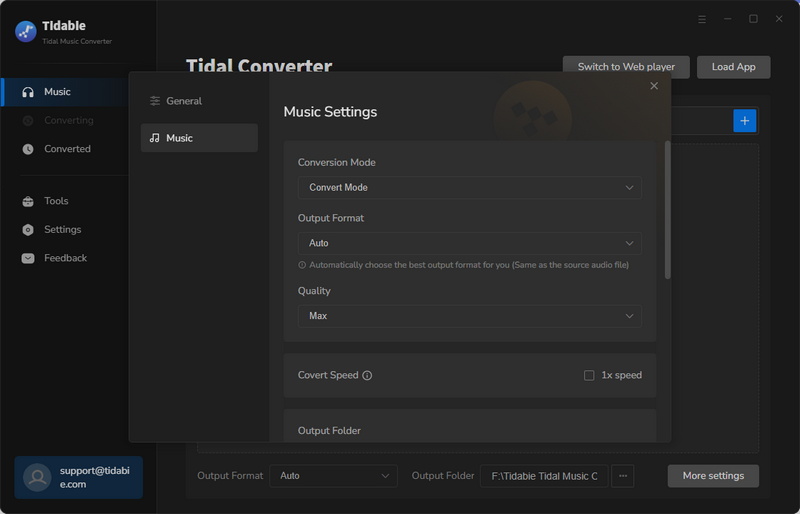 STEP 4 Start to Download Tidal Lyrics
After adding Tidal music and making output settings, head to the Home tab, and click on the "Convert" button to start downloading Tidal music. During this progress, Tidal lyrics are also downloaded.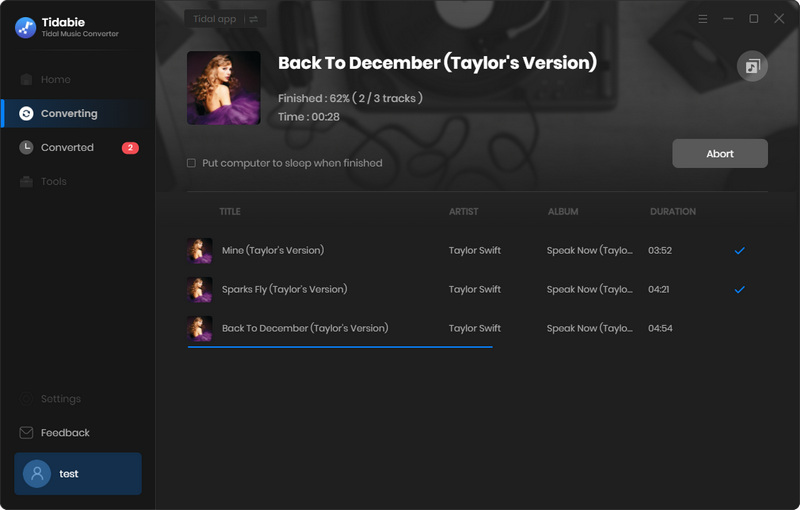 STEP 5 View Tidal Lyrics on Local Folder
The download is complete soon after. The output folder will open automatically, where you can check the downloaded Tidal music. You will see that the downloaded Tidal songs are in the preset audio format. Additionally, you can see some .lrc or .txt files, which are Tidal lyrics. Click to open the file and you will see Tidal lyrics are saved with a timeline (no timeline in .txt file). Until now, you can play Tidal music offline and sing its lyrics aloud at any time anywhere.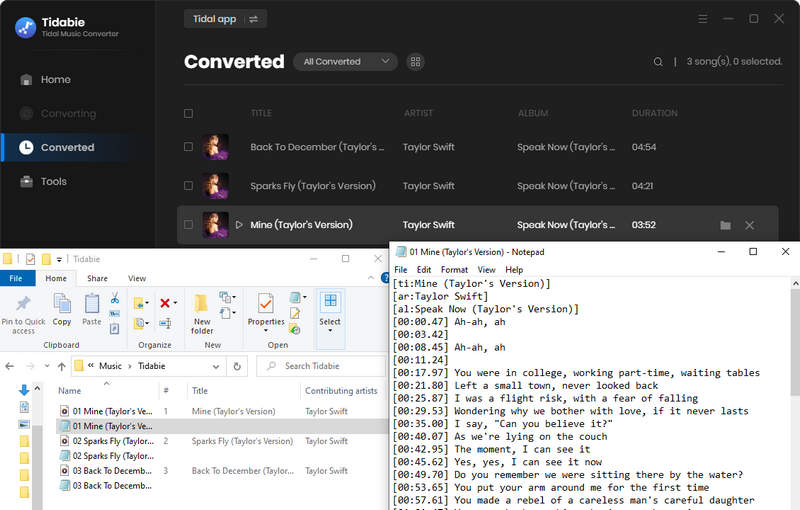 ---
Summary
In summary, Tidal offers you an effortless way to see song lyrics, enhancing your music listening experience. By following these simple steps, you can easily access lyrics for any song available on the platform and enjoy singing along or analyzing the lyrical content. Whether you are a passionate music enthusiast or simply want to comprehend the song's meaning, Tidal's lyrics feature has got you covered.
Furthermore, by reading this article, you get a wonderful method of downloading Tidal music as well as Tidal lyrics to local computers. Though you cannot do that directly with Tidal, you can make it easy with Tidabie Tidal Music Converter. With Tidabie, you can immerse yourself in the world of music by not only listening to Tidal music offline but also visually experiencing the lyrics without the internet. So, go ahead and try Tidabie for free now.