Use Tidal Music with Denon DJ Offline/Online
---
Tidal Music has developed very rapidly over the years, focusing on HiFi and Master sound quality, and constantly attracting batch after batch of users. The development of streaming media like Tidal Music makes the future of DJs bright. With the addition of Tidal, Denon DJ has a library of millions of songs, giving professional DJs more choices.
But we know that Tidal Music, like all streaming music services, still has many rules and restrictions on the use of songs. In this article, we will solve this problem and show you how to play Tidal music through Denon DJ. This tutorial is divided into two parts, one part describes how to play Tidal music with Denon DJ offline, and the other part tells how to play Tidal music with Denon DJ online.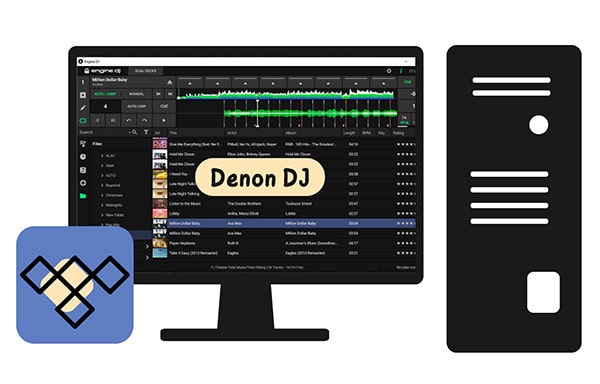 Solution 1. Play Tidal Music with Denon DJ Offline
Can I add local Tidal songs to Denon DJ and use them for offline playback? Become a Tidal HiFi or HiFi Plus user, then you can offline download Tidal songs. However, the cached Tidal files are hindered from transferring since it's encrypted. When seeking a solution to get rid of the restrictions, a professional Tidal Music Downloader is the only way out.
Tidabie Tidal Music Converter helps meet people's need for making full use of Tidal music after converting them into plain formats. Not only Tidal HiFi and Tidal HiFi Plus users, but also Tidal Free users can download songs locally with its help. It converts multiple Tidal playlists at a fleet speed and sorts the downloaded files by Playlist, album, artist, etc.
Through the help of Tidabie Tidal Music Converter, the Tidal songs can be turned into Denon DJ-supported files without encryption. Then you can freely add them to any program including Denon DJ for offline use. Let's orient you with that process.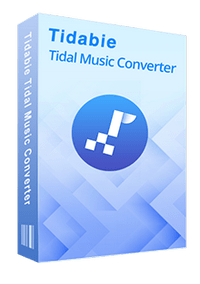 Tidabie Tidal Music Converter
Download music with all types of Tidal plans, including Tidal Free.

Downloaded Tidal songs, albums, and playlists are well-compatible with kinds of devices and players.

Convert Tidal tracks to MP3, AAC, WAV, FLAC, AIFF, and ALAC formats.

Batch download multiple Tidal Music playlists.

Download songs with HiFi audio quality and ID3 tags.

No need to install Tidal Music app.

Free updates & technical support.
Step 1: Start Tidabie Tidal Music Converter on Win or Mac
In order to simplify the downloading process, Tidabie has a built-in Tidal Music web player. You can download songs directly without additional downloading of the Tidal app.
There are two versions for your selection, the Windows version, and the Mac version. Get the right one installed. Open Tidabie Tidal Music Converter on your computer. On the main interface, head to the "Open Tidal Web Player" button and click on it.
Once you see the built-in Tidal Music web player, you are required to log in. All Tidal plans are feasible to download songs, but the audio quality varies since Tidabie downloads songs from Tidal with the original quality preserved.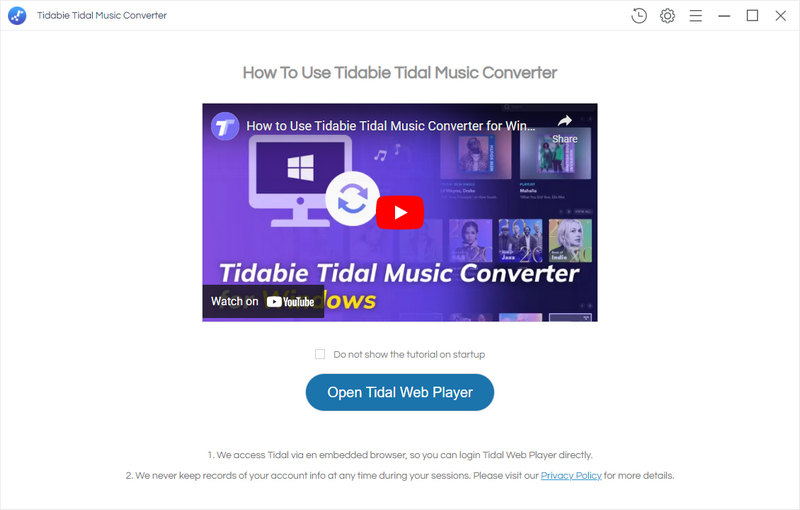 Step 2: Choose the Proper Output Settings for Denon DJ
In the top-right corner of the menu bar, click the "Settings" button to check the available download options.
You should get knowledge of what audio formats Denon DJ supports, then set up the proper output format of Tidal music. Tidabie can export songs in MP3, AAC, WAV, FLAC, AIFF, and ALAC formats, which are compatible with Denon DJ.
Denon DJ-Supported Formats: MP3 32 kbit/s - 320 kbit/s + VBR / M4A / AAC / MP4 / OGG Vorbis / WAV 16-32 bit, 44.1k - 192k / AIFF 16-32 bit, 44.1k - 192k / FLAC / ALAC.
⚙️ Output Format: AUTO, MP3, AAC, WAV, FLAC, AIFF, ALAC
⚙️ Bit Rate: 320kbps, 256kbps, 192kbps, 128kbps
⚙️ Sample Rate: 44.1KHz, 48KHz, 96KHz, 192KHz
⚙️ Output File Name: Track Number, Title, Artist, Album, Playlist Index, Year
⚙️ Output Organized (way): None, Playlist, Artist, Album, Artist/Album, Album/Artist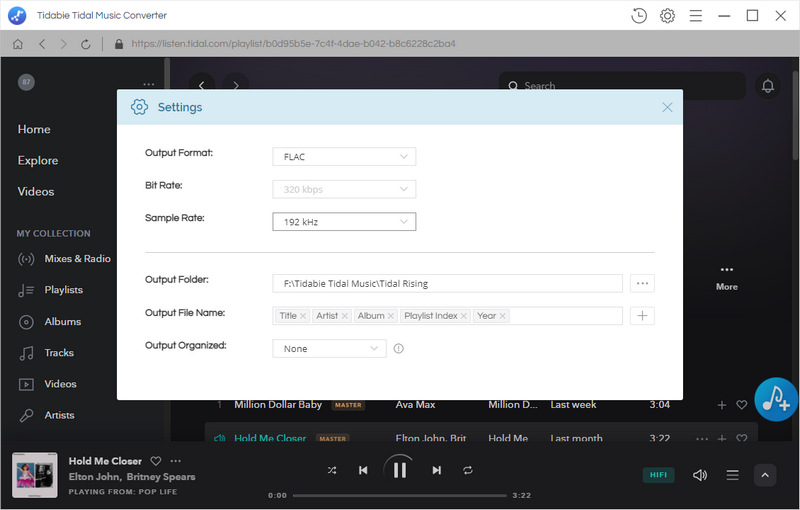 Step 3: Convert Tidal Music to Denon-DJ Supported Files
Locate a song, album, or playlist you'd like to download, then click on it. Then you will find a "Add to list" button situated on the lower right. Click it to load the songs in the playlist. Choose the Tidal songs you want to download and decide if you opt for an instant conversion or batch conversion.
Click the "Convert Now" button to conduct an immediate conversion.
Click the "Save to list" button, and the selected songs will be added to a task list. Then you can add more songs from other playlists for converting them at once.
The converted Tidal songs will be well-organized on your local PC. When the conversion completes, the output folder will pop up automatically. Next, our job is to add them to Denon DJ for offline playback.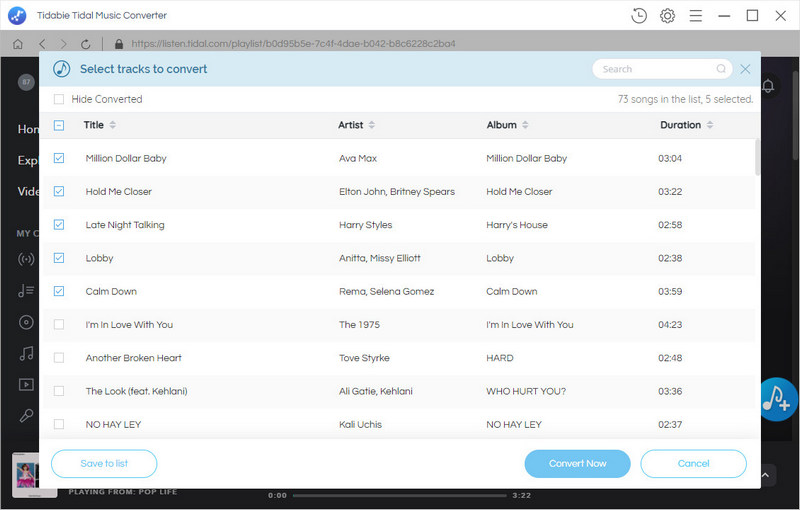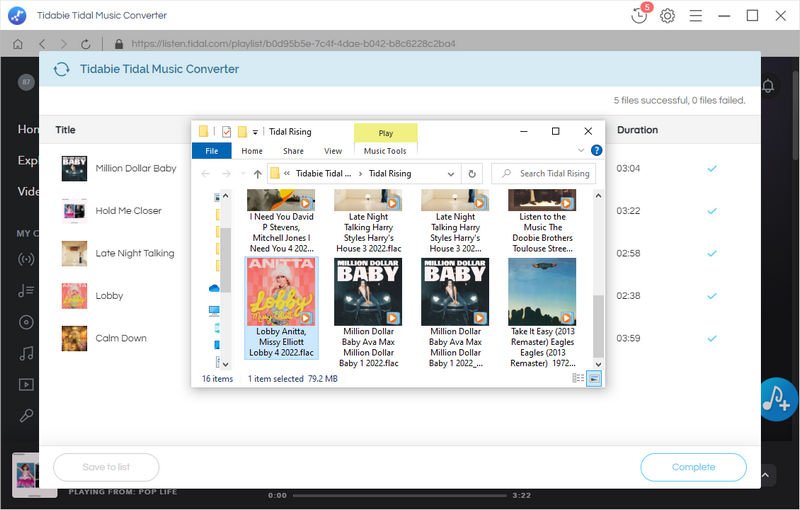 Step 4: Play the Tidal Songs with Denon DJ Offline
Open the program Engine DJ produced by Denon on your computer. Then go to the "file icon"📁 on the left sidebar. Then you can explore the local music files under this "Files" column.
Navigate to the folder where the Tidal songs are stored, then the songs will be automatically loaded by Denon DJ. Simply double-click the song and you can use it on Denon DJ for offline mixing.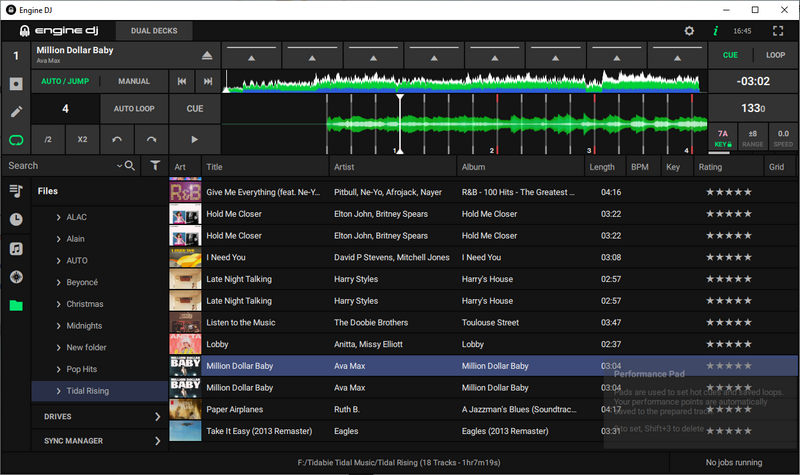 ---
Solution 2. Connect Tidal Music with Denon DJ Online
Tidal has already cooperated with a series of DJ software, such as Serato DJ, Virtual DJ, and Denon DJ. So if you have become a paying subscriber to Tidal, then you can directly access Tidal's million music library on Denon DJ for your creation. But this method relies on a stable network, so there is no guarantee that you can connect to the Tidal music library anytime, anywhere. If you are more inclined to play Tidal songs offline, then the first method in this tutorial is more suitable for you. The following steps show how to stream Tidal Music with Denon DJ online, you may want to have a look too.
Step 1: Update your Denon DJ Prime Series hardware to firmware version 1.4 (or later).
Step 2: Connect the device to a hard-wired or Wi-Fi network with internet access.
Step 3: Once connected, open the library collection view.
Step 4: Next, tap the media device icon in the top left of the library window. (Hint: This is the icon above the crate icon.)
Step 5: Follow the on-screen instructions to activate TIDAL with your Denon DJ device.
Step 6: Once activated, you will have access to all TIDAL content including personal & curated playlists, favorite songs, albums, artists, etc.
---
Conclusion
Playing Tidal music with Denon DJ online would not be a problem since you can connect Tidal Music with Denon DJ directly. However, without Tidabie Tidal Music Converter, there is nothing you can do to offline use Tidal music with Denon DJ or other programs. It's a critical step to get rid of the limitations imposed on Tidal songs anyway. Have a free trial now to make it work.