Download Tidal Music to iPhone to Listen Offline Forever
---
Ample music tracks make Tidal prevail among a large crowd of music fans around the world. And HiFi-quality and master-quality songs have become another reason why trendy music is sought after by users.
Similar to other streaming music platforms, Tidal allows users to stream online or offline based on the plan they choose. A Tidal Free user will not be granted permission to download music offline whilst a paid Tidal user can freely relish the offline playback within the Tidal Music app or web player. Therefore, upgrading to a Tidal HiFi or Tidal HiFi Plus plan can positively get Tidal Music albums and playlists downloaded on iPhone.
However, you may lose the downloaded Tidal songs the instant you unsubscribe to Tidal. Upgrading to a paid plan could only be makeshift. In this article, we lay out a long-term strategy to download music to iPhone for offline listening unlimitedly and perpetually.
We assign a few tasks in this tutorial. And from the task list below you will preknowledge them in advance.
» 🌐 Download Tidal Music files to iPhone and keep them forever even after canceling the Tidal subscription.
» 📲 Offline playback of Tidal music on iPhone even with a Tidal Free account.
» 🎧 Download individual Tidal Music tracks to iPhone.
» 📤 Use the downloaded Tidal songs with programs on iPhone.
» 📚 Other uses of Tidal music on iPhone.
After a quick guide, you can follow us to unveil more details. Here is how to do it.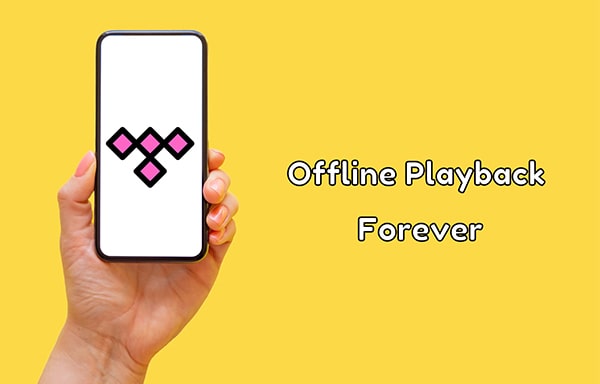 ---
Part 1: Download Tidal Album/Playlists on iPhone Offline
Offline listening is what you will get after placing an order for a Tidal subscription. For Tidal Free users, you should skip to part 2 to offline for downloading songs from Tidal to iPhone.
Tidal authorizes subscribers to download albums and playlists to mobile devices and play them back anytime. Nevertheless, there are some limitations you may be interested in. Tidal songs can not be downloaded to a local computer. Additionally, you can only download entire albums or playlists, not individual tracks.
Related article: Download Tidal Songs to Local Computer ⋙
Since Tidal provides an option to offline download music through mobile apps, let's check how to download Tidal songs to iPhone with a few simple steps.
# Download Tidal Album/Playlists on iPhone Offline
Step 1 Unlock your iPhone, then launch the Tidal Music app on it.
Step 2 Navigate to any album or playlist, and open it.
Step 3 Find the download option, and swipe the Download button to the right to turn it on. All of the songs on this album or playlist will be added to the download queue. With a stable internet connection, it will be downloaded to your iPhone soon.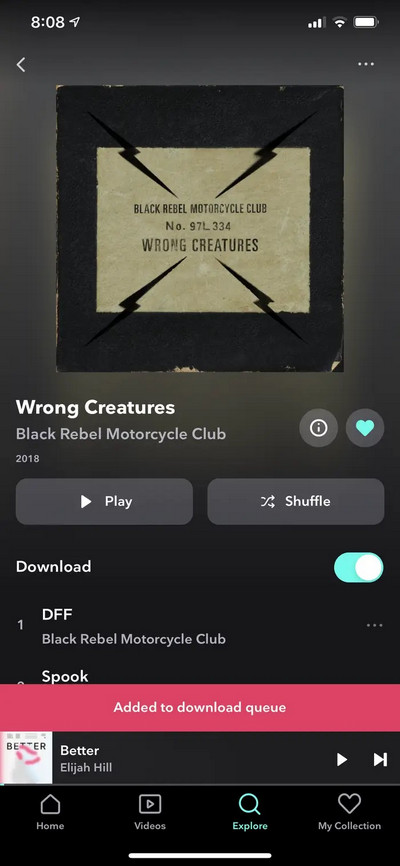 # Listen to the Downloaded Tidal Music Offline without Wi-Fi or Data Service
The downloaded Tidal albums and playlists can be played without WiFi and cellular data during the valid period of your Tidal subscription.
Step 1 Open the Tidal music app on your iPhone.
Step 2 On the primary interface, head to "My Collection > Downloaded".
Step 3 Here the downloaded Tidal albums and playlists are available to play offline.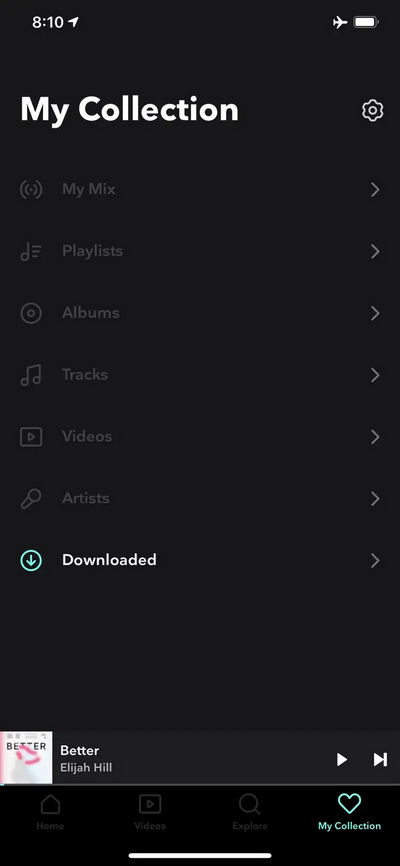 # Listen to the Downloaded Tidal Music without Turning Data off
It's inconvenient to turn data off as our daily life is strongly bonded with our cellphones nowadays. Then we are inclined to listen to Tidal music without turning data off.
Step 1 At the bottom of the Tidal Music main screen, navigate to "My Collection". Then you will find a "gear icon" in the upper-right corner. Click on it to open the setting window.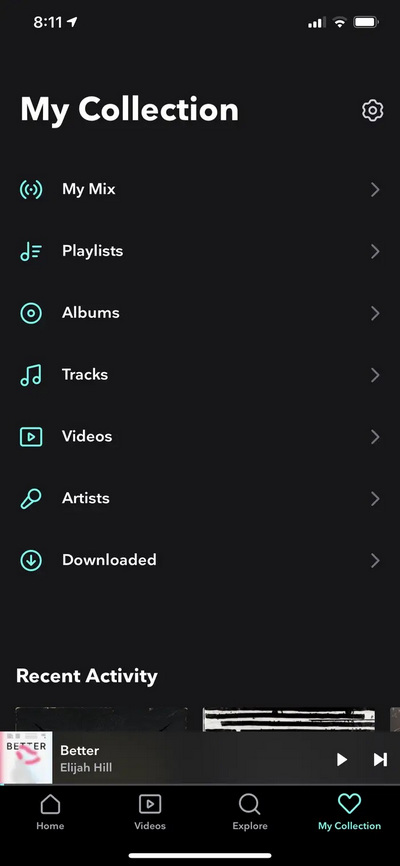 Step 2 Now, switch on the "Offline mode" button to disable data for Tidal music. Now you can play downloaded Tidal songs without interfering with the data usage of other programs on your phone.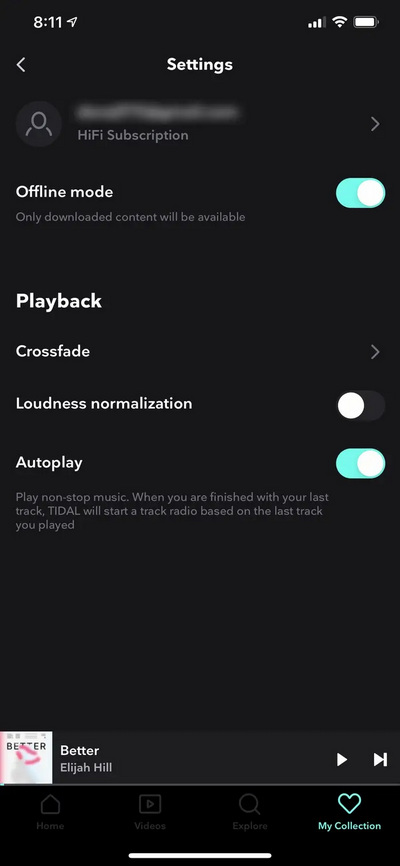 Step 3 When you want to stream on Tidal using data, you can go to "Home" at the bottom of the main screen and tap on "Go online" to enable data using for the Tidal Music app.
---
Part 2: Download Tidal Tracks/Album/Playlists to iPhone to Listen Offline Forever
Want to download Tidal music to your iPhone for offline playback forever? It's an unattainable dream for users who haven't met Tidabie Tidal Music Converter. Tidabie permits every Tidal user to download songs from Tidal Music, irrespective of whether you are a free user or a paid subscriber.
Tidabie is considerably experts in converting Tidal Music tracks to MP3, AAC, WAV, FLAC, AIFF, and ALAC formats with the original quality preserved. Tidal albums, playlists, and individual Tidal tracks are supported to be downloaded through this powerful tool. You will not be hindered from listening to Tidal music offline on your iPhone even without a susbcription.
Two parts will be presented. After downloading Tidal Music to unencrypted files on the local computer, we can freely transfer the downloaded Tidal songs to iPhone or other devices.
⏩ Part 2.1: Download Unencrypted Tidal Songs to Local Computer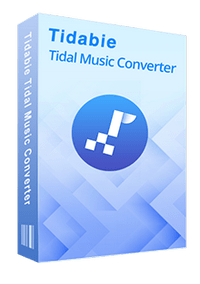 Tidabie Tidal Music Converter
Download Tidal songs/albums/playlists/podcasts locally.

Convert Tidal tracks to MP3/AAC/WAV/FLAC/AIFF/ALAC.

Preserve Tidal Hi-Res/CD audio quality and full ID3 tags.

Run at 10x speed & batch download Tidal playlists.

Sort Tidal music files by playlist, album, artist, etc.

Offer tools of Format Converter, Tag Edit, etc. & save lyrics.

Enjoy Tidal music offline on devices and programs.
Step 1 Run Tidabie Tidal Music Converter
Download and install Tidabie Tidal Music Converter on your Windows PC or Mac. Tap on a download mode on the primary interface. If you have a TIDAL app and want to keep up to Master/Max quality, select the app mode; but if you are not going to install the TIDAL app and just want up to HiFi/High quality, select the web player mode. Then log in to Tidal with Tidal Free, Tidal Hi-Fi, or Tidal HiFi Plus. No complicated operation is necessary since Tidabie chooses to extract Tidal Music tracks, albums, and playlists directly from Tidal Music.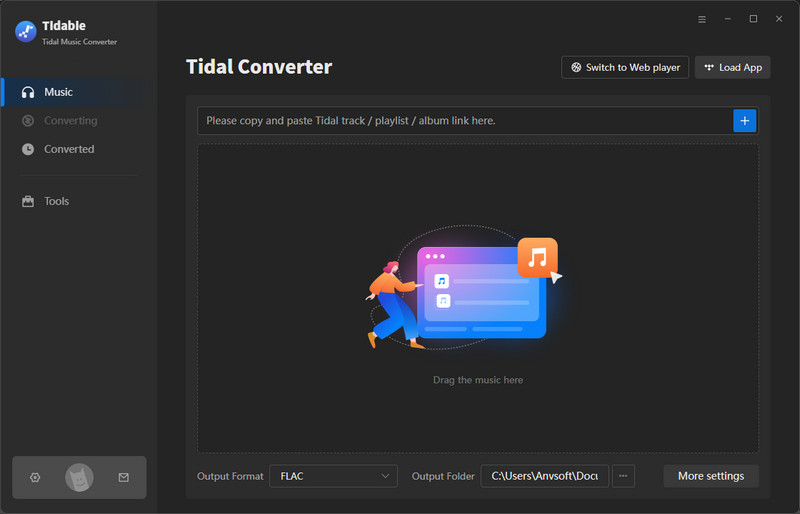 Step 2 Adjust the Output Settings
Before downloading songs, go to "Settings" to set up the output format, bit rate, sample rate, output folder, output file name, and output organized setting.
When you are up for storing all songs in the same order as the playlist, select "Playlist Index" in the Output File Name setting, and set "None" in the Output Organized setting. The changes to the options are contingent on what you need.
‼ NOTE: What music files can your iPhone play? According to Apple's own specs, it can play MP3, AAC, ALAC, WAV, and AIFF audio files. Please select the proper output format unless the downloaded Tidal songs can not be played on your iPhone normally.
Conversion Mode: Intelligent Mode, Tidal Record/Web Download, YouTube Download
Output Format: Auto, MP3, AAC, WAV, FLAC, AIFF, ALAC
Bit Rate: 320kbps, 256kbps, 192kbps, 128kbps
Sample Rate: 44.1KHz, 48KHz, 96KHz, 192KHz
Output File Name: Track Number, Title, Artist, Album, Playlist Index, Year
Output Organized (way): None, Playlist, Artist, Album, Artist/Album, Album/Artist, Playlist/Artist, Playlist/Album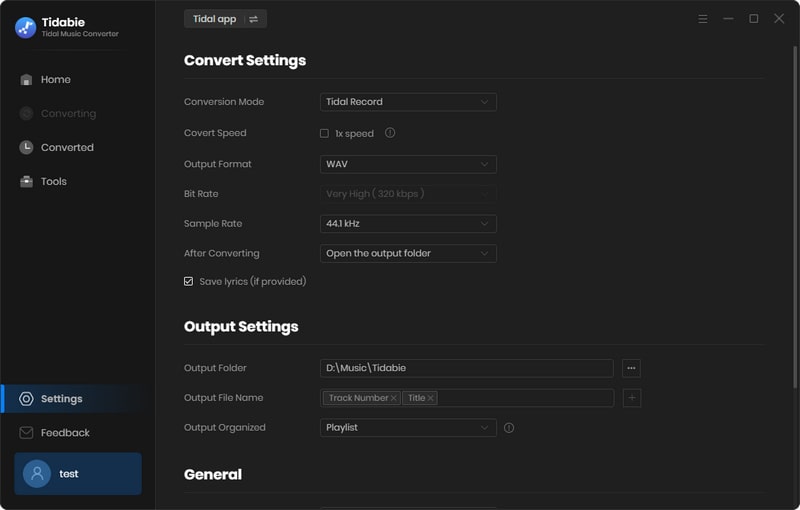 Step 3 Add Tidal Music to Convert
Tidabie can be deemed as an auxiliary downloading tool when streaming on Tidal Music. Under the web player mode, when opening a wanted album or playlist on the Tidal web player, simply click the "Click to add" button in the lower right to get a pop-up window.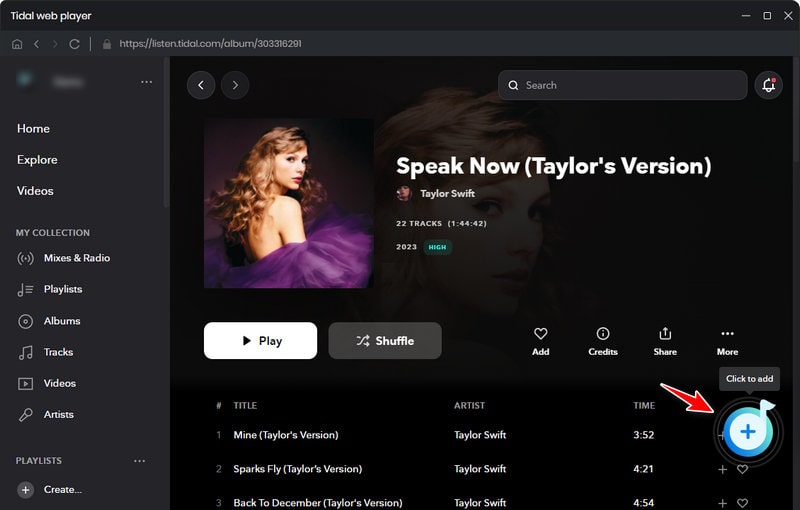 If you use the app mode, you can drag and drop Tidal music to Tidabie, or click on the three dots and select to copy the link, then paste it to Tidabie for parsing.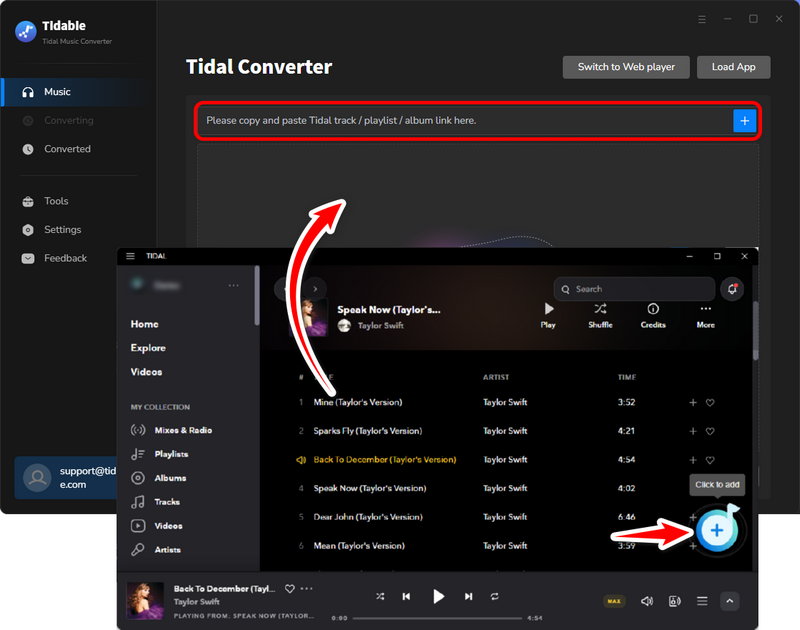 After the songs are read and listed on a window, you can pick your target songs and hit on "Add" to confirm your selection.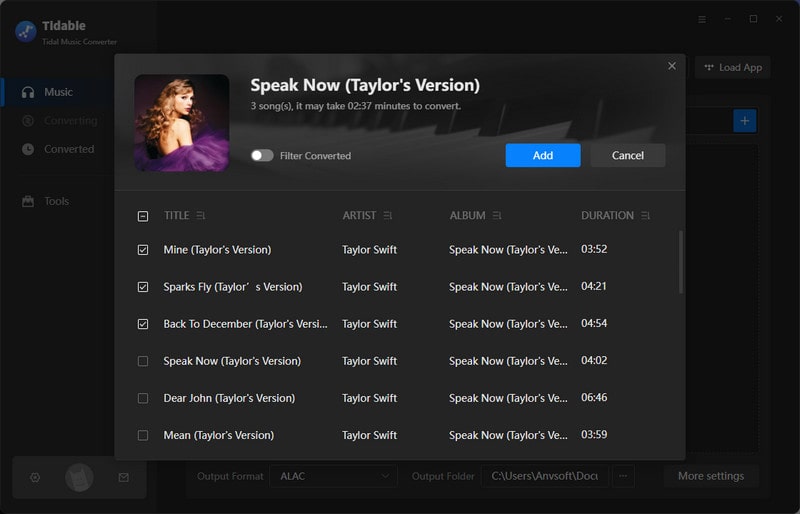 Step 4 Converting Tidal Music to Unencrypted iPhone-Supported Files
To perform an immediate conversion, click on "Convert". When choosing to select more songs from other music playlists or albums for batch conversion, click on "Add More", and you are allowed to add more Tidal songs.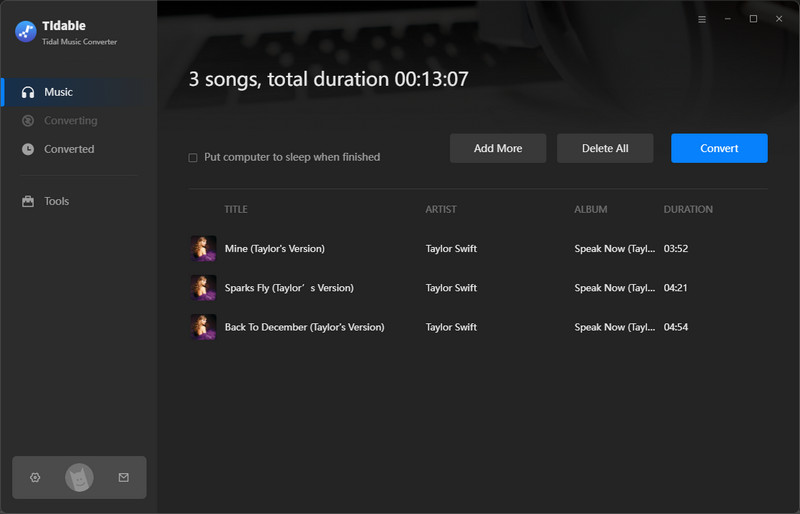 Step 5 Check the Downloaded Tidal Songs
As the conversion is conducted successfully at a faster speed, the Tidal songs will be turned into ordinary local files with the full ID3 tags and original quality kept soon after. You are not confined to Tidal rules anymore. Then downloaded Tidal songs can be transferred to your iPhone or other devices without restrictions right now.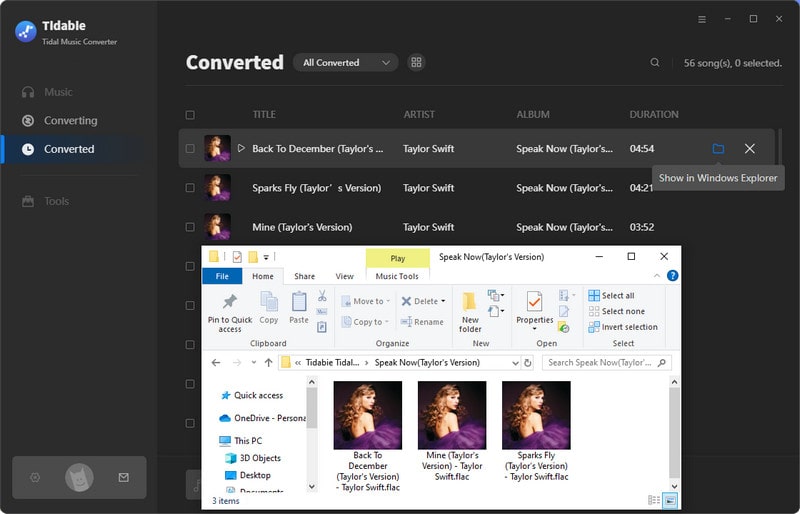 ⏩ Part 2.2: Transfer Tidal Song to iPhone to Listen Offline Forever
Before having your pastime, we need to import these downloaded Tidal files to your iPhone. Two practical methods as shown below to reach the goal. Let's move forward.
# Transfer Tidal Song to iPhone via iTunes
iTunes is widely used by Apple users. It will be the first choice when uploading data to an iOS device as it is pre-installed on PC by most people. Let's put forward on it.
Tips: To avoid accidentally overwriting all existing playlists on your iPhone, you'd better skip to the next solution ➺ Transfer Tidal Song to iPhone via Syncios Free.
Step 1 Get the latest iTunes installed on your computer. It's free to install and free to use in importing media files to an iOS device. Followed by its installation, run it instantly.
Step 2 Connect your iPhone to a computer with its exclusive USB cable. Soon afterward, the connected iPhone will be recognized by iTunes. To sync data, you still need to go to "Account" on iTunes to sign in with your Apple ID.
Step 3 Under the "Music Playlist" column, we right-click the empty area to generate a new playlist.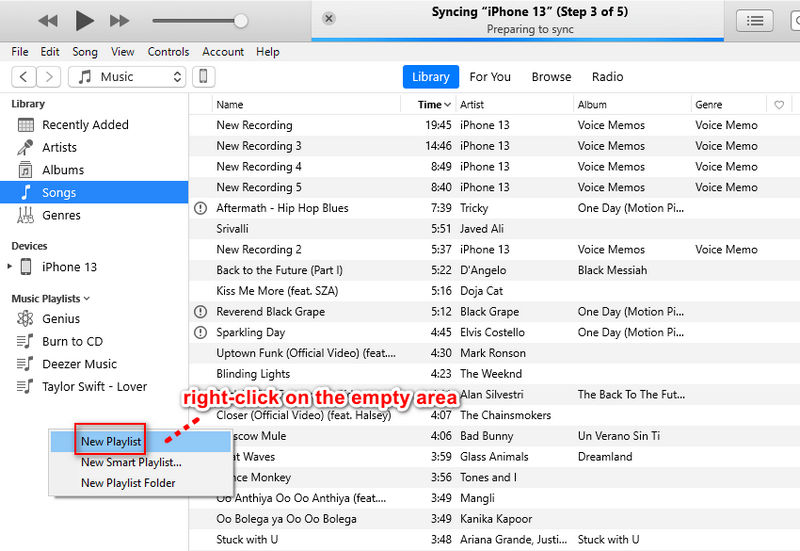 Step 4 Then direct to the saving path of the downloaded Tidal songs on your computer, and open the output folder. Import the Tidal songs to the newly created playlist on iTunes via a drag-and-drop channel.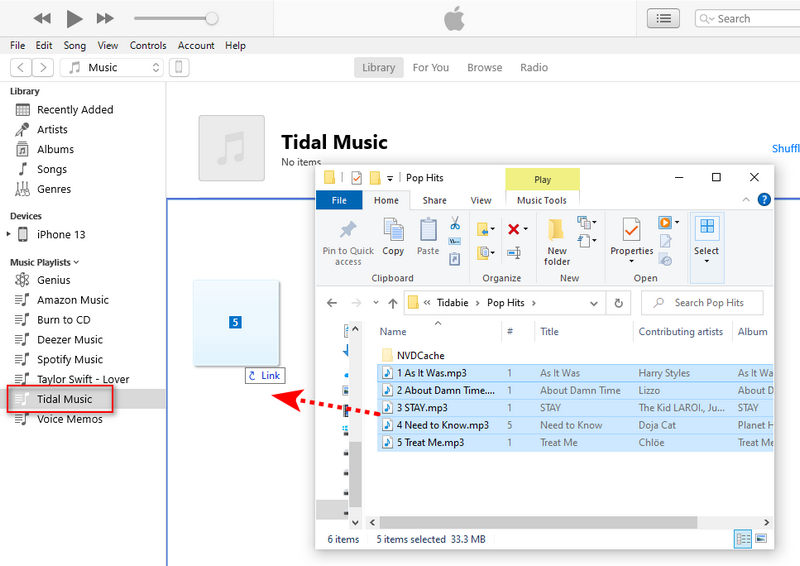 Step 5 Go to the "device icon"

above all tabs. Click it then enter the management interface of the connected iPhone. Scroll down until you see the "Music" tab, and click on it.
Step 6 Then you should tick off "Sync Music" and "Selected playlists, artists, albums, and genres" as well. Look down to find the newly created playlist, and make sure it's selected. Then click on "Sync/Apply" to process the uploading. A few minutes later, the newly uploaded playlist is displayed in the Music app on iPhone.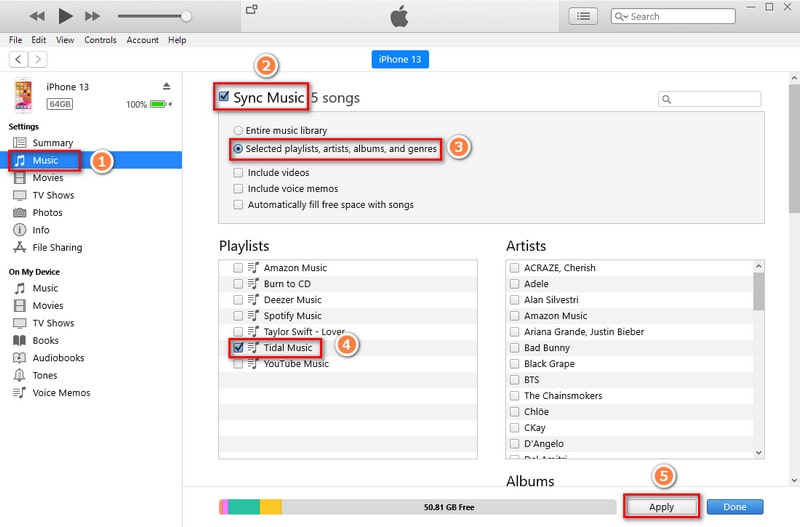 #Transfer Tidal Song to iPhone via Syncios Free
Syncios is an old brand and is well-known by a large number of people all over the world. Syncios Mobile Manager is one of their top-recommended applications. This program is an extremely professional tool for data management of mobile devices.
Syncios Mobile Manager offers free help for exporting and importing media files between a PC and (Android & iOS)device. You can get this clean and safe app from its official website for free to transfer the downloaded Tidal songs to your iPhone. Here come the detailed operations.
Step 1 Download and install Syncios Mobile Manager for free. Choose "Mobile Manager" on the main interface. Then ignore the pop-up window for upgrading and start the free version directly.
Step 2 Connect your iPhone to your computer and wait for a moment. When it's recognized by Syncios, go to its "Music" column where you will see the categories such as 'Music', 'Ringtones', 'Podcasts', 'Audiobooks', 'Voice Memo', and 'Playlists'.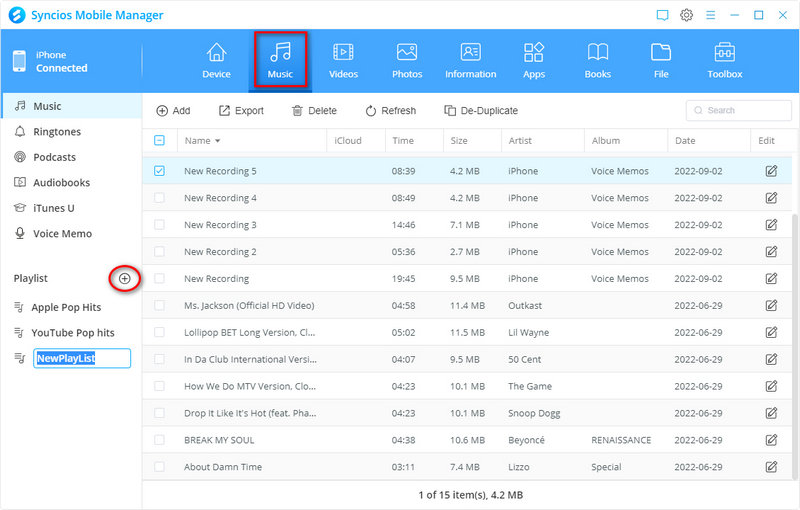 Step 3 Go to "Playlists" and click the "+" icon to create a new playlist. Then drag and drop the downloaded Tidal songs to this new playlist. The name of the playlist should be contingent on the title of the Tidal Music playlist or album as you can quickly locate them on your iPhone later. It will not overwrite any existing playlist on your iPhone. The imported playlist will be added as a new one.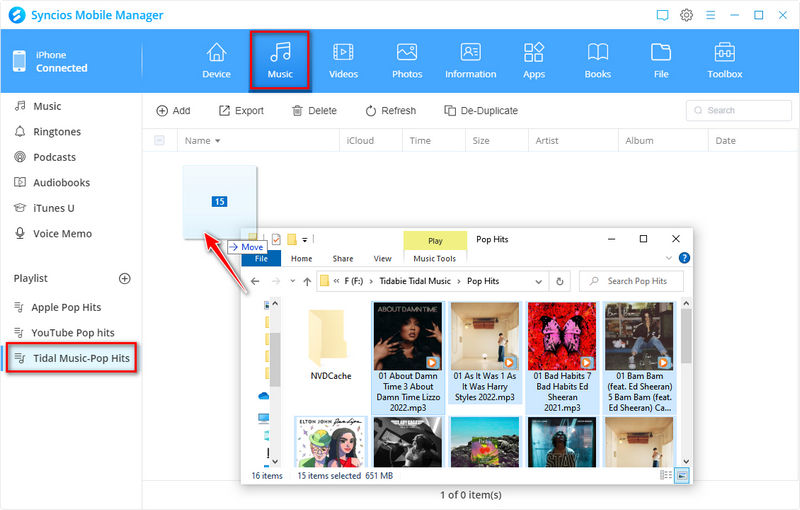 Step 4 Once you've imported the playlist to your iPhone, you can disconnect your iPhone from the computer, then open the "Music" app. All the newly added playlists will be displayed here. You are allowed to play them anytime with or without a network connection. There are no limits on playing these imported Tidal songs or using them with other programs on iPhone.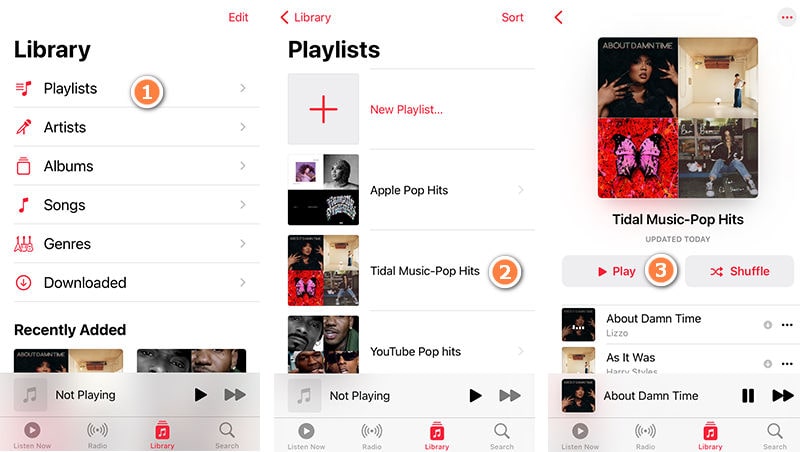 ---
Part 3: FAQs about Download Tidal Music
Q1: How do I rip HiFi music from Tidal?
In this article, we extract songs from Tidal with Tidabie in part 2. Tidabie supports downloading songs from Tidal with the original quality. For Tidal HiFi users, you can rip HiFi music from Tidal with Tidabie easily.
Q2: How do I rip MQA music from Tidal?
To rip Tidal MQA music, you should select the app mode on Tidabie. On Settings, select 'Tidal Record' conversion mode, and 'Auto' or 'FLAC' as output format. Then on the TIDAL app, make sure the songs have Master/Max mark, which means they are MQA music, and remember to select Master/Max as the streaming quality.
Q3: Can I download MP3 from Tidal?
MP3 is the most popular format as it's compatible with most devices and programs. Just change the output format to MP3 in the Tidabie settings, and you will get the MP3 Tidal Music files downloaded.
Q4: Why the downloaded Tidal songs can not be played on iPhone?
Check the output format you've set in the Tidabie settings. Do not choose "FLAC" since the FLAC-format files are not supported on iPhone. Unless you stream the FLAC songs on Apple Music directly. Other formats, such as MP3, AAC, ALAC, WAV, and AIFF are compatible with iPhone.
---
The Verdict
Tidabie Tidal Music Converter achieves a fleet and effective conversion of Tidal songs and makes it possible to enjoy the unlimited playback of Tidal music on your iPhone freely even with a Tidal Free plan. You will not regret giving it a free trial.