Tidal 360 Reality Audio: Get Immersive Listening
---
In recent years, the music industry has witnessed a significant shift towards immersive audio technologies, enhancing the way we experience music. One such groundbreaking innovation is Tidal 360 Reality Audio, a cutting-edge audio format that is shoulder-to-shoulder with Dolby Atmos and Apple Spatial and promises to take your listening experience to a whole new level. In this article, we will explore the concept behind Tidal 360 Reality Audio and some tips on how to listen to Tidal music in 360 Reality Audio.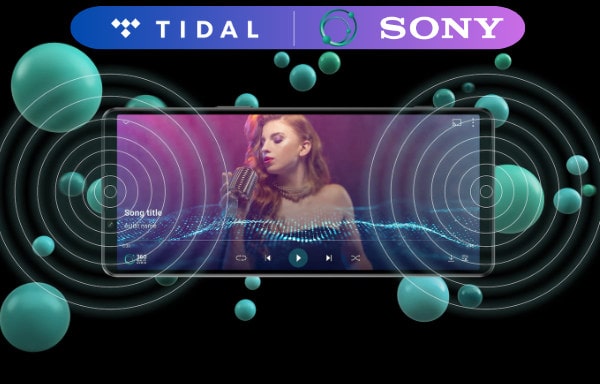 ---
First of all, we would review Tidal 360 Reality Audio from a comprehensive point. Here you will understand Tidal 360 Reality Audio, the way it works, the benefits it brings to Tidal music, etc.
✍ 1-1. What is Tidal 360 Reality Audio
Tidal 360 Reality Audio is short for Tidal music in Sony 360 Reality Audio. The 360 Reality Audio is a technology developed by Sony, aimed at creating a three-dimensional audio experience that replicates the sensation of being present in a live concert or studio recording. It utilizes object-based spatial audio technology, allowing artists and producers to position individual sounds and instruments all around the listener, thus creating a more immersive and realistic soundstage.
In 2019, Tidal cooperated with Sony and introduced Sony 360 Reality Audio to its vast music library. Tidal music in Sony 360 Reality Audio sounds more realistic, giving listeners a sense of being surrounded by music from all directions.
✍ 1-2. How Does Tidal 360 Reality Audio Work
Tidal 360 Reality Audio takes advantage of advanced audio algorithms to analyze and map various audio elements in a track, including vocals, instruments, and ambiance. These elements are then assigned specific positions within a virtual sphere surrounding the listener. By utilizing various speakers or headphones, Tidal music in Sony 360 Reality Audio can deliver a multi-dimensional audio experience, creating the illusion of sound coming from every direction.
✍ 1-3. What are the Benefits of Tidal 360 Reality Audio
➺ 1. Immersive Listening Experience: Tidal 360 Reality Audio allows listeners to feel like they are in the midst of a live performance, with music seemingly coming from all directions. This heightened sense of immersion makes it an ideal choice for those seeking a more engaging and intimate listening experience from Tidal.
In addition, by precisely placing each sound element in a three-dimensional soundscape, Sony 360 Reality Audio enables a more detailed and nuanced representation of Tidal's music. This allows listeners to capture the subtle nuances and intricacies of each instrument and vocal.
➺ 2. Personalization and Customization: Sony 360 Reality Audio offers a personalized audio experience tailored to individual Tidal preferences. Listeners have the freedom to adjust the soundstage, allowing them to fine-tune the placement and intensity of each sound element according to their liking.
Simply install the Sony Headphones Connect app on your smartphone, and follow the instructions in the app to set up your Sony compatible headphones. For more information, visit "sony.net/360RA".
➺ 3. Future-Proof Format: Tidal 360 Reality Audio is designed to be compatible with various audio devices, including smartphones, headphones, speakers, and soundbars. This ensures that users can enjoy the immersive audio experience on their preferred device, without the need for specific hardware investments.
✍ 1-4. Is Tidal 360 Reality Audio the Same as Dolby Atmos
In another guide, we discuss Tidal music in Dolby Atmos, which brings an immersive and 3D listening experience too. Are they the same one?
Well, not exactly, Sony 360 Reality Audio and Dolby Atmos are not the same. While both technologies aim to enhance the spatial and immersive audio experience, they use different approaches and have some key differences.
Sony 360 Reality Audio uses object-based spatial audio technology to create a 3D sound field around the listener, allowing for a more realistic and immersive audio experience. Dolby Atmos, on the other hand, typically utilizes a different approach called channel-based audio and uses a multi-channel "bed" of sound with sound objects overlaid on top.
The difference between Sony 360 Reality Audio and Dolby Atmos is also reflected in content availability. The former is generally used for music and is a newer technology with potential for growth; while the latter is more readily available across various mediums, including movies, TV shows, and music albums.
---
Since Sony 360 Reality Audio brings immersive and realistic sound to Tidal music, how to get a wonderful experience on Tidal? Before beginning, make sure you have a Tidal HiFi Plus subscription, which entitles you to the benefit. Then let's look at the steps.
STEP 1 Open the TIDAL app on your smartphone, tablet, or Home TV.
STEP 2 Sign in to your Tidal HiFi Plus account.
STEP 3 Tap on the Explore tab from the bottom of the screen.
STEP 4 Scroll down until you find the 360 Reality Audio, which lists Tidal tunes available in this format.
STEP 5 Pick and play any songs and enjoy the immersive ear experience.
Tip: To enjoy Tidal music in 360 Reality Audio, you also need a pair of headphone that supports this content.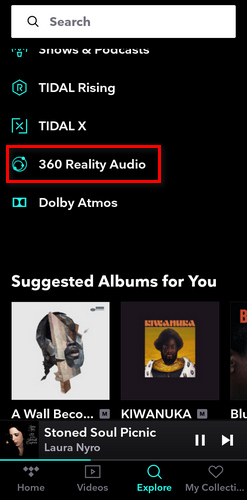 ---
Unfortunately, Tidal imposes restrictions on its music library. Once your Tidal subscription expires, the downloaded Tidal 360 Reality Audio music cannot be accessed, nor Sony 360 Reality Audio. What if you want to enjoy those 360 Reality Audio Tidal music? How to offline play Tidal 360 Reality Audio music on the desktop for free? One of the best solutions is to download Tidal music to a local desktop computer and enable the offline mode.
Among all the Tidal converters, Tidabie Tidal Music Converter comes to be the best Tidal converter with advanced technologies, intuitive UI, and outstanding conversion performance. Tidabie shows unique abilities in downloading any tunes from Tidal and converting Tidal music to plain MP3, FLAC, and other formats, while retaining lossless HiFi and HiRes audio at a fast speed and keeping full ID3 tags. Delve into this part and download Tidal 360 Reality Audio music for free offline listening now.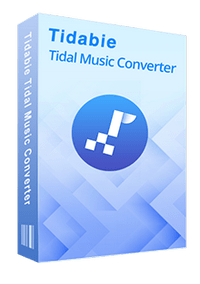 Tidabie Tidal Music Converter
Download Tidal songs/albums/playlists/podcasts locally.

Convert Tidal tracks to MP3/AAC/WAV/FLAC/AIFF/ALAC.

Preserve Tidal Hi-Res/CD audio quality and full ID3 tags.

Run at 10x speed & batch download Tidal playlists.

Sort Tidal music files by playlist, album, artist, etc.

Offer tools of Format Converter, Tag Edit, etc. & save lyrics.

Enjoy Tidal music offline on devices and programs.
STEP 1 Setup Tidabie Tidal Music Converter
After downloading and installing this Tidabie program on your Windows or Mac computer, click to launch it. You are provided two options on the main interface, from which you can choose the audio source - app or web player. If you choose the former, you should have the TIDAL application and can download Hi-Res music; when you choose the web player as the audio source, you get music from the built-in Tidal web player and can keep up to HiFi quality at 10x fast speed. Just pick the one you like.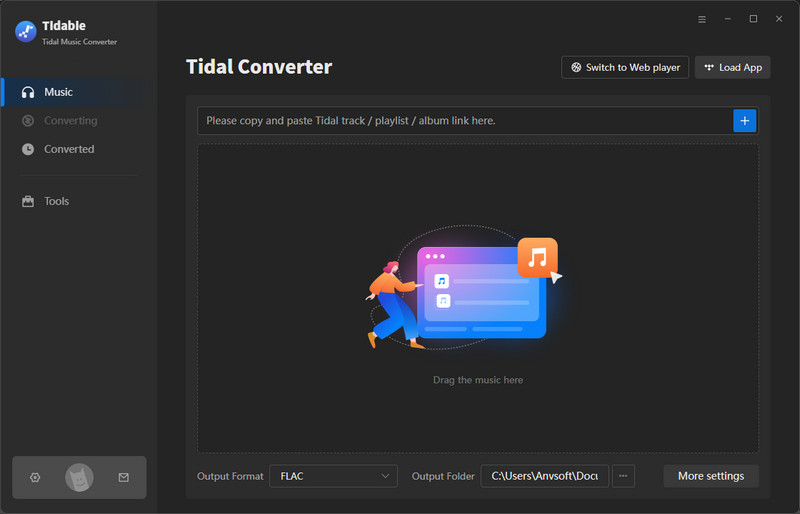 STEP 2 Add Tidal 360 Reality Audio Music
Your selection to the audio source will take you to the corresponding interface. Here we list both operations and simply follow the steps to add Tidal music to Tidabie.
TIDAL App: Soon after your selection, the pre-installed TIDAL app will automatically open. Ensure you have logged in to your Tidal account. Then go to Tidal 360 Reality Audio music, and select Share > Copy playlist link. Paste the link to the Tidabie and hit Enter. Besides, you can directly drag and drop Tidal music.
Tidal Web Player: The built-in Tidal web player will pop up on the screen. Follow the tips to sign in to your Tidal account. Next, browse the Tidal library and open Tidal 360 Reality Audio music. Move your cursor to the lower right and hit the "Click to add" button.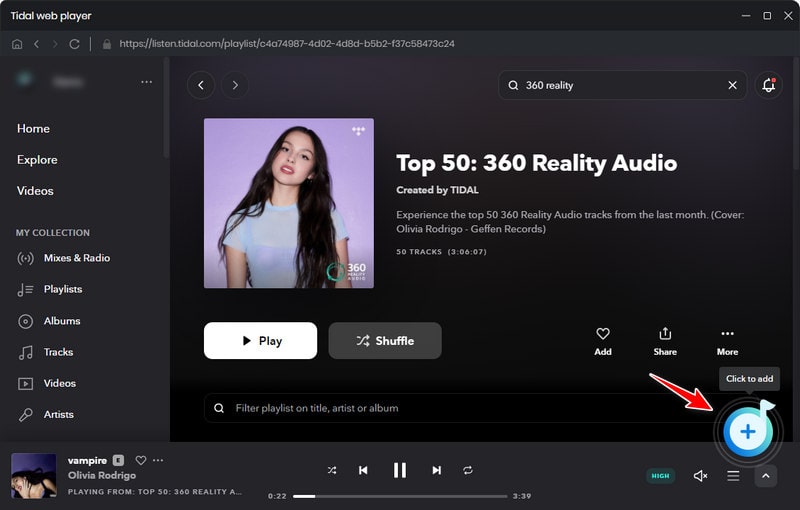 Whichever you use, Tidabie will then parse and display Tidal songs on a popup. You can pick your wanted music and click on "Add" to add them to the task list.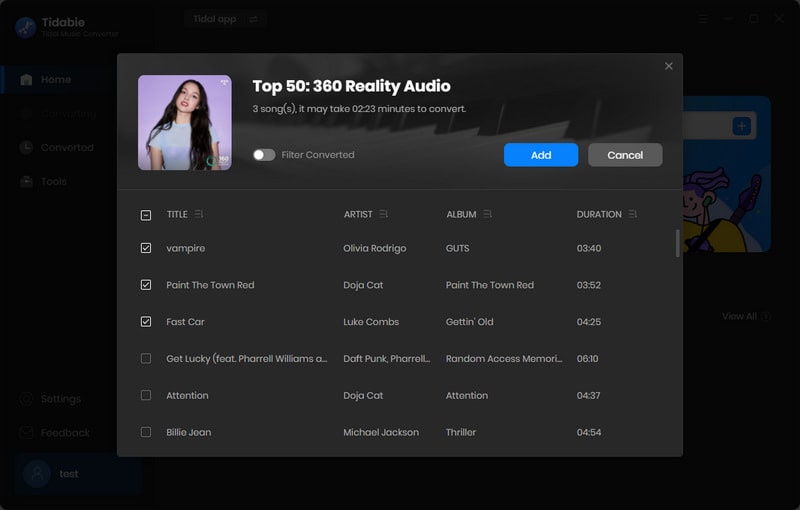 STEP 3 Personalize Output Settings for Tidal Music
Before converting Tidal music, you need to change the output settings if you want the Tidal music output in the way you like. Simply head to the "Settings" panel. You are allowed to pick an output format, quality, and path for Tidal music, name the output files in batch, and classify the files into different folders.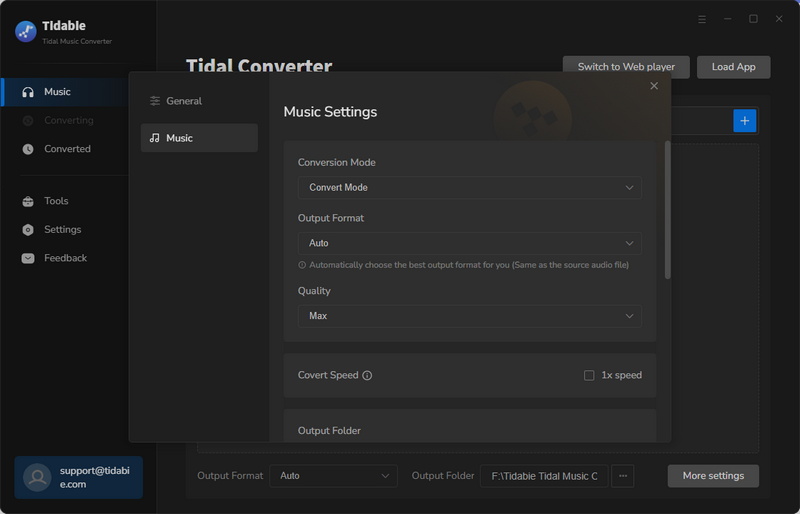 STEP 4 Download Tidal 360 Reality Audio Music
Go back to the Home tab and click on "Convert" to download Tidal music immediately. If you have multiple playlists and albums to download, add them before the conversion. Once the conversion is done, you can find Tidal music in your local folders, and you own Tidal music in a real sense. Thereafter, you can offline play Tidal music for free, even if you don't have a Tidal subscription.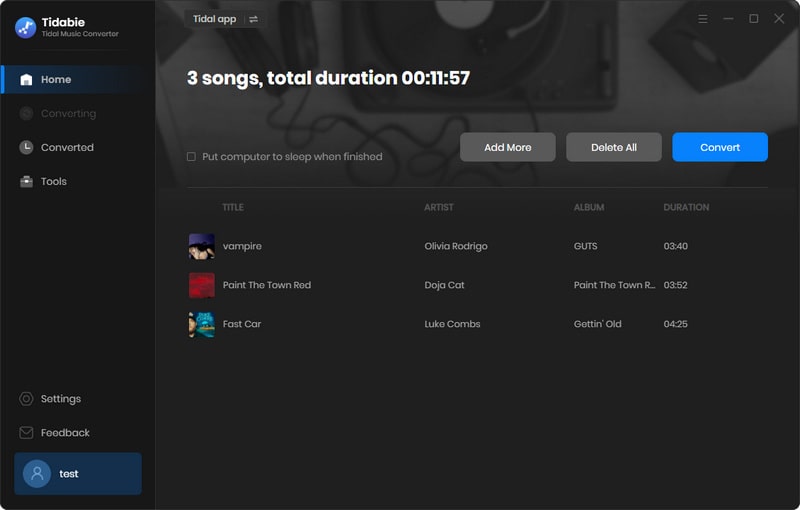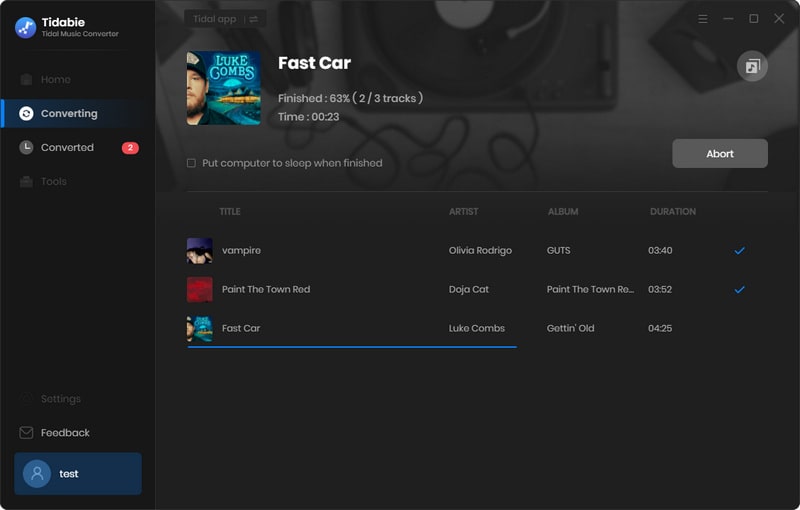 ---
Summary
In sum, Tidal's integration with Sony 360 Reality Audio brings a brand-new experience, allowing immersive and realistic listening from all-surrounded directions. While listening to Tidal music with this cutting-edge technology requires a Tidal HiFi Plus membership, Tidabie Tidal Music Converter offers an approach to downloading Tidal music to computers, unlocking the offline playback to Tidal music for free, regardless of Tidal subscription. Additionally, with Tidabie, you can transfer Tidal music to mobile phones, tablets, and USB drives, and import Tidal songs to the iTunes library or DJ software for mixing. Facing with such an excellent program, what are you waiting for? It is free to try!