Download 1411kbps CD-Quality Songs from Tidal
---
Tidal distinguishes itself from other streaming music services by offering high-quality audio tracks for Tidal Music HiFi subscribers. Except for ample music tracks, original video series, podcasts, and other audio files are provided as well. Since its innovation of Hi-Fi lossless quality music, people around the world have gathered and become its loyal fans.
With Hi-Fi membership, you can access cd-quality 1411kbps songs in Tidal Music. Further, Tidal promises offline listening for its subscribers within the Tidal Music app or Tidal Music web player. Notwithstanding that offline listening is permitted, there are rigorous restrictions. When you want to download 1411kbps cd-quality songs from Tidal to a local PC and keep them forever or move them to other devices, you are blocked. Following the solution in this article makes the only exception. Since many fans are keen on downloading 1411kbps CD-Quality Songs from Tidal, the discussion regarding downloading Tidal songs to local files without audio loss in common formats should be attractive.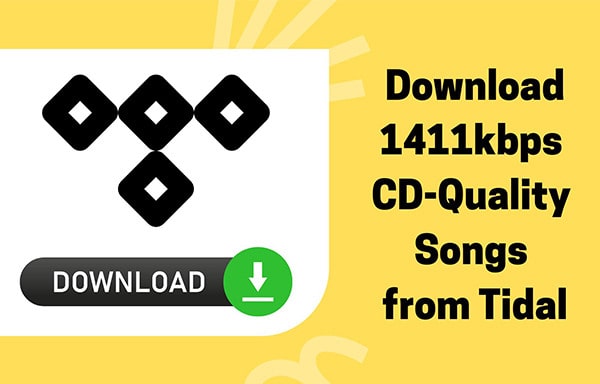 ---
Part 1: Tidal Music & 1411kbps CD-Quality
🙋 The Subscriptions Types of Tidal:
Tidal Music can be generalized into 5 plans: Tidal Free, Tidal HiFi, HiFi Plus, Family HiFi, and Family HiFi Plus.
1. Tidal Free: $0. The max audio quality for tracks is 160kbps, and you have to put up with ads unless you download songs with Tidabie Tidal Music Converter.
2. Tidal HiFi: $10.99 a month. The max audio quality for tracks is standard 1411 Kbps.
3. Tidal HiFi Plus: $19.99 a month. The general audio quality for tracks is lossless High Fidelity 1411 Kbps. Besides, you can get access to Master Quality audio up to 9216 Kbps, immersive audio - 360 Reality Audio, and Dolby Atmos Music.
4. Tidal Family HiFi: $16.99 a month. The max audio quality for tracks is standard 1411 Kbps. This plan can be feasible for 6 family members.
5. Tidal Family HiFi Plus: $29.99 a month. The general audio quality for tracks is lossless High Fidelity 1411 Kbps. Besides, Master Quality audio up to 9216 Kbps, immersive audio - 360 Reality Audio, and Dolby Atmos Music are accessible.
🙋 About 1411kbps CD-Quality Tidal Songs:
According to Tidal, it offers HiFi CD-quality FLAC files without data loss when transmitting the audio to your ears. 1411kbps songs, namely 44.1kHz/16bit audio files, are available for Tidal HiFi users. You may want to equip your ears with quality earphones instead of cheap spare earbuds for a better experience. But Tidal won't let you keep the Tidal collections after canceling the subscription or let you play the downloaded Tidal songs with other media players. Go through all steps and find a solution to remove these restrictions in the next part.
---
Part 2: Download 1411kbps CD-Quality Songs from Tidal
Offline downloading is allowed for all paid Tidal subscribers. Tidal downloads songs to lossless FLAC songs with 1411kbps (16bit / 44.1kHz). Although not all songs in Tidal are 1411kbps, we can rip songs from Tidal with the original quality to take full advantage. Tidabie Tidal Music Converter has been hailed as the prominent extractor for Tidal users, which smoothly downloads Tidal songs to local PC with its original quality in common formats, such as MP3, AAC, WAV, FLAC, AIFF, and ALAC format.
Tidal supports downloading songs with FLAC formats. But it's encoded files. To remove the restrains imposed on these downloaded music files, Tidabie is essential to be a participator. When choosing to download Tidal songs with Auto mode via Tidabie, you are enabled to save tracks from Tidal with lossless original quality in FLAC format. More surprisingly, it's sheer local music files that can be transferred to the diversified devices and employed in all FLAC-supported programs. Additionally, the free playback is available without time limitations. You will benefit a lot from a host of features of the Tidabie Tidal Music Converter after the conversion.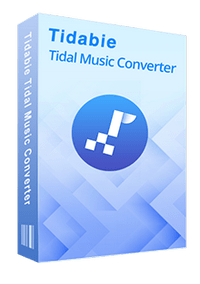 Tidabie Tidal Music Converter
Download Tidal songs/albums/playlists/podcasts locally.

Convert Tidal tracks to MP3/AAC/WAV/FLAC/AIFF/ALAC.

Preserve Tidal Hi-Res/CD audio quality and full ID3 tags.

Run at 10x speed & batch download Tidal playlists.

Sort Tidal music files by playlist, album, artist, etc.

Offer tools of Format Converter, Tag Edit, etc. & save lyrics.

Enjoy Tidal music offline on devices and programs.
Step 1 Get Access to Tidal Music
We intend to download Tidal songs from Tidabie. You may know the defect is that both the Tidal app and the web player provide music with 1411kbps audio quality. And with Tidabie, you can get Tidal CD-quality from both soruces. As an outcome, Tidabie downloads songs with your prefered source. Launch this Tidabie Tidal Music Converter, you are offered two options on the primary page. The app mode needs the TIDAL app and saves Tidal CD/Hi-Res music, while the web player mode does not require the installation of the Tidal app, instead, it works by accessing the built-in web player and saves Tidal 1411kbps CD-quality music. Select a mode as you like and log in to your Tidal HiFi or HiFi Plus account to get access to the Tidal Music library directly.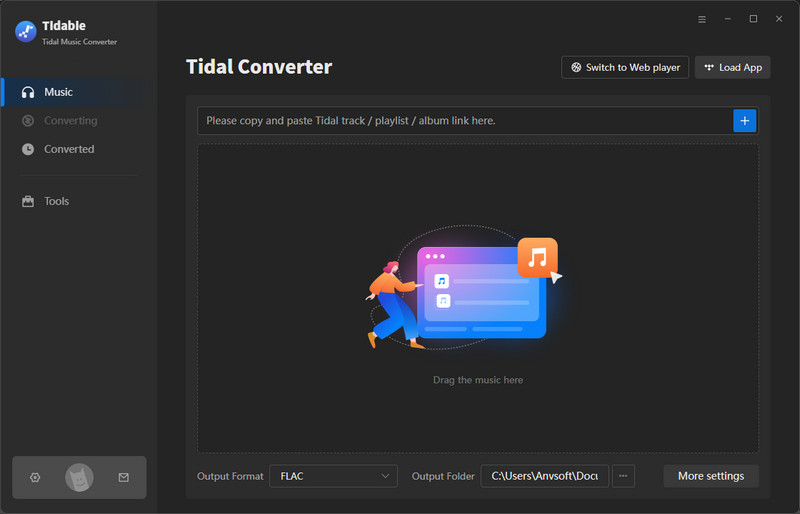 Step 2 Set 1411kbps Output Quality and Change Other Parameters
If you refuse to download songs from Tidal with the default parameters, go to the "Settings" interface in the lower left corner to change the parameters. To ensure an offline downloading with the original 1411kbps quality, select "Auto" or "FLAC" in the Output Format setting. As a result, the Tidal songs will be saved with the original quality in the original FLAC format. Besides, select 'Tidal Record' from Conversion Mode under the app mode, choose 'Web Download' if you use the web player mode.
For some users who plan to convert Tidal songs to other formats, there are more options in the Output Format setting. But you should know that MP3 and AAC files are compressed with some data loss when exporting. Choose a lossless format that includes WAV, FLAC, AIFF, and ALAC, then select "44.1KHz" in the Sample Rate setting to download 1411kbps CD-quality Tidal Music.
To download songs in the same order as the playlist, select "Playlist Index" in the Output File Name setting, and set "None" in the Output Organized setting.
Conversion Mode: Intelligent Mode, Tidal Record/Web Download, YouTube Download
Output Format: Auto, MP3, AAC, WAV, FLAC, AIFF, ALAC
Bit Rate: 320kbps, 256kbps, 192kbps, 128kbps
Sample Rate: 44.1KHz, 48KHz, 96KHz, 192KHz
Output File Name: Track Number, Title, Artist, Album, Playlist Index, Year
Output Organized (way): None, Playlist, Artist, Album, Artist/Album, Album/Artist, Playlist/Artist, Playlist/Album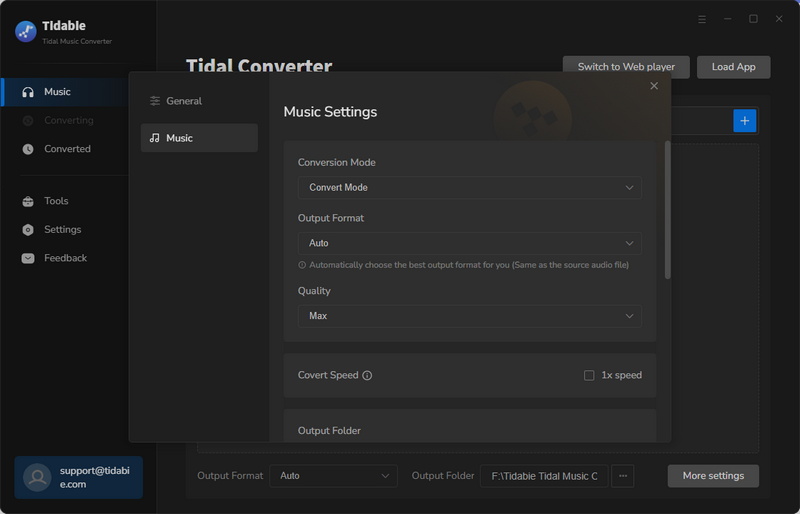 Step 3 Batch Download Tidal Music Tracks to HiFi Local Songs
Looking for a desired album or playlist on Tidal Music. If you use the web player mode, open the album/playlist and hit on the blue button "Click to add" in the bottom right.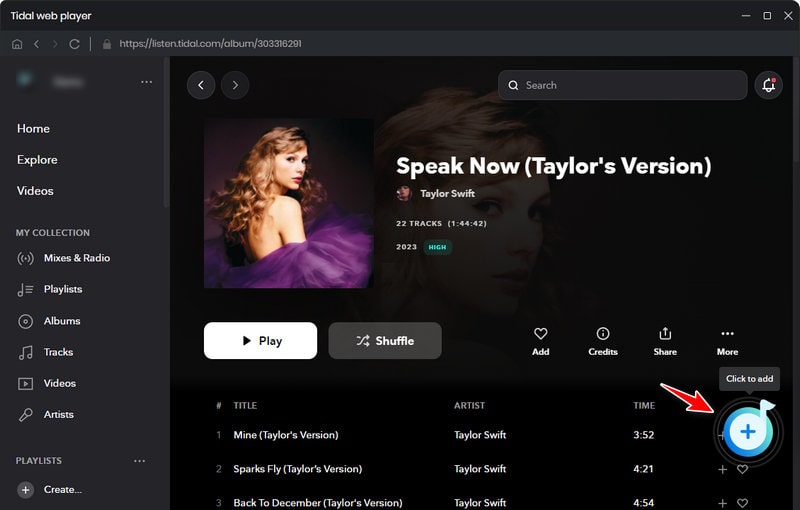 Under the app mode, simply drag and drop your target album/playlist right into Tidabie. You can also copy and paste the link.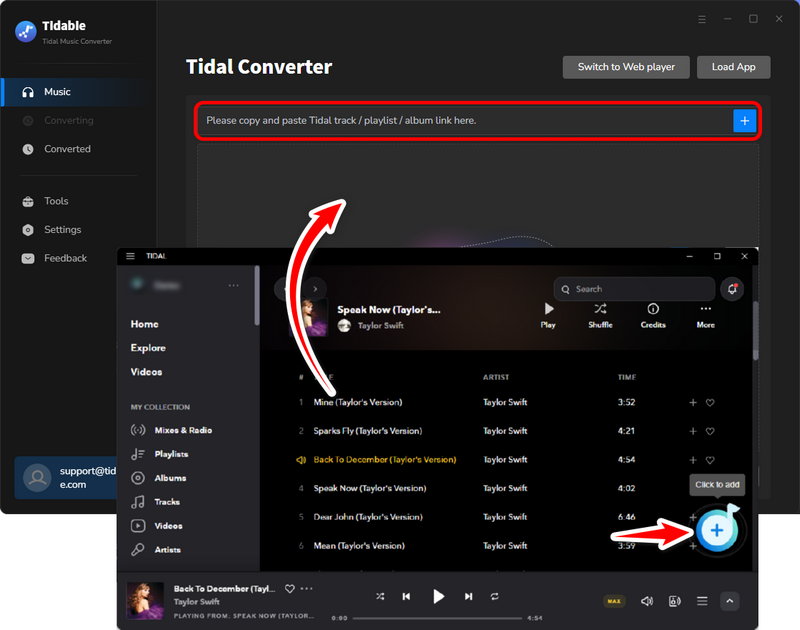 Then in the pop-up list, you are entitled to pick up wanted songs from the opened playlist. Pick the songs you want and select "Add".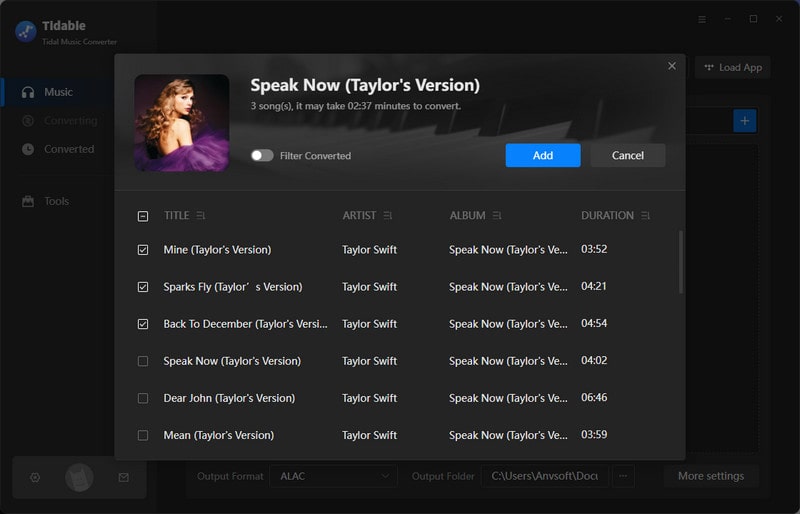 An immediate conversion will be processed when you click on "Convert". The option "Add More" is specially designed for people who want to download more playlists at one time.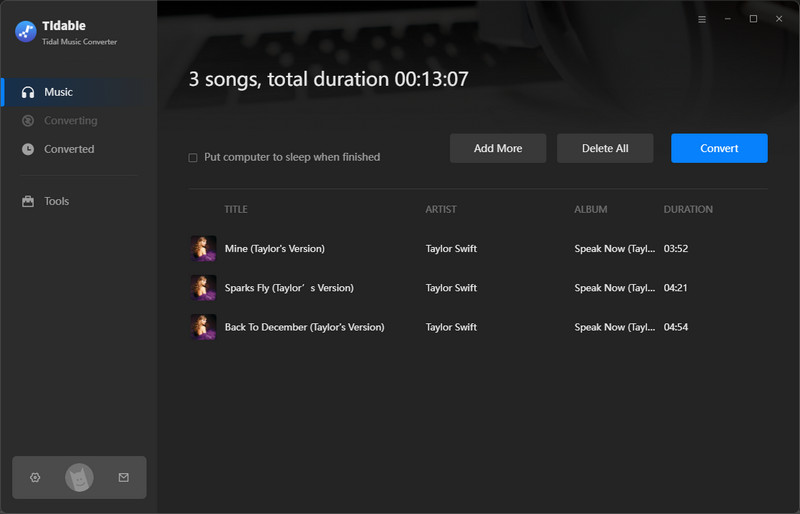 Step 4 Full Control of the Downloaded 1411kbps Tidal Songs
Once Tidabie runs to the destination of the conversion, the output folder will pop up automatically. To open the output folder, you can also go to the "Converted" tab and click on the file icon. Now, you can check the converted songs in the output folder and transfer them to an SD card, USB flash drive, any device, etc. Put on your premium headphones and get the joy of 1411kbps CD-quality Tidal songs transmitting to your ears.
If you are not pleased with the downloaded quality, please check the original quality of this song on Tidal. Tidabie ensures an original export when downloading songs.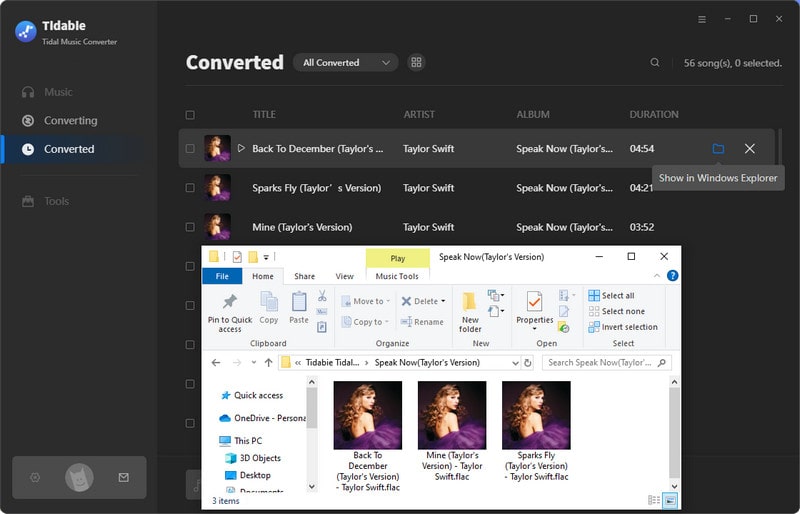 ---
End Words
The ultimate solution to guarantee the offline playback of Tidal music perpetually is to extract them to local files with Tidabie Tidal Music Converter. Further, the lossless HiFi quality of Tidal songs can be preserved after the conversion. That's your best opportunity to achieve unlimited access to Tidal collections. Follow the steps in this post and begin your journey of downloading 1411kbps CD-quality songs from Tidal.