Download Tidal Music with Free Account
---
The best good news from Tidal is that people can now access the Tidal music library without having to be paid subscribers. In the past year of 2021, Tidal has renewed the official subscription plan when there are 3 plans for users to choose from, Tidal Free (160 kbp AAC), Tidal HiFi, and Tidal HiFi Plus plan. There will be no more Premium 320 kbps AAC audios plan anymore. And for everyone who has missed Tidal Music before, they now can enjoy music on this platform by being Tidal Free. But the pity is that you won't be permitted to the download feature as a Tidal Free user. And the fact is that even you upgrade from Tidal Free to Tidal HiFi or Tidal HiFi Plan, you will never be able to download Tidal Music as actual files and manage to transfer the music to other players.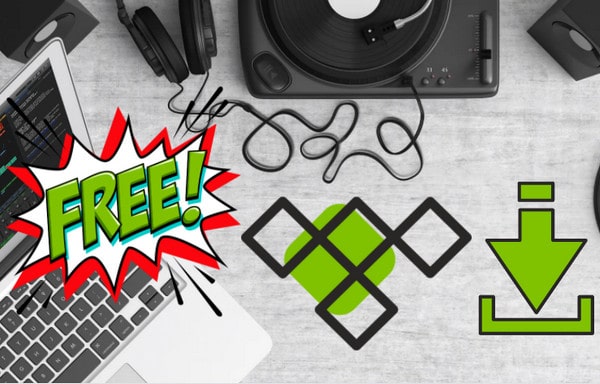 Tidabie Tidal Music Converter is the key to dealing with it. This is a music converter that allows Tidal Free and Tidal HiFi users to download their playlists and albums to offline storage. Tidal Music will be extracted from Tidal Web Player and then be converted to a specific audio codec as you set up. Optional output formats include MP3, AAC, FLAC, WAV, AIFF and ALAC. In terms of sound quality, I would say that Tidabie is just as professional when it performs a 10X conversion speed without giving up the original sound quality. It is also good for you that you won't be interrupted by the ad-supported music when you are under the Tidal Free plan. Tidabie Tidal Music Converter will smartly remove the commercials and give you complete yet smooth Tidal Music listening after the process. In short, you will export Tidal Music from the online platform to an offline ad-free playing on your computer without any quality loss. Thereafter, you can easily access the downloaded music. As always, I'm going to explore this feature through step-to-step guidance.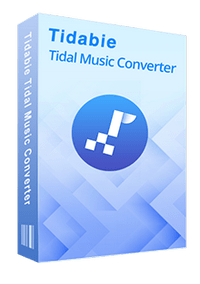 Tidabie Tidal Music Converter
Download Tidal music to the computer.

Convert Tidal tracks to MP3, AAC, WAV, FLAC, ALAC, and AIFF formats.

Keep Hi-Fi audio quality.

Retain ID3 tags after conversion.

Free updates & technical support.
STEP 1 Run Tidabie Tidal Music Converter on your program. There is an entrance linking to Tidal Web Player. So you click on the button noting 'Open Tidal Web Player'. Then you are supposed to access the music library with your Tidal account information.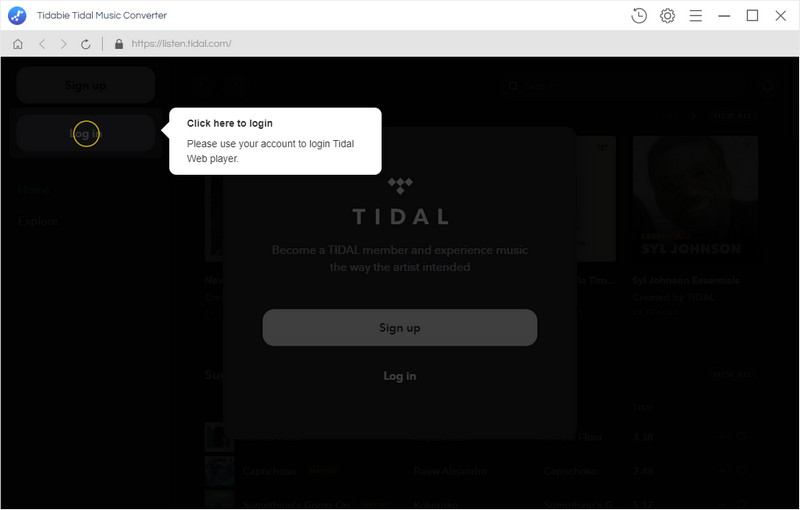 STEP 2 Go ahead, you should go to the 'Settings' part where you can customize the output parameters as you want.
Output Format: Auto, MP3, AAC, WAV, FLAC, AIFF, ALAC
Bit Rate: 320kbps, 256kbps, 192kbps, 128kbps
Sample Rate: 44.1KHz, 48KHz, 96KHz, 192KHz
Output File Name: Track Number, Title, Artist, Album, Playlist Index, Year
Output Organized (way): None, Artist, Album, Artist/Album, Album/Artist
When choosing 'Auto' or 'FLAC' as the output format, the output sound quality will come out to HiFi level as the original.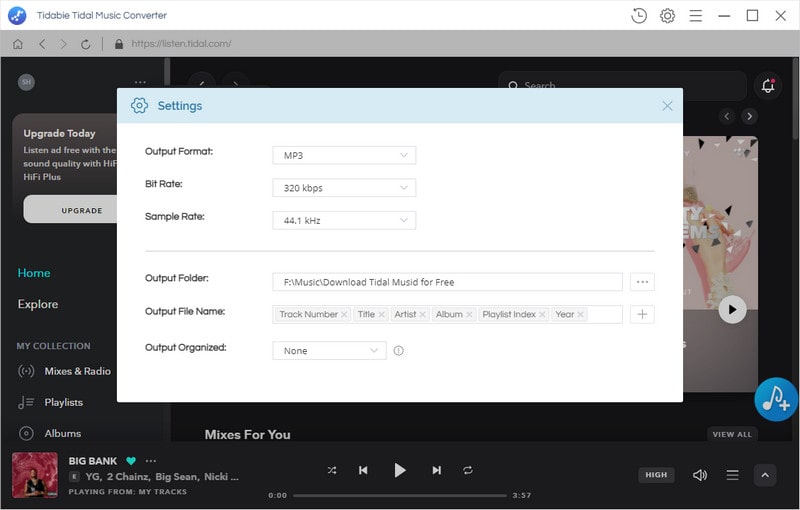 STEP 3 To go on, you can open any playlist that you like. Then click on the 'Add to list' button to open the playlist contents in the conversion panel. If you have more than one playlist to convert, then click on 'Save to list' after you select all your needed songs in this playlist. Then repeat the operations to open another playlist, click on add to list button, and make a specific selection.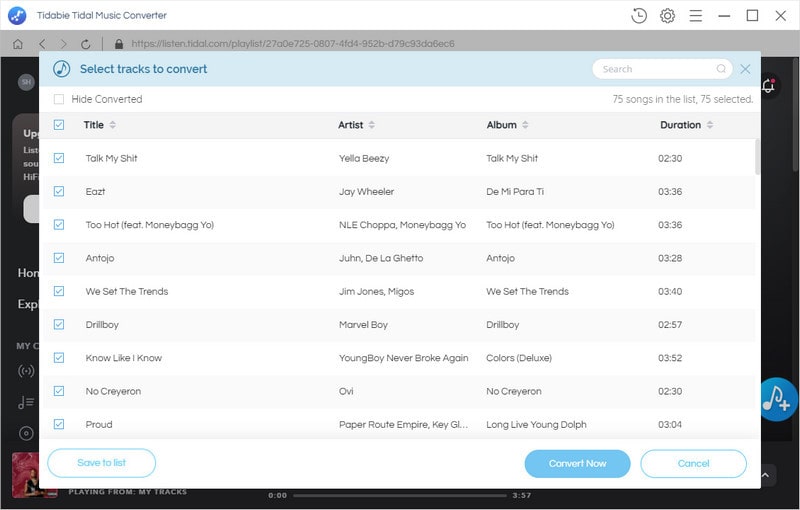 Not until you selected all you want, you can click on 'Convert Now' to proceed. Or you can open the Task List at the top right corner to view all your selected items. And click on 'Convert' when Tidabie will start to covert all the selected songs in order.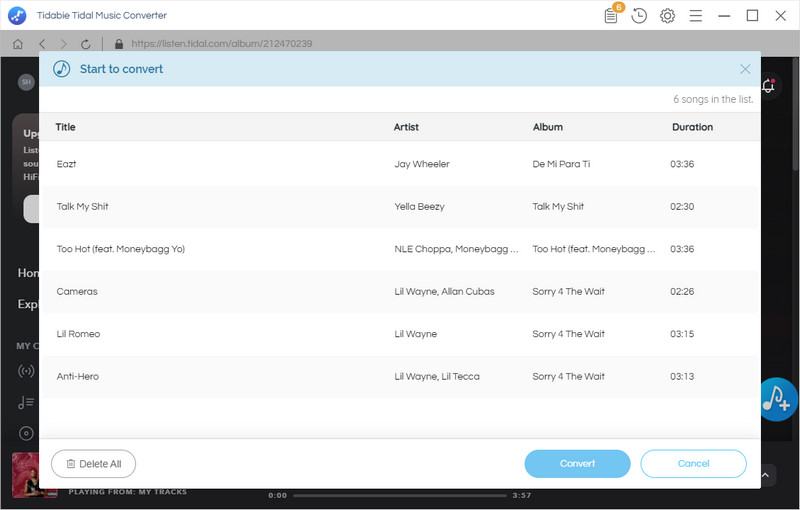 STEP 4You then just wait until the process is completed. To see the downloads, you can click on the Clock icon on the top-right menu.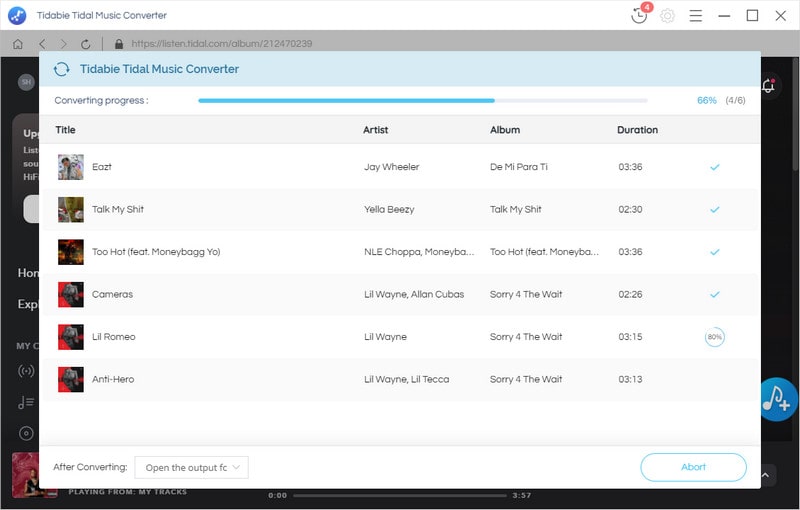 If necessary, you can remove those you already downloaded a long time ago. By tapping the folder icon, you can reach out to your computer's local path that saved the audio files.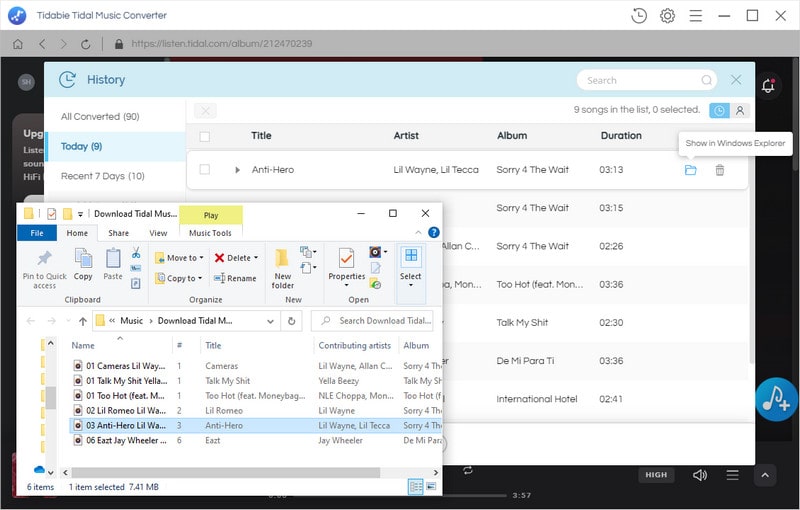 Summary
Not just brings good news to all Tidal Free users, but also Tidabie Tidal Music Converter lets you possibly output Tidal lossless HiFi Music if you are a Tidal HiFi subscriber. Anyhow, Tidabie Tidal Music Converter is a nice music converter to get Tidal Music downloaded as common yet widely accepted audio files on your computer. And this is the ultimate way to keep Tidal Music playable all the time!