How is TuneCable Tidal Music Converter? Is It Reliable?
---
Tidal Music, though it is not as popular as Spotify or Apple Music, has attracted lots of people in recent years with its high-quality music streaming services. As of January of 2023, Tidal claimed it has almost 6.7 million visits per month and 5 million users in the world. Since Tidal has a high-resolution music library and offers up to 24-bit/192kHz (or 9,216 kbps) sound quality, it is one of the best music streaming platforms for those who pursue high-quality music. Its booming popularity then is accompanied by many third-party tools. TuneCable Tidal Music Converter is a popular one among these converters.
However, do you realize TuneCable Tidal Music Converter? Is it powerful or reliable? What can it do? In this article, we will review TuneCable Tidal Music Converter in a full aspect ranging from its functions and mechanism, presenting you with a deeper analysis of this program. Let's step into this guide to see if TuneCable is reliable.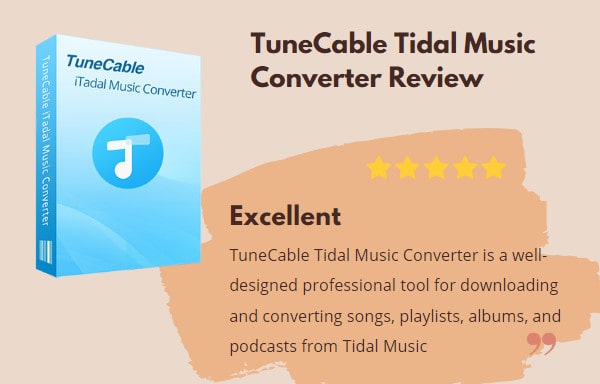 Part 1: What is TuneCable Tidal Music Converter? Is It Reliable?
As we all know, music streaming is the process of delivering music through the internet in real-time, allowing listeners to access and play music on-demand from a vast online library. It typically charges a subscription fee, letting users stream as much music as they can listen to for a fixed monthly cost. Tidal is a typical music streaming service, which means the users can neither extract Tidal music files to their local devices nor transfer the songs to external devices like MP3 players or programs like Windows Media Player. Hence TuneCable Tidal Music Converter comes out to music buffs for the free use of Tidal Music.
TuneCable Tidal Music Converter is a popular and reputable software for the download and conversion of Tidal's music. It is considered an excellent piece of software and has received positive reviews from many tech websites. TuneCable applies advanced programming technology, making it possible to decode Tidal music to plain audio formats and extract the songs to external devices. In other words, TuneCable Tidal Music Converter allows users to download Tidal's music to local computers and convert Tidal tracks to various formats, and so on.
Furthermore, based on lots of download tests, it is found that the success rate of TuneCable reaches nearly 100%, almost all the Tidal songs can be downloaded by TuneCable and output with specific parameters. At the same time, it is a very clean and safe program, with no malware or ads. In conclusion, TuneCable Tidal Music Converter is secure, professional, and reliable. You can feel released about that.
---
Part 2: What Can TuneCable Tidal Music Converter Do?
Now that TuneCable is a reliable and secure program, how does it prove its professionality? What can TuneCable Tidal Music Converter do?
Generally speaking, TuneCable Tidal Music Converter mainly can download Tidal's music onto computers and convert Tidal songs to plain formats. Additionally, it is capable of preserving the high quality of Tidal music, keeping ID3 tags, and enables batch conversion, etc. Besides, it offers advanced functions to you for convenient use. Let's look at TuneCable's features and functions in detail.
🔷 Feature 1. Download Tidal Music Tracks to Local Windows and Mac Computers
In recent years, music service providers mainly take two business modes, namely, streaming music and selling music. Apple Music and Qobuz offer music services in both streaming and selling modes, while most providers focus on music streaming, including Tidal.
As a Tidal subscriber, although you are allowed to use the download function to save Tidal's music as cached files for offline listening, you cannot get music files from Tidal as they are all encrypted. But TuneCable Tidal Music Converter comes to solve all the troubles and inconveniences brought by Tidal's music streaming service.
TuneCable uses the most sophisticated programming technology to decrypt Tidal music files and download DRM-free Tidal Music songs to local computers. No matter Windows or Mac computers you are using, as long as you have TuneCable Tidal Music Converter and the TIDAL app, you can easily download your favorite songs, albums, podcasts, and playlists to your local devices. All Tidal accounts, including Tidal Free, Tidal HiFi, or Tidal HiFi Plus, are supported to use TuneCable.
The downloaded songs are ad-free and decoded, and you can save Tidal Music songs forever and enjoy them freely. You can transfer the songs to mobile phones, and burn them to CD. In a word, TuneCable is a powerful program that enables you to listen to Tidal Music songs offline at any time and enjoy high-quality Tidal songs forever even if you cancel your Tidal subscription.
🔷 Feature 2. Convert Tidal Songs into Multiple Formats
TIDAL streams music mainly in AAC, FLAC, and its exclusive MQA formats. However, they sometimes cannot meet your demands on formats. Don't worry. TuneCable supports six output formats, and you can convert Tidal songs to MP3, AAC, WAV, FLAC, AIFF, and ALAC. You can select any format you want. If you prefer the original format, then simply select AUTO, and TuneCable will output the songs with the original parameters. Additionally, the encoded and encrypted Tidal songs are converted to decoded and decrypted files, which are common files like other audio on your devices.
What does it mean? With TuneCable Tidal Music Converter, you can convert AAC/FLAC Tidal songs to other popular formats and get common audio files, allowing you to transfer Tidal songs to any supported device, without worrying about format compatibility.
🔷 Feature 3. Preserve High-Quality Sound
As we mentioned above, Tidal is known for its vast library, and high-resolution sound quality as well. So when picking a converter for Tidal Music, you have to take the output sound quality into your consideration. And this is what TuneCable is good at.
TuneCable Tidal Music Converter works with the Tidal Music app and is capable of preserving the original quality of Tidal's music. That means, TuneCable can preserve HiFi quality and even higher Tidal Master sound quality. When you select a Tidal song with Master quality, TuneCable will download the song with up to the original quality saved. Therefore, even if you cancel your Tidal subscription, you can still enjoy high-resolution audio from the local. This is quite a piece of good news for those pursuing high output quality. But attention, if you are a Tidal Free user, then you can enjoy up to only the standard 160kbps sound quality.
🔷 Feature 4. Smartly Identify and Keep ID3 Tags
ID3 tag is quite important information for each user to identify and manage their huge music library. There are so many tracks with the same title. And you need tag info and such visual information to help you recognize your favorite music. TuneCable Tidal Music Converter, an advanced music converter, does well in this field. It is capable of smartly identifying and keeping ID3 tags for every Tidal song, playlist, album, and podcast. You can save ID3 tags such as Title, Album, Artist, Artwork, TrackNum, DiscNum, Year, and so on after converting songs with TuneCable. Thus, it will be as easy as pie to manage and recognize your every song.
🔷 Feature 5. Run at up to 5X Faster Speed
The conversion speed is another factor that you have to consider when looking for a Tidal music converter. Each music buff must have established his/her playlists through years of endeavor. These playlists may have a couple of songs, hundreds of tracks, or even thousands. That will be too slow if a converter runs at only 1X the speed and will take you too much time on converting. But you should feel released with the help of TuneCable since TuneCable can convert Tidal songs at up to 5X the speed! For instance, to download a Tidal song with four minutes, you need to spend minutes half of the length. And you can download your favorite Tidal songs in a shorter time. At the same time, TuneCable supports batch downloading, you can add Tidal songs in bulk or simply add your whole playlist or album.
🔷 Feature 6. Provide Flexible Output Settings
TuneCable is equipped with not only excellent performance but also outstanding flexible output settings. Many converters may focus only on downloading and converting Tidal songs to local devices but ignore to offers their users a better user experience. TuneCabl Tidal Music Converter, on the other hand, contributes to providing both cutting-edge conversion and sophisticated settings. It has a settings panel, where you can select output formats, bit rate, sample rate, and output folder, name the output files with Track Number, Title, Artist, Album, Year, and Playlist Index, and also classify the output files into folders based on a playlist, album, artist, etc., bringing you the largest convenience to organize and manage your massive output Tidal music files.
🔷 Feature 7. Permanently Relish High-Quality Playback on Any Device
Music streaming shows too many limitations and restricts your music enjoyment quite a lot. Tidal now supports only Windows, macOS, Android, and iOS, you can install a TIDAL app on the supported devices. You can even access its web player. But that's still humble for your wide use. Even though you use TIDAL Connect to link devices with your TIDAL, you can only enjoy music on limited devices online. Besides, the process is too weak if the network is not stable. It is very difficult to smoothly listen to Tidal music on the go or in some remote areas. More importantly, once you unsubscribe to Tidal, you are downgraded to a free user, which means you can neither download Tidal music for offline listening nor enjoy the high-quality sound.
Fortunately, after using TuneCable Tidal Music Converter to download Tidal songs, you can save the high-quality audio files forever, transfer Tidal music files into your smartphone and MP3 players for stable listening on the go, and import Tidal high-quality audio DJ software to guarantee a successful carnival or show. The high-quality playback of Tidal music is no longer limited to specific devices, subscription status, or network connection because TuneCable Tidal Music Converter has unlocked all the restrictions and brought permanent high-quality playback on any device.
🔷 Feature 8. Advanced Functions and Features
As a sophisticated Tidal music converter, TuneCable equips itself with more than music download and conversion. It currently provides two handy tools, Format Converter, and Edit Tag, to bring you more convenience in managing your audio files.
Format Converter is a tool that allows you to convert your local files to other plain formats with specific quality and channels saved. You can convert your local audio to MP3, M4A, FLAC, WAV, OGG, and AIFF. The source audio files can be MP3, WAV, FLAC, AIFF, M4R, OGG, M4A, and M4B. Besides, it allows to designate the quality from 128kbps, 256kbps, and 320kbps, and channels from Mono and Stereo. On the other hand, the Edit Tag is a function that you can use to add tags to your local audio or modify the tags to your preference. TuneCable provides you with seven options, namely, Artwork, Title, Artist, Album, Genre, Year, and Track Number.
Except for handy tools, TuneCable Tidal Music Converter supports 46 languages, so you can easily switch to the version you want.
---
Part 3: How to Use TuneCable to Download Tidal Music Songs to FLAC?
From the previous part and description, it can be concluded that TuneCable Tidal Music Converter is such a reliable and powerful program that can download and convert Tidal songs, preserve high-quality sound and ID3 tags, proceed batch Tidal music at up to 5X the speed, and provide flexible settings and handy tools as well. It is nearly a perfect Tidal music converter in terms of functions and performance. How about its operation process, does it need technical skills? Let's step into this part to see how to use TuneCable Tidal Music Converter to download Tidal songs to FLAC files for offline listening.
Download songs, playlists, albums, and podcasts from Tidal Music.
Convert Tidal's music to plain MP3/AAC/WAV/FLAC/AIFF/ALAC format.
Retain ID3 tags information of tracks and lossless audio quality.
Proceed with Tidal's music at a quick speed in batches.
Support Tidal Free, Tidal HiFi, and Tidal HiFi Plus accounts.
Offers tools of Format Converter and Edit Tag.
Enable permanent offline playback of Tidal Music on any device.

Free updates & technical support.
Step 1 Launch TuneCable Tidal Music Converter
After downloading and installing the TuneCable program on your computer, click on it to launch this program. The pre-install Tidal Music app will be summoned at the same time.
Step 2 Add Tidal Music Songs to TuneCable
Head to your favorite songs, albums, playlists, artists, or other content on the Tidal Music app. Click and hold on to the title, then drag and drop it to TuneCable. The Tidal music converter will parse the link and load the songs on a popup, where you need to pick your target songs and click on "OK" to confirm.
Step 3 Modify Output Settings
Move to the "Settings" icon in the top right corner and click on it. Then the settings panel will appear, you can change the output format to FLAC, select sound quality, output folder, and output file name, and choose a way to classify the output files.
Step 4 Start Downloading Tidal Songs to FLAC
When all the preparations are done, simply click on the "Convert" button to download Tidal songs at once. When it is complete, you can go to the output folder to check the output Tidal music files.
---
The Final Words:
From this article, you can get a detailed analysis of the TuneCable Tidal Music Converter in terms of its professionality, functionality, and operability. You can easily conclude that the TuneCable program is quite a secure, powerful, and reliable tool, which can download and convert Tidal Music songs, output music with high quality and ID3 tags saved, and offers flexible settings and handy tools. It is an excellent program to help you listen to Tidal music offline and enable free and permanent high-quality playback. Try it for free now!
---