TuneCable Spotify Music Converter Review
---
Music is another charm of language. Music can carry all kinds of emotions. Your happiness, sadness, helplessness, and joy can all be inspirations for music. At the same time, music can also be the best companion for those who are in different moods.
Spotify has always been far ahead in the streaming music industry. Here are the newly released albums, the most popular song recommendations, and first-hand exclusive music consultation. So it's no surprise that Spotify has broad appeal to music lovers around the world.
You can register with a Free account on Spotify and start streaming music online, notwithstanding the interval ads. When there is no network connection, Spotify grants Spotify Premium users offline playback of the downloaded songs. However, relating to downloading Spotify Music tracks, albums, and playlists for further use, we prefer turning to a music converter instead of upgrading to Spotify Premium directly.
After lots of research and tests, we score A+ for TuneCable Spotify Music Converter. It's hailed for converting Spotify Music files to common MP3/AAC/FLAC/WAV/AIFF/ALAC formats with the perfect quality preserved. In case you need more details, we will make a full review of this TuneCable Spotify Music Converter and explain how this program excels in converting Spotify songs.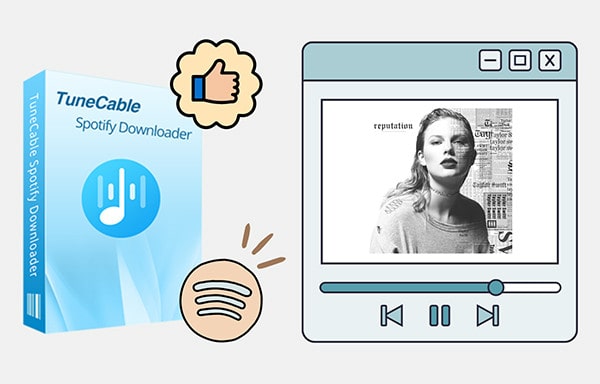 Part 1: Why is a Spotify Converter Useful?
As one of Spotify's members, in addition to streaming music on Spotify, you may want to download Spotify songs to local space and unlock other usages, including burning Spotify music to CDs, transferring Spotify music to USB, adding Spotify music to a video as BGM, etc.
What's stuck with you getting full control over the Spotify Music files? The encrypted restraints imposed on the Spotify Music files. You can only realize your goals by unleashing the protection. Thus, you can use a Spotify Converter to disappear these limitations.
---
Part 2: Highlighted Features of TuneCable Spotify Music Converter
To utterly reverse the situation, a professional Spotify Converter hands over the imminent solution. But there are tons of extractors developed for Spotify Music, which one can be worthy of a big job? Going through many tests, we conclude TuneCable Spotify Music Converter survived the uphill battle. You can soon tell why after checking the following review in detail.
🔷 Convert Spotify Music to Multiple Formats
To download Spotify songs for offline listening, you are bound to costing a monthly fee to buy the Spotify Premium membership. Even so, the downloaded songs are merely cached on the local disk and are limited to being played within the Spotify app. To allow for using Spotify songs with other programs, on the one hand, you have to unlock the protection imposed on the Spotify files, on the other hand, the formats of the Spotify files are supposed to be compatible with the app.
TuneCable Spotify Music Converter realized what users need in advance and crafted it to be more than a music downloader but also a converter. Before the conversion, you can decide which output format you want in the Settings module. All popular audio formats are available that can almost be applied to all kinds of programs and devices, including MP3, AAC, FLAC, WAV, AIFF, and ALAC.
🔷 Relish Permanent Playback on Multiple Devices
You wouldn't think of removing Spotify's file restrictions if it wasn't for more demand. So when you search for related topics, you must be hoping to get a one-and-done solution to unlock other uses of Spotify music (besides listening to songs online).
TuneCable comes like a savior. It converts songs to common formats as local files and completely assists in getting rid of the restrictions. You can thereafter transfer the downloaded Spotify tracks to kinds of portable devices and use them with a variety of programs.
What's more, the converted Spotify songs can be yours perpetually unless you delete them from the local disk. They will be accessible even though you are not subscribed to Spotify anymore. You can even share these downloaded Spotify playlists with your friends and gift them offline playback joy instantly.
🔷 Fast Speed to Extract Spotify in Lossless Quality
Most music fans consider audio quality one of the most essential features of music tracks. TuneCable copies that when working on this music converter. It manages to preserve the lossless sound quality and converts songs fleetly as well. It's acclaimed 10x faster speed when processing the conversion under a stable network connection. You don't need to wait for several days or longer time to get your collected Spotify Music playlists downloaded on a local PC.
🔷 Automatically Identify ID3 Tags of Each Spotify Track
How can we bear the file name of downloaded songs displayed as a string of date numbers? In this case, it is difficult for us to distinguish which song we need from a bunch of files. Therefore, we really need a well-thought-out tool like TuneCable. It can save the ID3 tags of each song perfectly, which enables us to navigate to the song we are looking for.
🔷 Feel Free to Switch Between Several Download Modes
Why TuneCable excels in the music converter industry? Optimization in conversion modes contributes. TuneCable offers several conversion modes in case it failed to download songs. You can switch between different conversion modes, including Intelligent Mode, Spotify Record (the most frequent choice), WebPlayer Download, and YouTube Download. It significantly enhances the success rate by ripping music you want from different sources.
🔷 Classify the Downloaded Spotify Songs According to Different Needs
TuneCable puts efforts into sorting the downloaded Spotify songs, albums, and playlists. You can categorize the songs you are about to download by None, Playlist, Artist, Album, Artist/Album, and Album/Artist. Meanwhile, there are multiple options for setting up the output file name, such as Track Number, Title, Artist, Album, Playlist Index, and Year.
---
Part 3: Download Spotify Songs with TuneCable Spotify Music Converter
In all aspects, the text above draws a conclusion about TuneCable Spotify Music Converter and outlines the highlighted features of this program. Next, we need to figure out how it works and show guidance on downloading Spotify songs in common formats.
Download Spotify Music in lossless sound quality.
Convert Spotify Music to MP3/AAC/WAV/FLAC/AIFF/ALAC.
Retain the full ID3 Tags information of tracks.
Permanently save Spotify Music at a quick speed.
Download Spotify songs with Spotify Free or Spotify Premium.

Free updates & technical support.
Step 1: Launch TuneCable Spotify Music Converter
Start TuneCable Spotify Music Converter on your computer after the installation. The Spotify Music app will be launched as well. Log in to Spotify with your Free or Premium account.
Step 2: Set up the Preferred Output Parameters
In the top right, click the "Settings" icon to check the available options and change the output formats, quality, saving path, and other settings according to your need. The changes will take effect immediately. Simply close the setting window and move to the next step.
🔹 Output Format: AUTO, MP3, AAC, WAV, FLAC, AIFF, ALAC
🔹 Bit Rate: 320kbps, 256kbps, 192kbps, 128kbps
🔹 Sample Rate: 44.1KHz, 48KHz, 96KHz, 192KHz
🔹 Output File Name: Track Number, Title, Artist, Album, Playlist Index, Year
🔹 Output Organized (way): None, Playlist, Artist, Album, Artist/Album, Album/Artist
Step 3: Add Spotify Songs to Task List
Choose a preferred playlist or album on the Spotify Music app, then hold press on its title and drag it to TuneCable to parse. Or right-click the wanted track, album, or playlist, right-click on it, and then choose "Share" and copy its link. And then copy and paste its link to the TuneCable search box for parsing.
When all songs are loaded, deselect some unwanted tracks and click "OK" to add the selected tracks to the task list waiting for downloading.
Step 4: Converting Spotify Songs to Common Formats
If you want to add more songs from other playlists, click the "+Add" button in the upper left. Then you will see a pop-up window for adding more songs. Also, you can remove some useless tracks now. After that, click "Convert" to activate the conversion. Wait with patience, the Spotify songs will be downloaded to the formats you set before.
When the conversion is completed, you can use the Spotify songs with various programs and enjoy the playback on multiple devices unlimitedly.
---
The Final Words:
To download Spotify songs for long-term and extensive use, TuneCable Spotify Music Converter is always supportive in a practical way. It helps you build an offline music library and be ready for your private need anytime. It won't take too much time to have a look. Just download it and start a free trial right now.
---