[Updated] Download Christmas Songs as Local MP3
---
🎅 Driven by Christmas, the relevant songs become trending this December again. The familiar melody, jingle bells, jingle bells jingle all the way oh what fun it is to ride in a one horse open sleigh... began to play in the streets and alleys in a loop again.

In childhood, our happiest moments must be every Christmas spent with our parents. When we grow up, we also need to create our own unique memories with our children. For example, choose the gifts we like for our children, decorate the house with Christmas trees, ribbons, lights, etc., and most importantly, prepare a Christmas song that belongs to us. In an instant, the festive atmosphere filled up.
🎅🎅 For some families, the same Christmas song is chosen every year. However, some families would like to see changes from year to year. In addition, there are different forms of playing Christmas carols. Some choose to play on mobile phones, some choose to play via USB, and some choose to play via CD. Some people even make electronic Christmas cards with Christmas songs and send them to their friends.
🎅🎅🎅 Regardless of your choice, downloading Christmas songs in MP3 format is always a prerequisite. As we all know, the MP3 format is the one with the best compatibility. If you can download the desired Christmas songs in MP3 format, then all the problems will be solved. In this article, we not only teach you how to find the Christmas songs or albums you need but also share with you the best way to download Christmas songs in ordinary MP3 format for multiple uses.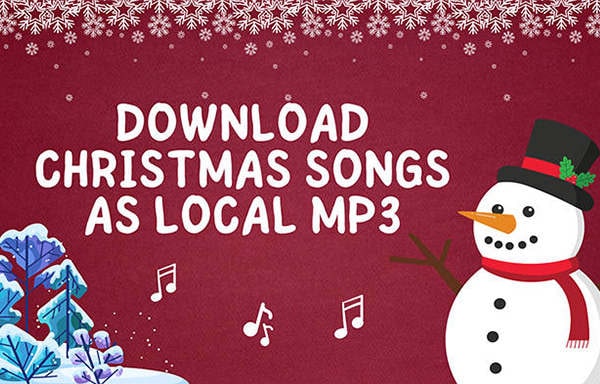 ---
It's conspicuous you can find all wanted Christmas songs and playlists on streaming music platforms. Every Christmas, Spotify, Tidal, Apple Music, and other streaming music services put efforts into a diversity of selections of Christmas songs, albums, and playlists. You will never need to worry about how to find your Christmas songs as long as you follow their recommendations.
It's known that both Spotify and Tidal provide a Free plan for people who can not afford constant monthly subscriptions. Some of them choose to download Christmas songs from Spotify instead of Tidal whilst the rest stand opposite.
When you are looking for a free platform to download Christmas carols, Tidal Music is available. Also, if you are already a Tidal HiFi or HiFi Plus user, then Tidal stands by anytime you want.
On Tidal music, you can search for Christmas music by Tracks, Videos, Artists, Albums, Playlists, and Profiles. Classical and popular Christmas hits are covered. Next, we will give you some recommendations for some top Tidal Christmas playlists for your reference.
❄️ 1. Christmas Classic:
🔔https://tidal.com/browse/playlist/597d5465-b7d9-4872-80a5-230bdc59ce83
If all you want for Christmas is all the traditional Christmas songs wrapped into one playlist, just press play on this selection of Christmas Classics. From modern-day favorites (Mariah Carey, Michael Bublé) to forever evergreens (Frank Sinatra, Bing Crosby), you'll find all the classics right here.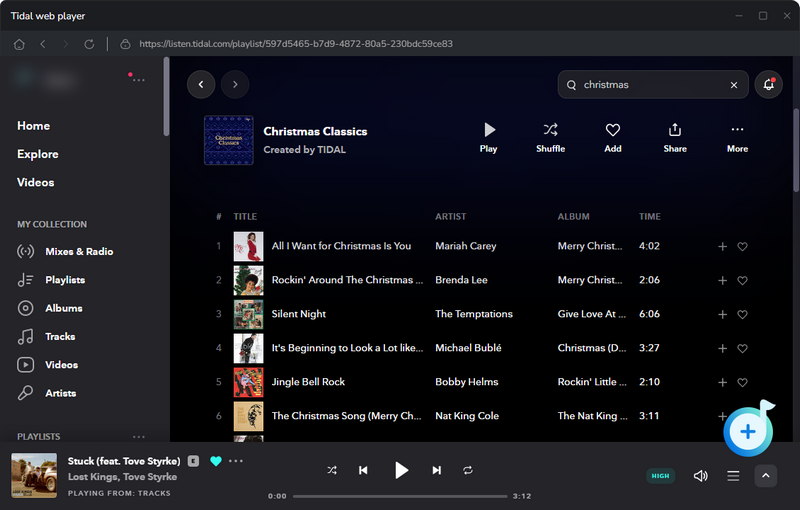 ❄️❄️ 2. Christmas Pop:
🔔https://tidal.com/browse/playlist/f844799f-1ad0-45ab-a2cf-db4ceb535d29
This playlist makes a list of pop tunes about Christmas. You will not miss what else is listening to in trend and keep up to date.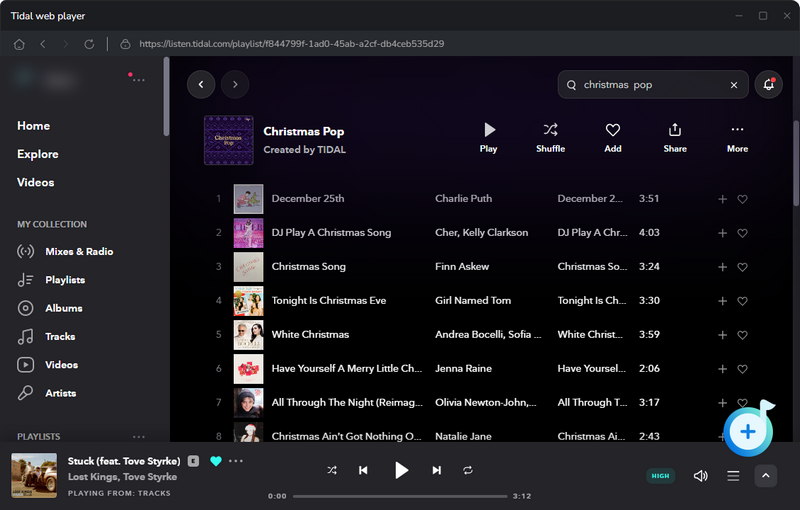 ❄️❄️❄️ 3. Christmas Rock:
🔔https://tidal.com/browse/playlist/1e51405e-1b32-4704-aff3-4a84a92e0343
Rock with Christmas songs and make your day more special. This playlist compiles the top hits of Christmas rock tunes. Let the season begin with this set of rockin' holiday tunes, from classic-rock-radio staples to indie, punk, and metal reinventions.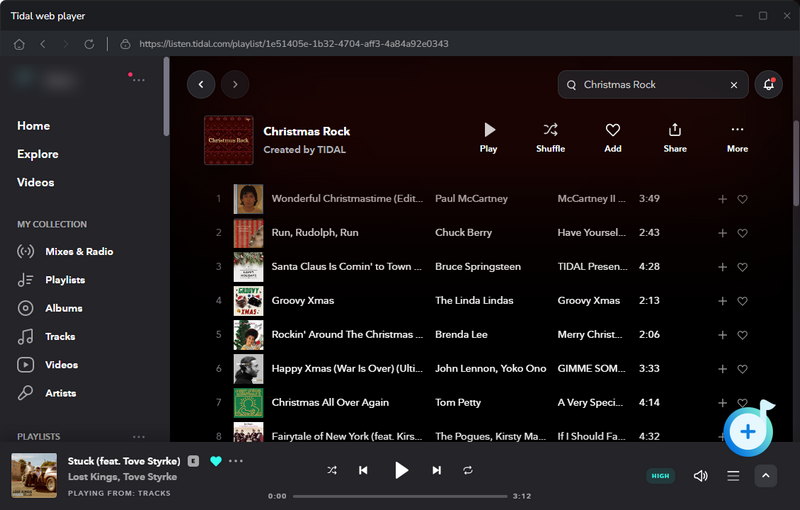 Tidal prepares a set of Christmas albums, videos, and playlists for you this season. If you have any trouble locating proper holiday carols, Tidal is reliable all the time. You only need to register a free account then you can get access to these Christmas songs. But the problem remains. How do we download them as local MP3 files for further use? We will nail the specific details in the following part.
---
According to Tidal official website, Tidal Music exports songs in FLAC formats, moreover, in encrypted FLAC format. Upgrading to a Tidal paid subscription only unlocks the ability to offline cache files but not hand over full control over the Tidal files. If you expect fewer limitations, then you have to turn to a professional tool, called Tidabie Tidal Music Converter.
☃️Tidabie Tidal Music Converter☃️ is crafted for converting Tidal Music tracks, albums, playlists, and other audio files into plain formats, including MP3, AAC, WAV, FLAC, AIFF, and ALAC. Tidal Free, Tidal HiFi, and Tidal HiFi Plus subscribers can avail of offline downloading with the help of Tidabie. Furthermore, Tidabie is capable of preserving Tidal HiFi and HiRes audio quality, enhancing your lossless listening experience. The converted Tidal files can be transferred to any device and played by various programs without restrictions.
With the advanced technology, you will not lose the ID3 tags of the Tidal songs after the conversion. And you have the chance to download the lyrics of the Christmas songs for singing aloud. Therefore, it's reliable whenever you plan to rip Christmas songs from Tidal and download them as local MP3 or other formats. The specific steps will be displayed below to lead you to download Christmas songs as local MP3 files without sound quality loss.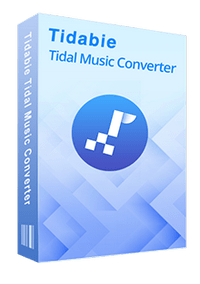 Tidabie Tidal Music Converter
Download Tidal songs/albums/playlists/podcasts locally.

Convert Tidal tracks to MP3/AAC/WAV/FLAC/AIFF/ALAC.

Preserve Tidal Hi-Res/CD audio quality and full ID3 tags.

Run at 10x speed & batch download Tidal playlists.

Sort Tidal music files by playlist, album, artist, etc.

Offer tools of Format Converter, Tag Edit, etc. & save lyrics.

Enjoy Tidal music offline on devices and programs.
STEP 1 Launch Tidabie Tidal Music Converter 🎊
Tidabie can extract songs, albums, podcasts, and playlists from both the TIDAL app and the Tidal web player. On the primary interface, you can choose an audio source - the app soure requires the TIDAL application on your computer and allows you to download Tidal HiFi and HiRes audio, while the web player source works by accessing the Tidal web player and saves Tidal HiFi quality. Regardless the audio source, you can download Christmas songs from Tidal to MP3 files. Pick the one you want.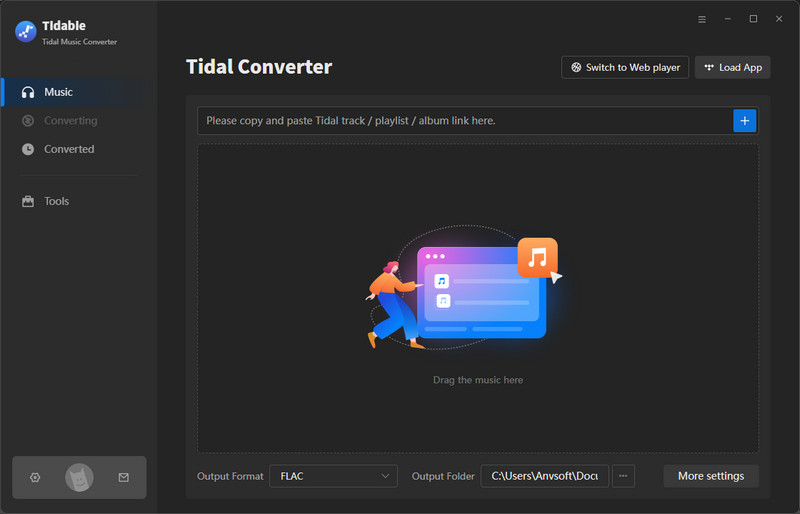 STEP 2 Add Target Christmas Music to Tidabie🎊🎊
If you are using the TIDAL app with Tidabie, ensure your account is logged in. Go through the Tidal library to find your wanted Christmas songs, and directly drag and drop the playlist to Tidabie. You can also open the playlist and select Share > Copy link, then paste the song/album/playlist link to Tidabie.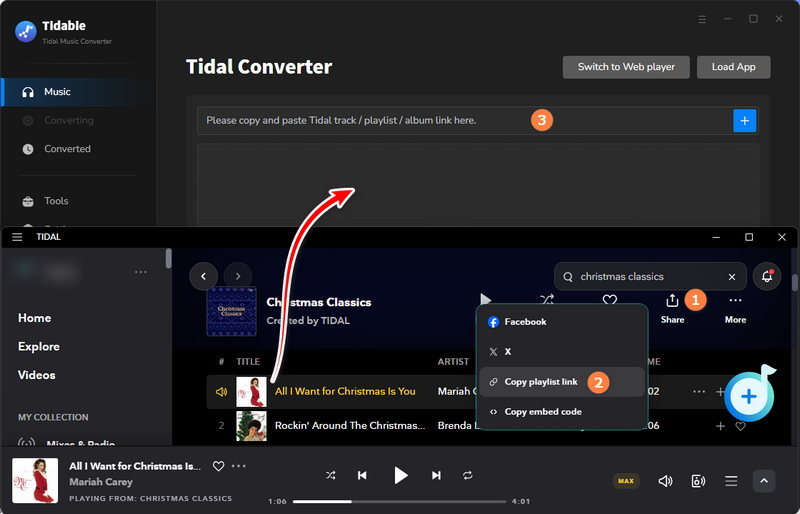 When you use the embedded Tidal web player, you need to follow the tips to sign into your account first. Browse the Tidal library to find your wanted Christmas music, open it, and click on the blue "+" icon floating in the bottom right.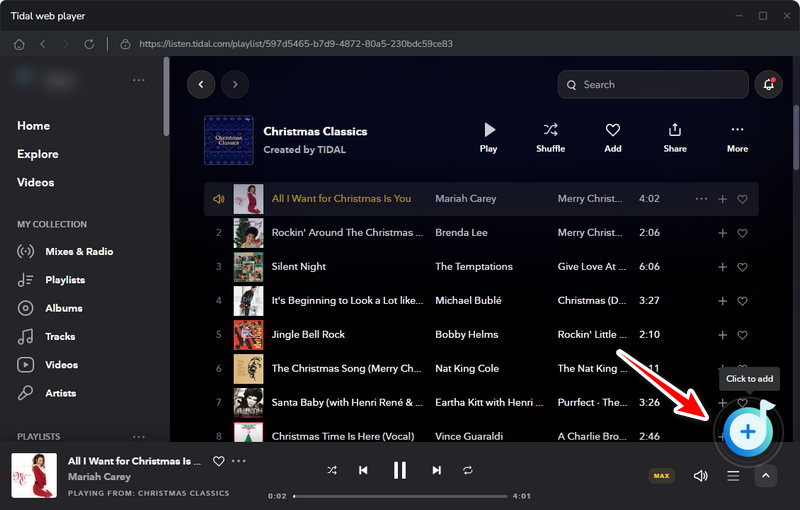 Whichever you use, Tidabie will then parse the music and display the songs on a popup, where you can check the specific items. Next, click on the "Add" button to confirm your selection. If you want to add more Christmas songs, simply repeat the step.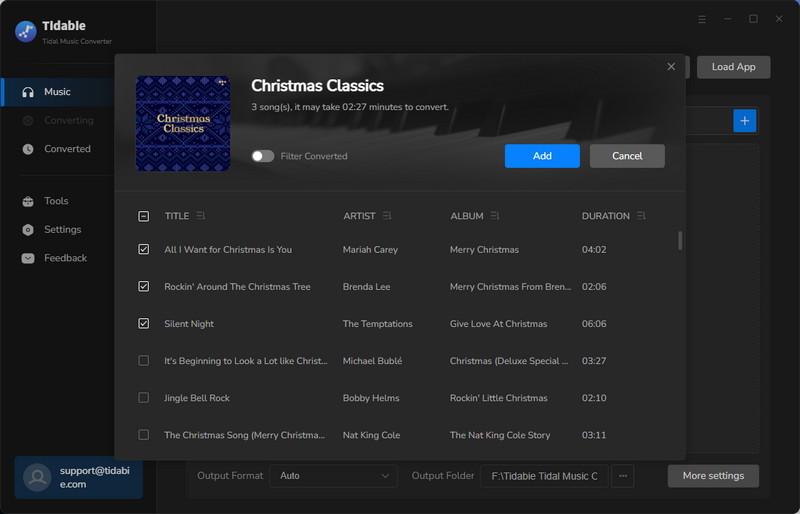 STEP 3 Set up Output Format and Other Parameters🎊🎊🎊
To download Christmas songs as MP3 files, we need to set up the output format. The options of preferences are displayed by clicking the "Settings" tab in the bottom left.
Select "MP3" in the Output Format setting. The bit rate, sample rate, output folder, output file name, and other settings can be adjusted as well.
To organize Christmas songs by Playlist, you can choose "Playlist" in the Output Organized setting. After the conversion, the downloaded Christmas songs will be saved to an automatically created output folder named after the playlist. If you want to save the lyrics, do not forget to check the box.
Conversion Mode: Intelligent Mode, Tidal Record/Web Download, YouTube Download
Output Format: Auto, MP3, AAC, WAV, FLAC, AIFF, ALAC
Bit Rate: 320kbps, 256kbps, 192kbps, 128kbps
Sample Rate: 44.1KHz, 48KHz, 96KHz, 192KHz
Output File Name: Track Number, Title, Artist, Album, Playlist Index, Year
Output Organized (way): None, Playlist, Artist, Album, Artist/Album, Album/Artist, Playlist/Artist, Playlist/Album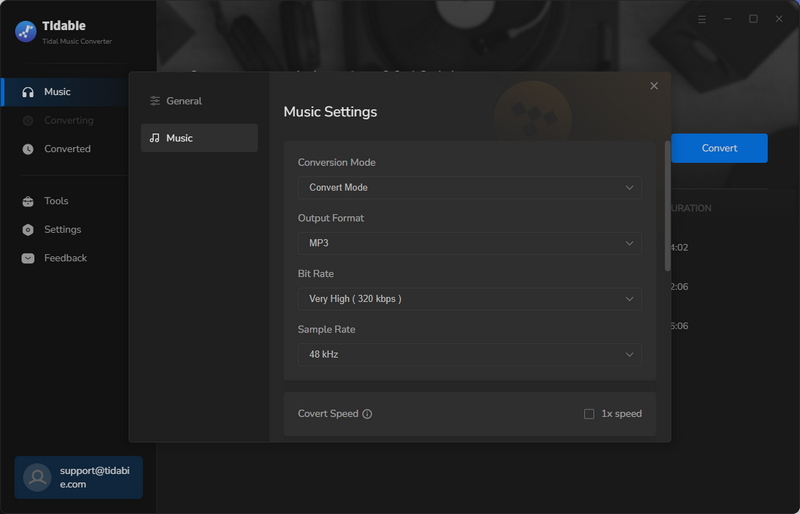 STEP 4 Convert Christmas Songs to Local MP3 Files🎊🎊🎊🎊
After adding all your wanted Christmas songs to Tidabie, go to the Home tab and click on "Convert" to start downloading Christmas songs to MP3 format.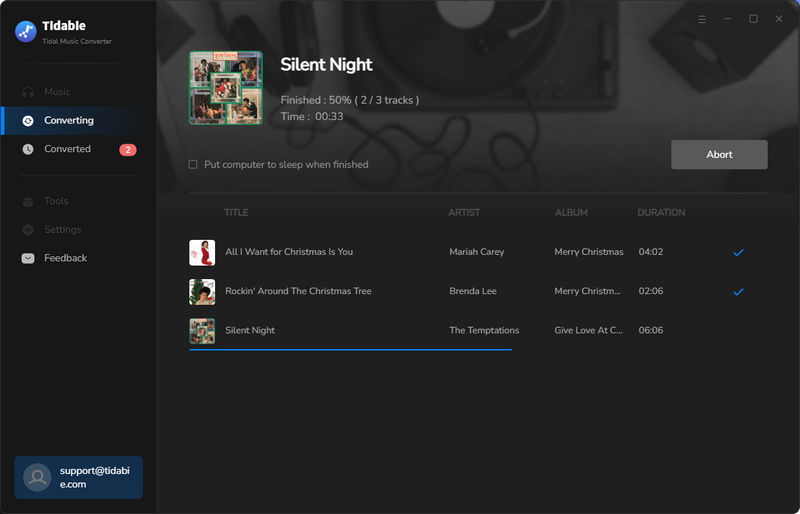 STEP 5 Freely Use Downloaded Christmas Songs🎊🎊🎊🎊🎊
The downloaded Christmas songs will go to the saving path you've preset. Open the output folder and find the Christmas songs in MP3 formats. They are not limited to playing via the Tidal Music app or Tidal web player. You can use them freely on any device compatible with MP3 files. Since MP3 audio files can be played on almost all devices via any program, you have no worries.
>> You May Also Need: Transfer Tidal Music to iPhone / Transfer Tidal Music to Android Phone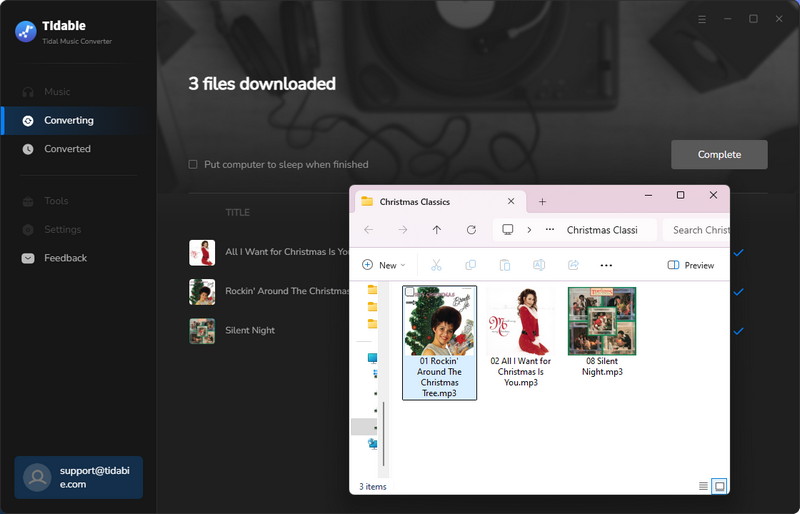 ---
Conclusion
You may not know that you can have so many things to do with Christmas songs until you turn them into normal MP3 files. After reading this post, you may still want more solutions. But we are sorry to tell you that, there is no more solution can do without a Tidal Music converter as the files provided by streaming music services are strictly encrypted. Since a Tidal Music converter is required eventually, then how about going straight to the optimum one, Tidabie Tidal Music Converter? Let's start a free trial and get those Christmas songs downloaded as soon as possible. Remember time waits for none.