Download Justin Bieber Albums From Tidal
---
With his debut My World (2009) to the latest Justice (2021) album, Justin Bieber has become a global phenomenon and has shockingly been in the music industry for over 10 years now! And you can roll out all Justin Bieber albums on Tidal, which mainly provides higher streaming rates than any music platforms like Spotify, Apple, Deezer, Pandora or YouTube Music. Apart from the Tidal Free tier at 160 kbps announced in 2021, Tidal has been offering CD-quality audio at 24bit/192kHz, which is also well-known as Tidal HiFi. So if you are one of the Beliebers, and eager to download Justin Bieber albums from Tidal for offline playing on all your devices, go with me to find out the method in this article.
Let's make it clear, if you download Tidal Music by the way of turning on the Download mode in the Tidal Music app, all these downloaded music are encrypted and immovable! The method we will introduce in this article is the ultimate way to get Justin Bieber albums from Tidal converted as the actual audio files and physically downloaded onto your computer. Afterward, you can transfer Justin Bieber albums from the computer to your players with no complicated procedures.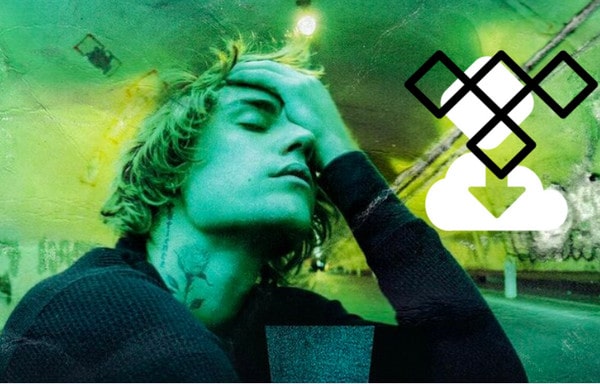 So firstly, let me list you the albums that Justin Bieber has released in the past years. Still, the Justin Bieber duets are worth downloading for offline enjoyment and you can easily find them out on Tidal App or Tidal Web Player, such as "Despacito (Remix)" (featuring Luis Fonsi and Daddy Yankee), "Beauty And A Beat" (featuring Nicki Minaj), "Stuck with U" (featuring Ariana Grande) and more.
Tidabie Tidal Music Converter is the key to all downloading puzzles. This is a music converter and downloader and you can get them downloaded to your personal computer for offline playing at any time. It is worth noting that, you can download all Justin Bieber's albums into a HiFi sound quality, just as high as the CD quality. Moreover, Tidabie Tidal Music Converter gives richer options to users when they have a demand of downloading the music to different formats, thus the downloaded Tidal Music will be compatible with various devices. So now, it is my job to let you know how Tidabie exactly works and you can follow the steps to download Justin Bieber's songs for listening offline right now!
Be minded, Tidabie Tidal Music Converter supports Tidal Free and Tidal HiFi users to download music. But if you want to download Justin Bieber's songs into HiFi sound quality, you are supposed to upgrade your Tidal Free plan to Tidal HiFi or Tidal HiFi Plus plan in advance.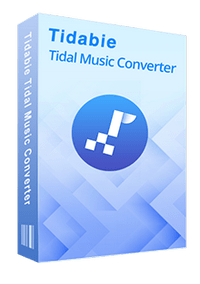 Tidabie Tidal Music Converter
Support Tidal Free and Tidal HiFi users.

Download Tidal music to the computer.

Convert to MP3, AAC, WAV, FLAC, ALAC, and AIFF.

Keep Hi-Fi audio quality.

Retain ID3 tags after conversion.

Free updates & technical support.
STEP 1

Access Tidal Web Player built-in Tidabie

As you run Tidaibe Tidal Music Converter, you can access the Tidal Web Player within the program. Click on the 'Open Tidal Web Player' button. You then log into your Tidal account, either Tidal Free or Tidal HiFi (recommended). You will be able to view all music as you view on your Google Chrome browser before.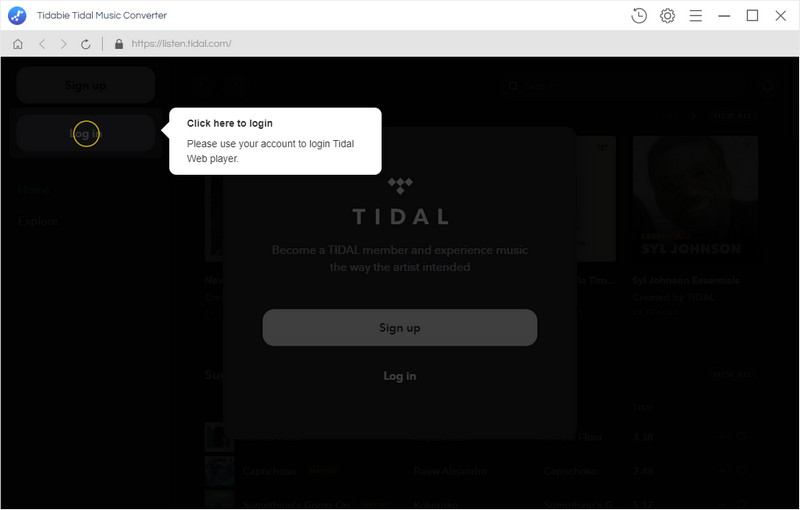 STEP 2

Set up Tidal Music Output Format

This is a nuclear step that will determine what type of audio files and the output rates you finally get. Go to the 'Settings' part, here you can customize the parameters related to the output format, output sound quality, output folder, output file name, and the output organized way.
Output Format: Auto, MP3, AAC, WAV, FLAC, AIFF, ALAC
Bit Rate: 320kbps, 256kbps, 192kbps, 128kbps
Sample Rate: 44.1KHz, 48KHz, 96KHz, 192KHz
Output File Name: Track Number, Title, Artist, Album, Playlist Index, Year
Output Organized (way): None, Artist, Album, Artist/Album, Album/Artist
When choosing 'Auto' or 'FLAC' as the output format, the output sound quality will come out to HiFi level as the original.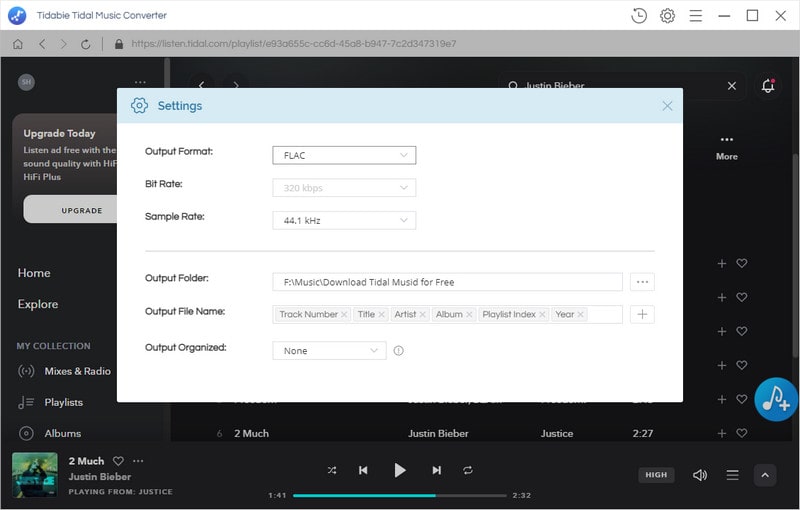 STEP 3

Add Justin Bieber Albums to Conversion Panel

You can directly enter the keyword of Justin Bieber or the title of Justin Bieber's albums. And open to view the album contents while you next click on the 'Add to list' button at the bottom right. Tidabie will then read and put the songs in this album to the conversion panel. You then just select the songs in your favor.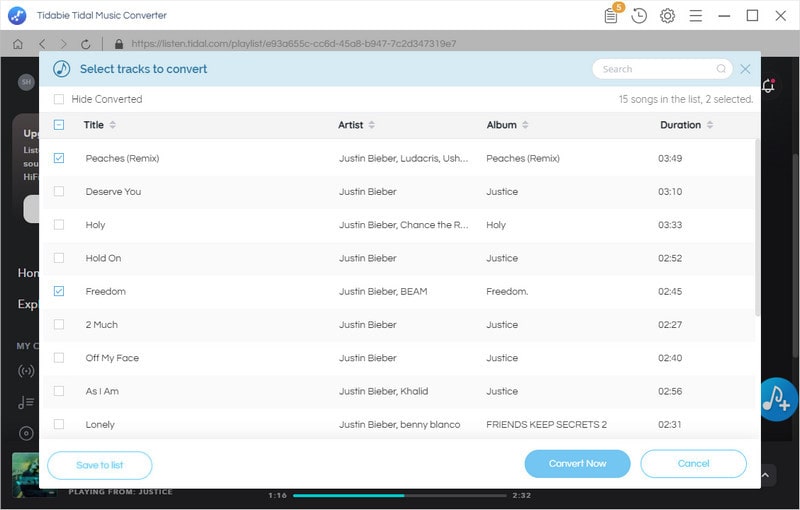 To add another album to convert at one go, you then click on the 'Save to list' button and then find out another album as you want. Again, click on the 'Add to list' button to put it to the conversion panel and select the songs in your preference.
Not until you have selected all Justin Bieber album songs, open the Task list on the top right corner, you then click on the 'Convert' button to proceed.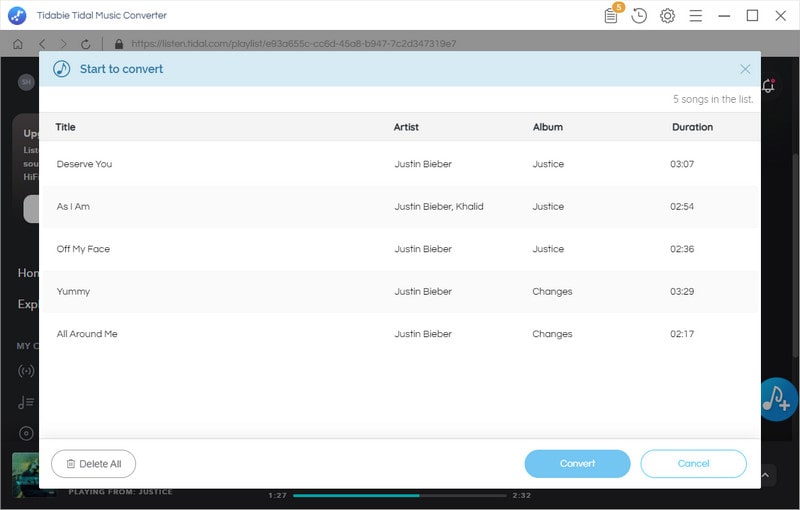 STEP 4

Converting Justin Bieber Albums to Actual Audio Files

You will shortly be waiting for the conversion to complete. Tidabie Tidal Music Converter will convert the songs at a 10X conversion speed. And all Justin Bieber albums will convert and download as actual audio files in the process.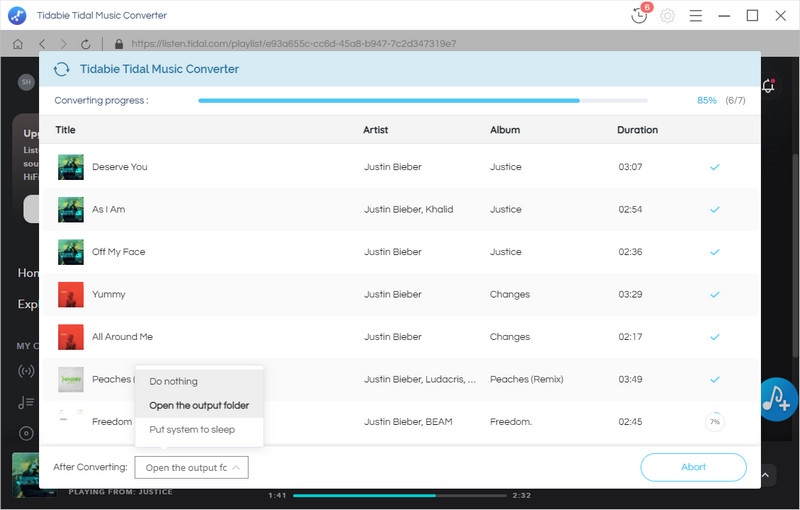 STEP 5

Check All Justin Bieber Albums Downloads on the Computer

Once the conversion is done, you can click the 'History' icon on the upper right corner or simply go to the output folder you set in Step 2 to find all Justin Bieber downloads from Tidal now available on your computer local folder.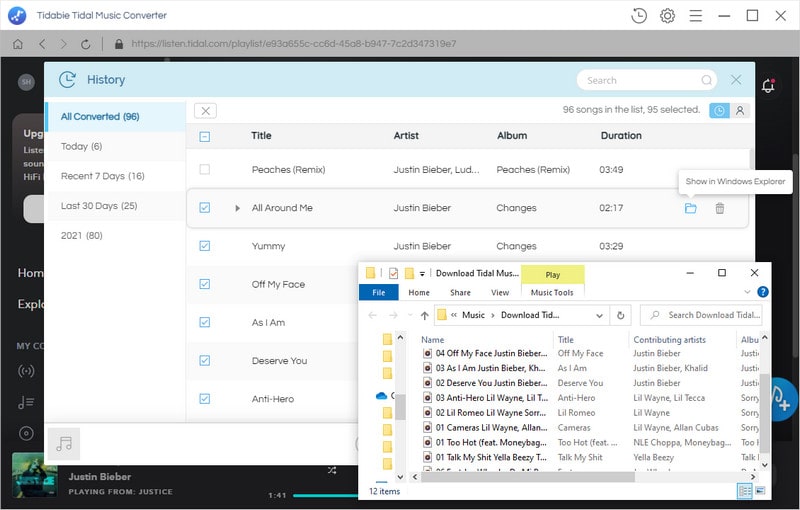 Summary
Congratulation, you learn a useful way to download any music in Tidal and keep them on your computer. Not just Justin Bieber, but also any single song, artist, playlist, album, you can go with the steps in this article to get the targeted songs downloaded. Tidabie is now offering the new user a free trial with 3 files at a time. You can download the first in every file. If you can't wait to download Bieber's songs, get yourself a full purchase of Tidabie! We are always here to help you download and convert music with ease.