Download 2023 Grammy Awards Music from Tidal
---
The Grammy Awards are music awards sponsored by the Academy of Recording Arts and Sciences of the National Academy of Sciences in 1958. The Grammy Awards, together with the Academy Awards for film, the Emmy Awards for television, and the Tony Awards for drama, are collectively known as the four major entertainment awards in the United States of the year.
The Grammy Awards cover pop, rock, R&B, rap, country, gospel, jazz, Latin, classical, and other music genres, and the winners are determined by professional votes. The most important awards of the Grammy Awards are the four major (comprehensive) awards: Album of the Year, Production of the Year, Song of the Year, and Best Newcomer.
Just watched the 65th Grammy Awards ceremony, and maybe you already have a lot of songs and albums in your mind that you want to know about. What kind of streaming music platform to choose at this time is very important. Tidal's subscription tiers are primarily based on audio quality. So if you're an audiophile with high-end headphones, the Tidal will fit your bill. Here, we can find the playlist specially created by Tidal Music editors for the 2023 Grammy Awards songs. Here, you can also easily find your favorite singers and albums. After reading this article, you can learn in detail how to use Tidal Free, Tidal HiFi, or Tidal HiFi Plus account to download 2023 Grammy Awards songs or albums from Tidal Music to local as ordinary MP3, AAC, FLAC, WAV, AIFF, or ALAC format.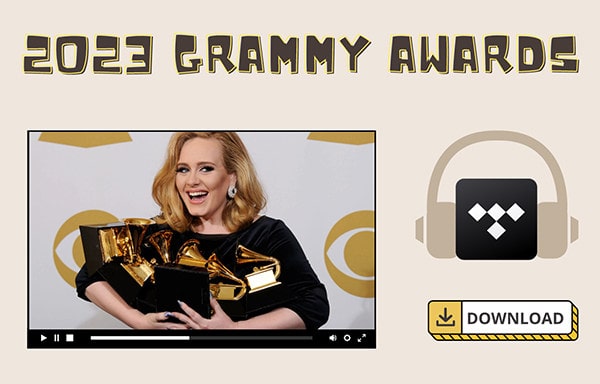 🔹 Part 1. 2023 Grammy Awards Music on Tidal
The 65th Annual Grammy Awards night receive widespread media coverage. As one of the most popular streaming music platforms, Tidal Music has been updating its music library all the time. It has a large number of genuine licenses of high-quality music, so you don't have to worry about not finding the songs you want here. Most recently, it created a music list called "The Grammy Nominees 2023." This playlist contains 88 songs, all about the 2023 Grammy Awards.
In addition, you can also search for other songs from the Grammy Awards directly through its search box, and then find the song or album you want. For example, the 2023 Grammy Awards in four major categories: Album of the Year: Harry Styles; Harry's House Song of the Year: Bonnie Raitt, "Just Like That"; Production of the Year: Lizzo, "About Damn Time"; Best Newcomer: Samara Joy. On Tidal Music, you can find these genuine songs for playback.

---
🔹 Part 2. Download 2023 Grammy Awards Music from Tidal
We learned that 2023 Grammy Awards music and albums are available on Tidal, but how to download them for offline playback or other purposes? This part will unveil more details.
⇢ Part 2.1. Download 2023 Grammy Awards Music to Mobile Devices
As a Tidal HiFi or HiFi Plus user, you are allowed to download songs from Tidal and listen to them when there is no network connection. Let's check how to do it.
Step 1: Open your Android phone or iPhone, then find your Tidal Music app and open it.
Step 2: Browse the 65th Grammy Awards albums, then swipe the "Download" button to the right to turn it on.
Step 3: The songs will be downloaded soon after. When the songs are downloaded, you can offline play them.
⇢ Part 2.2. Download 2023 Grammy Awards Music to Local Computer
Tidal subscribers are entitled to offline download songs from Tidal. However, the cached Tidal files are not permitted to play out of the Tidal Music app. Besides, if you are intended to keep accessing these downloaded songs, you have to renew the subscriptions to Tidal per month.
And even if you are subscribed to Tidal, you can only download songs offline via a mobile app. The Tidal desktop app doesn't support offline downloading. To download 2023 Grammy Awards music to a local computer, a Tidal downloader is necessary.
Tidabie Tidal Music Converter even enables offline playback for Tidal Free users. It's feasible for all Tidal plans. With this tool, the downloaded songs can be stored as local songs with IDD3 tags and can be played anytime even if you are unsubscribed to Tidal. Then multiple output formats make sure the converted Grammy Awards songs are playable on diverse devices and can be used with various programs. Moreover, if you have a pursuit of high-quality music, then Tidabie is also a great choice. Because this professional converter can well preserve the original sound quality of the songs.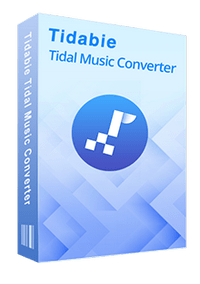 Tidabie Tidal Music Converter
Download music with all types of Tidal plans, including Tidal Free.

Downloaded Tidal songs, albums, and playlists are well-compatible with kinds of devices and players.

Convert Tidal tracks to MP3, AAC, WAV, FLAC, AIFF, and ALAC formats.

Batch download multiple Tidal Music playlists.

Download songs with HiFi audio quality and ID3 tags.

No need to install Tidal Music app.

Free updates & technical support.
Step 1: Launch Tidabie Tidal Music Converter on Your Computer
Tidabie extracts songs from the built-in Tidal Music web player. The conversion can be done even without the participation of the Tidal Music app, which avails you of much more convenience.
Launch this program then find the Open Tidal Web Player" button, and click on it to make an entry into the Tidal music library.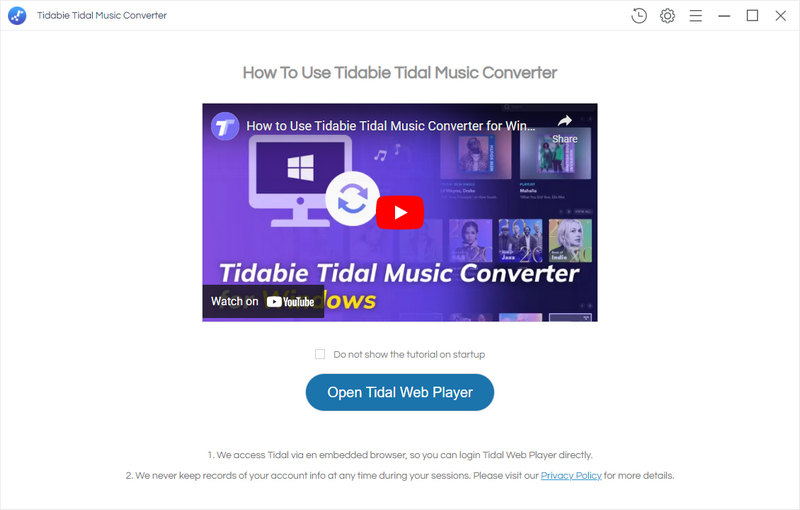 Step 2: Set Up the Proper Output Settings
The output settings can be customized according to individual needs. When setting up the output format, think about what you need to download these songs for. Because if you want to transfer these downloaded Grammy Awards songs to other devices, then you need to consider the compatibility of the song format and choose an audio format that is compatible with the device.
If you care about the sound quality of the song, it is recommended that you choose "AUTO" as the output format. Selecting this option means that Tidabie will preserve the original sound quality and format of the audio when exporting the song. Generally speaking, HiFi songs on Tidal are in FLAC format.
⚙️ Output Format: AUTO, MP3, AAC, WAV, FLAC, AIFF, ALAC
⚙️ Bit Rate: 320kbps, 256kbps, 192kbps, 128kbps
⚙️ Sample Rate: 44.1KHz, 48KHz, 96KHz, 192KHz
⚙️ Output File Name: Track Number, Title, Artist, Album, Playlist Index, Year
⚙️ Output Organized (way): None, Playlist, Artist, Album, Artist/Album, Album/Artist, Playlist/Artist, Playlist/Album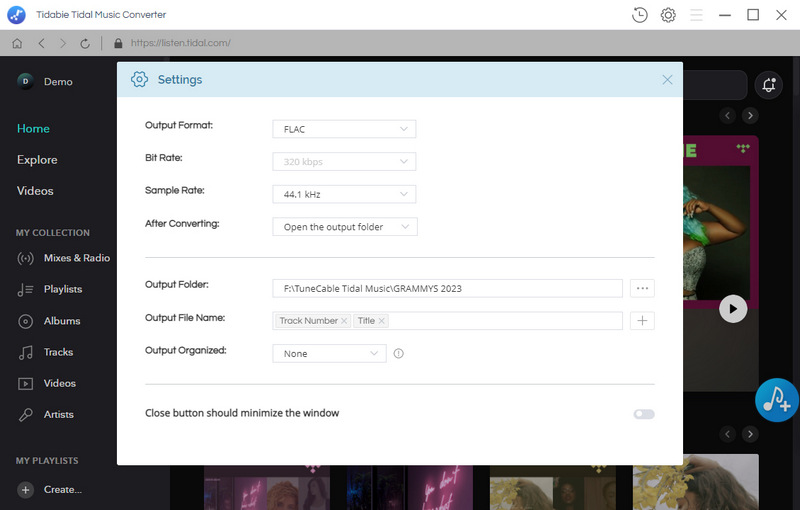 Step 3: Download the 2023 Grammy Awards Music
You can search the Grammy Awards songs, albums, or playlists via keywords on Tidal. After that, navigate to the wanted result and tap on it. Then you will find the "Add to list" button in the lower right. Click on it, then you will see a download list. Select the songs you want and start converting.
Click the "Convert Now" button when you are planning to perform an immediate conversion.
Click the "Save to list" button if you prefer adding the selected songs to a task list and adding more songs from other playlists or albums, then activating a conversion at one time.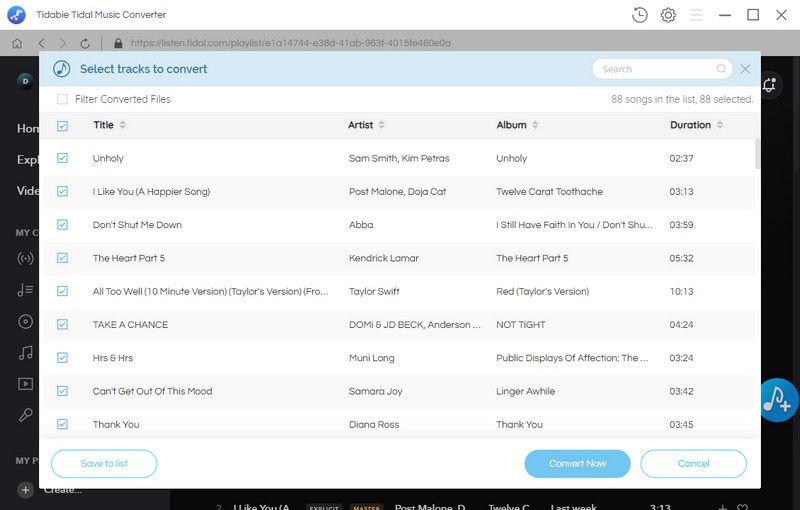 Step 4: Free Playback of 2023 Grammy Awards Music
Once the conversion is done, you can see a pop-up folder where the downloaded Grammy Awards songs are stored. These downloaded songs can be transferred to any device for offline playback without Tidal subscriptions. Only four simple steps help meet your needs for unrestricted Grammy Awards music relish.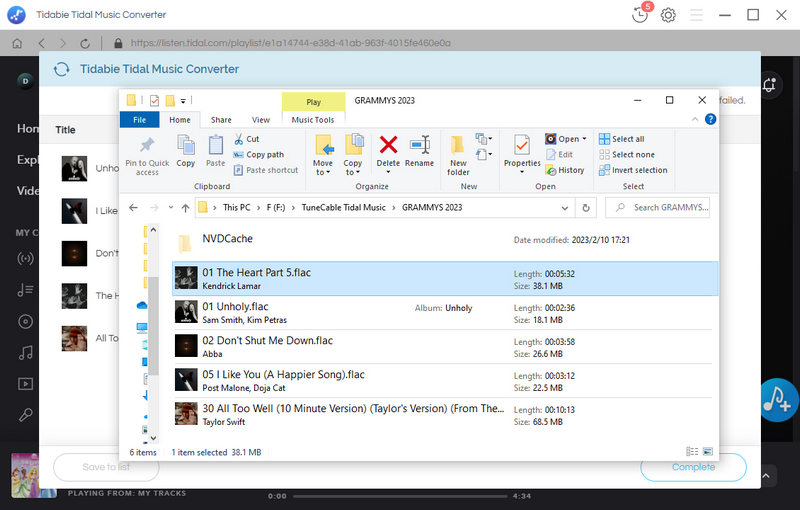 ---
Conclusion
This part recaps the post with a few words. Generally speaking, we need to download songs from Tidal, and the first reaction is to subscribe to the Tidal plan. But as everyone knows, even after paying, you are restricted in all aspects. Undoubtedly, every song and every album of this Grammy Award is worth collecting and playing back repeatedly. But we don't want to renew Tidal all the time. So downloading a Tidabie is very crucial in the long run. Give this Tidabie Tidal Music Converter a chance to assist you in downloading the 65th Grammy Awards music and albums to your local PC for eternal playback and unrestricted use.