Offline Play Tidal Music on Apple CarPlay
---
Will you plan for a long journey for the approaching summer vacation? Have you got ready with plenty of songs when you are on a road trip? If you come to be a Tidal Music subscriber, you can easily enable Tidal Music to play songs on Apple Carplay. But if you want offline Tidal Music playing on your car, then you should switch to a more reliable way. That is to download Tidal Music to either a compatible USB or iPhone device, then you can freely listen to Tidal Music without Internet or playback limitation at all. To learn how you can download Tidal Music for offline listening on Apple CarPlay, continue to read and find out.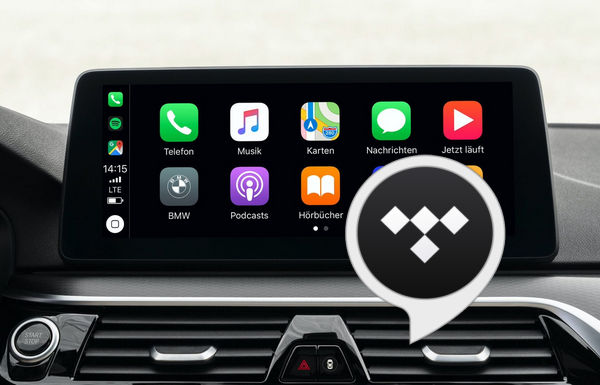 Method 1. Online Play Tidal Music on Apple CarPlay
Well in routine, you may think of establishing an online connection between your iPhone Tidal Music app and Apple Carplay. Notice, only iPhone 5 or a newer version is equipped with CarPlay support. Thus you can enable CarPlay to play Tidal Music online. But if you are on a long journey, this way might not be a wise choice. Continual playing on a long car journey will cost a significant majority of your cellphone traffic. If you want to cover all potential issues triggered by online playing, you can jump to Method 2's offline playing.
Step 1: On your iPhone, go to Settings > Siri & Search, and turn Siri on.
Step 2: Plug your phone into the CarPlay USB port.
Step 3: If your car supports a wireless Bluetooth connection, go to Settings > General > CarPlay > Available Cars and select your car.
Step 4: Make sure your car is running and ask Siri for what you need by either pressing and holding the Voice Control button on your steering wheel or touching and holding the CarPlay Home button on your touchscreen until Siri appears.
---
Method 2. Download Tidal Music to Offline Storing
Yet, giving up online playing Tidal Music on Apple CarPlay, let's turn to a more reliable and less troublesome method, download Tidal Music to offline storing and put them to locally play on Apple CarPlay. You might question that you can simply reach the target by enabling Download mode on your Tidal app. The truth is that we are telling you how to download Tidal Music to your local storage on iPhone but not on Tidal cloud storage. This way will allow you to permanently own Tidal music for personal usage at your convenience.
So to download Tidal Music to offline playing on Apple CarPlay, we will need a professional tool named Tidabie Tidal Music Converter, which is aimed to download streaming music from the Tidal web player, converting encoded Tidal Music to decoding plain audio files and save to your computer local path. Afterward, you can manage to import the local Tidal Music files to any streaming platform you want. Take it easy, you will still enjoy the original high-fidelity audio after the conversion workout. To get yourself a clear picture of Tidabie Tidal Music Converter, you can look over the key features and the process steps from below: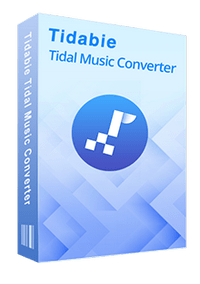 Tidabie Tidal Music Converter
Support Tidal Free and Tidal HiFi users.

Download Tidal Music to the computer.

Convert Tidal Music to MP3/AAC/WAV/FLAC/AIFF/ALAC.

Keep up to Hi-Fi audio quality.

10X faster speed; Retain ID3 tags after conversion.

Free updates & technical support.
STEP 1

Equipped Your Computer with A Tidabie Tidal Music Converter

You can simply download Tidabie Tidal Music Converter to your computer as the start. Simply get the Tidabie downloading link from above. You need to carefully choose the Tidabie Windows or Mac version that is compatible with your computer. Upon installation, start up Tidabie Tidal Music Converter on your computer.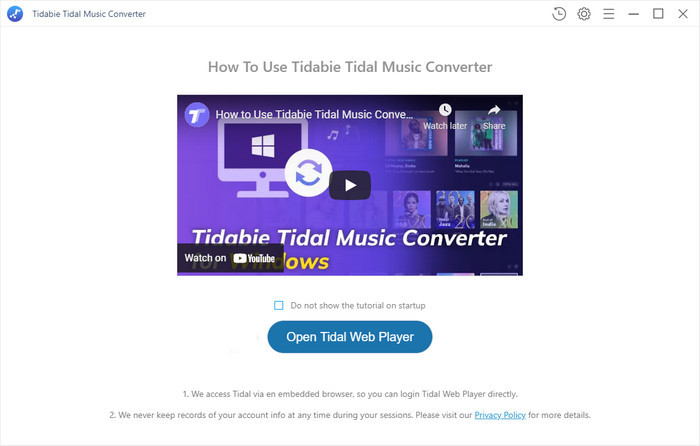 STEP 2

Preset Tidal Music Output Values

On the homepage, go to the Settings point at the right corner. Here, you need to preset the output formats, output sound quality, output folders and more, which will apply to converting Tidal Music in the next step. Specific output values are given as below, you just choose one value for each output item.

Output Format: MP3, AAC, ALAC, FLAC, WAV and AIFF

Output Quality: 128kbps, 192kbps, 256kbps, 320kbps

Output Folder: Create a path on the computer to store the audio file after conversion.

Output File Name: Track Number/Title/Artist/Album/Playlist Index

Output Organized: Artist, Album, Artist/Album, Album/Artist

For the most part, AAC format is a perfect audio format for iOS systems. You can set out with this value. Accordingly, the output sound quality will come out with 320 kbps.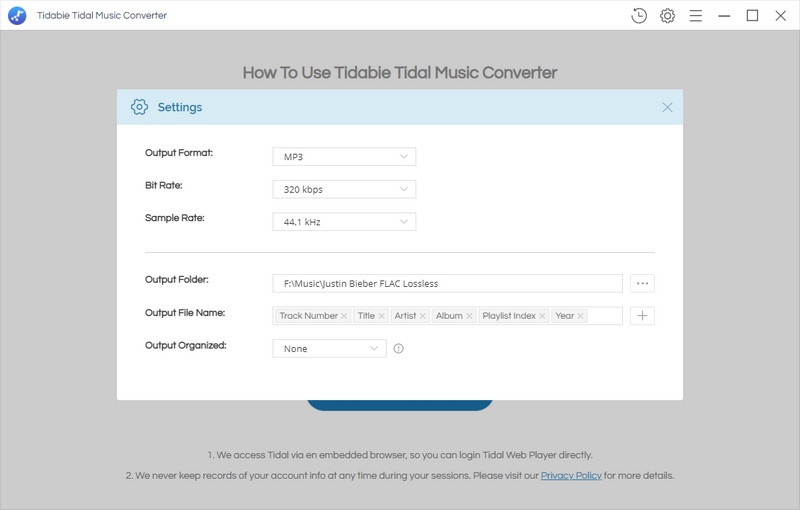 STEP 3

Access Tidal Web Player Library

Now on Tidabie's homepage, click on the 'Open Tidal Web Player' entrance. As a new user of Tidabie, you should continue the login process to smoothly access the Tidal Web Player library. You can tailor the login behavior by Tidal, Facebook, Google or Twitter account ways.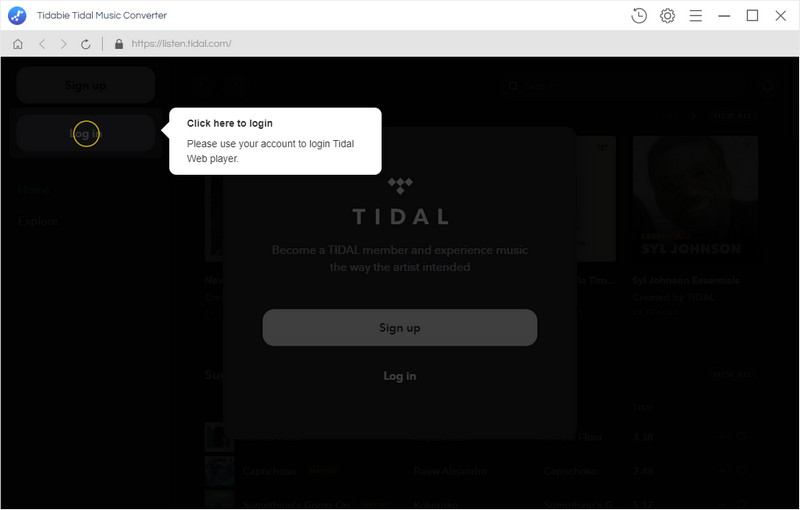 STEP 4

Add Tidal Playlist to Convert

On the Tidal Music Store, you can search your wanted tracks and create a playlist to convert. Or you can get into one of the playlists or artists that you are interested in. By tapping the floating button noting 'Add to list' at the right corner, Tidabie will show you up a smaller window with the playlist songs. You then just select the songs you want to convert and instruct the 'Convert Now' to start the process.

Support for multiple playlists convert simultaneously ? Yes!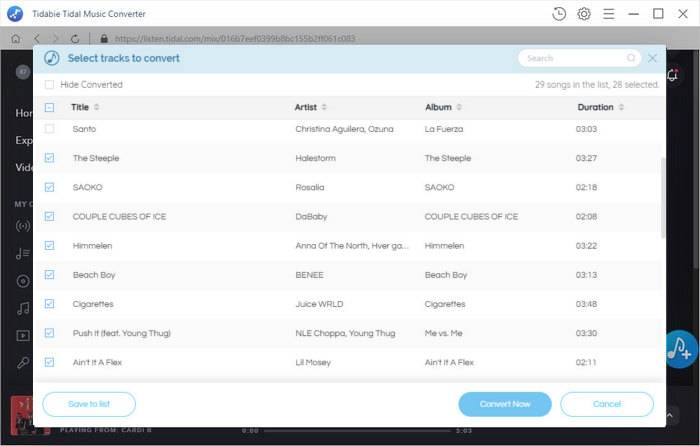 STEP 5

Check Downloaded Tidal Music at PC Local

As long as songs are all converted as expected, you can go to the 'History' column and you can view all the download history. To view them on your computer at local, tap the folder icon beside the song and reach out the file at the computer local path. From now on, you can play all Tidal Music offline, even with no Tidal app bundled!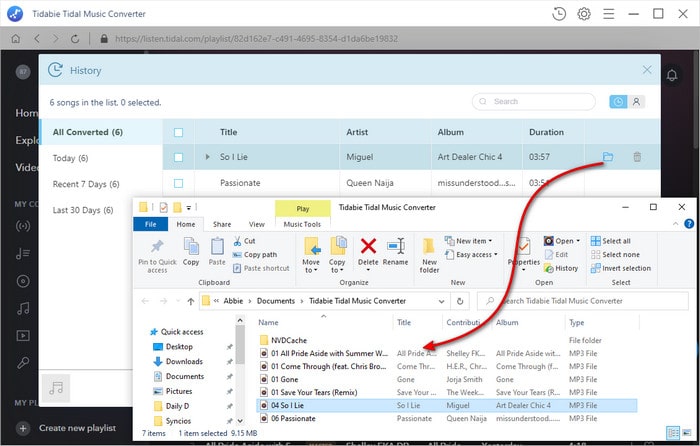 STEP 6

Make A Copy of Tidal Music to iPhone or A USB Flash

What an exciting moment! Now you just make a copy of the music to a portable USB that is widely supported to most CarPlays. Or you can transfer the downloaded Tidal Music playlist to your iPhone. At last, you just connect your iPhone to Apple Carplay which will automatically read the music and make it possible to play on your car.
Conclusion
To that end, we think high of Tidabie Tidal Music Converter for its reliable and powerful features to get Tidal Music downloaded to your own pocket. You can download as many songs as you want to offline local storage during your Tidal subscription period. And you can decide your ways to play Tidal Music on which devices or platforms.