Can I & How to Upload Music to Tidal?
---
In recent years, streaming platforms have become the go-to destination for music lovers around the world. Tidal, one of the prominent players in this space with a large user base of over 5 million, has a vast music collection and offers its users a unique, high-fidelity, and high-resolution experience. With a growing user base and a strong focus on sound quality, Tidal has become a popular platform for many famous artists to showcase their work.
If you are an artist looking to upload your music to Tidal or simply a music enthusiast interested in understanding this process, then read on. In this article, we will focus on the answers to whether you can upload music to Tidal and how to upload music to Tidal. Follow us to read this guide now and you can also get a bonus on how to download Tidal music.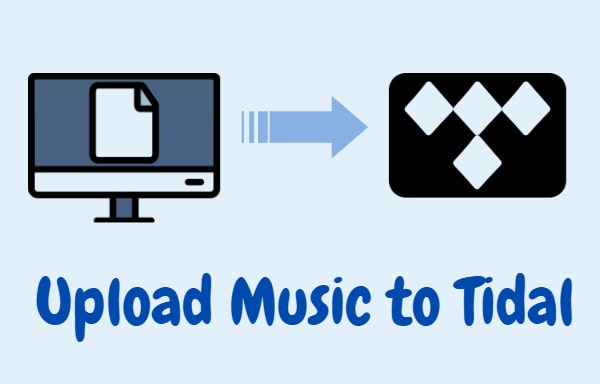 ---
As an artist, getting your music discovered and reaching a wider audience is crucial for your career growth, especially sharing your creativity with millions of Tidal listeners worldwide. Unfortunately, whether you are an artist who is seeking exposure or benefits from Tidal or a composer who just wants to upload your music files to Tidal for personal listening and organization, you cannot find any access to upload music either on the TIDAL app or Tidal web player.
Unlike Spotify or Amazon Music, Tidal does not allow users to upload their personal music files because it aims to provide users with high-quality and curated content. Tidal differentiates itself from other streaming platforms by focusing on offering lossless audio and exclusive content from artists. Allowing users to upload their music files could potentially compromise the quality and curated nature of the platform.
---
Though nobody is allowed to upload their music files to Tidal, everyone can upload and transfer their playlists to Tidal from another music streaming service. When you switch to Tidal and want to keep your playlists, you can turn to many programs. With 5 simple steps, you can import your playlists to Tidal.
Step 1: Go to the TuneMyMusic website and log in to your account.
Step 2: Select the source music platform and follow the tips to sign in to your music account, which will allow TuneMyMusic to access your library.
Step 3: Select the playlists from your library that you are going to import to Tidal.
Step 4: Choose Tidal as the target platform and log in to your Tidal account.
Step 5: Finally, click on "Start Transfer" to begin transferring your playlists to Tidal.
---
Although you cannot upload music to Tidal, you can download music showcased by Tidal to local computers. Tidabie is the one designed to help you. Tidabie Tidal Music Converter is specially tailored for every Tidal user to download any Tidal songs, playlists, albums, and podcasts in MP3, FLAC, and other plain formats onto your local computers, enabling permanent offline listening to Tidal music. If you pursue Tidal's high-fidelity and high-resolution audio quality, you will feel confident with Tidabie, since this program can preserve 100% of the original quality up to CD and Hi-Res quality. Look at this part and download Tidal music to desktop computers.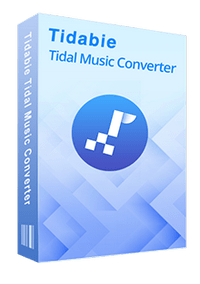 Tidabie Tidal Music Converter
Download Tidal songs/albums/playlists/podcasts locally.

Convert Tidal tracks to MP3/AAC/WAV/FLAC/AIFF/ALAC.

Preserve Tidal Hi-Res/CD audio quality and full ID3 tags.

Run at 10x speed & batch download Tidal playlists.

Sort Tidal music files by playlist, album, artist, etc.

Offer tools of Format Converter, Tag Edit, etc. & save lyrics.

Enjoy Tidal music offline on devices and programs.
STEP 1

Choose Audio Source and Log in to Tidal

Tidabie supports downloading Tidal music from both the TIDAL app and the Tidal web player. Since the audio files are streamed at different quality, you will get different qualities too. If you use the TIDAL app as the source, Tidabie keeps up to Hi-Res audio quality. But when you select the web player mode, you will get Tidal music files with up to CD quality. Pick a mode as needed on the main interface and follow the instruction to log in to your Tidal account.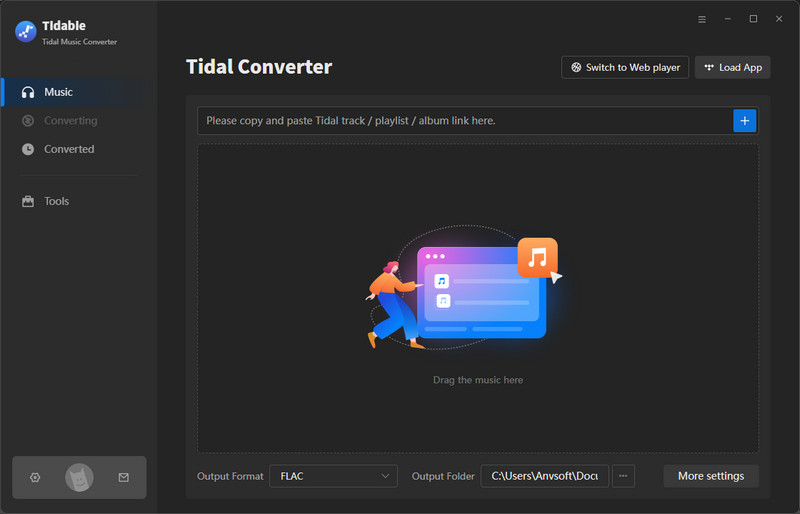 STEP 2

Select Tidal Music to Download

When you choose the app download mode, browse Tidal's library, and navigate to the song you want to download, then drag and drop it right into Tidabie. The other way to add Tidal music is to click on the three dots beside the track title, and then copy and paste the link to Tidabie.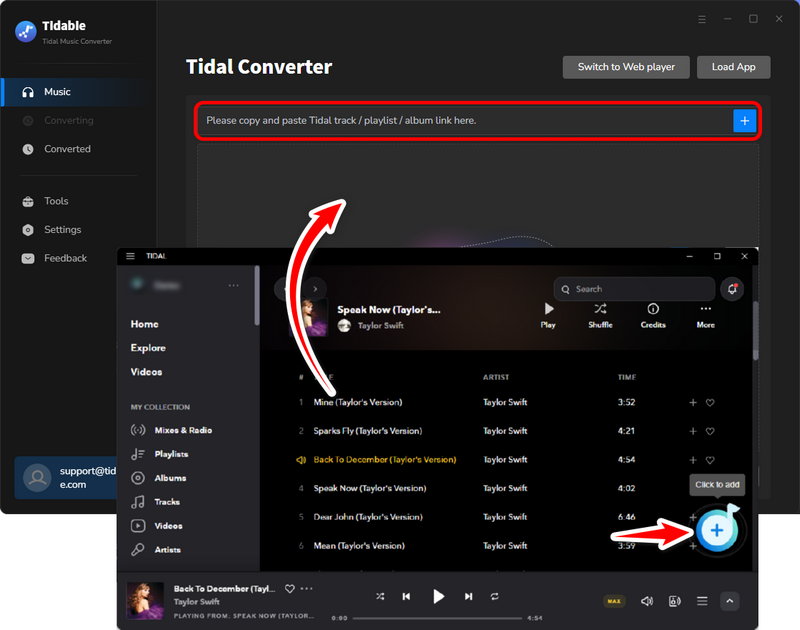 If you are using the Tidal web player, go through and open any Tidal playlist or album, and hit on the "Click to add" button floating in the bottom right.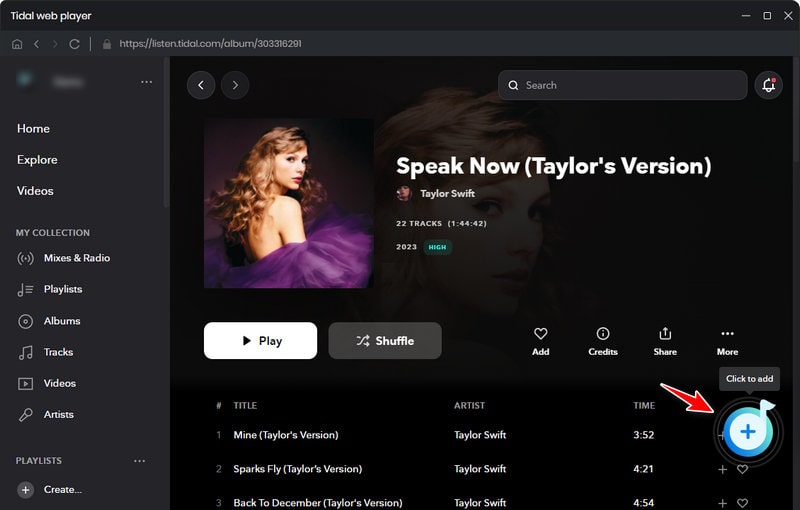 Next, Tidabie will read the songs or parse the link. All the songs will then be displayed on a pop-up window. Select the songs you are going to download, and click on "Add" to confirm your selection. If you have multiple Tidal playlists or albums to download, simply repeat this step to add more songs to Tidabie.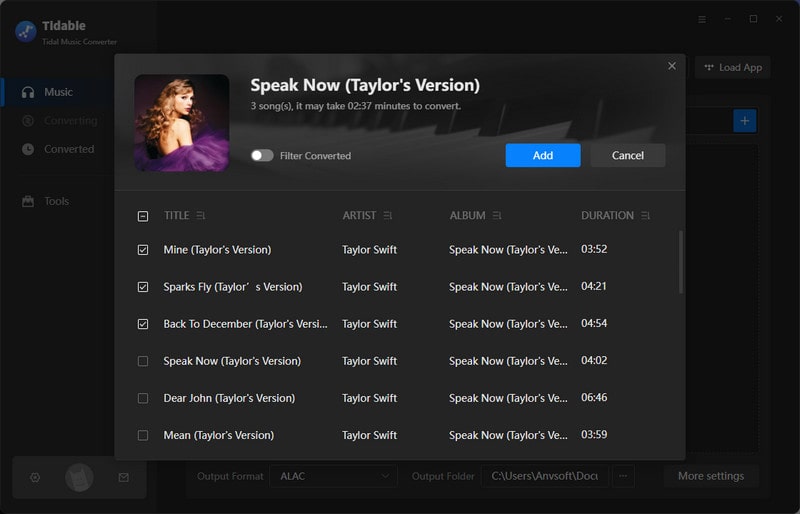 STEP 3

Alter Output Settings for Tidal Music

Different from most music converters, Tidabie gives you great freedom to customize output settings for Tidal music to your preference. Head to the "Settings" module. Select an output format, bit rate, sample rate, and output folder, rename output files in batch, and choose how to organize Tidal music files. If needed, check the box to save Tidal lyrics as .lrc or .txt files.

To download Tidal HiFi or Hi-Res music, select 'Tidal Record' or 'Web Download' as the conversion mode, and 'Auto' or 'FLAC' as the output format. Meanwhile, make sure the songs have HiFi or Hi-Res quality on Tidal.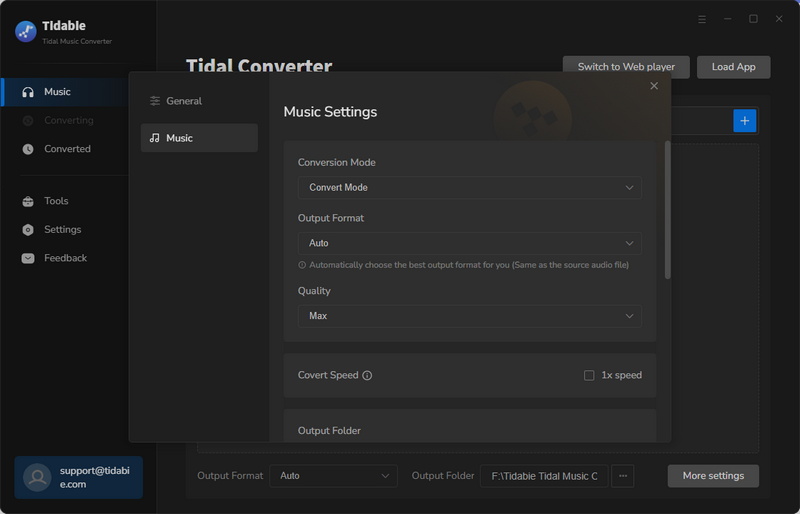 STEP 4

Trigger Tidal Music Download Progress

After all the preparations are made, back to the Home tab and simply click on "Convert" to download Tidal music at once. Attention, if you are using a free Tidal account, only up to 160kbps audio quality is saved after the conversion.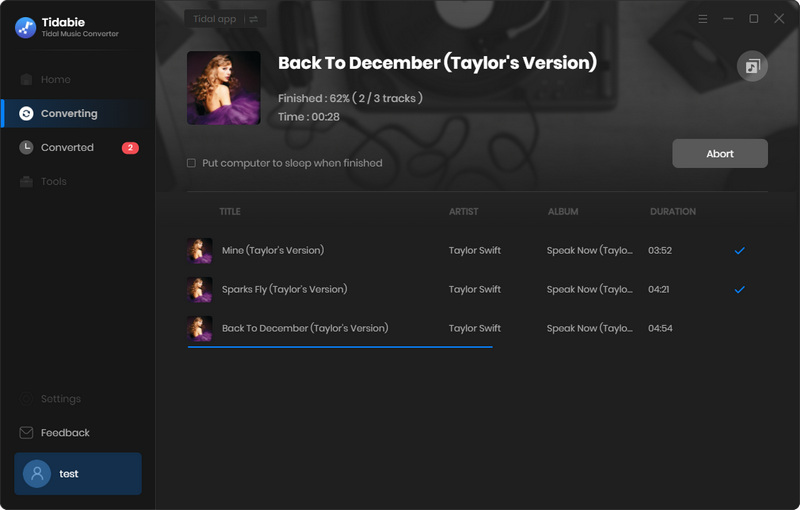 STEP 5

Save Tidal Music to Desktop Computer Forever

Once the download progress is complete, go to the "Converted" tab to check your download history and click on the file icon to open your output folder. To this step, Tidal music is successfully downloaded to your desktop computer as common audio files, and you can save Tidal songs forever, even transfer them to mobile phones and other devices.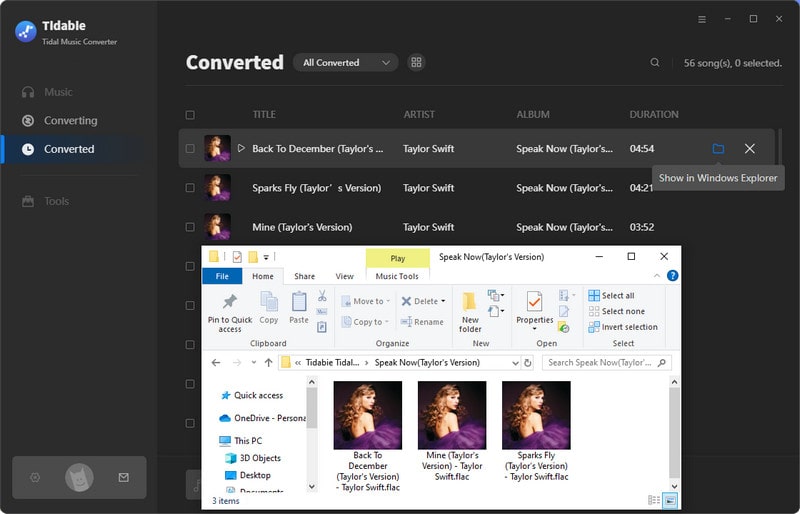 ---
Summary
Having gone through this article, you can easily conclude that though you cannot upload your music to Tidal, you are allowed to transfer music from other music streaming services to Tidal. By following the steps mentioned above, you can ensure that your playlists are uploaded to Tidal without damage. More importantly, you can use Tidabie Tidal Music Converter to download any Tidal music to your desktop computers with ease, ensuring that you can offline play Tidal high-quality music anywhere anytime.