How to Block Ads on Tidal Music
---
The enormous improvement of technology promotes the innovative revolution in every industry, among which the music industry has announced a new style to play and store music. After CD players and tapes, a series of streaming music apps trended all over the world in a sudden. Through years of fierce competition, some of them stand out, such as Spotify, Apple Music, Amazon Music, Tidal Music, and so on.
Some of these streaming music services have rich music library resources, some are tailored for specific groups of people, and some focus on high-quality music. Tidal Music has always been where audiophiles gather. However, the advertisements that pop up from time to time greatly reduce the listening experience. If you've decided not to put up with those annoying ads anymore, you've come to the right place. This article introduces how to enjoy ad-free music worry-free even without a paid subscription to Tidal. Follow our steps to get rid of ads right now.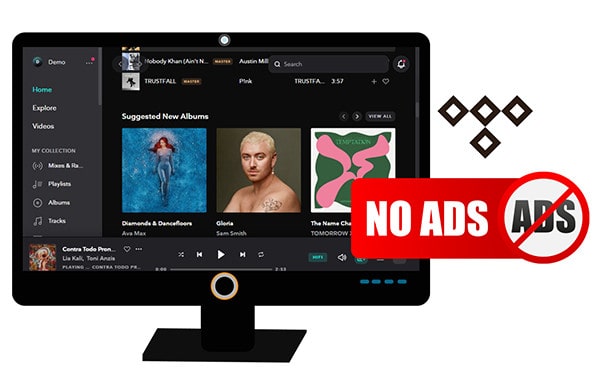 Part 1. Remove Ads with Tidal HiFi/HiFi Plus
Tidal Music lures more subscribers and becomes more competitive by launching a Tidal Free plan. This move is widely welcomed by music fans. Suddenly, it's been a superior music site to enjoy free music. But there are limits. You have to accept the annoying ads popping up from time to time. It interrupts the wonderful moment when enjoying listening to music. After all, they put down the bait hoping for more Tidal HiFi and Tidal HiFi Plus members. What should you do?
As one of the Tidal Free users, you have to comprise and end up upgrading to Tidal HiFi or Tidal HiFi Plus for removing the ads and availing of offline downloading and HiFi or MQA music relishing. To become a paid subscriber, you can:
Step 1: Open a web browser and then search Tidal Music. Navigate to the Tidal official website.
Step 2: Click the "Sign In" button and fill in your Tidal account details. For new registrants, create a new account by using your email.
Step 3: You can choose the preferred subscription plan. Both Tidal HiFi and HiFi plus are available. It will cost you $9.99 per month or $ 19.99 per month.
Step 4: Then you can enjoy ad-free music on Tidal with your new identity.
If you think Tidal Free is enough for you and only want to get rid of the ads, then the next solution is a better choice. Let's take a look.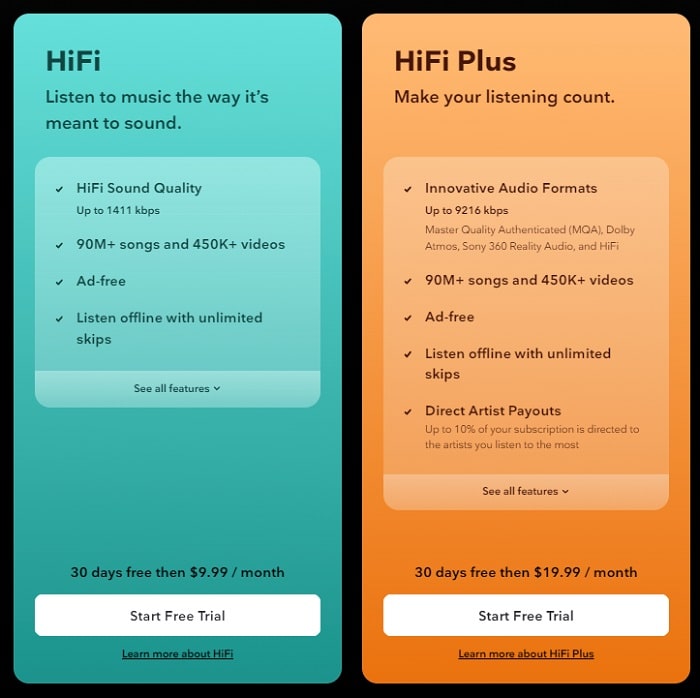 ---
Part 2. Block Ads on Tidal Music without Subscriptions
As one of the Tidal Music free users, the only right is to play music on Tidal with interval ads. Normally, we choose to pay the Tidal monthly fee to skip the ads. After upgrading to Tidal HiFi or Tidal HiFi plus, you can henceforth unlock offline listening and ad-free music on Tidal. But that's it. you don't get many privileges. If you want more, like burning Tidal music to a CD, remixing Tidal music with DJ programs, transferring Tidal playlists to external devices, and sharing Tidal Music downloads with friends, then a more powerful tool is necessary. We call it Tidal Music Downloader.
Why should I get a Tidal Music downloader?
1. Eliminate Tidal ads without upgrading to Tidal HiFi or HiFi Plus.
2. Help Tidal free users download music for permanent offline playback.
3. Decrypt Tidal music tracks for unlimited use.
4. Convert Tidal music to popular formats: MP3/AAC/FLAC/WAV/AIFF/ALAC.
Tidabie Tidal Music Converter is specially crafted for Tidal users of all plans, including Tidal free members, to download music from Tidal and turn them into general local files. With this tool, you can easily avoid Tidal ads by downloading any track you want from Tidal even with a Tidal Free plan and enjoy offline listening unlimitedly.
It only takes a few steps to finish the conversion of Tidal Music playlists. You can take just several minutes to figure out what's going on and decide if you are going to have a free trial.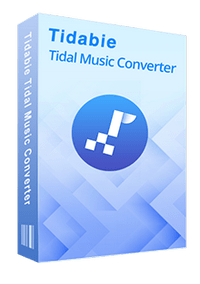 Tidabie Tidal Music Converter
Download music with all types of Tidal plans, including Tidal Free.

Downloaded Tidal songs, albums, and playlists are well-compatible with kinds of devices and players.

Convert Tidal tracks to MP3, AAC, WAV, FLAC, AIFF, and ALAC formats.

Batch download multiple Tidal Music playlists.

Download songs with HiFi audio quality and ID3 tags.

No need to install Tidal Music app.

Free updates & technical support.
Step 1: Get Tidabie Tidal Music Converter Installed
To save more time and become simple to use, Tidabie allows users to download Tidal music from the embedded Tidal Music web player directly. The Tidal Music app is not necessary to be installed on your PC.
According to the downloading buttons, you will see two different versions for Windows PC and Mac. Choose the right one to download and install then start the program. Click on the "Open Tidal Web Player" button once the primary interface appears.
After entering the built-in Tidal Music web player, you are required to log in. All Tidal plans are feasible to download songs, but the audio quality varies since Tidabie downloads songs from Tidal with the original quality preserved.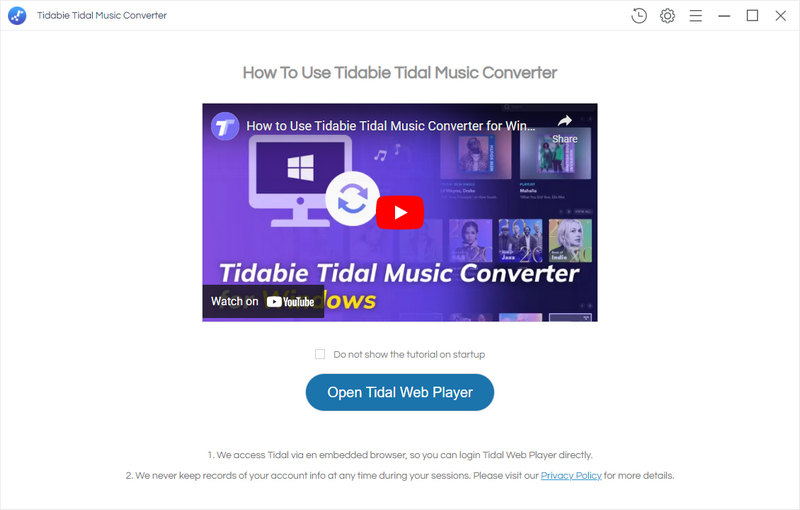 Step 2: Select Your Preferred Output Options
Navigate to the top-right corner of the menu bar, and click the "Settings" button to check the selectable download options. If you choose "AUTO" in the Output Format setting, Tidabie will automatically export the songs in the original quality and format.
⚙️ Output Format: AUTO, MP3, AAC, WAV, FLAC, AIFF, ALAC
⚙️ Bit Rate: 320kbps, 256kbps, 192kbps, 128kbps
⚙️ Sample Rate: 44.1KHz, 48KHz, 96KHz, 192KHz
⚙️ Output File Name: Track Number, Title, Artist, Album, Playlist Index, Year
⚙️ Output Organized (way): None, Playlist, Artist, Album, Artist/Album, Album/Artist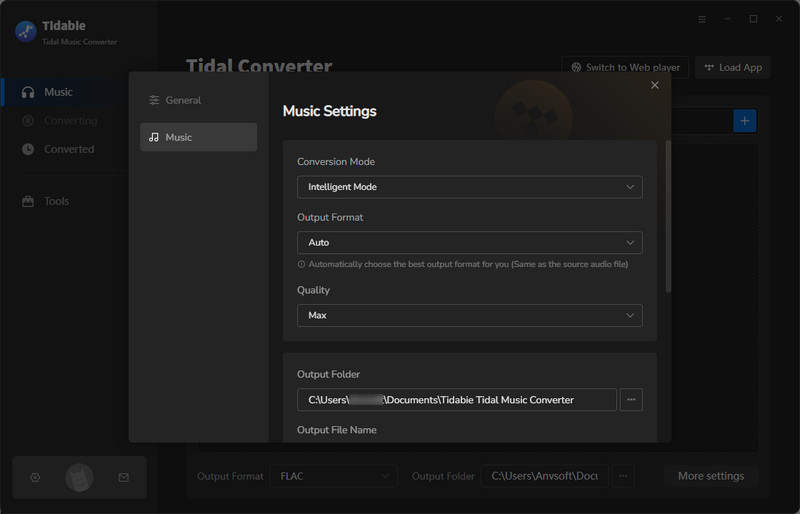 Step 3: Download Ad-free Tidal Music in Batches
On the embedded Tidal Music web player, you can play songs as usual. When you are intended to download a certain Tidal playlist or album, open it and then click on the "Add to list" button situated on the lower right.
Soon after, all tracks will be loaded and available to download. Deselect some music tracks you think are useless, then click on "Convert Now".
Or add the selected songs to a task list temporarily by clicking on the "Save to list" button on the left side. Then open another album or playlist to add more songs for downloading at once.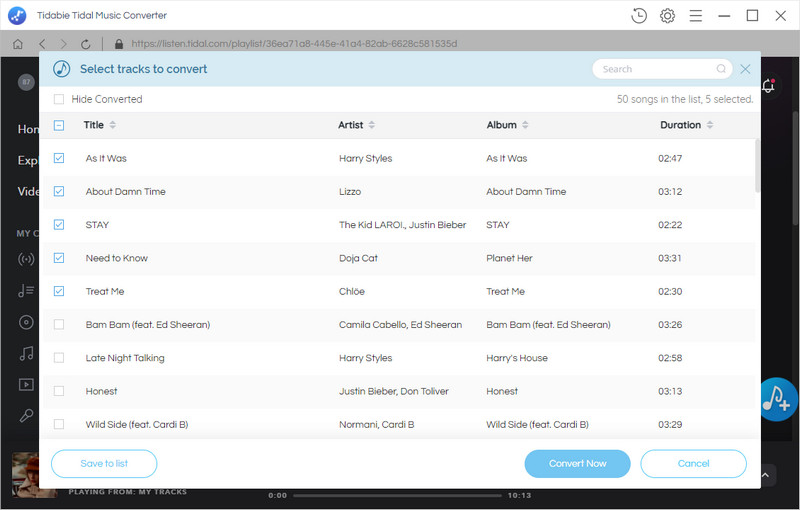 Step 4: Play the Tidal Songs Offline Freely
It adopts fast-speed conversion, which helps shorten the time to complete the conversion. When the conversion ends successfully, the output folder will pop up. Check where your Tidal Music downloads are stored. Now, you are a true owner of these downloaded Tidal songs and have the right to play them offline with diverse media players offline anytime. And you can transfer them to any portable device for further use.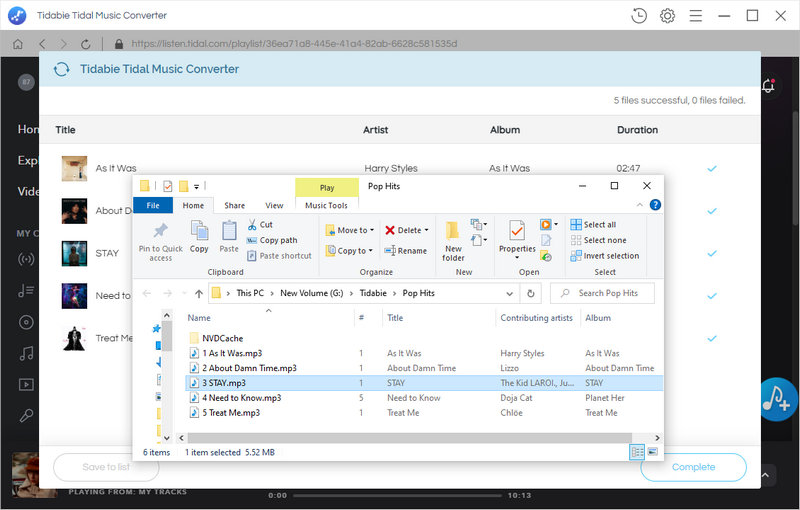 ---
Part 3. FAQs about Blocking Tidal Ads
Q1: Does Tidal Free Have Ads?
For Tidal Free members, there are ads, of course. Tidal gives free users access to a library of millions of songs, but it also has annoying ads in between Tidal songs. If you don't want to pay, then you have no choice but to live with it.
Q2: Is Tidal HiFi (Plus) Ad-Free?
Becoming one of the Tidal HiFi or Tidal HiFi plus members can help you get rid of ads temporarily. You can free play ad-free music on Tidal and download Tidal songs for offline playback.
Q3: Is It Possible to Skip Tidal Ads?
Without a Tidal subscription, you can not skip Tidal ads. Unless you are willing to try Tidabie Tidal Music Converter mentioned above to extract songs and playlists from Tidal and store them as local files. Thereafter, you can block ads from appearing forever.
---
Conclusion
Only by downloading Tidal songs to unencrypted files through the assistance of Tidabie Tidal Music Converter, you can make Tidal ads disappear forever. And after that, you are entitled to use Tidal songs with a variety of programs and enjoy free playback anytime and anywhere. Download this tool and start a free trial right now.