Share Tidal Music Playlists with Friends
---
People can't stop curbing the desire of sharing and gossip. We are instinctively curious about everything around us and keep trying to learn what's happening in this world. When listening to a song that strikes your mind, you may want to immediately share it with your family or friends. And a playlist you've created containing several or dozens of your preferred songs. It would be a pity if there is no one to share the collected playlists. In addition, sharing can also narrow the distance and enhance the relationship between you and your friends. In this article, we give some guidance on how to share Tidal songs, playlists, and albums with your friends who are even not subscribed to Tidal for offline playback with a few simple steps.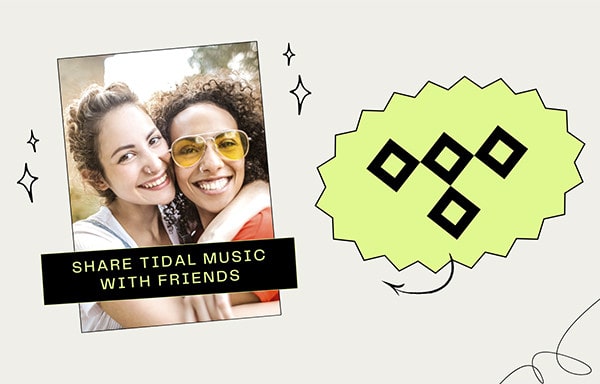 Part 1. Can I Share Tidal Music Playlists with Friends?
It's known that Spotify users are allowed to create a collaborative playlist, letting their friends add, remove, and reorder tracks. You can even see everyone who is contributing to the playlist via their user avatars in the playlist header. Unfortunately, Tidal teams seemed to trivialize this feature, instead, they are concentrating on MQA technology. We are not complaining that there is something wrong with the perfect pursuit of sound quality, but some small needs sometimes become users' troubles.
If you are subscribed to Tidal, there is a direct way to share a link to your favorite playlist, song, artist, album, or video via Facebook and Twitter. Or you can simply copy the link or embedded code and send it to your friends. But if you want to share a collaborative playlist, you are out of luck.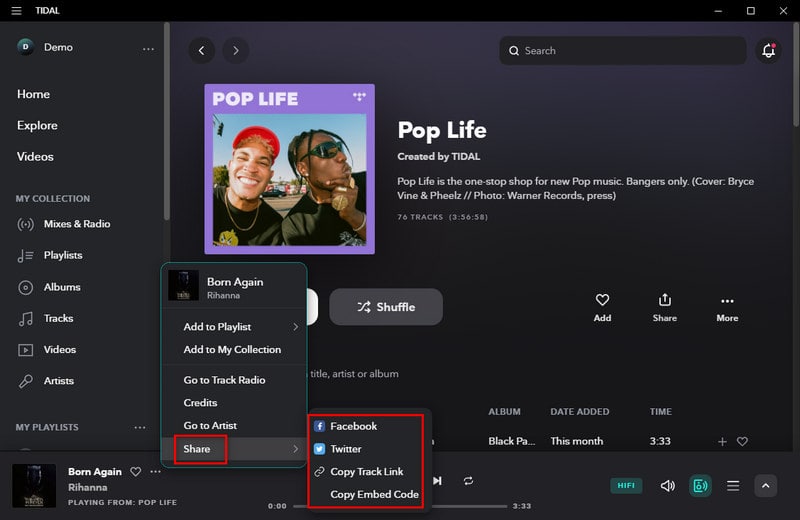 Notwithstanding, another approach to sharing your Tidal Music playlists may be preferable. We can download Tidal Music playlists to local space in plain formats and transfer them as local files to our friends. We would be glad if we can share Tidal playlists with friends who are even not subscribed to Tidal Music. The concrete steps would be introduced in the next part. Let's read it through.
---
Part 2. How to Share Tidal Music Playlists with Friend
If you want to share Tidal Music Playlists, you can choose to share the link with your friends, and then ask them to open the link and play it on their own app. Or you can choose to download all the songs locally, then copy them to a USB flash drive, SD card, or cellphone, and then directly give the downloaded music files to her or him as a gift. If you're more inclined towards the latter, here's a workable solution offered by Tidabie.
Tidabie Tidal Music Converter takes prime efforts on decrypting Tidal songs and downloading them to a local Windows PC or Mac for perpetual offline playback. It takes fleet action to convert multiple playlists in batches and can be sorted by several different patterns, by Playlist, album, artist, etc.
The completion of the conversion conducted by Tidabie endows you the supreme opportunity of taking full control of Tidal Music playlists. You win the chance to transfer the unencrypted Tidal Music playlists to any portable device and use them with common programs such as DJ apps, iMovie, Windows Media Player, etc.
After downloading all collected Tidal playlists to your local PC, you can freely share them with your friends and enjoy the free playback later. Let's orient you with that process.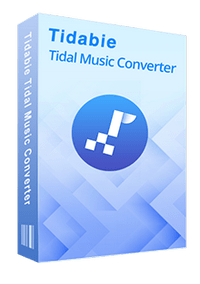 Tidabie Tidal Music Converter
Download music with all types of Tidal plans, including Tidal Free.

Downloaded Tidal songs, albums, and playlists are well-compatible with kinds of devices and players.

Convert Tidal tracks to MP3, AAC, WAV, FLAC, AIFF, and ALAC formats.

Batch download multiple Tidal Music playlists.

Download songs with HiFi audio quality and ID3 tags.

No need to install Tidal Music app.

Free updates & technical support.
Step 1: Run Tidabie Tidal Music Converter
The Tidal Music app is not needed here. There is an embedded Tidal Music web player accessible via Tidable Music Player. Start this program after its installation, you will find the button "Open Tidal Web Player" to make an entry into the built-in Tidal Music web player. When required to log in to Tidal Music, Tidal Free, Tidal Hi-Fi, and Tidal HiFi Plus are feasible. Tidabie allows music downloading with all Tidal plans, but the audio quality varies since Tidabie downloads songs from Tidal with the original quality preserved.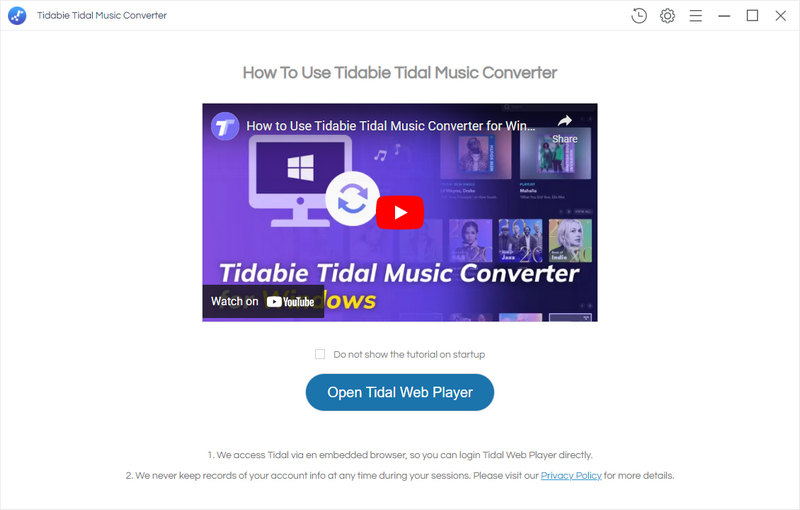 Step 2: Set up the Preferred Output Parameters
Prior to downloading a Tidal Music playlist, we should check the output settings. In the top-right corner, click on the "settings" button. In the pop-up window, there are a series of options for customizing the output parameters.
Be careful, the output format is critical as the converted files should be compatible with the device you are going to transfer to.
➤ Output Format: AUTO, MP3, AAC, WAV, FLAC, AIFF, ALAC
➤ Bit Rate: 320kbps, 256kbps, 192kbps, 128kbps
➤ Sample Rate: 44.1KHz, 48KHz, 96KHz, 192KHz
➤ Output File Name: Track Number, Title, Artist, Album, Playlist Index, Year
➤ Output Organized (way): None, Playlist, Artist, Album, Artist/Album, Album/Artist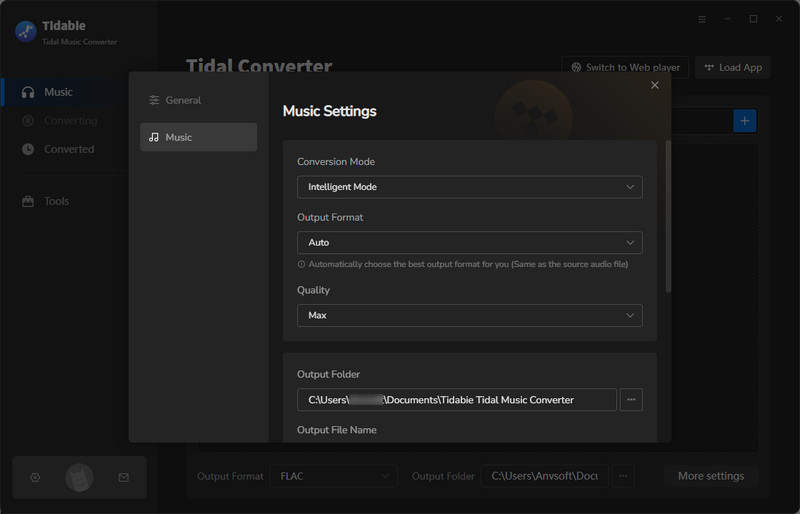 Step 3: Convert Tidal Music Playlists to Unencrypted Files
In the built-in Tidal Music web player, you can freely play songs as usual. To download a Tidal playlist, click its title and enter its main page. In the lower right, click the "Add to list" button to load the songs in the playlist. Make sure you've deselected the unwanted tracks. Two options are provided for converting the selected Tidal tracks.
Click the "Convert Now" button to conduct an immediate conversion.
Click the "Save to list" button, the selected songs will be added to a task list. Then you can add more songs from other playlists for converting them at once.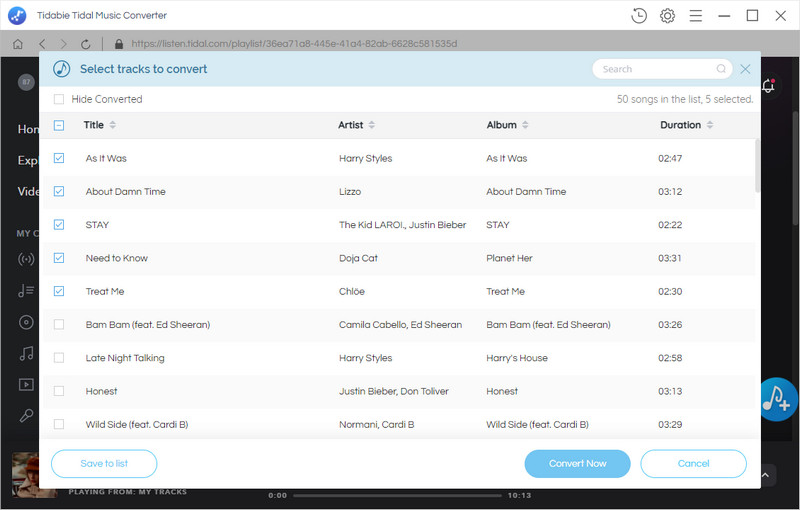 Step 4: Share the Downloaded Tidal Playlists with Friends
Once the converting process ends, you can view the downloaded Tidal Music playlists in the output folder. Now, you can share the Tidal Music playlists with your friends via a USB flash drive or SD card. Furthermore, you can get access to your friend's phone, and copy your favorite Tidal Music playlists to his or her phone directly for private sharing.
You May Also Need: Transfer Tidal Music to iPhone / Transfer Tidal Music to Android Phone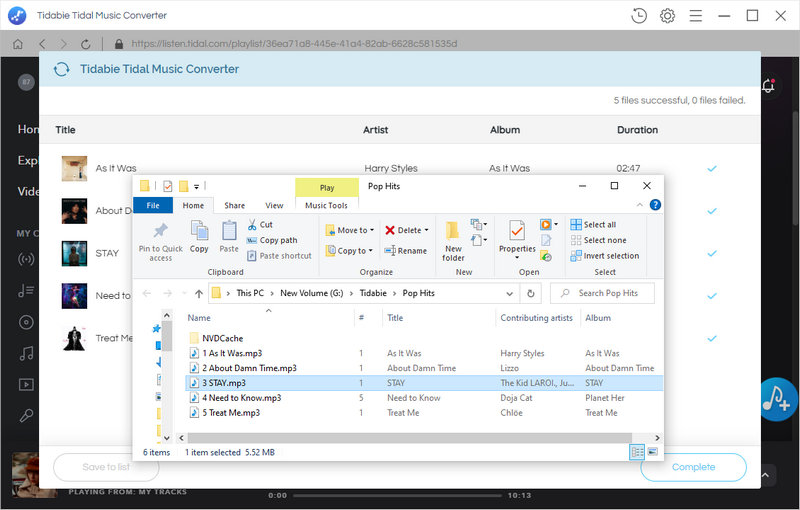 ---
Conclusion
Removing the encrypted formats of the Tidal songs is a critical step for further use. Tidabie is deemed responsible for sharing any Tidal Music playlist you prefer with your friends as it performs a perfect conversion. Have a free trial now to make it work.