Prolong Tidal HiFi Free Trial to Forever
---
By force of high-quality audio, music-related articles, and first dibs on tickets to hot concerts and sporting events, Tidal Music becomes one of the best and most unique streaming audio services around. And Tidal carries out its mission to streaming much better sound quality than Spotify and Apple Music, the other 2 biggest music platforms.
In terms of quality, Tidal's 320kbps is better than Spotify's 320kbps and Apple Music's 256kbps in my opinion. Tidal Hi-Fi is worth it if you regularly sit down and listen to music with good speakers or headphones. - one comment shared on Reddit.
Moreover, you may have learnt that Tidal provides different free subscriptions for every new customer. If you want to find them out, read the ways we listed in Part 1. And if you want to prolong the Tidal HiFi free trial to forever, you can actually get the music downloaded. But how to make this happen without audio quality loss? Keep reading the Part 2 in this article!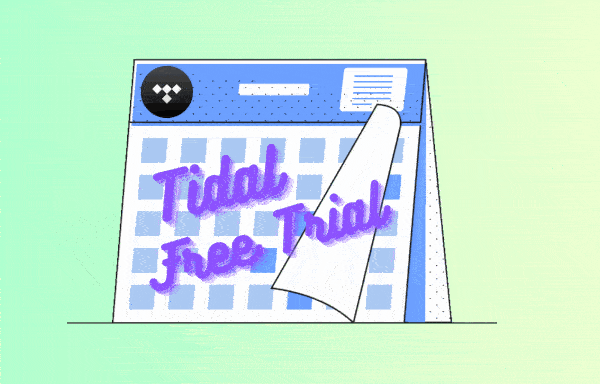 ---
Part 1. Ways to Get Different Tidal Free Trials
✨Get Tidal Free Plan
If you are interested in Tidal Music, you can firstly try with the Tidal Free plan, which allows you to enjoy music in Tidal platform with a good sound qualtiy. However, there is no such thing as free dinner. The highest quality you can enjoy is up to 160 kbps while there will be along with commercial interruptions during the music playing.
✨Get Tidal HiFi Music 30-Day Free Trial
The easiest way to get Tidal for free is to visit Tidal's website and sign up for a free trial. The trial runs for 30 days, and if you cancel it before the trial runs out, you won't be charged.
Head to Tidal's website on your Mac or PC and click the "Start Free Trial" button. Follow the instructions to sign up — you'll need an email address and payment method that's never been connected to Tidal before, so you can't keep applying for free trials.
✨Get Tidal HiFi Music 3-Month Free Trial
Steps on how to get a free Tidal HiFi trial subscription for 3 months have been detailedly given out in this article, you can kindly refer to How to Get Tidal 3-Month Free Trial.
✨Get Tidal HiFi 6 Months Free Trial
Commercially, Tidal establishes a cooperative relationship with some brands. That is to say, if you make a deal with one of them, you will be presented with a free Tidal subscription, either temporarily or permanently. For instance, if you choose Boost service plan, a six-month Tidal HiFi free trial will be offered to you. Likewise, if you sign up for Sprint new Unlimited Plus plan, you will be automatically converted to a complimentary TIDAL HiFi subscription for the duration of your Sprint Unlimited Plus plan. Moreover, if you bought a Lincoln automobile, the company will offer you a six-month free Tidal subscription as well.
---
Part 2. Prolong Tidal HiFi Free Trial to Forever
Whichever way you choose to start a Tidal free trial, you will run them up in one day. The pity is that you will lose all your downloaded playlists and songs if you can't pay to renew the subscription. But is there a way to get Tidal HiFi Music downloaded and to keep them always playable once the free trial expired?
Of course, Tidabie Tidal Music Converter did this perfectly. It will help you to get your desired playlist and songs downloaded to your personal computer, and convert Tidal Music to the common audio files which are widely compatible with much more devices. And original HiFi audio quality and ID3 tags information will be intact after the process. Most importantly, all the downloaded items will be forever available, thus extending the use of the free trial Tidal Music to forever. Below are what a Tidabie Tidal Music Converter can bring to you: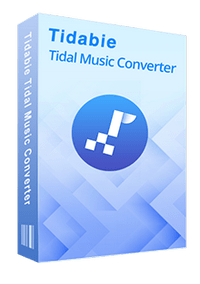 Tidabie Tidal Music Converter
Download Tidal songs/albums/playlists/podcasts locally.

Convert Tidal tracks to MP3/AAC/WAV/FLAC/AIFF/ALAC.

Preserve Tidal Hi-Res/CD audio quality and full ID3 tags.

Run at 10x speed & batch download Tidal playlists.

Sort Tidal music files by playlist, album, artist, etc.

Offer tools of Format Converter, Tag Edit, etc. & save lyrics.

Enjoy Tidal music offline on devices and programs.
✨ Extend Tidal Free Trial to Forever
STEP 1 Prepare Tidabie Tidal Music Converter on Computer
Click on the download button given above. One is for Windows computers and the other is for Mac. After installation, run it to start on your computer. Choose a download mode on the main interface. The app mode needs the TIDAL app and saves up to Master/Max audio quality after conversion, while the web player mode works via accessing the Tidal web player and keeps up to HiFi/High quality at 10x fast speed. Then enter your account to log in to Tidal.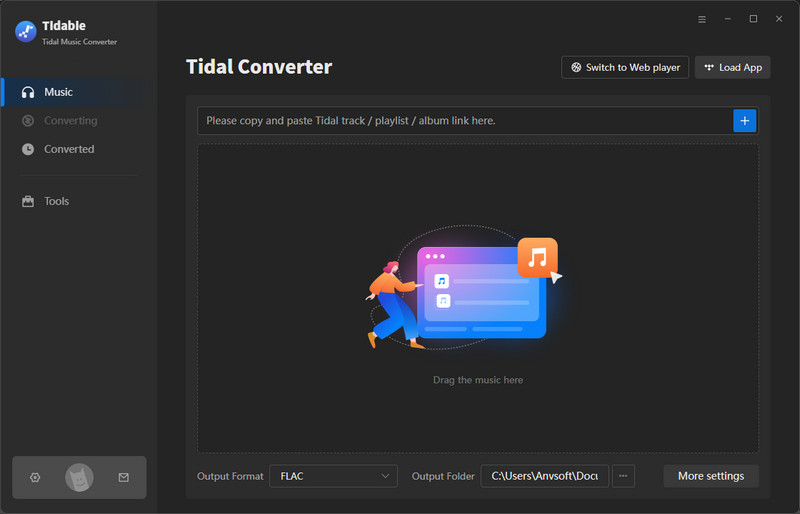 STEP 2 Set up Output Format
The critical part is to set up the output parameters that will decide what kind of audio files you will get in final. Navigate to the "Settings" switch in the left bar, and choose the parameters. On the Output Folder, supply a suitable entrance information.
Conversion Mode: Intelligent Mode, Tidal Record/Web Download, YouTube Download
Output Format: Auto, MP3, AAC, WAV, FLAC, AIFF, ALAC
Bit Rate: 320kbps, 256kbps, 192kbps, 128kbps
Sample Rate: 44.1KHz, 48KHz, 96KHz, 192KHz
Output File Name: Track Number, Title, Artist, Album, Playlist Index, Year
Output Organized (way): None, Playlist, Artist, Album, Artist/Album, Album/Artist, Playlist/Artist, Playlist/Album
Note: If the output format is set to be 'Auto'or 'FLAC' option and the conversion mode is 'Tidal Record' or 'Web Download', output sound quality will come out with Master or HiFi level by default.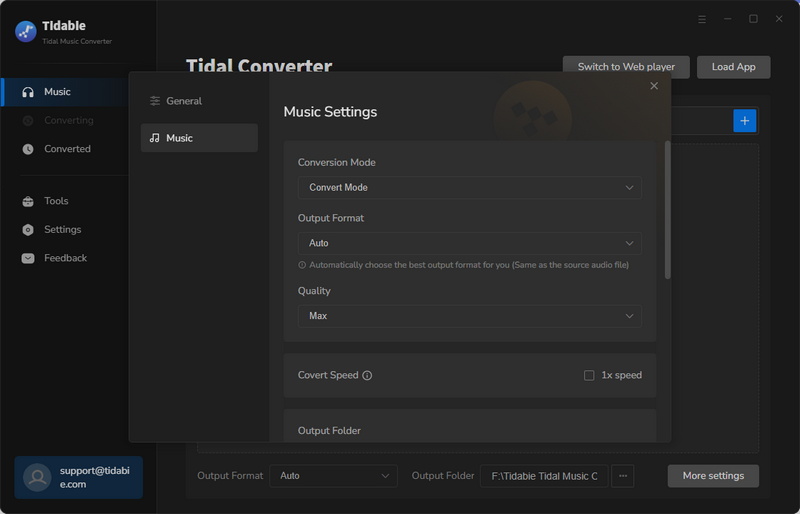 STEP 3 Put Tidal Playlist to Conversion Panel
The next is to choose Tidal Music to convert. You can choose either playlist or album. If you use web player mode, open the playlist/album, and then tap the "Click to add" instruction at the bottom right to put the targets to conversion panel. And Tidabie will read the whole playlist and show you to make a specific selection.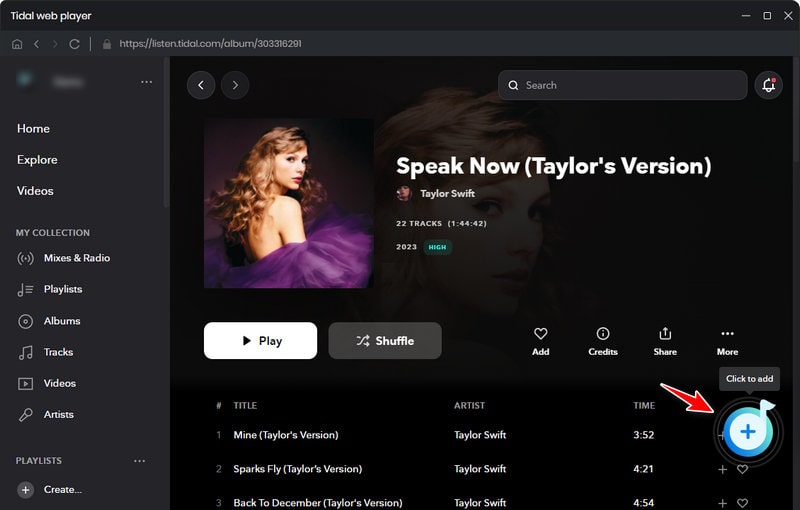 If you use the app download mode, you can either drag and drop Tidal music to Tidabie, or copy and paste the link to the converter.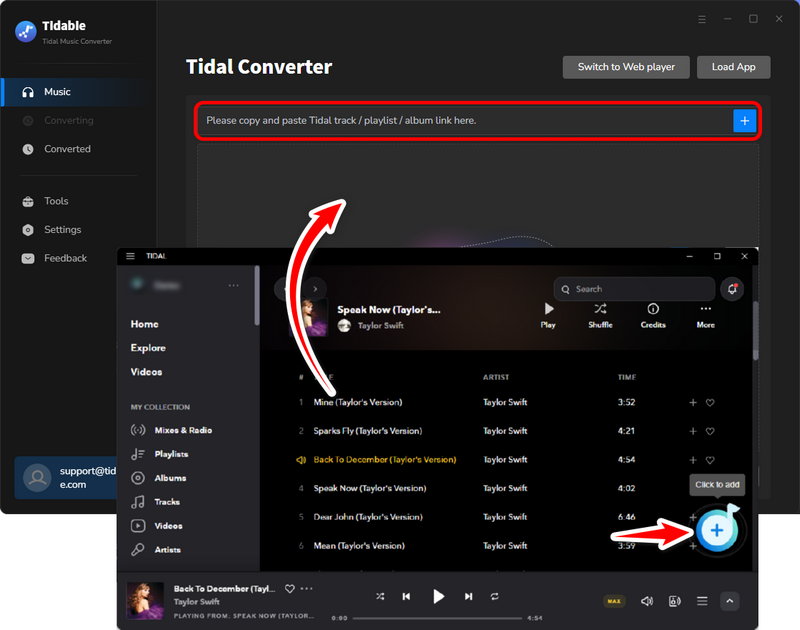 On the following pop up, you can individually choose or choose the whole playlist by ticking the box in front of the song. And then click on "Add".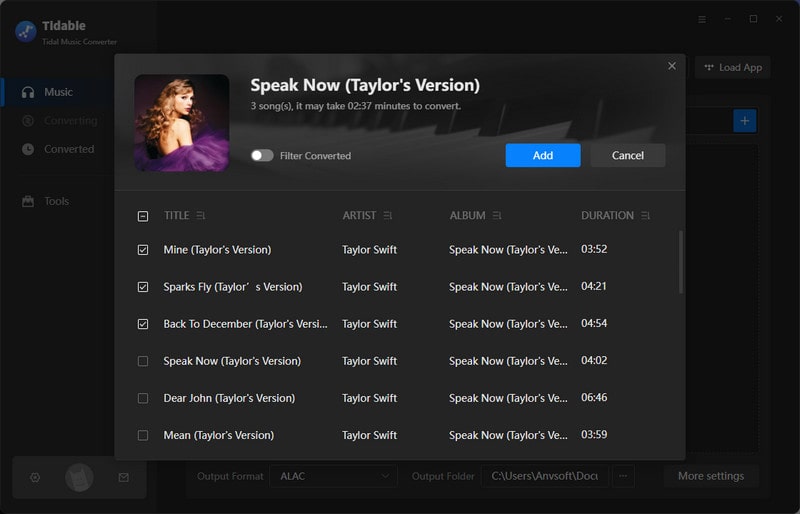 STEP 4 Begin to Convert Tidal Playlist
Tidabie allows you to convert multiple playlists or album in a batch. Just repeat the previous adding action if you are going to download more songs in this batch. Then simply click "Convert" to start the process.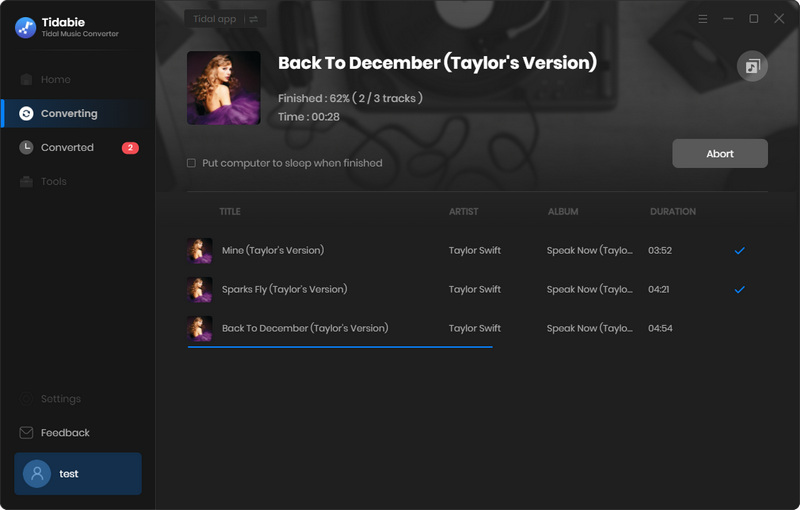 STEP 5 View Converted Tidal Music on Computer Local Storage
As long as the conversion is finished, you can tap the "Converted" in the left bar. You can view all the downloaded Tidal Music. By tapping the file icon, you can keep track of the music on your computer location. From now on, you can play them offline in your places without audio loss.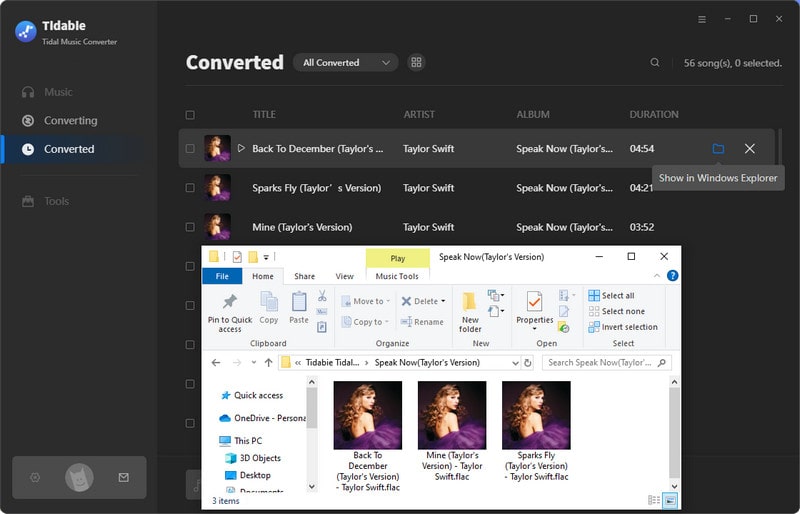 ---
End Words
Above, we list you some ways to get a free Tidal HiFi subscription. And if you are one of the cases, you can apply for a new Tidal account without paying money. And if you want to prolong the Tidal HiFi free trial to forever, we will suggest you get one Tidabie Tidal Music Converter which enables you to extract and download Tidal Music to computer. Hence, all your Tidal playlists will be forever playable. And Tidabie is giving new users a free trial as well, why not give you a shot right now?