Import Tidal Music to Amazon Music Playlist
---
"I have both a Tidal and Amazon subscription. At one point, I have created my favorite songs and playlist on Tidal. But now, I want to make these songs or playlists migrate from Tidal to my Amazon Music app, for I used Amazon App to play music more often when I was on the internet. How can I make it truly happen?"
If you have been using Tidal Music as an Amazon Music user, you will find some amazing things that you have never gone through with Amazon. First, you only need a Tidal HiFi plan to enjoy with the high fidelity of sound quality. There are some goods that Tidal Music beats over Amazon except the fees. But anyhow, these 2 streaming services have their worth parts for different customers. And if you want to transfer or import Tidal Music to Amazon Music playlist, you should be succeeded through working hard. Since there is no straight way to establish a connection to Amazon and Tidal. The fast yet effective way is to download Tidal Music as your computer's local files. And then add the music to Amazon via the Amazon Local File Importer. The method that we are going to introduce next with a Tidal converter is due to the availability to forever keep the music. So, let's keep reading.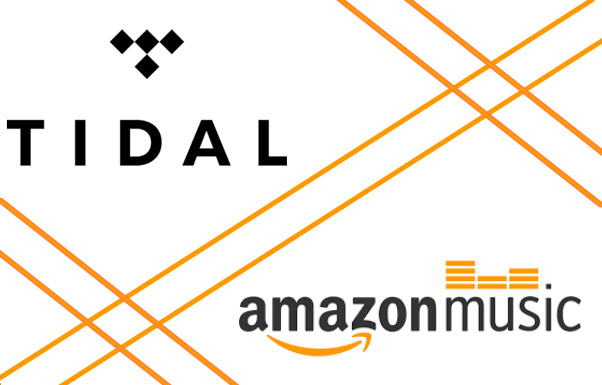 Download Tidal Music As Local Files on Computer
Let's come to the first way you can easily access it. On the Amazon Music website, you will be recommended to achieve streaming music transfer among the services via SongShift or TuneMyMysic app. But these 2 mobile apps required you should be the members of both sides all the time.
However, there will be no such restrictions after you go through this way that we are going to talk about. We will get Tidal Music downloaded and save outside of the Tidal platform. Music downloaded from Tidal is available for playback on Amazon Music playlist as long as you import them to the Amazon Music app. One valuable point of this method is that you can permanently own the Tidal Music once you get them downloaded, even though you have no longer subscribed to the platform in the long run.
To download Tidal Music offline and save as local files on your computer, we will work with Tidabie Tidal Music Converter that enables Tidal Music lovers to download music directly from the Tidal web player. In this process, Tidal Music will be decoded and convert to common audio format like MP3/AAC/WAV/FLAC/AIFF/ALAC. These formats are convenient enough for your music management. And don't worry, HIFI sound quality won't be affected after conversion. So you can gain such a converter tool to get music freedom. Below is the key yet hot features of Tidabie Tidal Music Converter: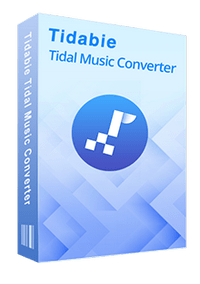 Tidabie Tidal Music Converter
Support Tidal Free and Tidal HiFi users.

Download Tidal Music to the computer.

Convert Tidal Music to MP3/AAC/WAV/FLAC/AIFF/ALAC.

Keep up to Hi-Fi audio quality.

10X faster speed; Retain ID3 tags after conversion.

Free updates & technical support.
STEP 1

Get A Tidabie Tidal Music Converter for Ready

As we have told before, Tidabie Tidal Music Converter did a good job on Tidal Music conversion. So you can get this program by clicking on the download button provided above. It should be noted that one is the Windows version, the other is the Mac version. You should select a compatible version with your computer to get a smooth start.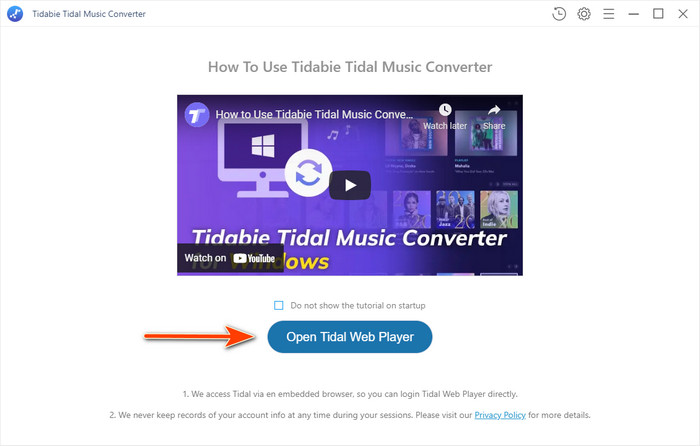 STEP 2

Log in Tidal Account And Access Tidal Web Player

On Tidabie's homepage, click on 'Open Tidal Web Player' entrance. And choose your preferred way to log into your Tidal membership. After that, you can visit the music library with ease.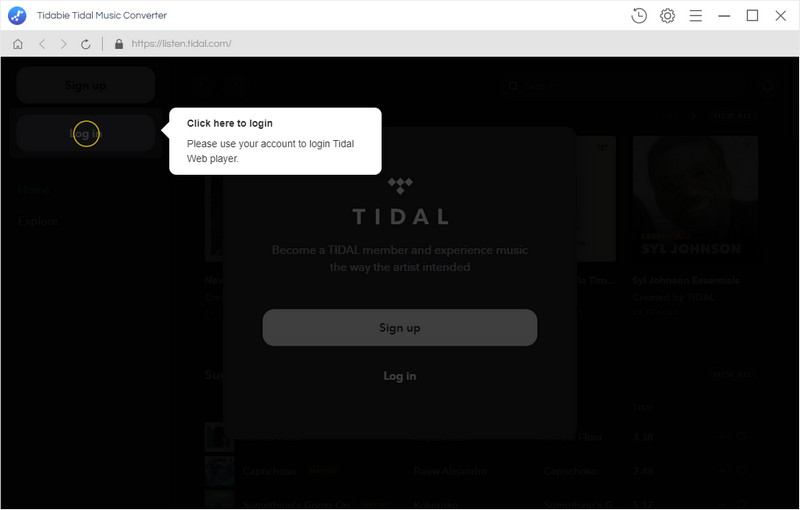 STEP 3

Define A Favorite Audio Format for Tidal Music

Output Format: MP3, AAC, ALAC, FLAC, WAV and AIFF

Output Quality:128kbps, 192kbps, 256kbps, 320kbps (FLAC/Auto is default set as HiFi quality)

Output Folder: Create a path on the computer to store the audio file after conversion.

Output File Name: Track Number/Title/Artist/Album/Playlist Index

Output Organized: Artist, Album, Artist/Album, Album/Artist

Just define the settings as provided. You can choose a different format to convert every time, especially when you need to play Tidal Music with various devices or players, such as MP3 for MP3 players, AAC for iPhone or iPod series. To transfer and play Tidal Music to the Amazon Music app, the lossless FLAC format is a nice choice.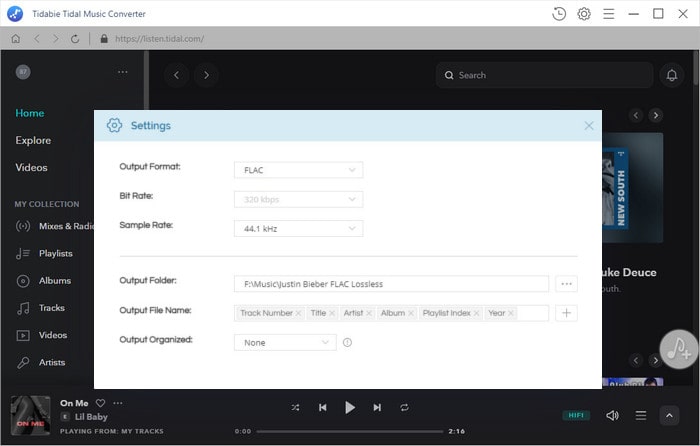 STEP 4

Add Tidal Playlist to Convert

Next, navigate to any playlist you want and then enter into the playlist contents. At the right corner is a 'Add to list' button, click it. It will show you a window of the playlist songs for you to select. You can choose the songs you want by ticking off the box in front of the file. And at last, click on the Convert Now button to instruct to start the process.

Support for multiple playlists convert simultaneously ? Yes!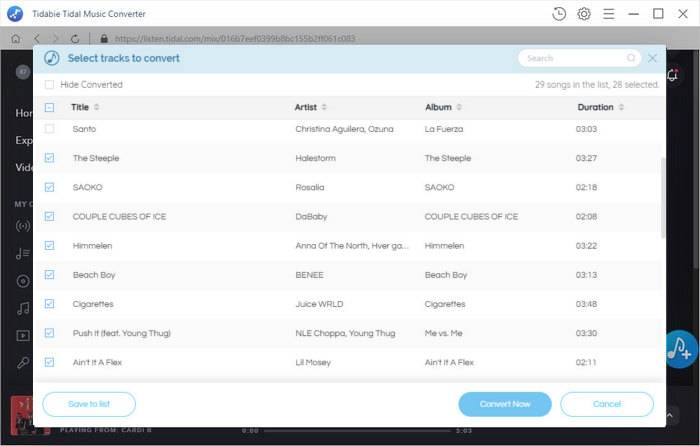 STEP 5

Check Downloaded Tidal Music at PC Local

As long as songs are all converted as expected, you can go to the 'History' column and you can view all the download history. To view them on your computer at local, tap the folder icon beside the song and reach out the file at the computer local path. From now on, you can play all Tidal Music offline, even with no Tidal app bundled!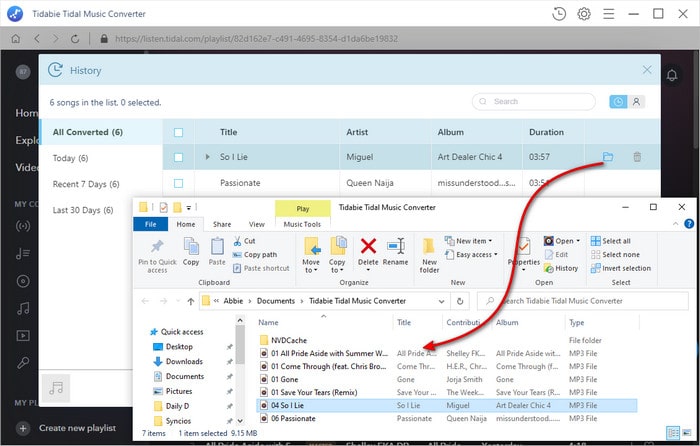 Part 2. Import Downloaded Tidal Music to Amazon Music
Congratulations! You successfully download Tidal Music as local files and save them on your computer. And now, run into the Amazon Music App on your computer and then navigate yourself to the Settings which you can find by clicking on the portrait. On the Settings window, scroll down to find the option 'Automatically Import Music From' and click on it. 3 options are allowing you to import the downloaded Tidal Music from iTunes, Windows Media Player or select a folder from computer local path to offline playing on Amazon Music app.
Enable to Import by iTunes: Open the folder where the downloaded Tidal Music locates and then copy them to your iTunes Library.
Enable to Import by Windows Media Player: The same, make a copy of the downloaded Tidal Music to Windows Media Player in previous, and enable the Windows Media Player option in this case.
Enable to Directly Import Tidal Music to Amazon Music: Click on the Select Folder option and you will be guided to choose a local folder on the computer. You then just choose the folder where you put the downloaded Tidal. And make sure to switch it on to notice Amazon Music read the music.
After the settings, go back to Amazon Music's LIBRARY mode and arrive at the Songs tab. You then just filter Tidal Music out by choosing Offline under the Locations menu. All the Tidal Music will display on your Amazon Music app for playing at will. If you want to add the Tidal Music to your Amazon Music playlist, then just right-click on any song and choose the option 'Add to Playlist'.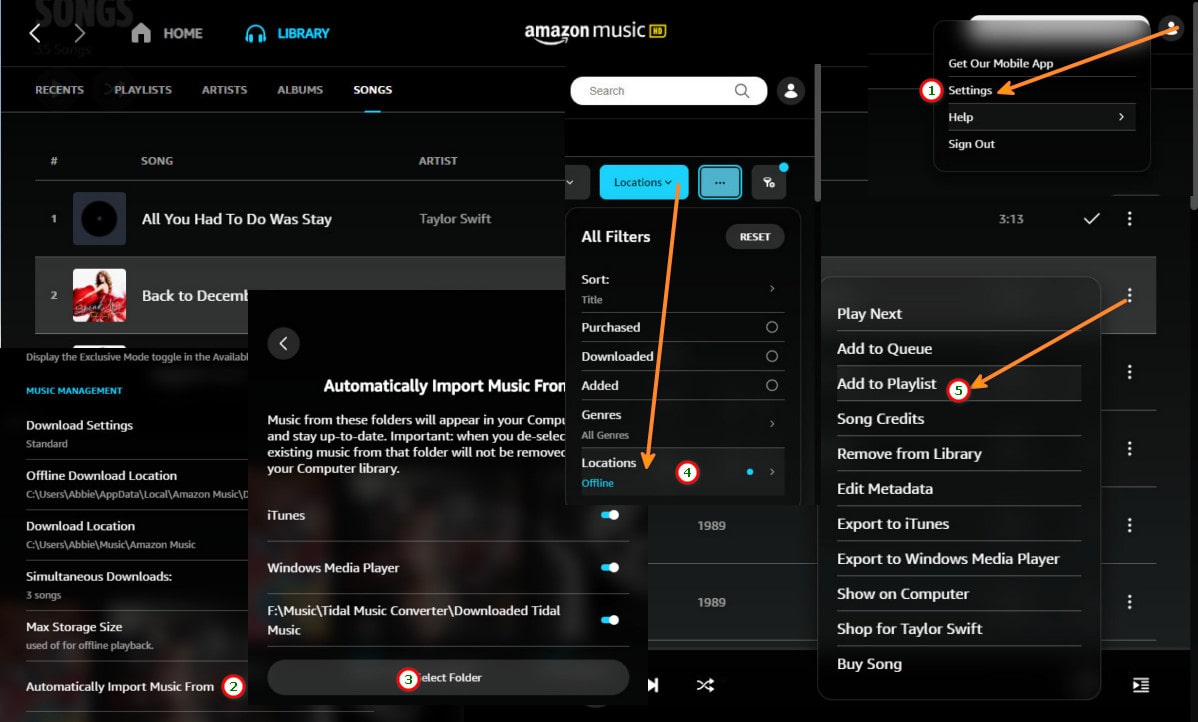 Conclusion
To that end, we need such a workable tool to help us out. Tidabie Tidal Music Converter is deeply impressed us with the magical conversion features. Music lovers need to make a special gift for himself or herself. And the free trial is now on time, get it right now! It is worthwhile buying it!