Insert Tidal Music to PowerPoint Slides
---
Background music in itself is not a part of the learning process, but it does enter into memory along with the information learned. To make PowerPoint presentation more attractive, speakers would like to insert some background music into the files, which enables the music to play when the slide appears during the presentation. And simply, you can add any MP3, MP4, WAV, or AAC audio file on your computer to your PowerPoint presentation, and adjust the settings so that it plays across slides if you want to. However, music types should be matched to the PPT themes, which will become a pity if you lack of a reliable music discovery. It is necessary to get yourself a good stock of music to pick off and insert into your PPT. Tidal Music is an excellent option that provides users multiple high fidelity music, diverse music types to play with. But if you want to stream Tidal Music directly on your PPT files offline, it is a no-no chance at current. In this article, you will learn how to download Tidal Music to computer and then naturally insert the Tidal Music to your PowerPoint. To learn it, keep reading. At the end of this article, we give you a video tutorial for helping you learn the skills better.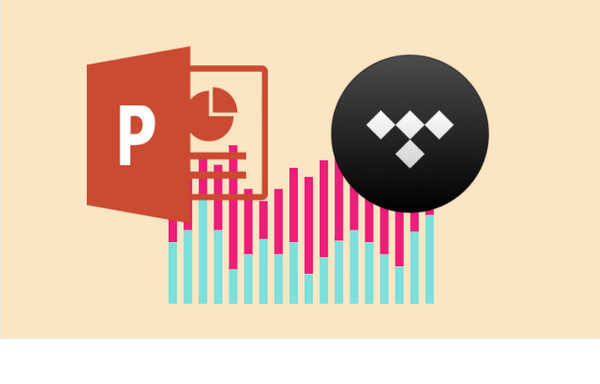 Part 1. Download Tidal Music As Local Files on Computer
Now, how to get Tidal Music downloaded to computer has become the main issue. Actually, a Tidal Music converter is your answer. Among all the Tidal Music Converters brands, Tidabie Tidal Music Converter has been proved the best and reliable program. It can simply get Tidal Music downloaded from online to offline, saving Tidal Music to computer local path without any audio quality loss. Output formats can be chosen from MP3/AAC/WAV/FLAC/AIFF/ALAC, which are exactly the supportive format to PowerPoint files. Getting to this step, you then just simply insert the Tidal Music to your PowerPoint as local files. So in Part 1, let me show you how to step into downloading Tidal Music to your computer. And in Part 2, you can know how easy it is to insert Tidal Music on computer to your PowerPoint slides.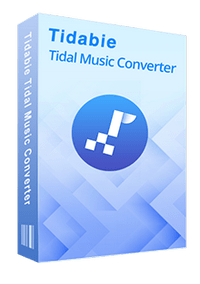 Tidabie Tidal Music Converter
Support Tidal Free and Tidal HiFi users.

Download Tidal Music to the computer.

Convert Tidal Music to MP3/AAC/WAV/FLAC/AIFF/ALAC.

Keep up to Hi-Fi audio quality.

10X faster speed; Retain ID3 tags after conversion.

Free updates & technical support.
STEP 1

Run Tidabie Tidal Music Converter on Computer

Well, you can get Tidabie Tidal Music Converter to download to your computer by clicking on the button provided above. There is one for Windows computers, either desktop or laptop is supportive. The other is for MacOS computers. Do pick up the one fitting to your computer. When you run Tidabie Tidal Music Converter, you can watch the video attached in the homepage. Or you go with me with the article steps.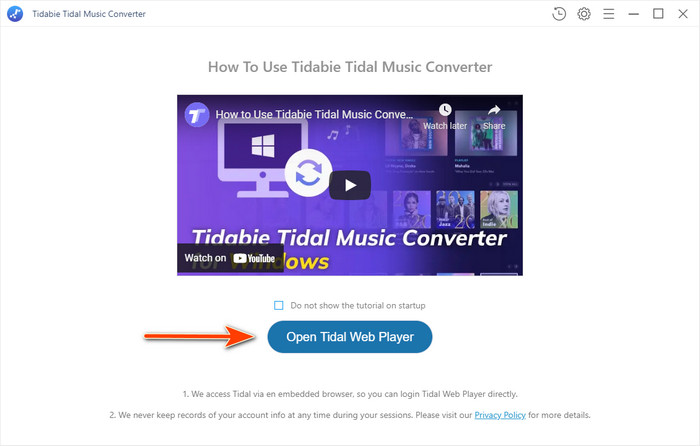 STEP 2

Visit Tidal Web Player in Tidabie Converter

On the front page, click on the 'Open Tidal Web Player' point which is linked to the Tidal-entry screen. And log in with your Tidal account information as normal. Then you can browse and play music within Tidabie as you did that on the website before.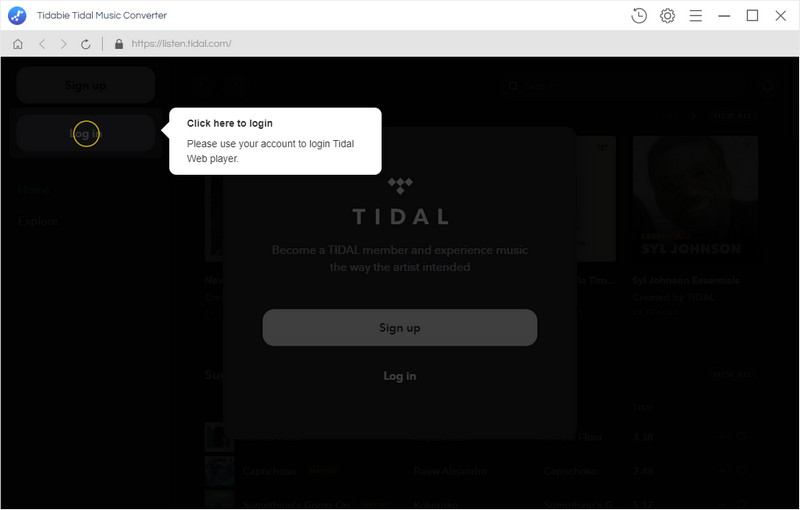 STEP 3

Necessary Output Settings

The most important part of the conversion is the output value settings. Tidal Music output format, sound quality, and file name can be some custom setups.

Output Format: MP3, AAC, FLAC, WAV and AIFF

Output Quality:128kbps, 192kbps, 256kbps, 320kbps (FLAC/WAV/AIFF is default set as HiFi quality)

Output Folder: Create a path on the computer to store the audio file after conversion.

Output File Name: Track Number/Title/Artist/Album/Playlist Index

Output Organized: Artist, Album, Artist/Album, Album/Artist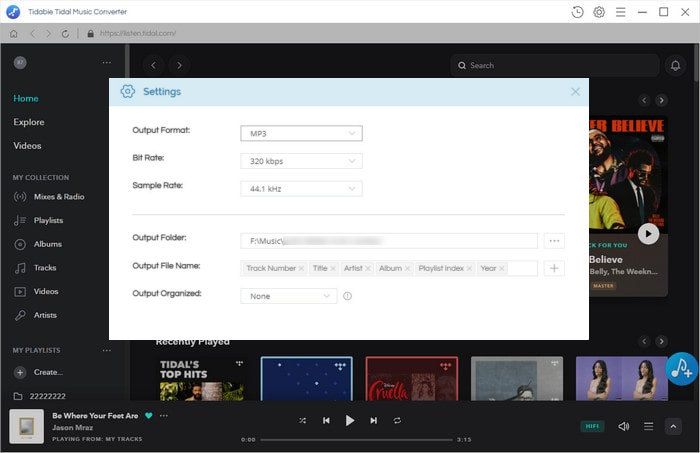 STEP 4

Add Tidal Playlist to Convert

So to convert Tidal Music, you can go into one playlist that you want to download. Then click on the 'Add to list' button. Another window will come up with the playlist songs. You then pick up the songs you love and tap the 'Convert Now' to start the process.

Support for multiple playlists convert simultaneously ? Yes!

Here is a tip. Tidabie Tidal Music Converter helps convert music at a 10 plus speed, which will shorten your time a lot to wait for the completion.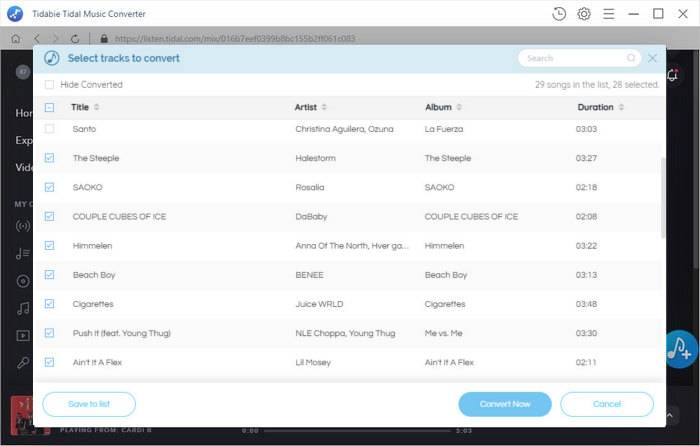 STEP 5

Check Downloaded Tidal Music At PC Local

As long as songs all are converted as expected, you can go to the 'History' column and you can view all the download history. To view them on your computer at local, tap the folder icon beside the song and reach out the file at the computer local path.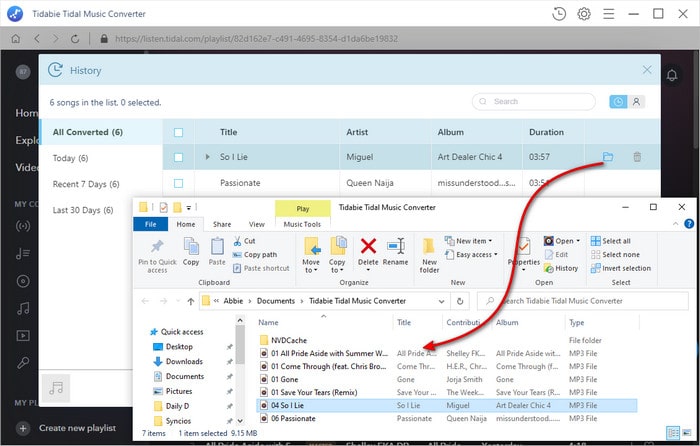 Part 2. Insert Downloaded Tidal Music to PowerPoint Slides
After getting Tidal Music settle down on your computer, you can simply insert the downloaded Tidal Music to your PowerPoint with ease.
Step 1: At the top of the PowerPoint screen, on the toolbar, click the "Insert" tab.
Step 2: Under "Insert, on the right side of the screen, click "Audio."
Step 3: If you're using a PC, click the option for "Audio on My PC." If you're using a Mac, click the option for "Audio from File" or "Audio Browser."
Step 4: Locate the file you'd like to use, then click "Insert" in the dialog box.
Step 5: The file will appear on your PowerPoint as a little playback bar. You can use this to control the song. Move it to a part of your slide where it won't be in the way.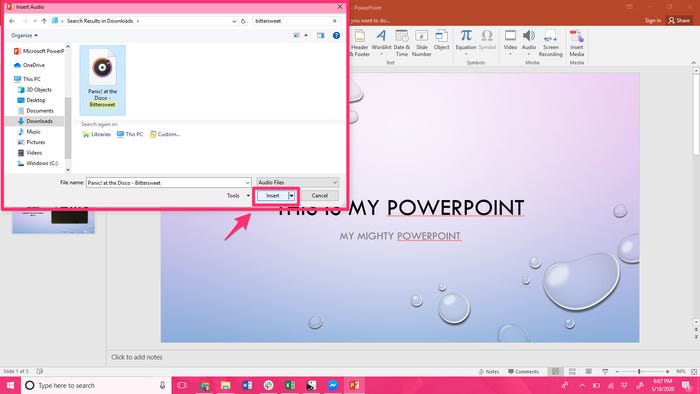 Conclusion
To that end, we need such a workable tool to help us out. Tidabie Tidal Music Converter is deeply impressed us with the magical conversion features. You can pick any song from Tidal music store, and then get it downloaded to your computer, simply using it as the tones for your PowerPoint slides.