Play Tidal HiFi Music Without DACs
---
A DAC stands for Digital to Analog Converter whose job is to turn the pulse-code modulated digital data into an analog signal for your ears. Therefore, you will get a huge chance to hear the sounding up to 44.1khz. For those who are looking for a distinct difference of the original sound quality, they could be the consumer object of DAC. In fact, music lovers all crave excellent audio sound when listening to music. And on this case, I would like to say that people can directly get the HiFi level audio from Tidal streaming service which is famous as a HiFi & Master audio provider.
To get that, you can subscribe to Tidal's HiFi plan, thus you don't have to buy the external DAC which could be a financial burden if your budget is not much. But when it comes to Tidal's 'Download' mode, there are some imperfections left to make up for. Firstly, you can only do this on your Tidal mobile app – you can't download tracks to your computer. Secondly, you can only download entire albums or playlists, not individual tracks.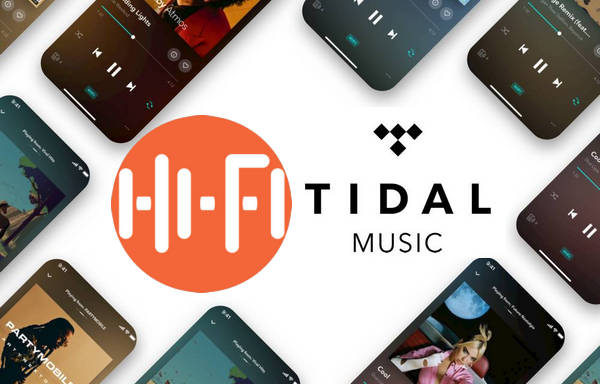 Perfectly Download Tidal HiFi Music And Play Without DACs
Conversely, we'd better settle all these hidden matters in one go if you want to get Tidal Music downloaded and play Tidal HiFi Music without DACs. Tidabie Tidal Music Converter is efficient enough under the premise of the one-stop complete. It can flawlessly download the playlist and songs from Tidal Web Player to the computer, keeping HiFi sound level. As a result, audiophiles can achieve a brilliant music experience with ease. Besides, Tidal Music could be optionally converted to various audio formats like MP3, AAC, FLAC, WAV, ALAC and AIFF. This, without doubt, would allow Tidal HiFi Music to be playable without DACs or an internet connection. What a flexibly convenient way it is!
Do not get things mixed. Tidabie is to download the online songs to the computer and physically save them as offline backups. If you are to enable the Download feature on Tidal app, you can only listen to music on a single phone. Neither song will be playable if you run out of the subscription period. Tidabie performed a downloading task with songs permanently saving for use.
Below are the key steps on how to download and convert Tidal Music to the HiFi level audio.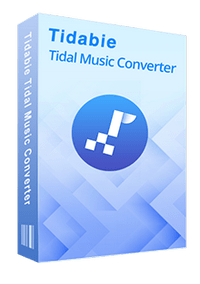 Tidabie Tidal Music Converter
Support Tidal Free and Tidal HiFi users.

Download Tidal music to the computer.

Convert Tidal music to MP3/AAC/WAV/FLAC/AIFF/ALAC.

Keep up to Hi-Fi audio quality.

10X faster speed; Retain ID3 tags after conversion.

Free updates & technical support.
STEP 1

Open Tidabie Tidal Music Converter on Computer

Tidabie Tidal Music Converter can be downloaded from the official website. You should be aware of the version that you will choose. If you are on Windows, do choose the Windows version. But if you are on Mac, then choose Tidabie Tidal Music Converter for Mac version to download from. Or you can get download the program from the button as given above.
And this will create a desktop shortcut to run easily. You then just open Tidabie to as the beginning.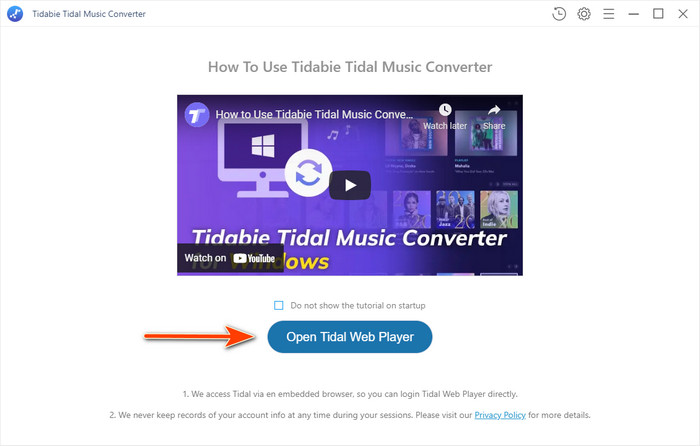 STEP 2

Visit Tidal Web Player on Tidabie

There is a built-in Tidal Web Player on the Tidabie program. Users can simply access it by logging with your Tidal account and password. Please take it easy, Tidabie is safe and legal for personal use. And it won't collect your information at all. Refer to the figure below.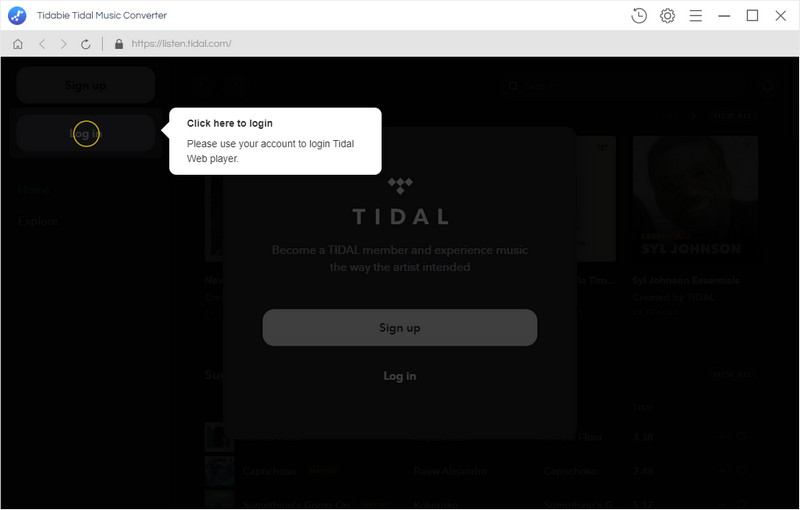 STEP 3

Customize Tidal Music Output Format

A significant part of conversion is the output settings. It is offered to customize output formats and sound quality by diverse options.

Output Format: MP3, AAC, FLAC, WAV, ALAC and AIFF

Output Quality: 128kbps, 192kbps, 256kbps, 320kbps

Output Folder: C:\Users\User Name\Documents\Tidabie Tidal Music Converter

Output File Name: Track Number/Title/Artist/Album/Playlist Index

Output Organized: Artist, Album, Artist/Album, Album/Artist

Note:
If the output format is set as a lossless format like FLAC, WAV or AIFF, output sound quality will come out with HiFi level by default.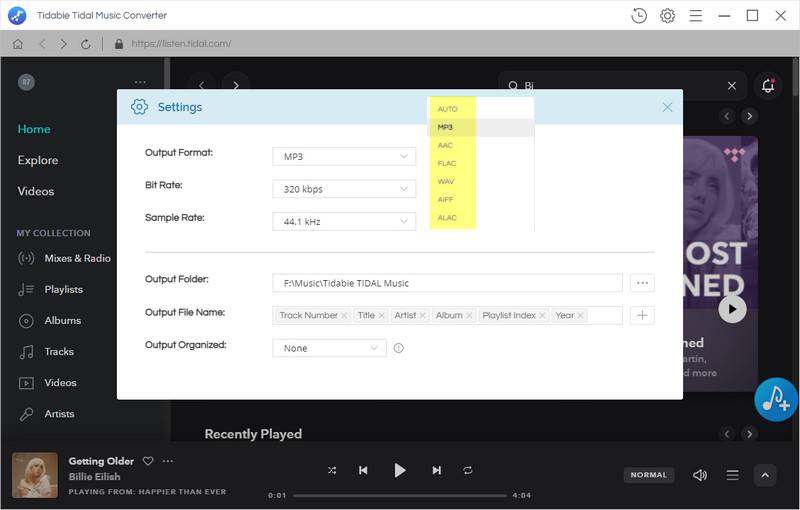 STEP 4

Add Tidal Playlist or Album to Conversion Panel

Yep, it is now freedom of your choice. You can convert any playlist or album that you want. Enter into a specific playlist, then instruct the 'Add to list' button at the right corner to put the playlist to the conversion panel. Batch conversion is one of Tidabie's features. So you can select songs in batch in the playlist or choose the whole playlist songs to convert as expected.
Go ahead, tap the 'Convert Now' button to start the process. If you happen to find the playlist wrongly added to convert, you can instruct the 'Abort' to discontinue.
It should be noted that if the songs you want to convert are from different playlists, you can tap on 'Save to list' after you selected the songs in the current playlist. The selected songs will enter a wait state for conversion. You then turn back to another playlist. Go with similar clicks to choose the songs you want. And finally, open the waiting list at the top right corner and tap the 'Convert button to proceed.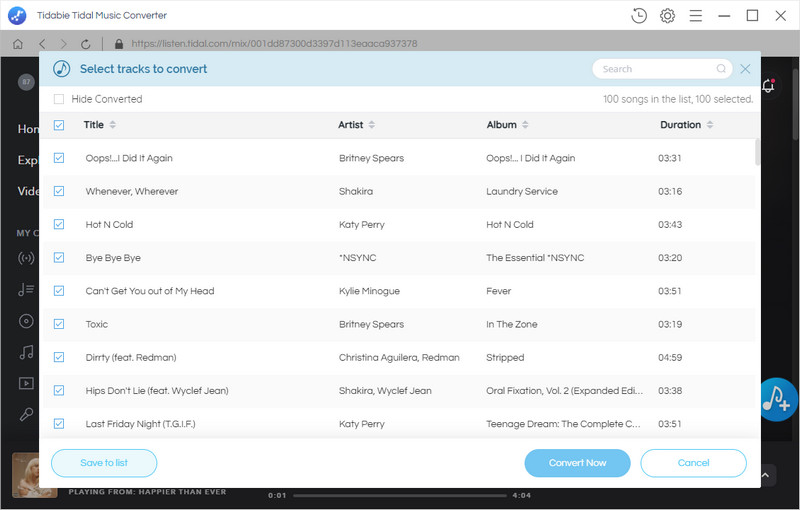 STEP 4

View Converted Tidal Music on Computer Local Storage

As long as the conversion is finished, you can tap the clock icon on the top right corner. You can view all the downloaded Tidal Music. By tapping the folder icon, you can keep track of the music on your computer location. From now on, you can play them offline in your places without audio loss.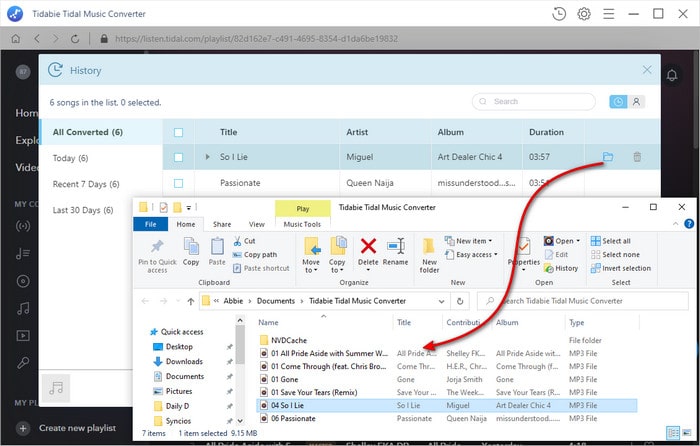 Conclusion
In addition to the expensive budget paid for a DAC, you have to make sure everything goes alright to better play a high-quality sound without loss. But if you turn to be a Tidal Music member, you can simply work out with Master Quality Audio without a DAC. And to work out with Tidabie Tidal Music Converter, you can simply play Tidal HiFi level music on the computer, on a mobile phone, and on any device without DACs. Get one Tidabie helper right now, it gives a free trial offer at a limited time!