How to Download Tidal Music to Offline Listening
---
"I have been a subscriber to Tidal Music for long time. But when I want to download the music to my computer for an offline listening, I get stuck with it. I search on Google and Reddit but I just find no way to allow this. Do you have any idea to break through the download limitation?"
Tidal Music came to public popularity for its offering high fidelity, lossless audio quality and exclusive content for music listener. Even though Tidal company plans subscribers to a higher fees than other streaming services such as Spotify and Pandora Radio, people still show their enthusiasm to the streaming platform. Nevertheless, some are complaining about its offline service. There are a few limitations to downloading in Tidal, though. First, you can only do this using a mobile app on your phone – you can't download tracks to your computer. Second, you can only download entire albums or playlists, not individual tracks.
If you do need some reliable helps to get your Tidal Music downloaded and literally achieve offline listening as you want, 2 workable ways in this article await you!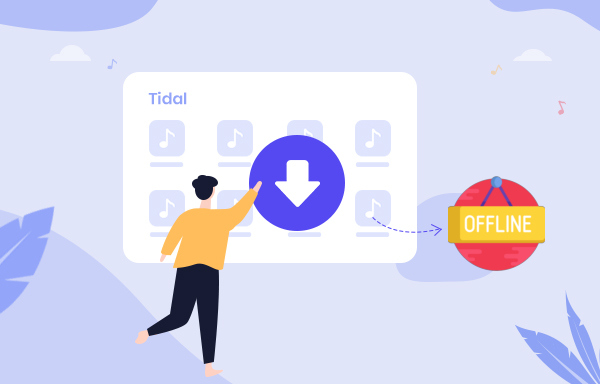 Why Download Tidal Music with Audio Converter or Recorder?
✨ Download Tidal Music individually and permanently save at local.
✨ Play Tidal Music without Tidal app after conversion.
✨ Listen to Tidal Music offline at ease, without Internet or device required.
✨ Keep Tidal Music playable even Tidal account is invalidated at some future date.
✨ Import the downloaded Tidal Music to external device like mobile phone, USB cable.
✨ Enjoy higher sound quality and more audio formats of your Tidal Music.
✨ Add Tidal Music to other streaming music platforms like Spotify, iTunes and more.
Option 1: Download Tidal Music with Tidabie Tidal Converter
We give you the first option is Tidabie Tidal Music Converter. This one can directly download the songs from the platform to your computer, keeping everything as original including music format, HiFi sound quality. Meanwhile, it will save your time a lot since this converter will download the songs at a 10 plus speed. Tidabie Tidal Music Converter owns both Window and Mac version. Every fresh user is provided to get a free trial. So you can pick the one that is compatible with your computer.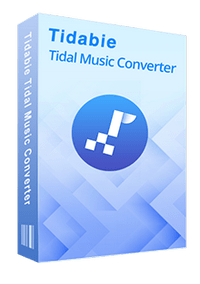 Tidabie Tidal Music Converter
Support Tidal Free and Tidal HiFi users.

Download Tidal music to the computer.

Convert Tidal to MP3/AAC/WAV/FLAC/AIFF/ALAC.

Keep up to Hi-Fi audio quality.

10X faster speed; Retain ID3 tags after conversion.

Free updates & technical support.
STEP 1

Log in Tidal Account in Tidabie Tidal Music Converter

Launch the converter when you will be welcomed with an eye-catching instruction, nothing 'Open Tidal Web Player'. Then click on it to come to the Tidal website platform accordingly. Further, follow the notes to click 'Log In'. And sign with your Tidal account to access to the Tidal sources. Take it easy, this converter just offer helps when you start to download and convert the songs, it doesn't collect your information at all.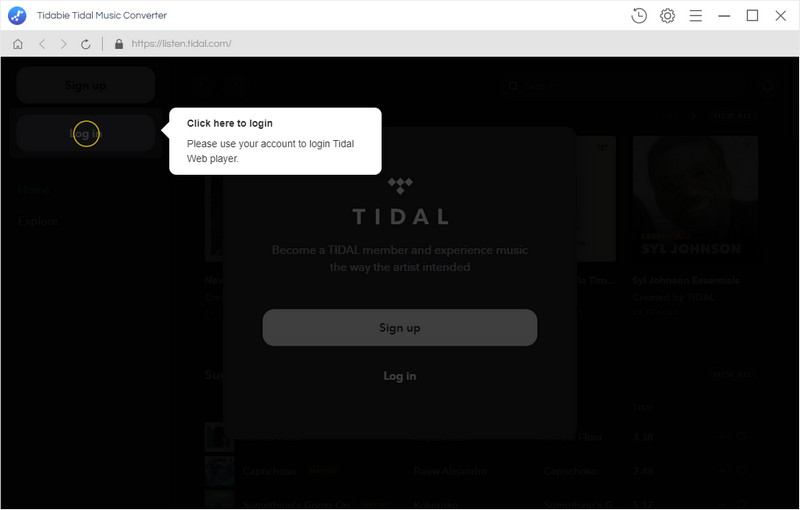 STEP 2

Customize the Output Settings

Before you go to make a selective choice on the songs to download them offline, you need to customize some settings which will apply to the downloaded songs, like output format, output quality.

Click on the Settings icon on the upper right, and opt for one audio format among MP3, AAC, FLAC, WAV, ALAC and AIFF. In most case, MP3 format is available in a wide range of devices and platforms.

Decide an output quality you want from lowest 128kbps, 192kbps, 256kbps, to highest 320kbps.

On the Output Folder column, tap the 3 dots after the fill and enter a computer path where it is accessible and allow to store all the download files later. By default, it is set to C:\Users\User Name\Documents\Tidabie Tidal Music Converter.

Arrange the Output File Name by Track Number, Title, Artist, Album and Playlist Index. You can choose to sort all the files according to these tags. When all settings completed, tap the cross icon to fold the window.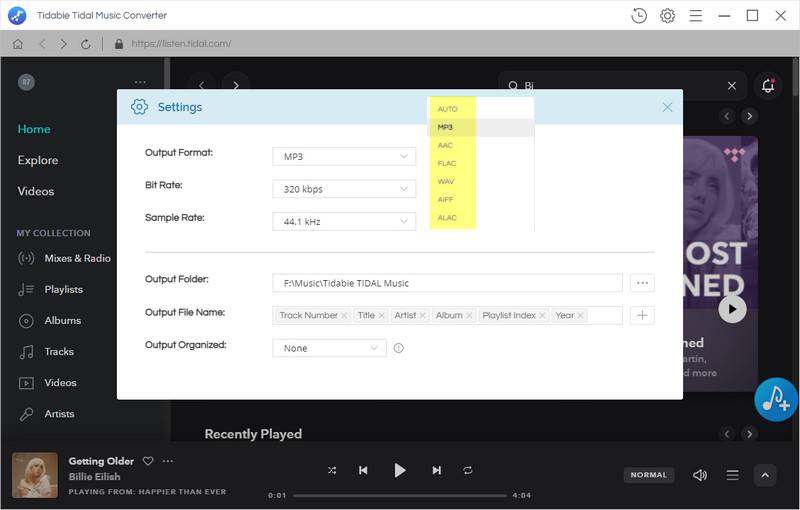 STEP 3

Choose Desired Tidal Music to Convert

Now, freely navigate to your desired Tidal Music playlists or songs, and then click the blue 'Add to list' icon to add tracks to Tidabie Converter. If you want to download all of them in certain playlist, then tick of the box in front of the Title box. Further tick the certain tracks you want, then click on 'Convert Now' to download. Tidabie Tidal Music Converter will start to download the selected songs at a 10X conversion speed, which takes less time to wait for the completion.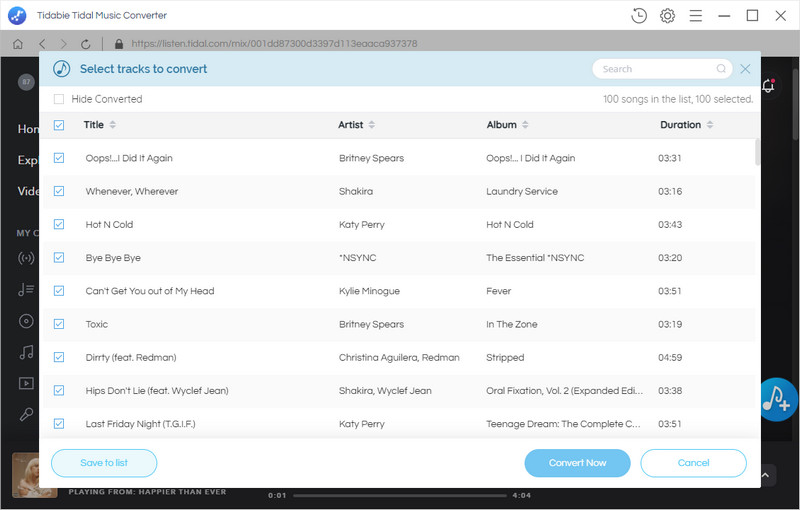 STEP 4

Check Downloaded Tidal Music at PC Local

As long as songs are all converted as expected, you can go to the 'History' column and you can view all the download history. To view them on your computer at local, tap the folder icon beside the song and reach out the file at computer local path. From now on, you can play all these wonderful music offline, even with no Tidal app bundled!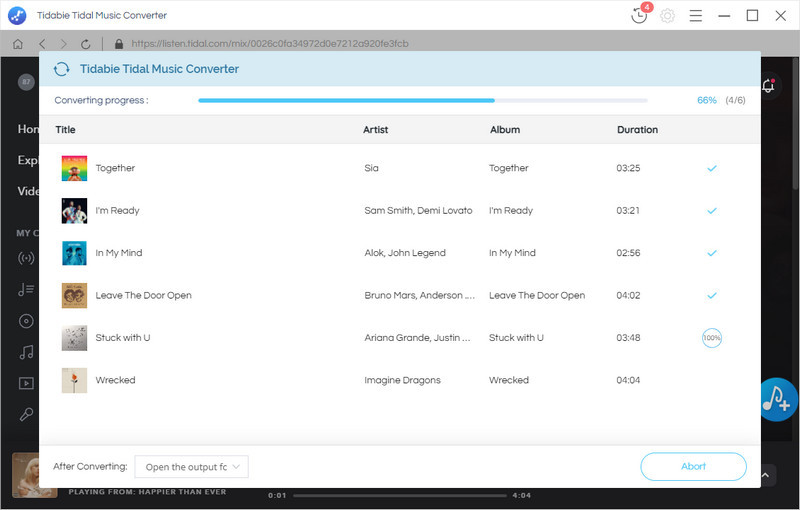 Option 2: Download Tidal Music with AudiCable Audio Recorder
Unlike Tidabie Tidal Music Converter, we will introduce another adorable music converter. It is called AudiCable Audio Recorder. This is an all-in-one yet comprehensive audio recorder, whose mechanism is to record the streaming music from the official website. They can be Spotify, Apple Music, Amazon Music, Tidal, Line, Deezer, YouTube, Pandora and etc. The recorded songs or playlists will be intelligently recognized the ID3 tags, also converted to your desired sound quality and audio formats. To impress you how it work to download Tidal music for listening offline, the steps below will give you some insights into the task.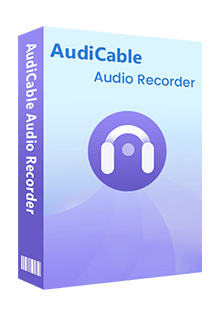 AudiCable Audio Recorder
Download music from Spotify, Apple Music, Amazon Music, Tidal, Line, Deezer, YouTube, Pandora and etc.

Record and save premium music to MP3, AAC, WAV, FLAC, ALAC, AIFF.

Fully support for kinds of streaming music apps.

Keep original audio quality after conversion.

Free updates & technical support.
STEP 1

Customize Output Settings

Upon running into AudiCable Audio Recorder, navigate to the 'Settings' part in upper right corner. Choose the one kind of output formats among MP3, AAC, FLAC, WAV, ALAC and AIFF. Also select your wanted output quality. The highest could be the original HiFi sound qualtiy when you choose sas the output formats. And don't forget to choose a correct path in the Output Folder column, which will decide where you can find the output files after the process.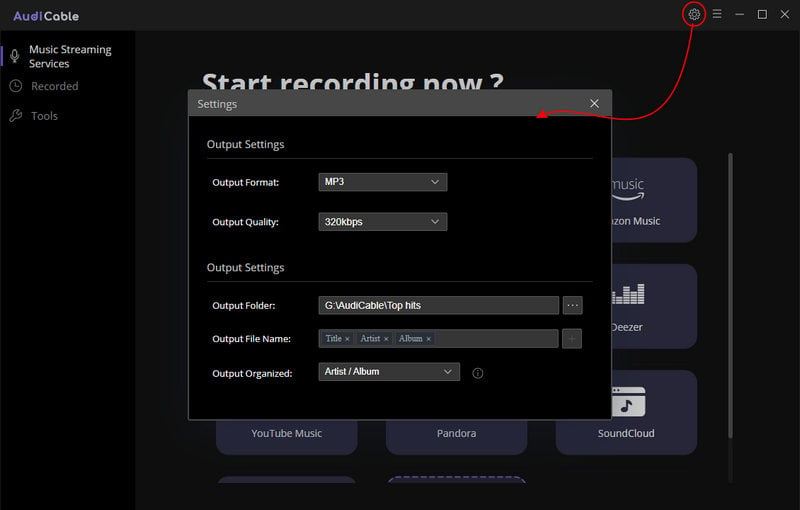 STEP 2

Sign in Tidal Music Account

On AudiCable Audio Converter homepage, you have many options to enter any popular streaming music platform. But here we are talking about Tidal Music, so choose the Tidal entrance to go on. Go ahead, you will be prompted to sign into your Tidal Music account. When you successfully signed in to Tidal, you can freely get into the Tidal Music resources within AudiCable.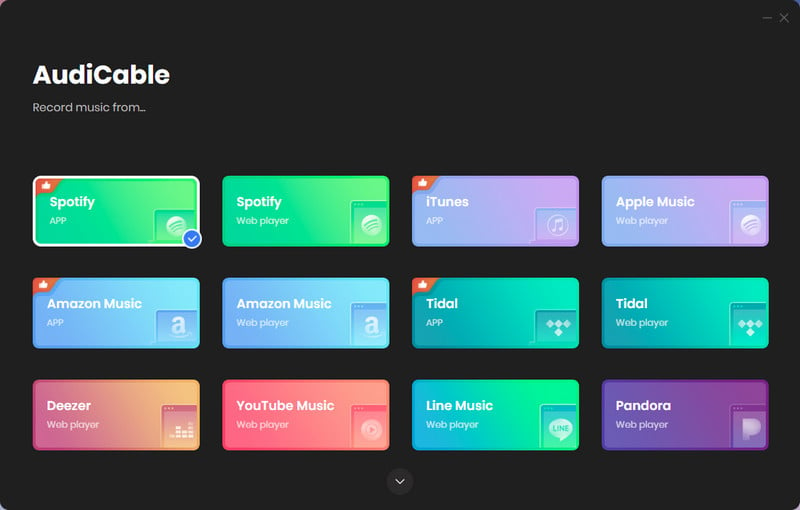 STEP 3

Choose Music to Play and Record

Go to any playlist, album, artist or podcast that you want and start to play the songs. When songs are normally playing in the current window, AudiCable in the background will start to record the audio. Every single track will be saved to the output folder in accordance with the ID3 information correctly. If you expect currently playing audio to pause, AudiCable will quit the recording job as well. If you restart the music with sound normally playing, AudiCable will continue the recording as well.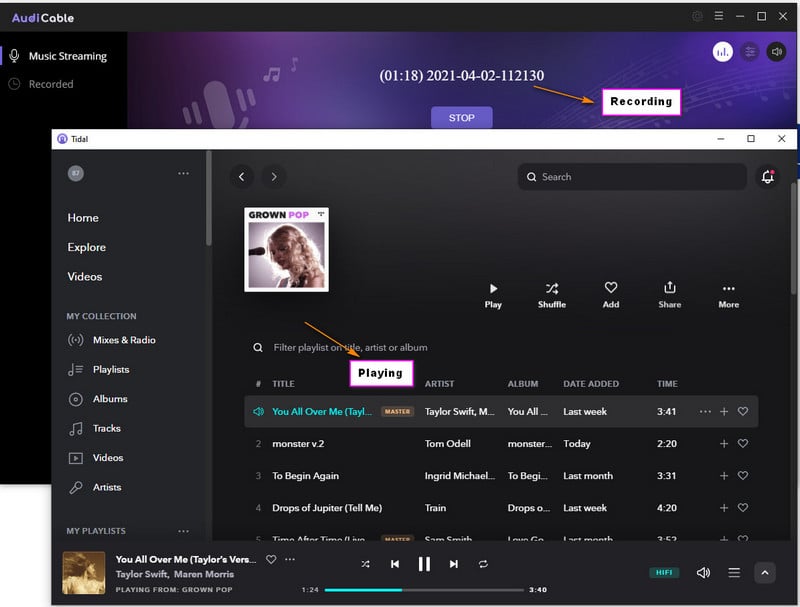 STEP 4

Check the Recorded Tidal Music at Local

When the Tidal Music songs play to the end, and no sound comes from the Tidal platform, AudiCable will end the recording process altogether. All recorded files have been already saved to AudiCable program. You can check them in AudiCable's 'Recorded' column on the left panel. Move your mouse to a certain track, there is a folder icon that you can click into and reach out to the Output Folder on your computer. You can play all these songs now without accessing to your Tidal account from now on. Of course, you can start your journey to listen to Tidal Music offline!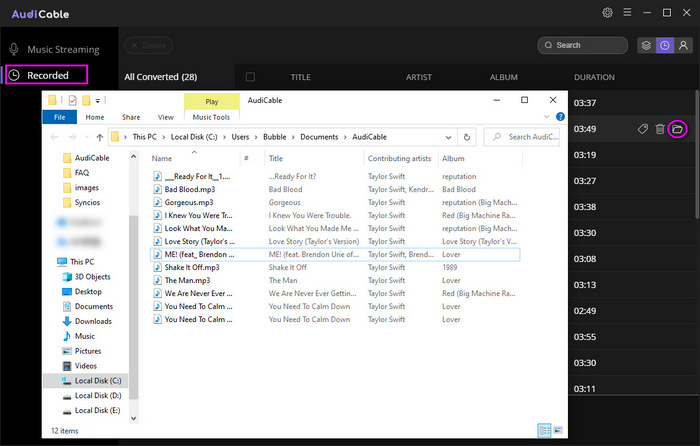 Conclusion
Above, we give you 2 wonderful tools to download Tidal Music for an offline listening. In addition to the playback freedom, there are other big points that you can gain control of the downloaded Tidal Music. We have listed you the worths at the article beginning.
Somehow, Tidabie and AudiCable have common places in offering various output formats and high output quality to the downloaded Tidal Music. Tidabie Tidal Music Converter is high praised for the superior output quality by the Tidal Music loyalists. And we have to admit that AudiCable Audio Recorder is more attractive if you are a listener to multiple streaming platforms besides Tidal. You can get one AudiCable to download any song from any platform at ease. All in all, they are all brilliant in my view, it is worthwhile for anyone enjoying music with HiFi quality and would like to share music with his or her friends.