How to Play Tidal Music on Kodi
---
Kodi is a popular choice whether it is used on a computer or on a TV. As a free and open-source media player, it not only has the simple playback function of playing local songs and other media files, but it also connects well with various streaming services.
You can play music, podcasts, and videos via a series of add-on programs through Kodi. However, Tidal Music is not included yet. Kodi is forced to remove many add-on apps since it's warned not to cause digital copyright infringement owing to facilitating unauthorized access to copyrighted media content.
Then how to play Tidal music on Kodi? Before we conclude a practical and preferable solution to fix this issue, we will not bring up this topic. In this post, there is a detailed instruction that orients you to connect Tidal Music with Kodi and enjoy the unlimited playback of Tidal music on Kodi.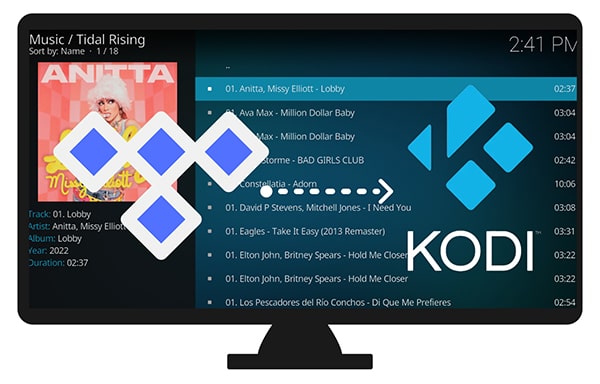 ---
Part 1. Play Music on Kodi via Add-on Programs
Kodi makes an add-on list for users who prefer streaming online music. There are a bunch of add-on programs readily available on Kodi, except for Tidal. If you stick with relishing melody from Tidal, you may be disappointed after checking the add-ons list. If we want to make a compromise, we will not step into this topic at first. In the following part, we will disclose the optimum way to listen to Tidal music on Kodi. You can skip to part 2 or give a glimpse at this part then scroll down for a better answer.
🔷 Tech Spec of Kodi
Operating System: Windows 7 and later, macOS, Android, iOS, tvOS (Apple TV OS), Linux, Xbox One, Xbox Series X/S, and FreeBSD
Platform: ARM, ARM64, MIPS, RISC-V, PowerPC, IA-32 (x86), and x64 (x86-64)
Supported Video Formats: MPEG-1, MPEG-2, H.263, MPEG-4 SP and ASP, MPEG-4 AVC (H.264), H.265 (as from Kodi 14) HuffYUV, Indeo, MJPEG, RealVideo, RMVB, Sorenson, WMV, Cinepak.
Supported Audio Formats: MIDI, AIFF, WAV/WAVE, AIFF, MP2, MP3, AAC, AACplus (AAC+), Vorbis, AC3, DTS, ALAC, AMR, FLAC, Monkey's Audio (APE), RealAudio, SHN, WavPack, MPC/Musepack/Mpeg+, Shorten, Speex, WMA, IT, S3M, MOD (Amiga Module), XM, NSF (NES Sound Format), SPC (SNES), GYM (Genesis), SID (Commodore 64), Adlib, YM (Atari ST), ADPCM (Nintendo GameCube), and CDDA.
🔷 Steps to Play Music on Kodi via Add-on Programs
Step 1: On your computer or other devices, launch the Kodi app. On the left menu list, tap on the settings icon to move to the next page where you will see an option for Add-ons, click on it. And there is another way to approach this option. On the main screen of Kodi, scroll down on the left panel until you see the Add-ons tab. Put your pointer cursor on this Add-ons tab.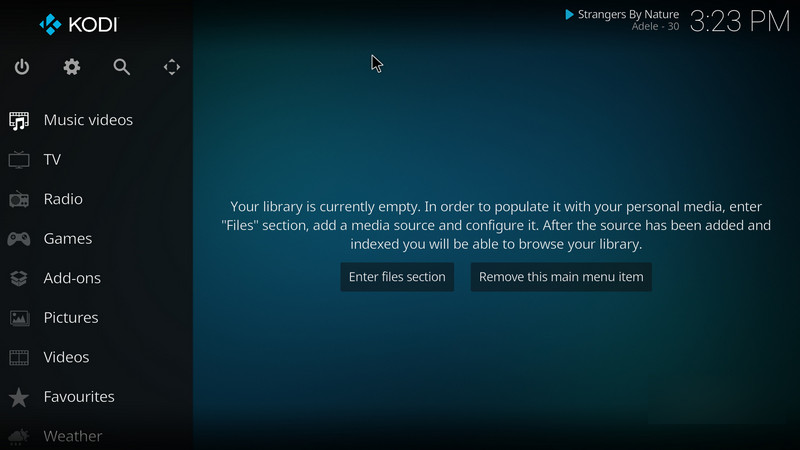 Step 2: Look at the right panel, you will be offered several options. Enter the Install from the repository section. Then choose Music add-ons from the list.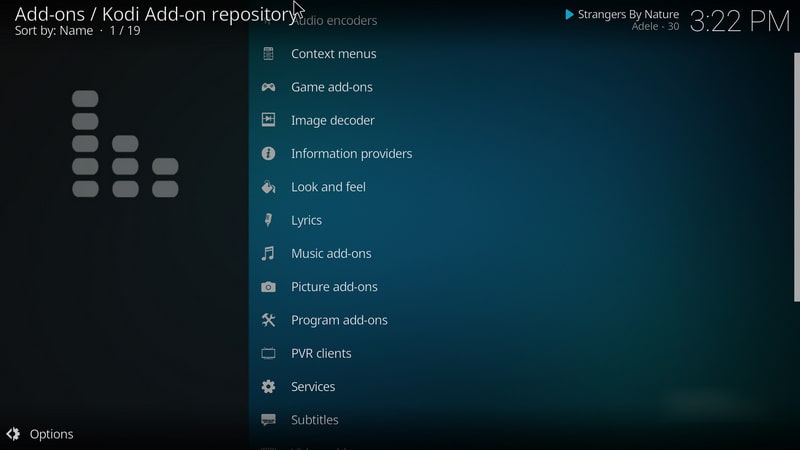 Step 3: In this section, all available add-on programs are displayed, such as Amazon Prime Music, SoundCloud, Bandcamp, Google Drive, etc. Just download the built-in installer then you can play music via the add-on app.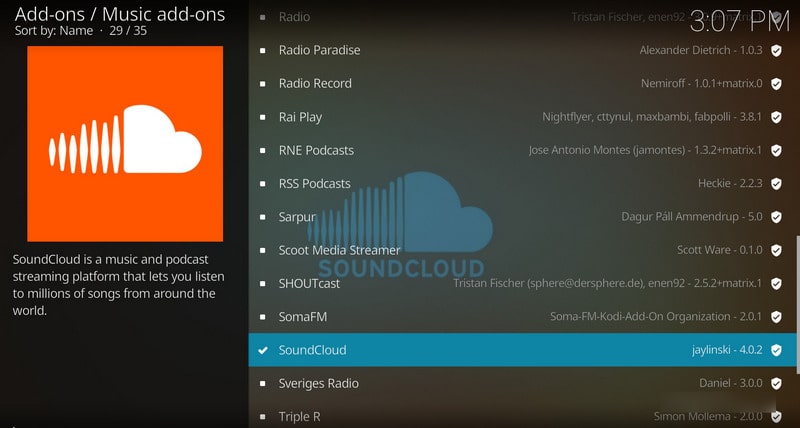 Step 4: Choose a preferred music service to download. For instance, tap on the SoundCloud tab. It will start downloading the add-on SoundCloud. When it's downloaded completely, there is a pop-up message appears in the top-right corner. Click the prompt to log in to SoundCloud. Afterward, you are allowed to browse songs in the SoundCloud Library and play the songs on the Kodi.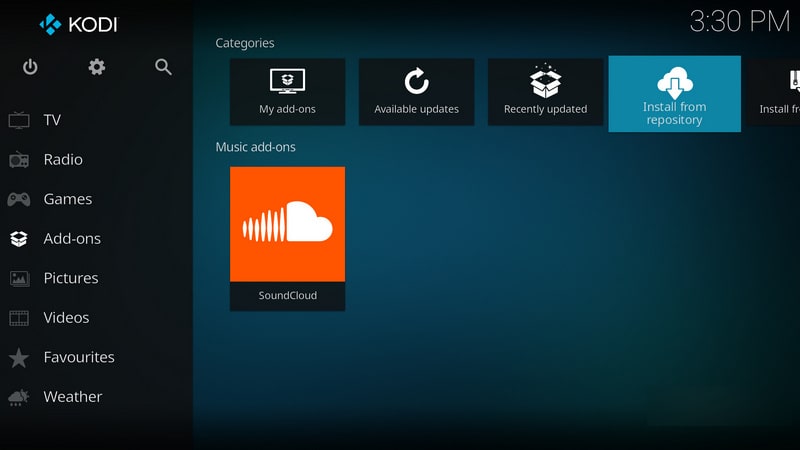 ---
Part 2. Unlimitedly Play Tidal Music on Kodi
Forget about unnecessary procedures, let's direct to the top-rating approach that solves the program ultimately. Tidal Music is not on the add-ons list of Kodi, but local songs can be easily added to Kodi. We henceforth come to a brilliant idea. How about converting the Tidal songs, albums, and playlists to DRM-free files then importing them as local songs and playing them on Kodi anytime? But all Tidal files are encrypted. Even with a paid subscription, Tidal Music doesn't unleash users' full control over the downloaded files that be confined to playback with the Tidal Music app or Tidal web player.
To break the limits, a specially crafted tool jumps out - Tidabie Tidal Music Converter. It decrypts Tidal Music files and downloads the Tidal songs to a local PC in common MP3, AAC, WAV, FLAC, AIFF, and ALAC formats. And it downloads an entire playlist in the same order as the original playlist with the detailed ID3 tags kept, you can skip worrying about hard locating every downloaded Tidal track. And your worries about losing sound quality should be put away. Tidabie will preserve the original quality of the Tidal web player for perfect playback. Moreover, these converted Tidal songs can be yours for a lifetime once they are downloaded.
Follow the steps in the following part to check how it orients you to download Tidal songs to your local PC and add Tidal Music folders to Kodi for free playback.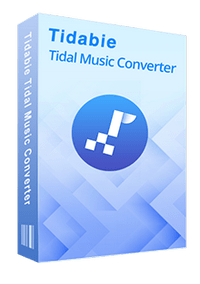 Tidabie Tidal Music Converter
Download music with all types of Tidal plans, including Tidal Free.

Downloaded Tidal songs, albums, and playlists are well-compatible with kinds of devices and players.

Convert Tidal tracks to MP3, AAC, WAV, FLAC, AIFF, and ALAC formats.

Batch download multiple Tidal Music playlists.

Download songs with HiFi audio quality and ID3 tags kept.

No need to install Tidal Music app.

Permanent playback of Tidal music.
Step 1: Install and Run Tidabie Tidal Music Converter
Move your pointer cursor to the downloading button, then download a Windows version or Mac version of Tidabie according to your need. After completing the installation to Tidabie, run this program. On the start-up screen, click on the "Open Tidal Web Player" button. You will enter the built-in Tidal Music web player. Log in to Tidal Music with a Free, HiFi, or HiFi Plus account. All Tidal plans are feasible for downloading songs from Tidal via Tidabie.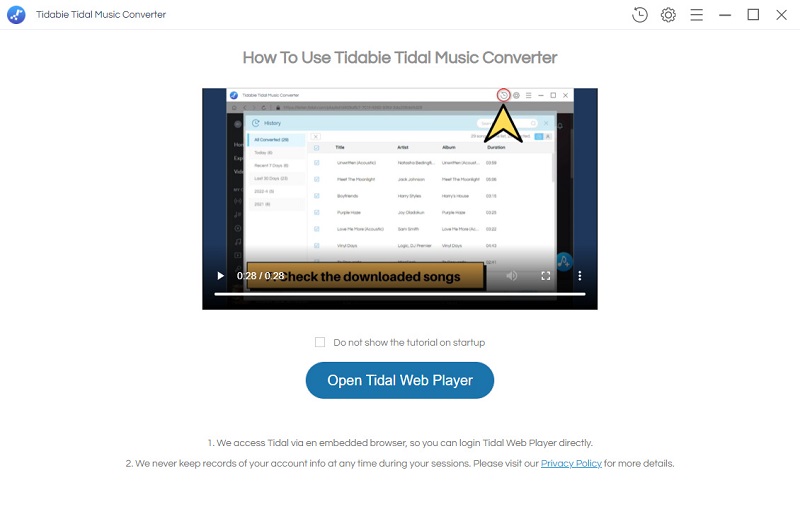 Step 2: Change the Output Parameters Accordingly
In the top right corner, tap on the "settings" button. Then you will see a pop-up setting window where the output format, bit rate, sample rate, output folder, and other parameters are changeable.
After changing the output format, the parameters of the bit rate and sample rate vary accordingly. Select the options that are suitable for you, then close the window to take an instant effect.
To download all songs to the same folder at once without classification, choose "None" in the Output Organized setting. And for users who'd like to organize all tracks by playlist, you should choose "Playlist" in the Output Organized setting.
✅ Output Format: AUTO, MP3, AAC, WAV, FLAC, AIFF, ALAC
✅ Bit Rate: 320kbps, 256kbps, 192kbps, 128kbps
✅ Sample Rate: 44.1KHz, 48KHz, 96KHz, 192KHz
✅ Output File Name: Track Number, Title, Artist, Album, Playlist Index, Year
✅ Output Organized (way): None, Playlist, Artist, Album, Artist/Album, Album/Artist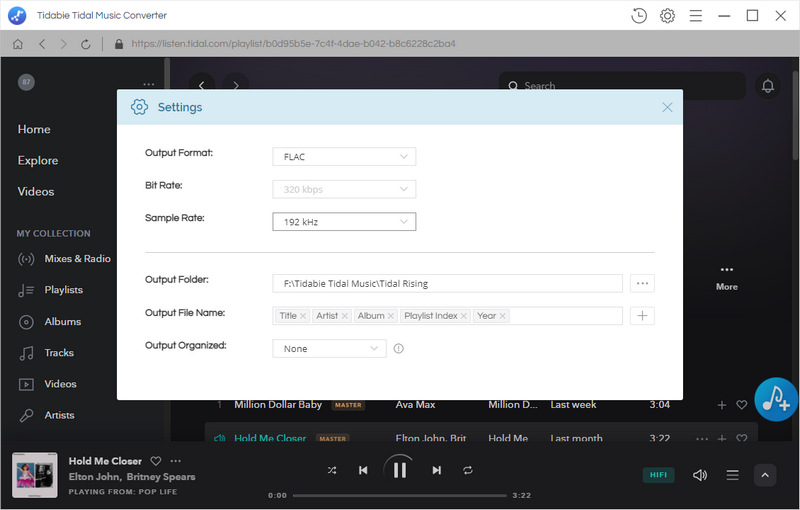 Step 3: Converting Tidal Tracks to Unencrypted Songs
On the built-in Tidal Music web player, open the playlist or album that you are preparing to download, then click the "Add to list" button in the lower right. Tidabie will load all songs in the playlist or album for further selection. Tick off the wanted tracks from the list then click the "Convert Now" button to start converting the songs instantaneously.
You may be confused about another option, "Save to list". It's designed for users who prefer to download more playlists at once. When clicking on it, the selected songs will be added to a to-be-downloaded task list. After that, you can add more songs from other playlists. Then navigate to the "task list" button in the top right and perform the conversion in one batch.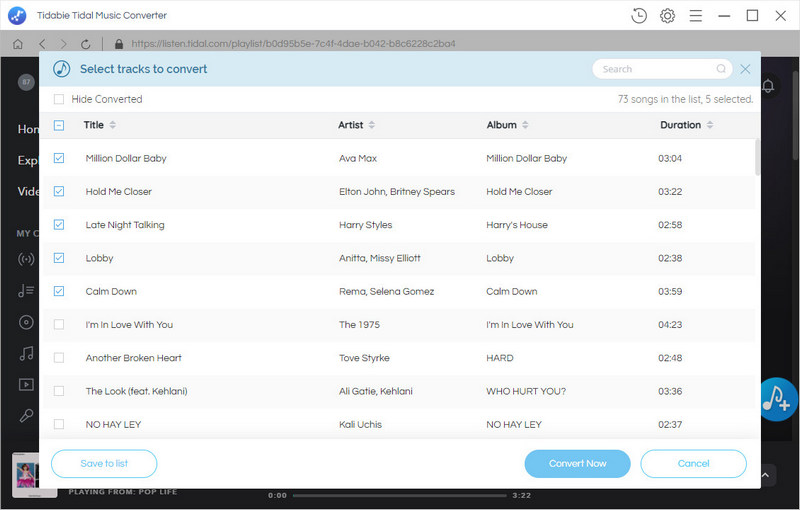 Step 4: Add the Converted Tidal Songs to Kodi
As time goes by, the Tidal songs will be saved to the output folder on your computer in common formats. Generally, the output folder will open soon after the conversion. If not, you may turn off the default option. But to find the downloaded tracks, you can directly go to the saving path you set before. Or just go to the upper right, and click the "history" icon to check the record of the converted tracks. Move to the song you need and you will see a "folder" icon, click it to open the output folder.
After opening the output folder, you will see all downloaded Tidal songs are well-organized. It contributes to the free playback of Tidal music on Kodi. Next, we just need to add these songs to Kodi and play them anytime.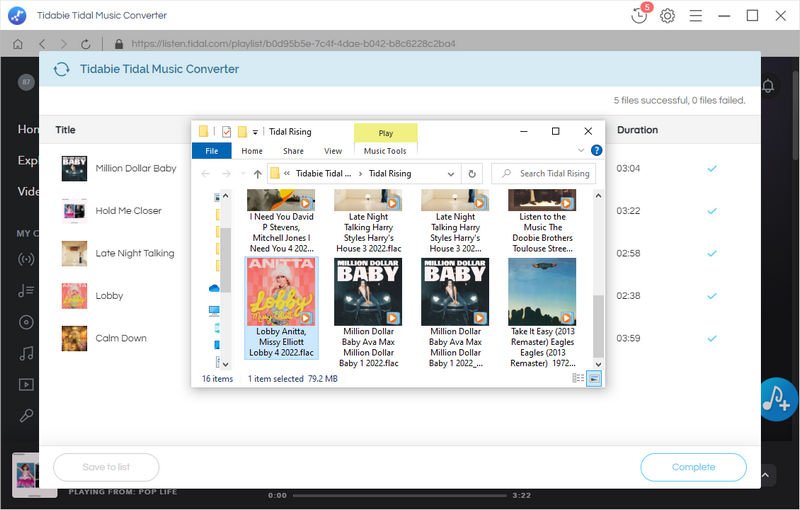 Step 5: Freely Play Tidal Music on Kodi
On your computer, launch the Kodi app. Go to the "Music" column on the primary interface. Then click on "Files", and click "+Add music".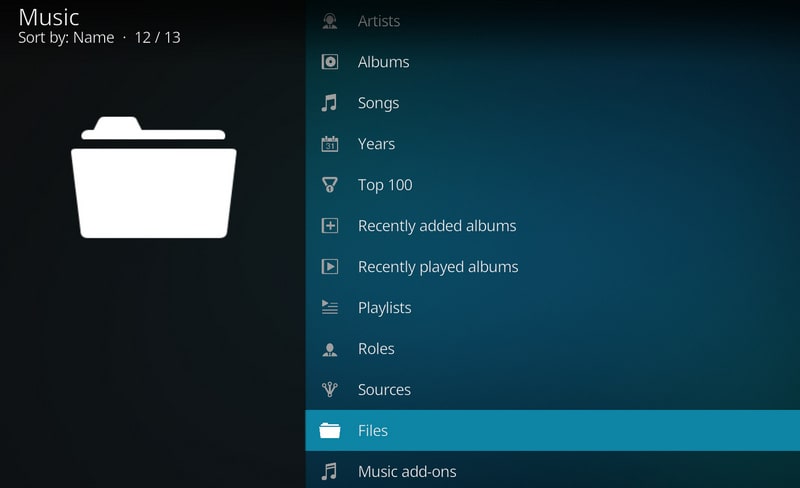 Browse the Tidal Music folder in the pop-up file explorer. After selecting the folder, click "OK". And you will be asked if you want to add the media files to the library, just choose "Yes". Soon after, the Tidal songs will be added to Kodi.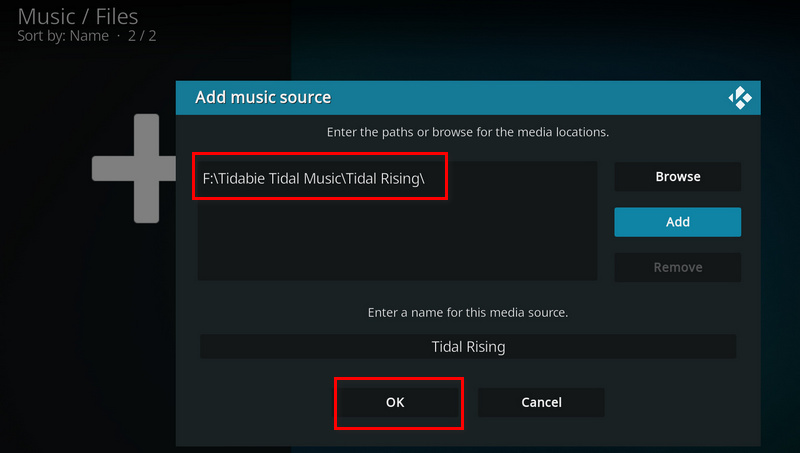 You can freely play them without restrictions from now on. And the songs will be classified by albums, playlists, and artists once they are imported to Kodi.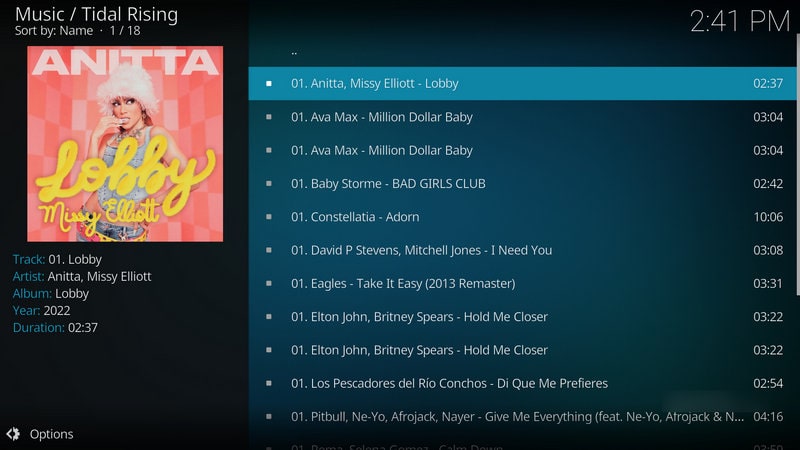 To play Tidal music via Kodi on other devices, you can move the downloaded Tidal files to a device, an SD card, or a USB flash drive, then play the Tidal songs via Kodi anywhere.
By the way, when you want to remove the added Tidal playlists from Kodi, just go to the "Music" column and click "Files". Then choose the unwanted music playlists, and tap on "Remove source".
---
Extra Tips You May Need:
Playing Tidal music on Kodi may be one of your purposes to convert Tidal songs. When the Tidal Music tracks are converted to genuine local files, you can also:
🍇 Enjoy the eternal playback without auto-renewing the subscription.
🍈 Except for Kodi, you can use the DRM-free Tidal tracks with other programs.
🍉 Transfer the unencrypted Tidal songs to any device for free playback.
🍊 Share the collected Tidal tracks or playlists with people around you.
🍋 Never lose your favorite Tidal Music songs, albums, and playlists.
---
The Closing Thoughts
We are expecting more options will be provided on the add-on list of Kodi. But at this moment, we can only rely on this professional Tidabie Tidal Music Converter to enjoy the free playback of Tidal music on Kodi. Even though you give up using Kodi in the future, the conversion of Tidal music should be conducted for full control of Tidal music. Check the list we made above, you will find you can do more with the converted Tidal tracks but not just connect the Tidal with Kodi or simply stream Tidal music. We always want more other than to play the songs within the Tidal Music app. As a result, Tidabie comes up with the ideal solution. Have a free trial now to get a better experience of Tidal music.