Tidal HiFi vs HiFi Plus: Which Should I Choose?
---
When it comes to choosing the right music streaming plan, there are a lot of factors to consider. The sound quality is of utmost importance for a lot of audiophiles, but there are also other things to consider, like price, exclusives, and the overall value you're getting for your subscription. In this article, we'll compare the Tidal HiFi plan and the Tidal HiFi Plus plan to help you make an informed decision on which one is right for you.
First things first: what is Tidal? Simply put, Tidal is a music streaming platform that offers high-fidelity streaming. "High-fidelity" refers to a high-quality audio format that provides a greater depth and range of sound than standard streaming services. In other words, Tidal is designed for audiophiles who are looking for the purest listening experience possible. With that in mind, let's dive into the similarities and differences between the Tidal HiFi plan and the Tidal HiFi Plus plan.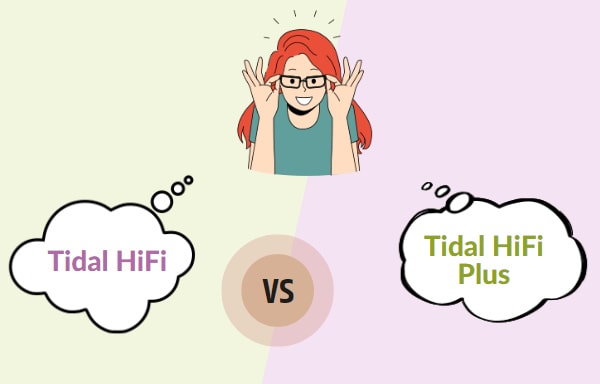 ---
Part 1. What are the Common Features of Tidal HiFi & HiFi Plus?
Both Tidal HiFi and HiFi Plus are paying plans, and they usually have something in common such as a music library, offline mode, and TIDAL Connect. Let's read this part to see the details that Tidal HiFi and HiFi Plus plans have in common.
Music Library >>
With the Tidal HiFi plan or Tidal HiFi Plus plan, you can access all of Tidal's music library, which has over 100 million songs and 650 thousand videos including music videos, exclusive TIDAL content series, etc. Besides, you can enjoy expert-curated playlists on Tidal and personalized recommendations.
Offline Listening >>
Both plans allow you to download high-quality audio tracks and listen to them offline on your mobile device. In this case, you can still enjoy high-quality Tidal songs without a network connection. Attention, neither the Tidal web player nor the desktop app is enabled in the offline mode, and you should use this function on your mobile phones or tablets. If you want to listen to the downloaded songs offline all the time, you need to keep the subscription permanent. You can enjoy up to 160kbps sound quality when you downgrade to the Free plan. 
TIDAL Connect >>
Simply put, TIDAL Connect is the feature that allows you to cast and control your music playback on compatible devices directly from within the TIDAL app. When you have a Tidal HiFi or HiFi Plus membership, you can enjoy the TIDAL Connect function and stream your favorite music seamlessly across supported devices such as speakers, soundbars, and receivers without any loss in quality, in other words, losslessly listen to Tidal's music across all your devices.
Multi-Room Audio >>
TIDAL has cooperated with Samsung Audio Lab and users can enjoy TIDAL with Wireless Audio - 360. With SAMSUNG's Ring Radiator Technology applied, Tidal sound travels in a ring shape, allowing you to listen to experience 360° sound. What you need to do is to open the Samsung Multiroom app and log in to your Tidal account. After that, you can take hold of all your Tidal music with the Samsung app, and use your phone or tablet to stream your favorite tunes and control your playlists—on one speaker or multiple speakers simultaneously—from anywhere in your home using Wi-Fi.
Live on TIDAL >>
This is another benefit you are entitled to as a Tidal paying subscriber. You can stream live performances and concerts from a wide range of artists and music genres and have the opportunity to experience real-time concerts, exclusive live streams, and other live music events from the comfort of your own home. Additionally, Live on TIDAL may also include behind-the-scenes access, interviews, and other exclusive content related to live music events.
---
Part 2. What are the Different Features of Tidal HiFi & HiFi Plus?
Despite the common features, Tidal HiFi and HiFi Plus plans are quite different from each other in the following two main aspects.
Price >>
The Tidal HiFi plan is with a monthly fee of $4.99 to $14.99. This plan has five tiers with different prices. To be specific, the Student tier needs a discounted $4.99 per month, both the Military and First Responders tiers need a discounted $5.99, the Individual needs the standard $9.99, while the Family tier requires $14.99. Despite different charges, all of the tiers enjoy the same benefits from Tidal. Additionally, the Tidal HiFi plan offers a 30-day trial, you can estimate its functions and features before subscribing to it.
The Tidal HiFi Plus plan, on the other hand, costs from $9.99 to $29.99 per month. Similar to the HiFi plan, the HiFi Plus plan also has five tiers with different prices, namely, the Student tier with a monthly fee of $9.99, the Military and First Responders tiers at $11.99 per month, the Individual tier at $19.99, and the Family tier at $29.99. People who have special qualifications can enjoy a 40% to 50% discount from this Tidal plan too. Besides, the Tidal HiFi Plus plan also offers a 30-day trial.
Sound Quality >>
Tidal HiFi plan offers high-fidelity (HiFi) audio to over 100 million tracks, with a bit rate of up to 1,411kbps or 16-bit/44.1kHz sound quality. This means that the music you listen to with the Tidal HiFi plan is of the same quality as the original recording.
The Tidal HiFi Plus plan offers better sound quality than the Tidal HiFi plan, with a bit rate of up to 9,216kbps or 24-bit/192kHz. Tidal also names this high-resolution quality as MQA (Master Quality Authenticated). This means that the music you listen to on the Tidal HiFi Plus plan is of even higher quality than the high fidelity and is as the artist intended. There are nearly 70 million songs in total with the Master quality, and you will easily get the best quality of your favorite songs with Tidal HiFi Plus. Additionally, Dolby Atmos and Sony 360 Reality Audio are available with the Tidal HiFi Plus plan, bringing the best experience to listening to music. This is the biggest feature that sets the Tidal HiFi Plus plan apart from the Tidal HiFi plan.
---
Part 3. Tidal HiFi vs HiFi Plus - Which Plan is Right for Me?
So, which Tidal plan should you choose? Since both plans have a common music library, offline mode, TIDAL Connect, Live on TIDAL, etc., you need to focus on the differences between Tidal HiFi and Tidal HiFi Plus plans. And the answer depends on your priorities and budget. Here are some key factors to consider: sound quality, price, and compatibility.
Both plans offer high-fidelity streaming, providing lossless audio quality. However, Tidal HiFi offers CD-quality streaming at 16-bit/44.1kHz, while the HiFi Plus plan provides MQA audio with a higher resolution of up to 24-bit/192kHz. If you're an audiophile or prefer high-resolution music, the HiFi Plus plan may be preferable. However, it is important to note that if you want to take advantage of MQA audio quality, ensure that your streaming device or software supports MQA decoding. The available MQA decoding devices may include Naim ND 555 and Melco N100, etc.
If you're on a budget, the Tidal HiFi plan may be the better option for you. With a monthly fee of $9.99 for the Individual tier, it is more affordable than the Tidal HiFi Plus plan.
---
Extra Tip: Download Tidal Songs to Local Computers for Flexible Enjoy
As we mentioned in the previous parts, if you have either Tidal HiFi or HiFi Plus membership, you can enjoy Tidal's music on different devices like speakers with the TIDAL Connect feature. But the flexibility to enjoy Tidal music is still low. When you plan to transfer Tidal music to MP3 players and USB flash drives or burn Tidal's music to CD, you are restricted, since all the downloaded songs with any of your Tidal accounts, including the HiFi Plus account, are all encoded, you cannot extract them from the Tidal app, not to mention use them freely. However, that is why we show you this part.
Tidabie Tidal Music Converter is a software program designed to convert and download music from the Tidal streaming platform. It enables you to easily download Tidal's music to local computers and convert Tidal songs, playlists, albums, and podcasts into various file formats like MP3, AAC, FLAC, WAV, or AIFF. This will allow you to play your favorite Tidal Music songs without internet connectivity and transfer them to devices or music players for flexible enjoyment.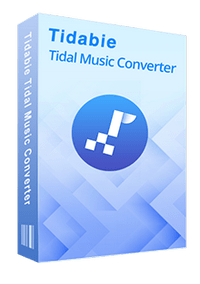 Tidabie Tidal Music Converter
Download Tidal songs, albums, playlists and podcasts.

Convert Tidal tracks to MP3/AAC/WAV/FLAC/AIFF/ALAC.

10x download speed & batch download multiple playlists.

Preserve HiFi audio quality and ID3 tags.

Offer tools of Format Converter, Tag Edit, etc.

Enjoy Tidal music on WMP and other music players.

Keep Tidal downloads forever after the subscription ends.
Step 1 Launch Tidabie Tidal Music Converter
First of all, you need to download and install Tidabie on your Windows or Mac computer. Then launch it. You will see two windows appear, one is the Tidabie window, and the other is the Tidal web player. Please log in to your Tidal account. If you don't have a Tidal account, create one.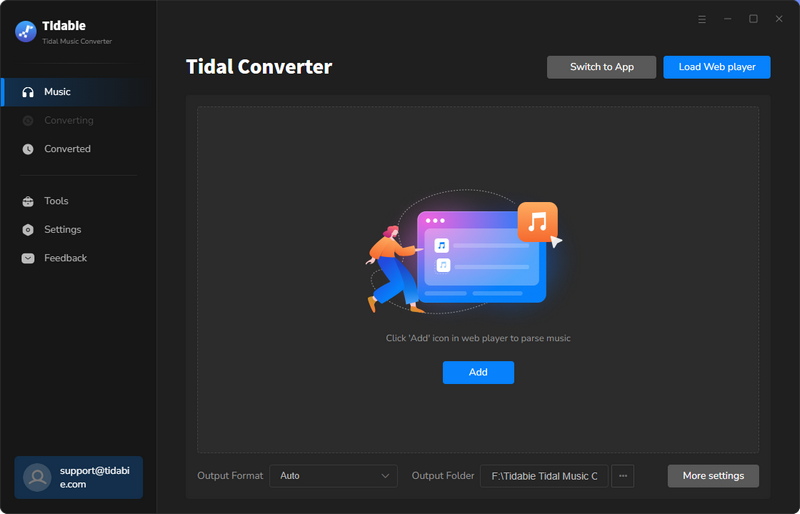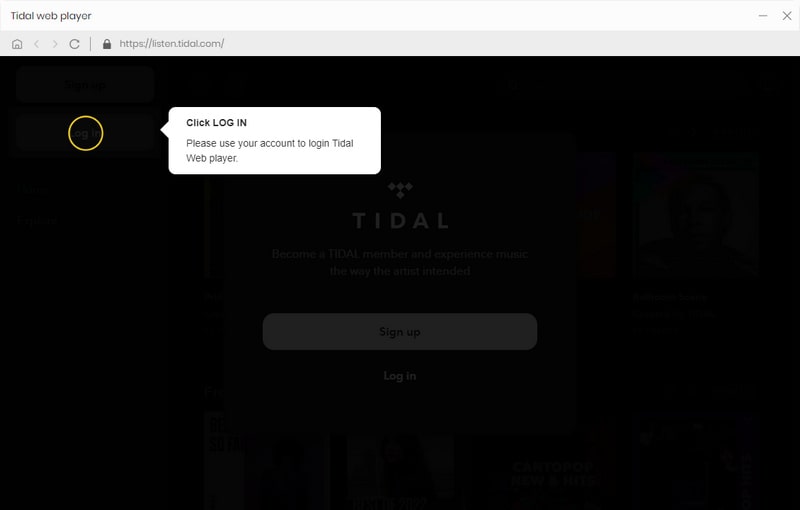 Step 2 Decide Output Format and Quality
If you want Tidal songs output with your preferred format and quality, head to the "Settings" tab, select an output format from MP3, FLAC, AAC, etc., and designate sound quality with the bit rate and sample rate sections. In addition, you can choose an output folder to store Tidal songs, name the output file with the provided options, etc.
Tidal streams music at high quality, and Tidabie can save the high quality. When you want the HiFi quality, select 'AUTO' or 'FLAC' from Output Format.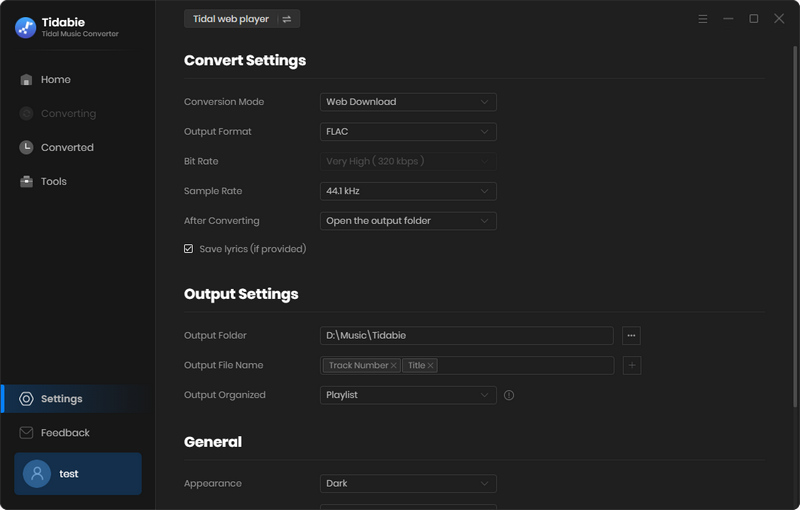 Step 3 Select Tidal Tracks to Download
Next, move your sight to the Tidal web player and navigate to your favorite songs, playlist, albums, and podcasts. Click on the blue icon "Click to add" in the bottom right. All the songs on the page will then load on a popup. They are selected by default. If you want just a few of them, deselect all and pick your target songs. Then click on "Add" to add them to Tidabie's download list.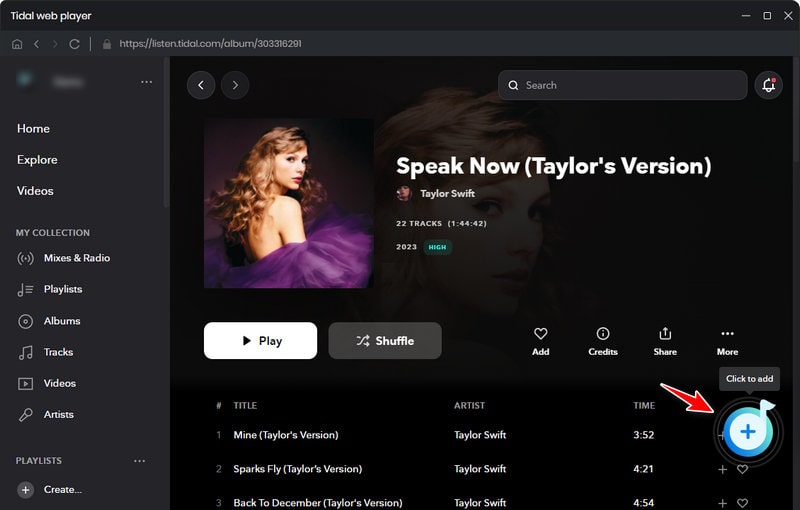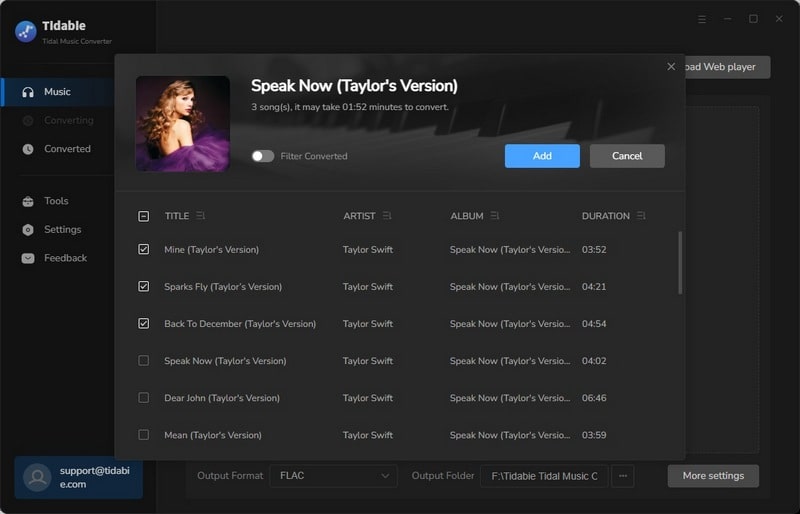 Step 4 Download Tidal Music at Fast Speed
When all the songs are added, simply click on the "Convert" button to download your favorite Tidal songs. And Tidabie will proceed with the songs at up to 10x fast speed. The ID3 tags of the songs are also preserved during the conversion process.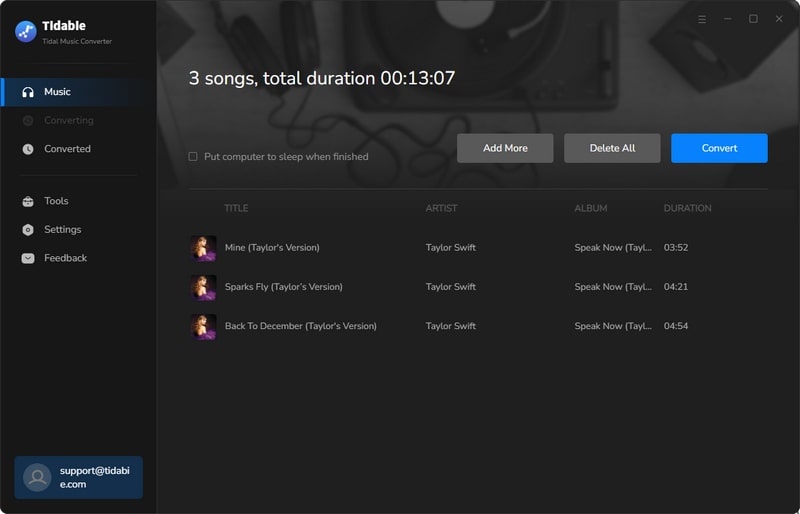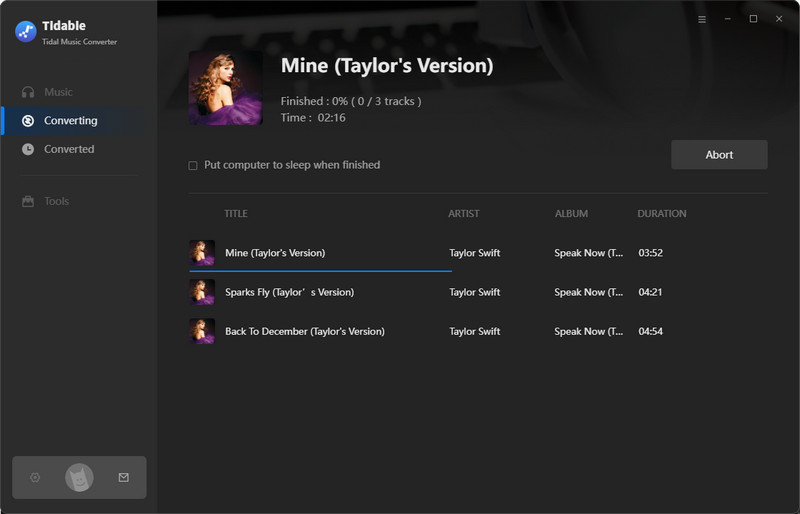 Step 5 Flexibly Enjoy Tidal Music
After the conversion is complete, you can check them on the "Converted" tab or go to the output folder, where you can see Tidal songs are downloaded to common audio files on your local computers. These files can be flexibly used, and you can transfer them to your USB, upload Tidal's music to WMP or iTunes, or burn the songs to CD directly.
---
Summary
Tidal HiFi vs. HiFi Plus plan, which is better? Both plans have their features and advantages. So when it comes to which one you should choose, it ultimately depends on your personal preferences and needs. In summary, if you prioritize the highest audio quality, particularly MQA content, and are willing to pay a bit more, the HiFi Plus plan might be better for you. Otherwise, you can select the Tidal HiFi plan, since it provides excellent CD-quality streaming at a more affordable price.
At the same time, you should realize neither Tidal plan allows you to enjoy music flexibly. Hence you may try Tidabie Tidal Music Converter, a professional program to download and convert Tidal music. With Tidabie, you can transfer Tidal's music to devices and programs, bringing flexible enjoyment to Tidal music.