Apply Tidal Music to TikTok Videos
---
Music is a significant component of TikTok. A perfect match with the right sound will increase the shareability of your TikTok video. An inspiring sound can go viral all over the TikTok community and be used when creators make videos on TikTok. You can use local music from your phone, sounds from other videos, or sounds from TikTok's music library. You can also record a voiceover in real-time. Below, we walk you through the different options. And to make sure you can always find out the music you need, we will also tell you how to download the audios from Tidal to your phone, so you can apply the Tidal Music into your TikTok videos.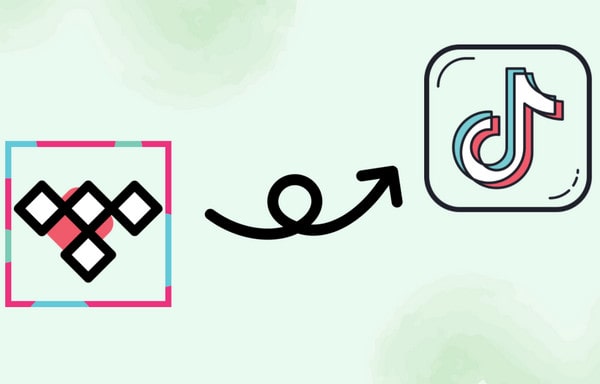 The Music Library inside TikTok is a pool of over 150,000 pre-cleared, royalty-free tracks sourced from emerging artists and top-tier music houses. You can directly apply them to your TikTok video in your preference. And to use them, these are the steps:
1. Open the TikTok application on your phone, and make sure you are in logged status. Then click on the '+' symbol in the center of the screen to upload a new video.
2. Instead of pressing the red button to start a video recording, you can choose a video sound at first. So click on the 'Sounds' button at the top of the screen.
3. Here comes a window with all available music in TikTok. You can look for the song that is on the tonality of the video theme coherence.
4. Now choose the song and adjust the timing of the song to your video as you wish.
5. Upon music chosen, you can now start your video creation.
While there is a big gap between the creator demand and TikTok supply. Some TikTokers would like to use the music playlists from the streaming platform, like Tidal. Yet, you will find it no way to directly apply Tidal Music to your TikTok post. If you step forward as a traditional way to initial the Download function in Tidal App on your phone, you will put yourself in a dilemma. The Tidal Music download feature is only to download the online music as caches storing to offline playing. The downloaded Tidal Music won't be accessible and used in most cases.
Chance is that TikTok allows the videos to be accompanied by music external to the application. That is, if you already had a sound recorded, you could simply add it to the video and adjust the sound. So to apply Tidal Music to your TikTok video, you can download Tidal Music as actual files with Tidabie Tidal Music Converter which helps you get out of the woods.
Tidabie Tidal Music Converter is the key to dealing with music offline downloading and audio format conversion. This is a music converter that allows Tidal Free and Tidal HiFi users to download their playlists and albums to offline storage. Tidal Music will be extracted from Tidal Web Player and then be converted to a specific audio codec as you set up. Optional output formats include MP3, AAC, FLAC, WAV, AIFF, and ALAC. In terms of sound quality, I would say that Tidabie is an advanced professional converter when it performs a 10X conversion speed without giving up the original sound quality.
It is also good that you won't be interrupted by the ad-supported music when you are under the Tidal Free plan. Tidabie Tidal Music Converter will smartly remove the commercials and give you complete yet smooth Tidal Music listening after the process. In short, you will export Tidal Music from the online platform to offline ad-free playing, actual music files on your local storage without any quality loss. Thereafter, you can apply the Tidal Music to any situation you want.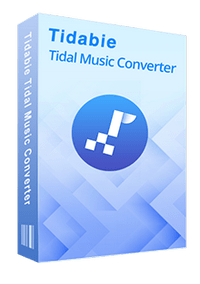 Tidabie Tidal Music Converter
Download Tidal music to the computer.

Convert Tidal tracks to MP3, AAC, WAV, FLAC, ALAC, and AIFF formats.

Keep Hi-Fi audio quality.

Retain ID3 tags after conversion.

Free updates & technical support.
STEP 1 As long as you start up Tidabie Tidal Music Converter, you can see an entrance to Tidal Web Player. Click on the 'Open Tidal Web Player' button and log into your Tidal Free or Tidal HiFi account if this is your first time using the Tidabie program on your computer.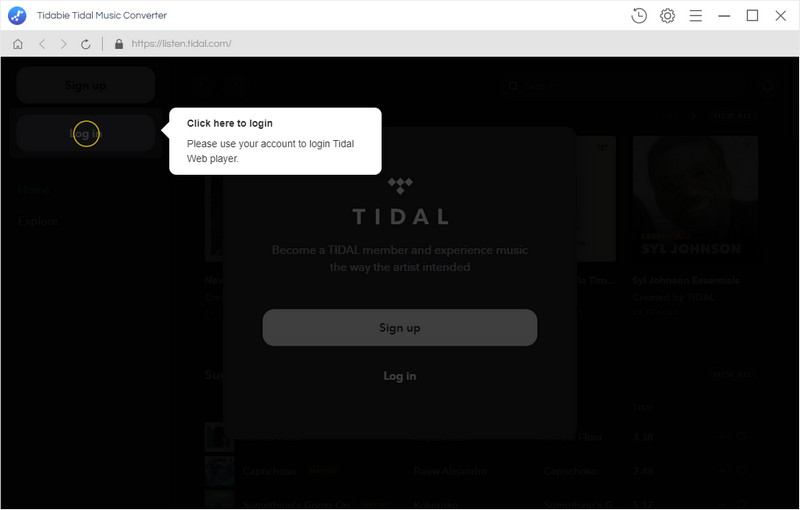 STEP 2 Then, you should navigate to the 'Settings' part where it involves the output formats, output sound quality parameters and more. You can set up the factors before you move forward with the conversion process.
Output Format: Auto, MP3, AAC, WAV, FLAC, AIFF, ALAC
Bit Rate: 320kbps, 256kbps, 192kbps, 128kbps
Sample Rate: 44.1KHz, 48KHz, 96KHz, 192KHz
Output File Name: Track Number, Title, Artist, Album, Playlist Index, Year
Output Organized (way): None, Artist, Album, Artist/Album, Album/Artist
If you would like to get Tidal HiFi sound quality, you can set up the output format to be 'Auto' or 'FLAC'.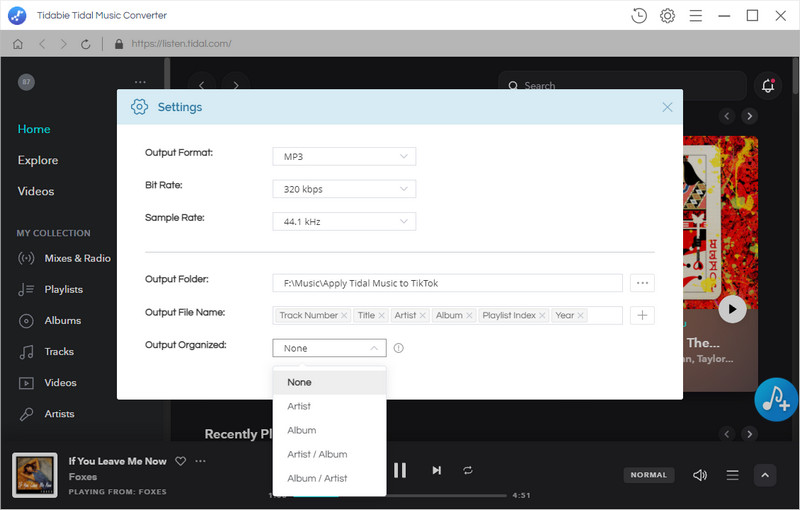 STEP 3 Well now, you just open any playlist in Tidal Music Library and click on the 'Add to list' button to let Tidabie read the songs in this playlist.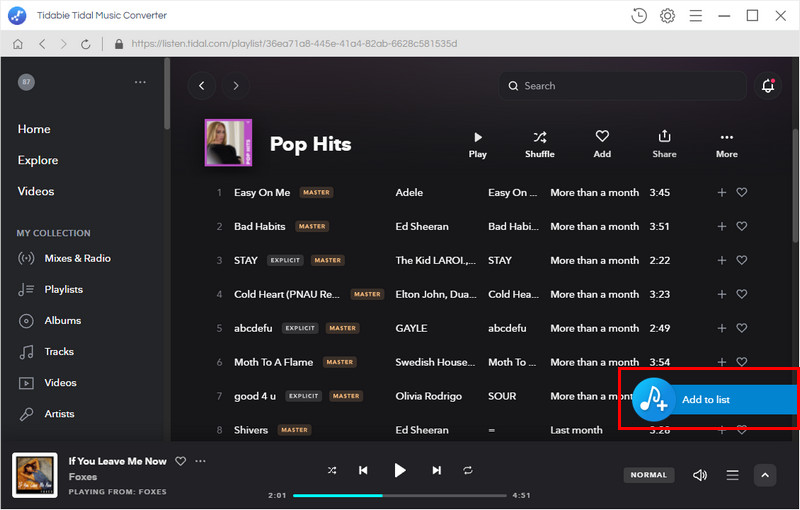 The songs will then show on the conversion panel. You just choose the song you would like to download. And press the 'Convert Now' to proceed.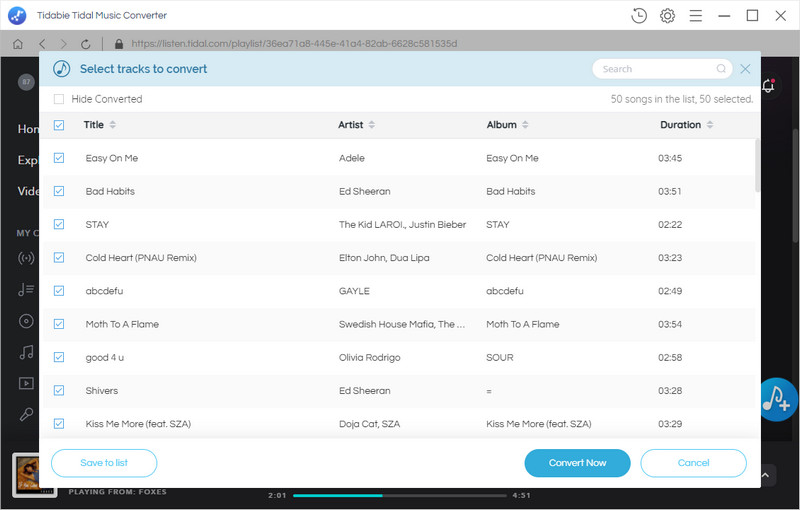 STEP 4 Following, you just wait for the process to complete itself. Tidabie will work at a fast 10X conversion speed. If you have to put a brake on the process, tap the 'Abort'.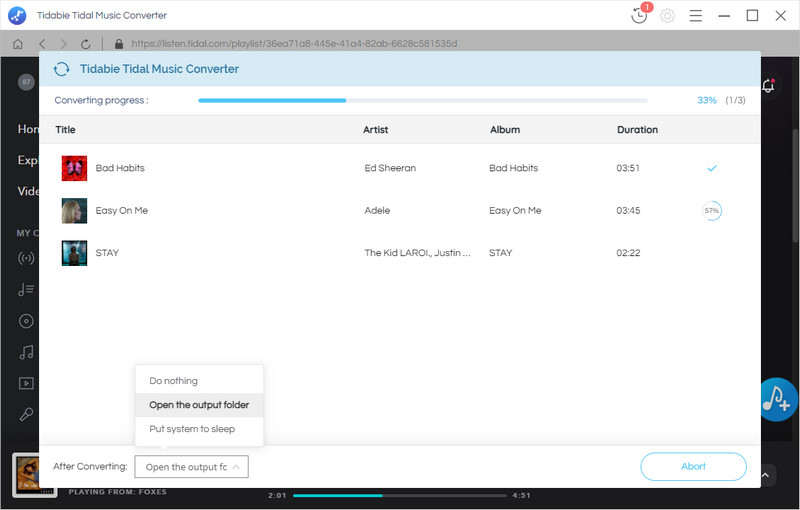 All successfully downloaded songs will be saved onto the output folder that you set up in the Settings step. Thus you can get an easy reach to Tidal Music on your computer.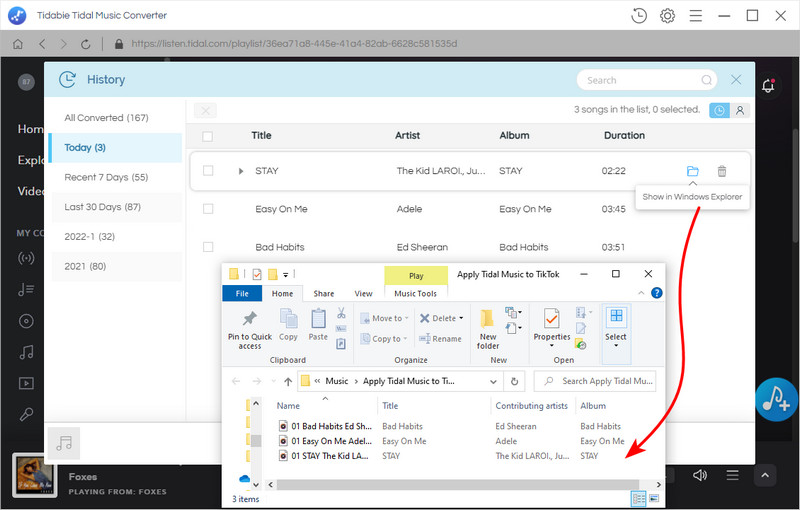 Last but not least, you ought to transfer all the Tidal Music downloads to your phone, thus TikTok can read and collect the songs for use.
You can work out with Syncios Mobile Manager to one-click import music on PC to your phone. If you want more tips on how to import and export music files between your phone and computer, get with this article from>>> Manage iOS & Android Files On Computer.
1. Previously download Syncios Mobile Manager on your computer. Be careful to choose the right program version to be fully compatible with your computer operating system from Windows and Mac.
2. Launch Syncios Mobile Manager on your desktop and then connect your mobile to the computer port with a USB cable. The phone will be detected by Syncios and you can manage your phone media files on it with ease.
3. From the top pane, click into the Music management section. And you can view all your phone music files that are shown clearly.
4. Click on the 'Add' button, choose the 'Add Files' or 'Add Folder' option. And you can guide into the output Tidal folder and choose the desired songs.
5. After selection, tap 'Open' when Syncios Mobile Manager will sync the Tidal Music to your phone at once. After the Tidal Music migration, you can safely disconnect your phone from the computer.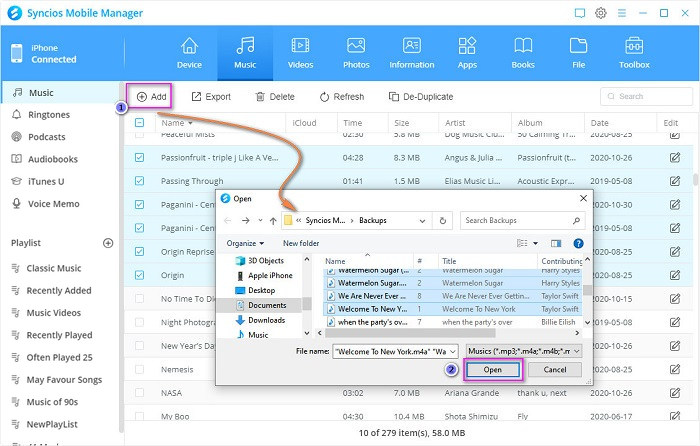 Alright now, the downloaded Tidal Music is saved into your phone as actual audio files. So you can simply apply the downloaded Tidal Music to your TikTok videos by the local music importation. And we also share with you a third party to better edit your TikTok video and let you easily apply the Tidal Music to your TikTok video. That is Inshot, a perfect app for Android and iOS phones, which is ideal to trim and cut your video, blur the background, add music and video effects, and more.
1. Install the Inshop app from Google Play on your phone and open it.
2. Click the "Video" button to select a video and check for it. Next, tap the "Crop" button to select the correct aspect ratio.
3. Now, tap the "Music" button to select music from your phone. Here you will easily access the Tidal Music that you just imported into your phone before. And click the "Use" button to drag a specific song into the video.
4. When you finish the operation, click the "Check" button to save your video and share it to the TikTok platform.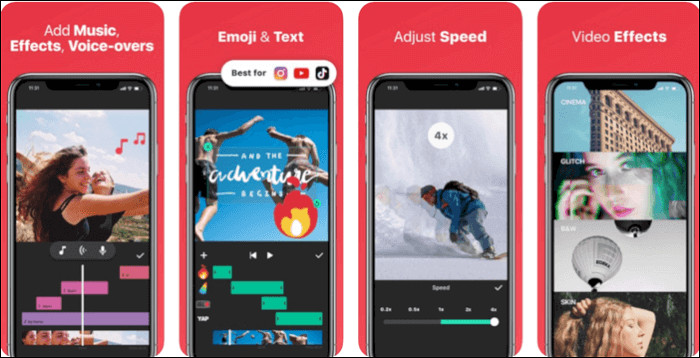 Summary
In this article, we share with you 2 ways to apply music from the in-app library and from the Tidal Music online platform to TikTok videos. And we also introduce several useful tools that you will need. Mainly, you can learn how to gain more control of the streaming Tidal Music and apply your favorite Tidal Music to TikTok videos. Tidabie Tidal Music Converter plays a significant role in the whole process. And this wonderful tool has also brought you more good use of Tidal Music alone. Download a free trial version of Tidabie Tidal Music Converter and take Tidal Music with your TikTok journey now!