Switch Tidal Music to Deezer Music
---
You might have heard that Tidal has come out with a Free plan for the new users. So for those who are interested in Tidal Music, they can now play songs in Tidal without a paid subscription but under some restrictions just like Spotify. Nevertheless, if you are always pursuing a HiFi or Master sound quality, this probably is no surprise for you. Due to the changes of subscription plans, now Deezer is no better priced than Tidal, where both are now offering a similar standard on the plan pricing. But we would like to emphasize Deezer whose socialization properties are the lure to most music listeners. They can play songs with lyrics in Deezer and sing with their favorite artists. Tidal hasn't any option to get lyrics. Also, lots of people say Deezer has a cleaner interface than Tidal. And that is the reason people tend to switch from Tidal to Deezer Music.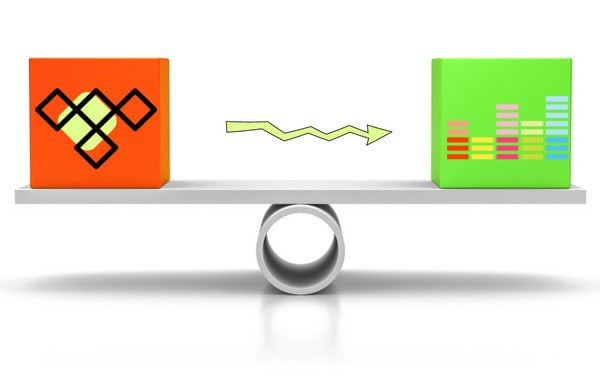 But there is still a question left to be solved. If you have built up your playlists in your Tidal but now you are eager to jump from Tidal to Deezer. You will have to start again from the beginning. Especially when you just want to have a try to downgrade your Tidal HiFi plan to Deezer Free. It is essential to preserve the precious Tidal HiFi audio. We are here to help you out. There is one more way you can try it out. You can download all your Tidal HiFi Music to the computer local place, thus you won't lose them as you discontinue your Tidal subscription. And this way will bring a chance to upload the Tidal Music to your Deezer Music if necessary. This is a real win to successfully switch from Tidal to Deezer Music without any loss!
This is the way we highly recommended to keeping Tidal HiFi Music playable after you are no longer a Tidal HiFi user. We are devoted to telling you how to get Tidal Music downloaded as actual audio files outside of the platform. Tidabie Tidal Music Converter is born in this way. This music converter will help to convert Tidal Music to independent music files with various audio formats, thus letting Tidal Music widely sharable to online or offline platforms. To make it clear, Tidabie is to download the Tidal lossless HiFi FLAC audio files from online to offline attainable audio files on a computer. And the downloaded Tidal Music won't be under the control of the app anymore. You will win permanent access to the music without any limits even if switch from Tidal to Deezer, you can reach out to your favorite Tidal HiFi playlists at any time. To save your time, let's roll out the steps on how to download Tidal HiFi playlists to the computer at once.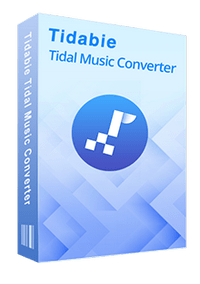 Tidabie Tidal Music Converter
STEP 1 Start by running the Tidabie Tidal Music Converter on your computer. This is a safe computer program that you can do everything on your computer with ease. On the coming page of the program, directly tap on the Open Tidal Web Player to access the Tidal Music Library. Of course, this will need you to enter your Tidal account information to get permitted to visit the music store. Never mind, all your personal account information won't be collected. And you can log out of your Tidal account after you finished the whole process.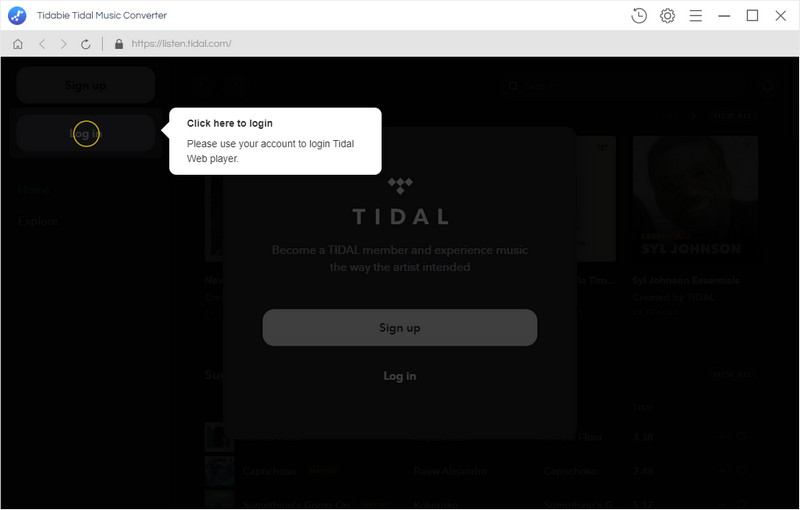 STEP 2 Alright, you will have to decide which audio format you want Tidal Music to come out in. Navigate to the Settings part where you can customize the output parameters. Well, if you want to keep your music still at a high level as HiFi, you can choose AUTO or FLAC as the output format. And the sound quality will be originally output as you listen on the app before. But if you need to transfer your Tidal downloads to Deezer, it is suggested that you choose MP3 as the output format.
Output Format: AUTO, MP3, AAC, WAV, FLAC, AIFF, ALAC
Bit Rate: 320kbps, 256kbps, 192kbps, 128kbps
Sample Rate: 44.1KHz, 48KHz, 96KHz, 192KHz
Output File Name: Track Number, Title, Artist, Album, Playlist Index, Year
Output Organized (way): None, Artist, Album, Artist/Album, Album/Artist
For other settings, you can leave them unchanged by default. Or you can make some changes as you prefer. And finally, tap on the close icon to apply all the settings.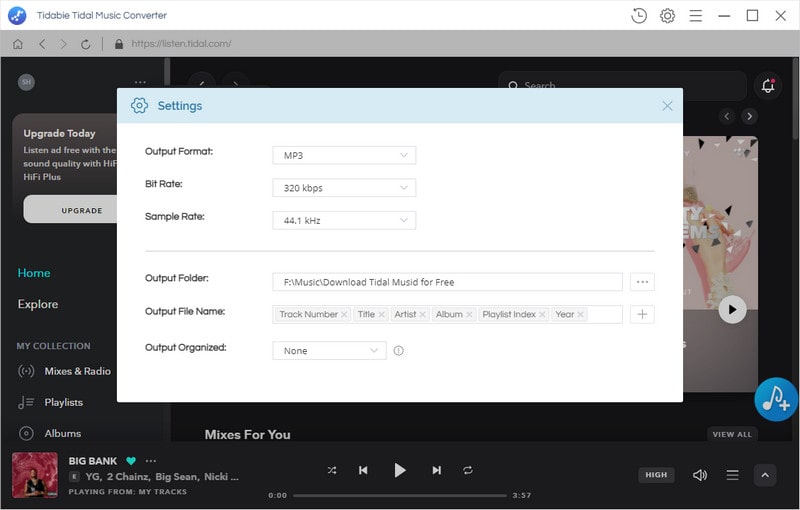 STEP 3 Following, go to the playlist that you previously created. And unfold it to view all the songs. When there is an Add to list button at the bottom right, you should click on it. When Tidabie will read and show all these songs on the conversion panel. Therefore, you can click on the box in front of the song. Not until you selected all you want, you can click on Convert Now to proceed.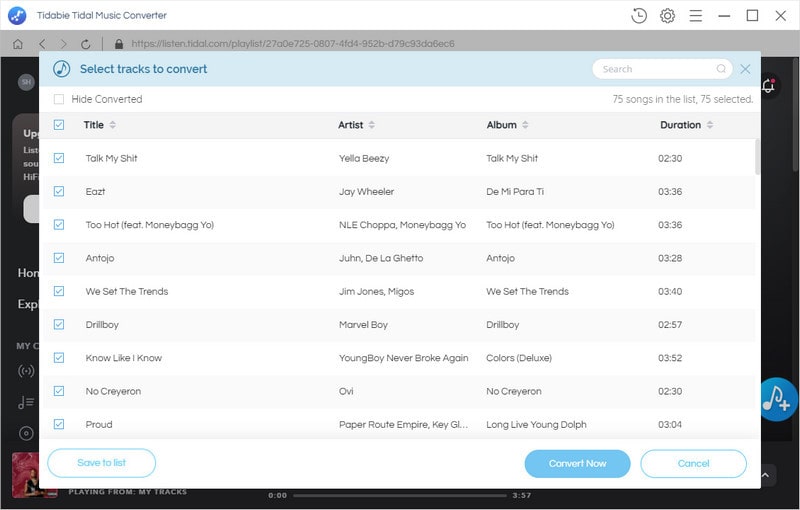 If you have multiple playlists waiting to convert, it is suggested that you tap on the Save to list button after the current selection. And open another playlist. Repeat the operation to select the songs in the playlist. After you make sure all your songs are selected, you can tap the task list icon on the top-right menu to view all of them. And press the Convert button to proceed.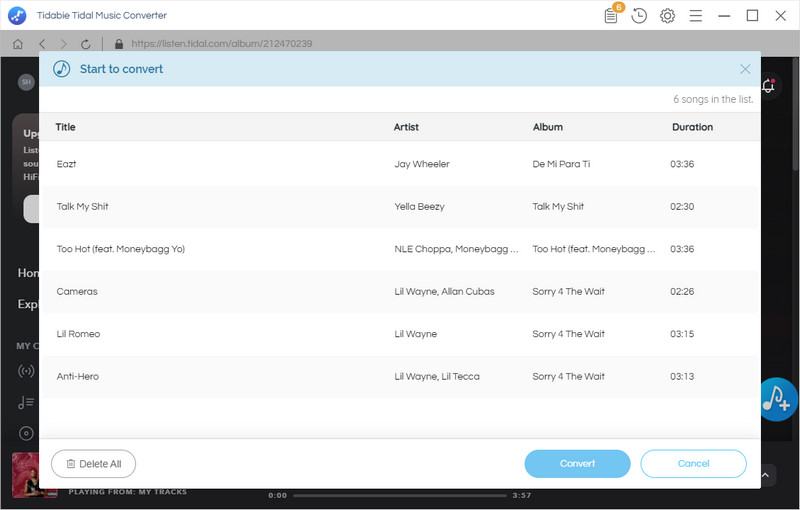 STEP 4 Tidabie boasts a 10X faster conversion speed. So you won't take too long to complete the process. Well, a stable internet will also be excellent for conversion speed!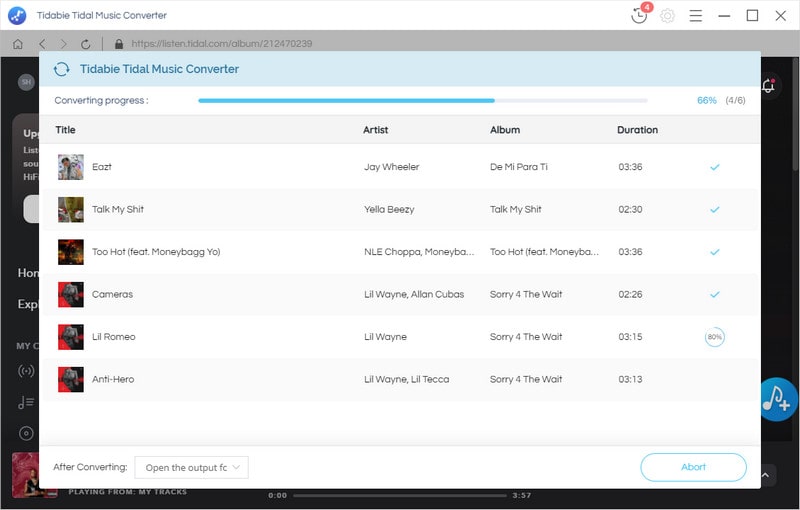 All Tidal Music downloads are saved onto your computer's local path as audio files. From now on, you can put them onto your phones as local files and play them offline without the Tidal app or internet requirement at all.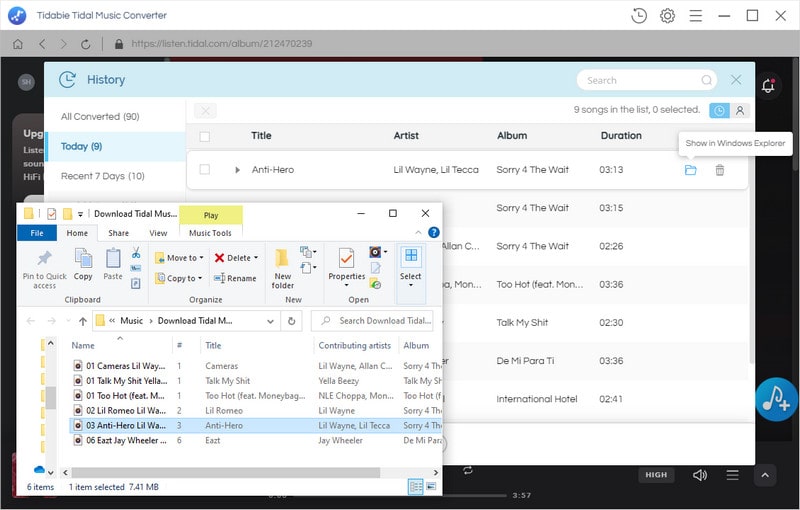 If you want to upload Tidal downloads to your Deezer, you can choose to output Tidal Music to MP3 format in the output settings step. Meanwhile, you will have to be a Deezer Premium user, thus you can access the Tidal MP3 files on your mobile device.
To add the Tidal downloads to your Deezer playing, you can open the web version of Deezer. And go to 'Favorites', select 'My MP3s'. Click the 'More' tab if you cannot see My MP3s. Then select 'SELECT MP3s' and finally select the downloaded Tidal MP3 files from your computer to upload.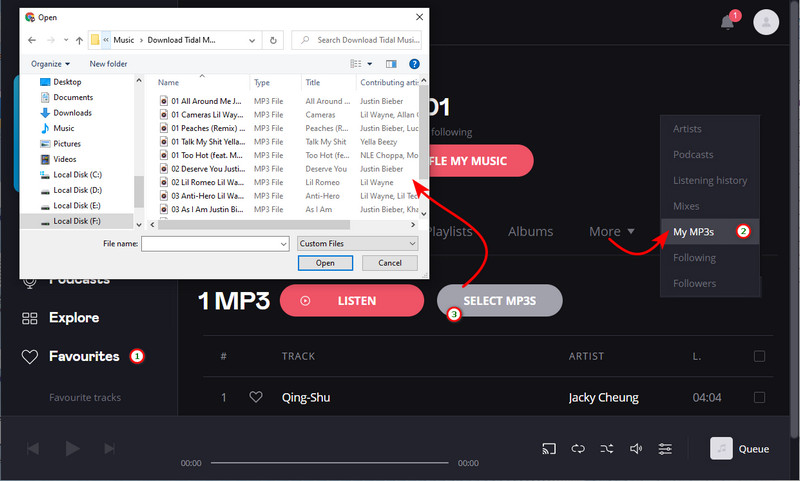 Summary
If you plan to switch music services from Tidal Music to Deezer Music, you should make sure you won't lose your favorite songs in Tidal. And the safest way is to download all the music to your local storage outside the Tidal app. With Tidabie Tidal Music Converter, you can perfectly output Tidal Music as plain audio files, without sacrificing the HiFi sound quality at all. Most important, you can leave the Tidal app but still freely play the music on your device or upload the Tidal Music downloads to your Deezer to mix with your Deezer playlists in the future.