How to Add Tidal Music to Adobe Premiere Pro
---
Adobe Premiere Pro survives the years of intensified competition in the video editing industry for its highly-developed technology. As a competent video editor, you aspire to produce high-quality and superfine videos via Premiere Pro for yielding great profits. Whether you expect to turn a film or a video clip into flawless videos, Premiere Pro qualifies itself for its work as it clings to enhancing the extensive features, including endless transition options, VR editing, titles and animations adding, Motion Graphic templates, and Lumetri coloring, etc.
However, the fly in the ointment is that the absence of integration with streaming music makes your video less lively. How can a high-quality video be without the involvement of high-quality music? Tidal Music has a powerful library of HiFi music. So if you are a Tidal Music user, when you hear a melody you like, you will think about how to add it to your video. However, all streaming music is not supported to be transmitted at will. It only supports playing within its own software. So how to add Tidal Music to Premiere Pro? This is what this article mainly discusses. Here, we will definitely give you a satisfactory answer.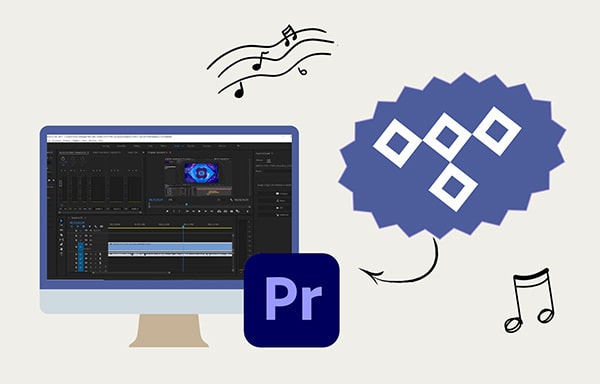 ✅ Part 1. Can I Add Tidal Songs to Premiere Pro?
➤ Some reasons may cause the failure to add Tidal music to Premiere Pro.
1. When importing the local files, if you are blocked, you should check the formats of the audio files. Songs in MP3, AAC, WAV, AIFF. and many more formats are available. But still, there are limitations. You can check this page referring to the supported files by Premiere Pro.
2. Music tracks from streaming music sources like Tidal can be not imported to any app directly as they are stored as protected files. These audio files are encrypted by special formats, you can not use them freely even though you are charged monthly.
➤ Is there any way can help me out?
We know that audio files that are not protected locally can be imported into Premiere Pro for use as long as the format is supported. So we only need to solve two problems before we can add Tidal songs to Premiere Pro. First of all, we need to unprotect this file. Second, we need to ensure that the format of the audio is compatible.
Both of these things can be perfectly solved by Tidabie Tidal Music Converter. It is a dedicated Tidal Music download tool for extracting Tidal Music tracks, playlists, albums, and other audio files to a local PC and converting them to some popular formats that are utterly supported by Premiere Pro. Tidabie has helped you find a good breakthrough for the task you thought was impossible. Next, we take a closer look at how it works.
---
✅ Part 2. Convert Tidal Songs to Files Supported by Premiere Pro
With Tidabie Tidal Music Converter, you can easily rip tracks, albums, and playlists from Tidal Music to a local PC in Premiere Pro-supported formats. This program grabbles with decrypting every Tidal track without losing the sound quality. It does exemplary work on downloading songs, irrespective of whether you are a free user or a paid subscriber to Tidal.
Tidabie runs fast when processing conversion with the full ID3 tags preserved. Furthermore, the customized output settings assist you in better sorting the converted songs. Through a flawless conversion, you will not be tangled by establishing a connection between Tidal and Premiere Pro. Let's check the detailed steps to convert Tidal songs to files supported by Premiere Pro, then add the converted songs to Premiere Pro at will.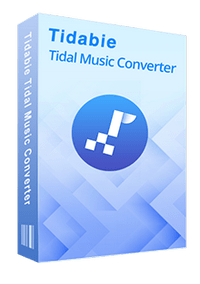 Download music with all types of Tidal plans, including Tidal Free.

Downloaded Tidal songs, albums, and playlists are well-compatible with kinds of devices and players.

Convert Tidal tracks to MP3, AAC, WAV, FLAC, AIFF, and ALAC formats.

Batch download multiple Tidal Music playlists.

Download songs with HiFi audio quality and ID3 tags.

No need to install Tidal Music app.

Free updates & technical support.
Step 1: Launch Tidabie Tidal Music Converter
The Tidal Music app is not needed. Simply start the Tidabie Tidal Music Converter on your Windows PC or Mac. On the main interface of Tidabie, there is an entrance to the embedded Tidal Music web player. Just tap on this "Open Tidal Web Player" button. Soon after, a pop-up window appears requiring log-in information. All Tidal plans, including Tidal Free, are available for downloading songs via Tidabie.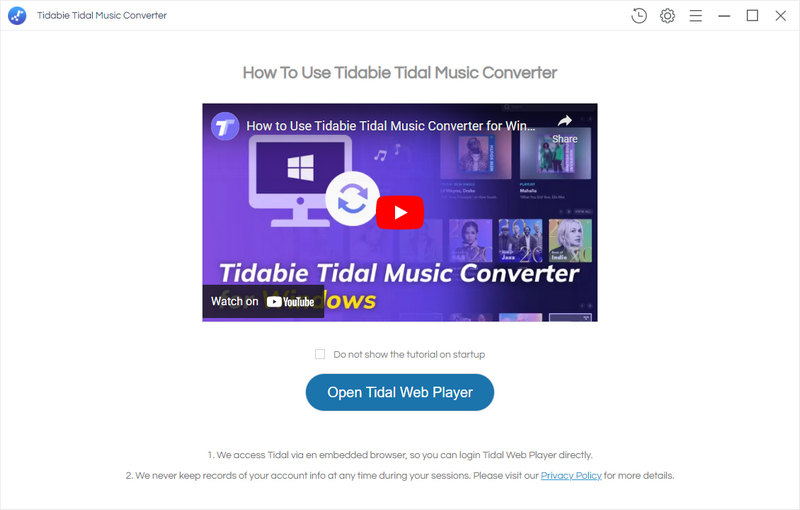 Step 2: Set up the Preferred Output Parameters
Let's make some changes to the output settings before activating a conversion. Navigate to the top right, and click the "Settings" button to open the setting window where you can find all changeable settings.
If you want to use the converted Tidal songs with Premiere Pro later, check the supported formats by Premiere Pro: AAC, AIFF(m4a), MP3, WAV, etc.
The options of bit rate and sample rate will be different according to the output format you choose. More options will be added since we are working on updates constantly.
🎄➺ Output Format: AUTO, MP3, AAC, WAV, FLAC, AIFF, ALAC
🎄➺ Bit Rate: 320kbps, 256kbps, 192kbps, 128kbps
🎄➺ Sample Rate: 44.1KHz, 48KHz, 96KHz, 192KHz
🎄➺ Output File Name: Track Number, Title, Artist, Album, Playlist Index, Year
🎄➺ Output Organized (way): None, Playlist, Artist, Album, Artist/Album, Album/Artist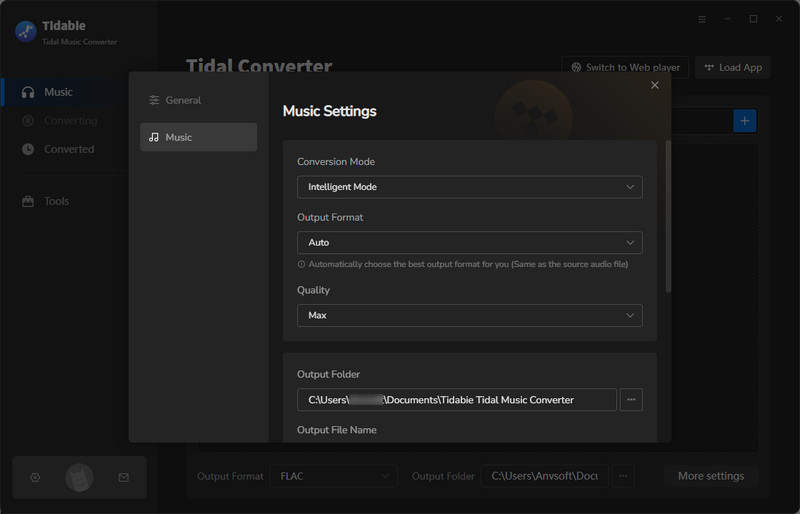 Step 3: Converting Tidal Music to Unencrypted Files
When browsing music on the built-in Tidal Music web player, open any album or playlist then you will find an "Add to list" button in the lower right. This button enables you to make a selection of desired tracks in the opened playlist or album.
After finishing the selection, go to "Convert Now" to conduct a conversion in no time. Another option "Save to list" is provided for people who tend to download songs from other playlists at one time.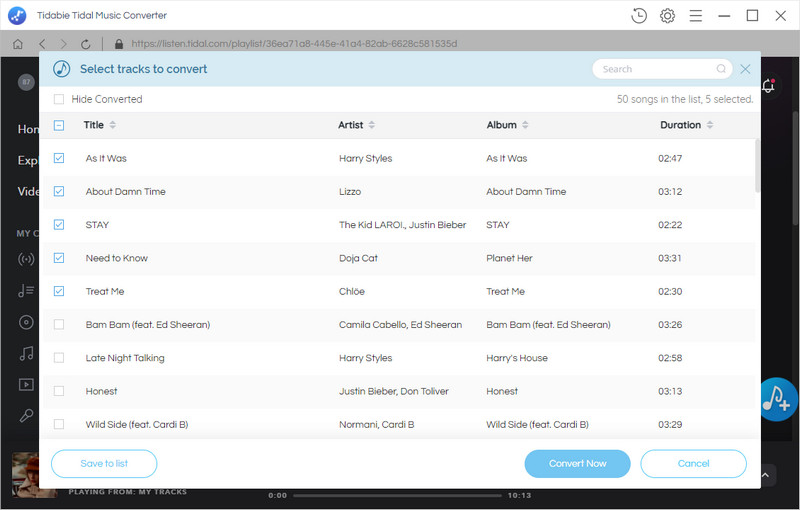 Step 4: Check the Downloaded Tidal Songs
With a stable network connection, Tidable completes the conversion at a rapid speed. After a while, Tidabie Tidabie decrypts the Tidal tracks and stores them as ordinary local files with the full ID3 tags and original quality kept. If you've changed the saving path, navigate to the output folder and view the downloaded Tidal songs. Then move to the next part to learn details about adding the Tidal songs to Premiere Pro.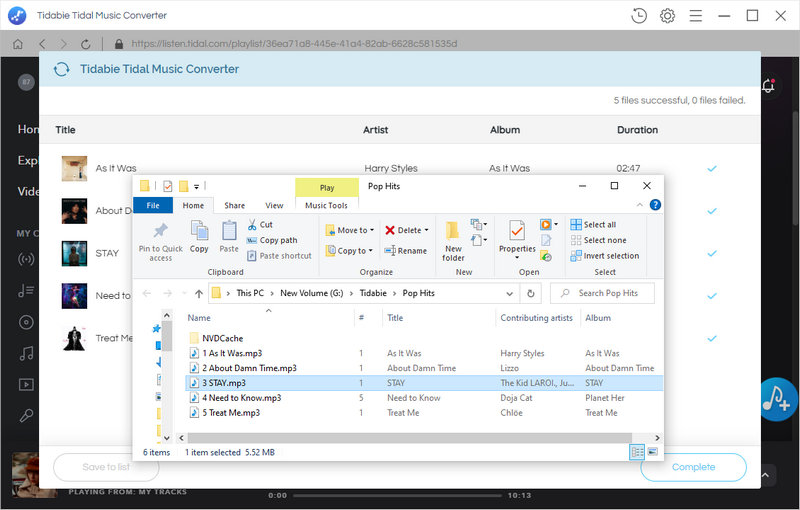 ---
✅ Part 3. Add Tidal Songs to Premiere Pro for Use
All preparations are done. We are ready for importing the Tidal songs to Premiere Pro for freely creating.
Step 1: Start Premiere Pro on your computer, then navigate to the top of the start-up interface and select "Audio" in the Audio workspace. Another way is to go to "Window > Workspaces > Audio". After that, tap on Window followed by Media Browser. Soon after, the panel for Media Browser pops up.
Step 2: In the Media Browser, move to the audio-file option, and click on it. Then click on "Import" to add Tidal songs from the computer to Premiere Pro.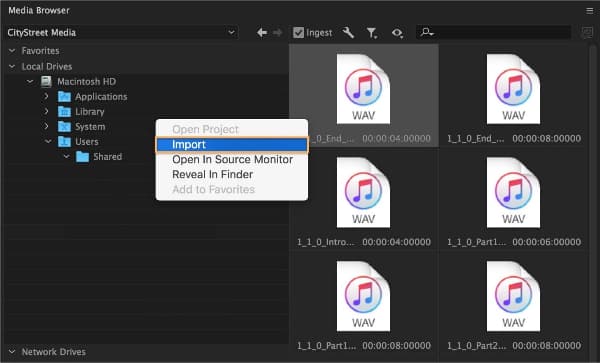 Step 3: After adding the Tidal songs to Premiere Pro, you just need to double-click on the preferred track if you want to open the source panel. When you plan to add a song to a video, open the "Project" panel by navigating to "Window > Project". Simply select any song and drag this track onto the Timeline panel. Thereafter, it's time to proceed with adjusting the audio click with the video file. The position, volume, and other changes are attainable.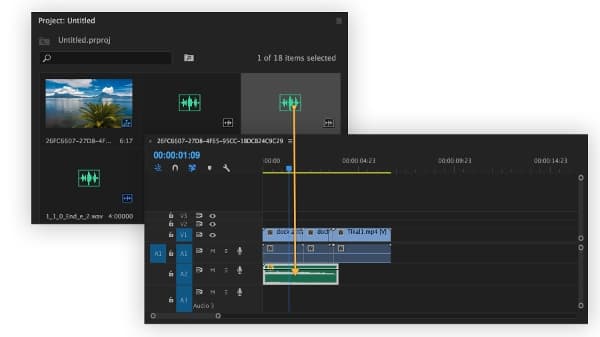 ---
The Final Words: You may have been searching for a practical solution to import songs from Tidal Music to Premiere Pro, Tidabie Tidal Music Converter can easily help you out this time. It's remarkable in performing an effective conversion in a few steps. Tidabie also can be applied in adding Tidal songs to other programs, like iMovie, Final Cut Pro, and so on. Have a free trial, you won't be regretful.